From classics like Brave New World, Fahrenheit 451, and 1984, to newcomers like The Hunger Games and Divergent, with so many dystopian novels on the market, it's hard to chose which to pick up next. After all, it's important to know exactly what kind of strange future you're diving into.
We've categorized some of our favorite dystopian novels by theme — from competitions to special powers to arranged marriages — and included each book's publisher's description below.
1. Competition-based dystopias
In these dystopias, our protagonists are forced into a confined environment, and there's only one way out: winning. Sometimes you know exactly what you're signing up for when you enter the arena, but half the time, things just get darker and darker the longer you're there.
In the ruins of a place once known as North America lies the nation of Panem, a shining Capitol surrounded by twelve outlying districts. The Capitol is harsh and cruel and keeps the districts in line by forcing them all to send one boy and one girl between the ages of twelve and eighteen to participate in the annual Hunger Games, a fight to the death on live TV. Sixteen-year-old Katniss Everdeen, who lives alone with her mother and younger sister, regards it as a death sentence when she is forced to represent her district in the Games. But Katniss has been close to dead and survival, for her, is second nature. Without really meaning to, she becomes a contender. But if she is to win, she will have to start making choices that weigh survival against humanity and life against love.
New York Times bestselling author Suzanne Collins delivers equal parts suspense and philosophy, adventure, and romance, in this searing novel set in a future with unsettling parallels to our present.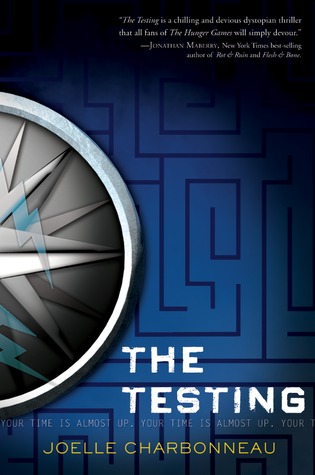 Keep your friends close and your enemies closer. Isn't that what they say? But how close is too close when they may be one and the same?
The Seven Stages War left much of the planet a charred wasteland. The future belongs to the next generation's chosen few who must rebuild it. But to enter this elite group, candidates must first pass The Testing — their one chance at a college education and a rewarding career.
Cia Vale is honored to be chosen as a Testing candidate; eager to prove her worthiness as a University student and future leader of the United Commonwealth. But on the eve of her departure, her father's advice hints at a darker side to her upcoming studies — trust no one.
But surely she can trust Tomas, her handsome childhood friend who offers an alliance? Tomas, who seems to care more about her with the passing of every grueling (and deadly) day of the Testing. To survive, Cia must choose: love without truth or life without trust.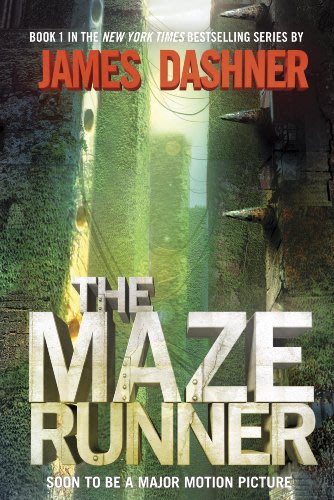 If you ain't scared, you ain't human.
When Thomas wakes up in the lift, the only thing he can remember is his name. He's surrounded by strangers — boys whose memories are also gone.
Nice to meet ya, shank. Welcome to the Glade.
Outside the towering stone walls that surround the Glade is a limitless, ever-changing maze. It's the only way out — and no one's ever made it through alive.
Everything is going to change.
Then a girl arrives. The first girl ever. And the message she delivers is terrifying.
Remember. Survive. Run.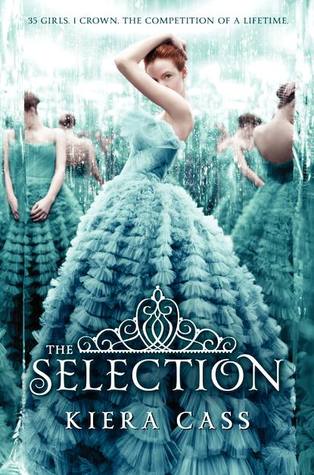 For 35 girls, the Selection is the chance of a lifetime. The opportunity to escape the life laid out for them since birth. To be swept up in a world of glittering gowns and priceless jewels. To live in a palace and compete for the heart of gorgeous Prince Maxon.
But for America Singer, being Selected is a nightmare. It means turning her back on her secret love with Aspen, who is a caste below her. Leaving her home to enter a fierce competition for a crown she doesn't want. Living in a palace that is constantly threatened by violent rebel attacks.
Then America meets Prince Maxon. Gradually, she starts to question all the plans she's made for herself — and realizes that the life she's always dreamed of may not compare to a future she never imagined.
2. Career- and class-based dystopias
In these dystopias, you're assigned a role or class at birth, or children and teenagers are sorted into one of several career paths… and trapped there forever. Unless you bring down the system, of course, which is always an option.
This first book in Veronica Roth's #1 New York Times bestselling Divergent trilogy is the novel the inspired the major motion picture starring Shailene Woodley, Theo James, and Kate Winslet. This dystopian series set in a futuristic Chicago has captured the hearts of millions of teen and adult readers.
Perfect for fans of the Hunger Games and Maze Runner series, Divergent and its sequels, Insurgent and Allegiant, are the gripping story of a dystopian world transformed by courage, self-sacrifice, and love. Fans of the Divergent movie will find the book packed with just as much emotional depth and exhilarating action as the film, all told in beautiful, rich language.
One choice can transform you. Beatrice Prior's society is divided into five factions — Candor (the honest), Abnegation (the selfless), Dauntless (the brave), Amity (the peaceful), and Erudite (the intelligent). Beatrice must choose between staying with her Abnegation family and transferring factions. Her choice will shock her community and herself. But the newly christened Tris also has a secret, one she's determined to keep hidden, because in this world, what makes you different makes you dangerous.
Enclave by Ann Aguirre
New York City has been decimated by war and plague, and most of civilization has migrated to underground enclaves, where life expectancy is no more than the early 20's. When Deuce turns 15, she takes on her role as a Huntress, and is paired with Fade, a teenage Hunter who lived Topside as a young boy. When she and Fade discover that the neighboring enclave has been decimated by the tunnel monsters — or Freaks — who seem to be growing more organized, the elders refuse to listen to warnings. And when Deuce and Fade are exiled from the enclave, the girl born in darkness must survive in daylight — guided by Fade's long-ago memories — in the ruins of a city whose population has dwindled to a few dangerous gangs.
Ann Aguirre's thrilling young adult novel is the story of two young people in an apocalyptic world — facing dangers, and feelings unlike any they've ever known.
In the future, in a world baked dry by the harsh sun, there are those who live inside the walled Enclave and those, like 16-year-old Gaia Stone, who live outside. Following in her mother's footsteps Gaia has become a midwife, delivering babies in the world outside the wall and handing a quota over to be "advanced" into the privileged society of the Enclave. Gaia has always believed this is her duty, until the night her mother and father are arrested by the very people they so loyally serve. Now Gaia is forced to question everything she has been taught, but her choice is simple: enter the world of the Enclave to rescue her parents, or die trying.
In a fragmented future United States ruled by the lavish gentry, 17-year-old Madeline Landry dreams of going to the university. Unfortunately, gentry decorum and her domineering father won't allow that. Madeline must marry, like a good Landry woman, and run the family estate. But her world is turned upside down when she discovers the devastating consequences her lifestyle is having on those less fortunate. As Madeline begins to question everything she has ever learned, she finds herself increasingly drawn to handsome, beguiling David Dana. Soon, rumors of war and rebellion start to spread, and Madeline finds herself and David at the center of it all. Ultimately, she must make a choice between duty — her family and the estate she loves dearly — and desire.
What was once the western United States is now home to the Republic, a nation perpetually at war with its neighbors. Born into an elite family in one of the Republic's wealthiest districts, 15-year-old June is a prodigy being groomed for success in the Republic's highest military circles. Born into the slums, 15-year-old Day is the country's most wanted criminal. But his motives may not be as malicious as they seem.
From very different worlds, June and Day have no reason to cross paths — until the day June's brother, Metias, is murdered, and Day becomes the prime suspect. Caught in the ultimate game of cat and mouse, Day is in a race for his family's survival, while June seeks to avenge Metias's death. But in a shocking turn of events, the two uncover the truth of what has really brought them together, and the sinister lengths their country will go to keep its secrets.
Full of nonstop action, suspense, and romance, this novel is sure to move readers as much as it thrills.
3. Reproduction-controlled dystopias
Like The Handmaid's Tale, these books are often characterized by a shortage of women, a destructive virus, or a genetic defect, forcing humanity to get inventive about how to survive. Who can have children — and how many — is strictly controlled and almost never fair.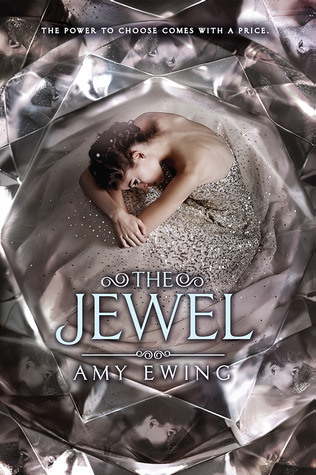 The Jewel means wealth. The Jewel means beauty. The Jewel means royalty. But for girls like Violet, the Jewel means servitude. Not just any kind of servitude. Violet, born and raised in the Marsh, has been trained as a surrogate for the royalty — because in the Jewel the only thing more important than opulence is offspring.
Purchased at the surrogacy auction by the Duchess of the Lake and greeted with a slap to the face, Violet (now known only as #197) quickly learns of the brutal truths that lie beneath the Jewel's glittering facade: the cruelty, backstabbing, and hidden violence that have become the royal way of life.
Violet must accept the ugly realities of her existence… and try to stay alive. But then a forbidden romance erupts between Violet and a handsome gentleman hired as a companion to the Duchess's petulant niece. Though his presence makes life in the Jewel a bit brighter, the consequences of their illicit relationship will cost them both more than they bargained for.
Wither by Lauren DeStefano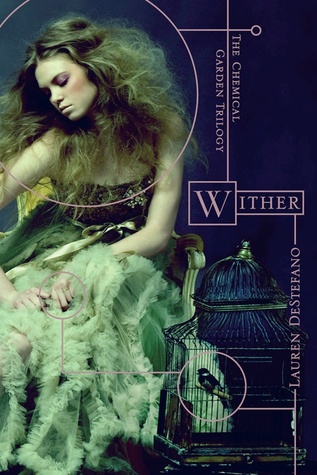 By age 16, Rhine Ellery has four years left to live. She can thank modern science for this genetic time bomb. A botched effort to create a perfect race has left all males with a lifespan of 25 years, and females with a lifespan of 20 years. Geneticists are seeking a miracle antidote to restore the human race, desperate orphans crowd the population, crime and poverty have skyrocketed, and young girls are being kidnapped and sold as polygamous brides to bear more children.
When Rhine is kidnapped and sold as a bride, she vows to do all she can to escape. Her husband, Linden, is hopelessly in love with her, and Rhine can't bring herself to hate him as much as she'd like to. He opens her to a magical world of wealth and illusion she never thought existed, and it almost makes it possible to ignore the clock ticking away her short life. But Rhine quickly learns that not everything in her new husband's strange world is what it seems. Her father-in-law, an eccentric doctor bent on finding the antidote, is hoarding corpses in the basement. Her fellow sister wives are to be trusted one day and feared the next, and Rhine is desperate to communicate to her twin brother that she is safe and alive. Will Rhine be able to escape — before her time runs out?
Together with one of Linden's servants, Gabriel, Rhine attempts to escape just before her seventeenth birthday. But in a world that continues to spiral into anarchy, is there any hope for freedom?
Unwind by Neal Shusterman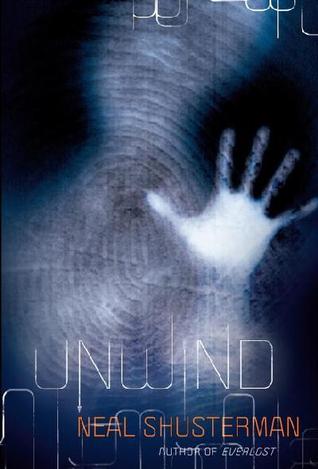 Connor, Risa, and Lev are running for their lives.
The Second Civil War was fought over reproductive rights. The chilling resolution: Life is inviolable from the moment of conception until age thirteen. Between the ages of 13 and 18, however, parents can have their child "unwound," whereby all of the child's organs are transplanted into different donors, so life doesn't technically end. Connor is too difficult for his parents to control. Risa, a ward of the state, is not enough to be kept alive. And Lev is a tithe, a child conceived and raised to be unwound. Together, they may have a chance to escape and to survive.
In a future where the Population Police enforce the law limiting a family to only two children, Luke, an illegal third child, has lived all his 12 years in isolation and fear on his family's farm in this start to the Shadow Children series from Margaret Peterson Haddix.
Luke has never been to school. He's never had a birthday party, or gone to a friend's house for an overnight. In fact, Luke has never had a friend.
Luke is one of the shadow children, a third child forbidden by the Population Police. He's lived his entire life in hiding, and now, with a new housing development replacing the woods next to his family's farm, he is no longer even allowed to go outside.
Then, one day Luke sees a girl's face in the window of a house where he knows two other children already live. Finally, he's met a shadow child like himself. Jen is willing to risk everything to come out of the shadows — does Luke dare to become involved in her dangerous plan? Can he afford not to?
4. Arranged-marriage dystopias
Whether love is treated as a disease, treaties need to be sealed, or a computer simply thinks it knows better than humans, these worlds get rid of the choice of who you'll marry — like it or not.
Matched by Ally Condie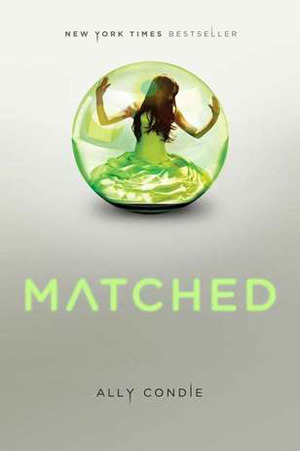 Cassia has always trusted the Society to make the right choices for her: what to read, what to watch, what to believe. So when Xander's face appears on-screen at her Matching ceremony, Cassia knows with complete certainty that he is her ideal mate… until she sees Ky Markham's face flash for an instant before the screen fades to black.
The Society tells her it's a glitch, a rare malfunction, and that she should focus on the happy life she's destined to lead with Xander. But Cassia can't stop thinking about Ky, and as they slowly fall in love, Cassia begins to doubt the Society's infallibility and is faced with an impossible choice: between Xander and Ky, between the only life she's known and a path that no one else has dared to follow.
Delirium by Lauren Oliver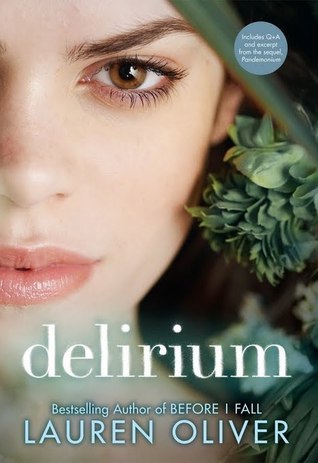 Lauren Oliver's powerful New York Times bestselling novel Delirium — the first in a dystopian trilogy — presents a world as terrifying as George Orwell's 1984 and a romance as true as Romeo & Juliet.
In an alternate United States, love has been declared a dangerous disease, and the government forces everyone who reaches 18 to have a procedure called the Cure. Living with her aunt, uncle, and cousins in Portland, Maine, Lena Haloway is very much looking forward to being cured and living a safe, predictable life. She watched love destroy her mother and isn't about to make the same mistakes.
But with 95 days left until her treatment, Lena meets enigmatic Alex, a boy from the Wilds who lives under the government's radar. What will happen if they do the unthinkable and fall in love?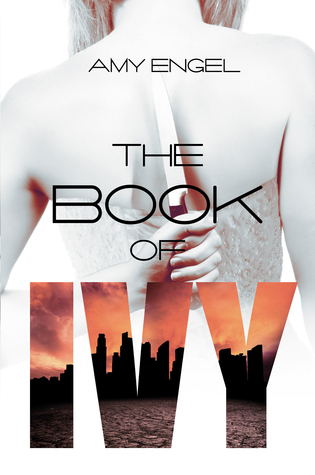 After a brutal nuclear war, the United States was left decimated. A small group of survivors eventually banded together, but only after more conflict over which family would govern the new nation. The Westfalls lost. Fifty years later, peace and control are maintained by marrying the daughters of the losing side to the sons of the winning group in a yearly ritual.
This year, it is my turn.
My name is Ivy Westfall, and my mission is simple: to kill the president's son — my soon-to-be husband — and restore the Westfall family to power.
But Bishop Lattimer is either a very skilled actor or he's not the cruel, heartless boy my family warned me to expect. He might even be the one person in this world who truly understands me. But there is no escape from my fate. I am the only one who can restore the Westfall legacy.
Because Bishop must die. And I must be the one to kill him…
5. Dystopias where the inside is safe, and the outside is horrible
Inside the bubble, everyone is happy. Everyone is safe. It's only when you leave the happy, isolated world that you learn exactly how wrong it is… and how much is going on outside that you never knew existed.
Uglies by Scott Westerfeld
Tally is about to turn 16, and she can't wait. In just a few weeks she'll have the operation that will turn her from a repellant ugly into a stunning pretty. And as a pretty, she'll be catapulted into a high-tech paradise where her only job is to have fun.
But Tally's new friend Shay isn't sure she wants to become a pretty. When Shay runs away, Tally learns about a whole new side of the pretty world — and it isn't very pretty. The authorities offer Tally a choice: find her friend and turn her in, or never turn pretty at all. Tally's choice will change her world forever…
Fighting to survive in a ravaged world, a Dweller and a Savage form an unlikely alliance in New York Times bestselling author Veronica Rossi's "unforgettable dystopian masterpiece" (Examiner.com).
Exiled from her home, the enclosed city of Reverie, Aria knows her chances of surviving in the outer wasteland — known as The Death Shop — are slim. Then Aria meets an Outsider named Perry. He's wild — a savage — and her only hope of staying alive. A hunter for his tribe in a merciless landscape, Perry views Aria as sheltered and fragile — everything he would expect from a Dweller. But he needs Aria's help too; she alone holds the key to his redemption.
In alternating chapters told in Aria's and Perry's voices, Under the Never Sky subtly and powerfully captures the evolving relationship between these characters and sweeps readers away to a harsh but often beautiful world.
Continuing with Through the Ever Night and concluding with Into the Still Blue, the Under the Never Sky trilogy has already been embraced by readers in 26 countries and been optioned for film by Warner Brothers.
Breathe by Sarah Crossan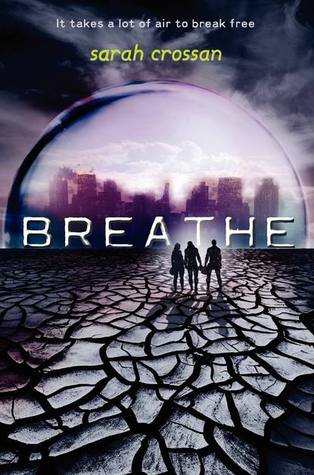 The world has no air. If you want to survive, you pay to breathe. But what if you can't? And what if you think everything could be different? Three teens will leave everything they know behind in Sarah Crossan's gripping and original dystopian teen novel of danger, longing, and glimmering hope that will appeal to fans of Patrick Ness and Veronica Roth.
National Book Award Finalist Kathleen Duey called Breathe "An amazing story! Sit down. Inhale. Now, while you still can." Ever since the Switch, when the oxygen levels plummeted and most of humanity died, the survivors have been protected in glass domes full of manufactured air. Protected… or trapped? Or controlled? Alina's a revolutionary who believes we can save the environment. Quinn's a Premium who's never had to worry about having enough air. His best friend, Bea, is an Auxiliary who's never worried about anything but having enough air. When the three cross paths, they will change everything. Sarah Crossan's thrilling and provocative novel is about passion, about yearning for something better, and about breaking free for the very first time. The Bulletin of the Center for Children's Books proclaims it an "action-packed dystopian series opener to watch out for."
6. Survival dystopias
In these books, our protagonists are forced to flee the only homes they've ever known, or run from strange, human-like entities. Sometimes you just have to travel across the country in order to find a better way of life.
After the 1st wave, only darkness remains. After the 2nd, only the lucky escape. And after the 3rd, only the unlucky survive. After the 4th wave, only one rule applies: trust no one.
Now, it's the dawn of the 5th wave, and on a lonely stretch of highway, Cassie runs from Them. The beings who only look human, who roam the countryside killing anyone they see. Who have scattered Earth's last survivors. To stay alone is to stay alive, Cassie believes, until she meets Evan Walker.
Beguiling and mysterious, Evan Walker may be Cassie's only hope for rescuing her brother — or even saving herself. But Cassie must choose: between trust and despair, between defiance and surrender, between life and death. To give up or to get up.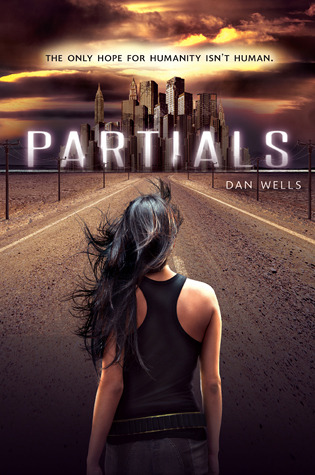 Humanity is all but extinguished after a war with Partials — engineered organic beings identical to humans — has decimated the population. Reduced to only tens of thousands by a weaponized virus to which only a fraction of humanity is immune, the survivors in North America have huddled together on Long Island. But 16-year-old Kira is determined to find a solution. As she tries desperately to save what is left of her race, she discovers that that the survival of both humans and Partials rests in her attempts to answer questions about the war's origin that she never knew to ask.
Playing on our curiosity of and fascination with the complete collapse of civilization, Partials is, at its heart, a story of survival, one that explores the individual narratives and complex relationships of those left behind, both humans and Partials alike — and of the way in which the concept of what is right and wrong in this world is greatly dependent on one's own point of view.
Eve by Anna Carey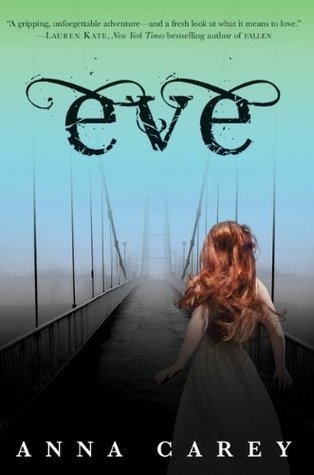 Where do you go when nowhere is safe?
Sixteen years after a deadly virus wiped out most of Earth's population, the world is a perilous place. Eighteen-year-old Eve has never been beyond the heavily guarded perimeter of her school, where she and 200 other orphaned girls have been promised a future as the teachers and artists of the New America. But the night before graduation, Eve learns the shocking truth about her school's real purpose — and the horrifying fate that awaits her.
Fleeing the only home she's ever known, Eve sets off on a long, treacherous journey, searching for a place she can survive. Along the way she encounters Arden, her former rival from school, and Caleb, a rough, rebellious boy living in the wild. Separated from men her whole life, Eve has been taught to fear them, but Caleb slowly wins her trust… and her heart. He promises to protect her, but when soldiers begin hunting them, Eve must choose between true love and her life.
In this epic new series, Anna Carey imagines a future that is both beautiful and terrifying. Readers will revel in Eve's timeless story of forbidden love and extraordinary adventure.
7. Dystopias where people have strange powers
Evolution is a strange thing — one minute, we're barely able to figure out how to make these opposable thumbs work, and the next, we can control things with our minds. Of course, those without powers in these dystopias aren't so thrilled about these new developments.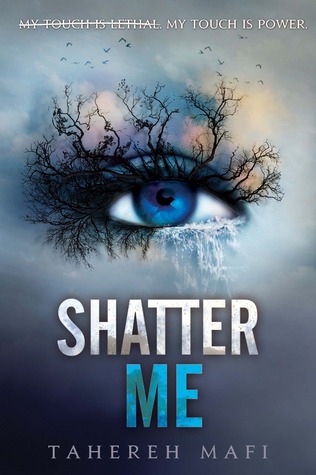 "You can't touch me," I whisper.
I'm lying, is what I don't tell him.
He can touch me, is what I'll never tell him.
But things happen when people touch me.
Strange things.
Bad things.
No one knows why Juliette's touch is fatal, but The Reestablishment has plans for her. Plans to use her as a weapon.
But Juliette has plans of her own.
After a lifetime without freedom, she's finally discovering a strength to fight back for the very first time — and to find a future with the one boy she thought she'd lost forever.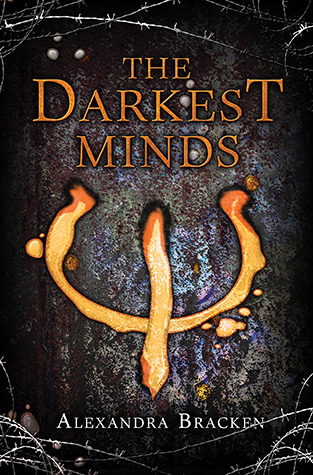 When Ruby woke up on her tenth birthday, something about her had changed. Something alarming enough to make her parents lock her in the garage and call the police. Something that gets her sent to Thurmond, a brutal government "rehabilitation camp." She might have survived the mysterious disease that's killed most of America's children, but she and the others have emerged with something far worse: frightening abilities they cannot control.
Now 16, Ruby is one of the dangerous ones.
When the truth comes out, Ruby barely escapes Thurmond with her life. Now she's on the run, desperate to find the one safe haven left for kids like her — East River. She joins a group of kids who escaped their own camp. Liam, their brave leader, is falling hard for Ruby. But no matter how much she aches for him, Ruby can't risk getting close. Not after what happened to her parents.
When they arrive at East River, nothing is as it seems, least of all its mysterious leader. But there are other forces at work, people who will stop at nothing to use Ruby in their fight against the government. Ruby will be faced with a terrible choice, one that may mean giving up her only chance at a life worth living.
In a world struggling back from the brink of apocalypse, life is harsh. And for Elspeth Gordie, it is also dangerous. That's because Elspeth has a secret: she is a Misfit, born with mysterious mental abilities that she must keep hidden under threat of death. And her worries only multiply when she is exiled to the mountain compound known as Obernewtyn, where — for all her talents — Elspeth may finally and truly be out of her depth. Then she learns she's not the only one concealing secrets at Obernewtyn.
8. Science fiction–themed dystopias
Who says dystopias are just for the people of near-future Earth? In these novels, members of suppressed classes rebel against their controlling governments or second-class statuses in space — or beyond.
I'm Trella. I'm a scrub. A nobody. One of thousands who work the lower levels, keeping Inside clean for the Uppers. I've got one friend, do my job and try to avoid the Pop Cops. So what if I occasionally use the pipes to sneak around the Upper levels? The only neck at risk is my own… until I accidentally start a rebellion and become the go-to girl to lead a revolution.
The Earth is dying. Darrow is a Red, a miner in the interior of Mars. His mission is to extract enough precious elements to one day tame the surface of the planet and allow humans to live on it. The Reds are humanity's last hope.
Or so it appears, until the day Darrow discovers it's all a lie. That Mars has been habitable — and inhabited — for generations, by a class of people calling themselves the Golds. A class of people who look down on Darrow and his fellows as slave labour, to be exploited and worked to death without a second thought.
Until the day that Darrow, with the help of a mysterious group of rebels, disguises himself as a Gold and infiltrates their command school, intent on taking down his oppressors from the inside. But the command school is a battlefield — and Darrow isn't the only student with an agenda.
Cinder by Marissa Meyer
Humans and androids crowd the raucous streets of New Beijing. A deadly plague ravages the population. From space, a ruthless lunar people watch, waiting to make their move. No one knows that Earth's fate hinges on one girl.
Cinder, a gifted mechanic, is a cyborg. She's a second-class citizen with a mysterious past, reviled by her stepmother and blamed for her stepsister's illness. But when her life becomes intertwined with the handsome Prince Kai's, she suddenly finds herself at the center of an intergalactic struggle, and a forbidden attraction. Caught between duty and freedom, loyalty and betrayal, she must uncover secrets about her past in order to protect her world's future.
9. Fantasy–themed dystopias
One of the newest genres popping up is dystopian fantasies. Filled with the themes we love, this takes genetic evolution to an extreme, where magic flows, and kings and queens rule — and these royals can be just as sinister as President Snow.
This is a world divided by blood — red or silver.
The Reds are commoners, ruled by a Silver elite in possession of god-like superpowers. And to Mare Barrow, a 17-year-old Red girl from the poverty-stricken Stilts, it seems like nothing will ever change.
That is, until she finds herself working in the Silver Palace. Here, surrounded by the people she hates the most, Mare discovers that, despite her red blood, she possesses a deadly power of her own. One that threatens to destroy the balance of power.
Fearful of Mare's potential, the Silvers hide her in plain view, declaring her a long-lost Silver princess, now engaged to a Silver prince. Despite knowing that one misstep would mean her death, Mare works silently to help the Red Guard, a militant resistance group, and bring down the Silver regime.
But this is a world of betrayal and lies, and Mare has entered a dangerous dance – Reds against Silvers, prince against prince, and Mare against her own heart…
Magic, adventure, mystery, and romance combine in this epic debut in which a young princess must reclaim her dead mother's throne, learn to be a ruler — and defeat the Red Queen, a powerful and malevolent sorceress determined to destroy her.
On her 19th birthday, Princess Kelsea Raleigh Glynn, raised in exile, sets out on a perilous journey back to the castle of her birth to ascend her rightful throne. Plain and serious, a girl who loves books and learning, Kelsea bears little resemblance to her mother, the vain and frivolous Queen Elyssa. But though she may be inexperienced and sheltered, Kelsea is not defenseless: Around her neck hangs the Tearling sapphire, a jewel of immense magical power; and accompanying her is the Queen's Guard, a cadre of brave knights led by the enigmatic and dedicated Lazarus. Kelsea will need them all to survive a cabal of enemies who will use every weapon — from crimson-caped assassins to the darkest blood magic — to prevent her from wearing the crown.
Despite her royal blood, Kelsea feels like nothing so much as an insecure girl, a child called upon to lead a people and a kingdom about which she knows almost nothing. But what she discovers in the capital will change everything, confronting her with horrors she never imagined. An act of singular daring will throw Kelsea's kingdom into tumult, unleashing the vengeance of the tyrannical ruler of neighboring Mortmesne: the Red Queen, a sorceress possessed of the darkest magic. Now Kelsea will begin to discover whom among the servants, aristocracy, and her own guard she can trust.
But the quest to save her kingdom and meet her destiny has only just begun — a wondrous journey of self-discovery and a trial by fire that will make her a legend… if she can survive.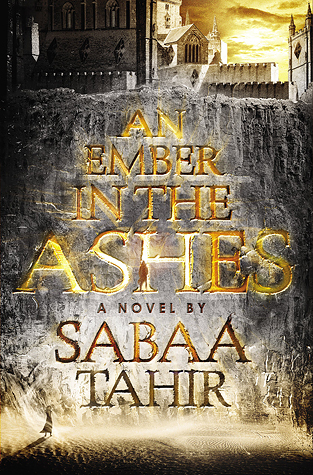 Laia is a slave.
Elias is a soldier.
Neither is free.
Under the Martial Empire, defiance is met with death. Those who do not vow their blood and bodies to the Emperor risk the execution of their loved ones and the destruction of all they hold dear.
It is in this brutal world, inspired by ancient Rome, that Laia lives with her grandparents and older brother. The family ekes out an existence in the Empire's impoverished backstreets. They do not challenge the Empire. They've seen what happens to those who do.
But when Laia's brother is arrested for treason, Laia is forced to make a decision. In exchange for help from rebels who promise to rescue her brother, she will risk her life to spy for them from within the Empire's greatest military academy.
There, Laia meets Elias, the school's finest soldier — and secretly, its most unwilling. Elias wants only to be free of the tyranny he's being trained to enforce. He and Laia will soon realize that their destinies are intertwined — and that their choices will change the fate of the Empire itself.
How many of these dystopian novels have you read?
Want access to free & bargain ebooks? Sign up for BookBub here.
Comments