As summer fades and a new school year begins, we're looking back on books we read in high school that still resonate today. These classics are not only terrific reads, but they also teach important lessons that endure throughout life. Publishers' descriptions are included below.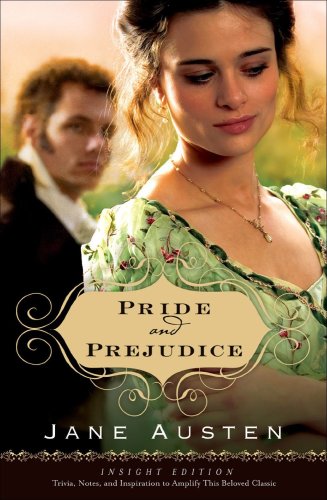 It is a truth universally acknowledged, that a single man in possession of a good fortune, must be in want of a wife.
The first sentence of Jane Austen's Pride and Prejudice is among the most quoted in literature, and sets up the humorous and ultimately timeless tale of proper English society, unspoken intentions, and true love acquired. Pride and Prejudice is a classic that adeptly traces the intricacies of social status, manners, and relationship rituals in 19th-century England, through which all the love between Elizabeth Bennet and Mr. Darcy eventually blossoms.
Why we enjoyed it: In addition to the obvious message about the unreliability of first impressions, Pride and Prejudice highlights the importance of remaining true to oneself and one's beliefs.
'It is a far, far better thing that I do, than I have ever done; it is a far, far better rest that I go to than I have ever known.' After finishing A Tale of Two Cities, Dickens said, 'it has greatly moved and excited me in the doing'. One of his most haunting novels, it has, since its first serial publication in 1859, continued to exert a grip on the popular imagination. Set during the French revolution in a lethal, vengeful Paris and a leafy, tranquil London, the two cities of the title are only a part of the novel's stark dichotomies, which are continued as Sydney Carton and Charles Darnay — their lives touched by the same woman — are drawn against their will to the vengeful, bloodstained streets of Paris only to fall under the lethal shadow of La Guillotine.
Why we enjoyed it: A Tale of Two Cities is a great introduction to the fascinating era of the French Revolution, and its themes of honor, bravery, and self-sacrifice resonate strongly.
One of the most important and enduring books of the 20th century, Their Eyes Were Watching God brings to life a Southern love story with the wit and pathos found only in the writing of Zora Neale Hurston. Out of print for almost 30 years — due largely to initial audiences' rejection of its strong black female protagonist — Hurston's classic has since its 1978 reissue become perhaps the most widely read and highly acclaimed novel in the canon of African-American literature.
Why we enjoyed it: Their Eyes Were Watching God provides a memorable introduction to the rich literature of the Harlem Renaissance.
The beloved American classic about a young girl's coming-of-age at the turn of the century, Betty Smith's A Tree Grows in Brooklyn is a poignant and moving tale filled with compassion and cruelty, laughter and heartache, crowded with life and people and incident. The story of young, sensitive, and idealistic Francie Nolan and her bittersweet formative years in the slums of Williamsburg has enchanted and inspired millions of readers for more than 60 years. By turns overwhelming, sublime, heartbreaking, and uplifting, the daily experiences of the unforgettable Nolans are raw with honesty and tenderly threaded with family connectedness — in a work of literary art that brilliantly captures a unique time and place as well as incredibly rich moments of universal experience.
Why we enjoyed it: Legions of teenaged girls have found a kindred spirit in bookish Francie Nolan. Forced to leave school to provide for her family while her happy-go-lucky younger brother is allowed to continue his education, Francie's eventual triumph underscores the importance of patience and persistence — and her love of learning sets a powerful example for young readers.
1984 by George Orwell
In 1984, London is a grim city where Big Brother is always watching you and the Thought Police can practically read your mind. Winston is a man in grave danger for the simple reason that his memory still functions. Drawn into a forbidden love affair, Winston finds the courage to join a secret revolutionary organization called The Brotherhood, dedicated to the destruction of the Party. Together with his beloved Julia, he hazards his life in a deadly match against the powers that be.
Why we enjoyed it: This terrifying depiction of a totalitarian state with censorship and constant surveillance reminds readers that government should belong to the people, not the other way around.
The hero-narrator of The Catcher in the Rye is an ancient child of 16, a native New Yorker named Holden Caulfield. Through circumstances that tend to preclude adult, secondhand description, he leaves his prep school in Pennsylvania and goes underground in New York City for three days. The boy himself is at once too simple and too complex for us to make any final comment about him or his story. Perhaps the safest thing we can say about Holden is that he was born in the world not just strongly attracted to beauty but, almost, hopelessly impaled on it. There are many voices in this novel: Children's voices, adult voices, underground voices — but Holden's voice is the most eloquent of all. Transcending his own vernacular, yet remaining marvelously faithful to it, he issues a perfectly articulated cry of mixed pain and pleasure. However, like most lovers and clowns and poets of the higher orders, he keeps most of the pain to, and for, himself. The pleasure he gives away, or sets aside, with all his heart. It is there for the reader who can handle it to keep.
Why we enjoyed it: Angry, elated, confused, protective, and profane, Holden Caulfield has helped countless teens realize that their struggles are universal, and they are not alone in the world.
Guy Montag is a fireman. In his world, where television rules and literature is on the brink of extinction, firemen start fires rather than put them out. His job is to destroy the most illegal of commodities, the printed book, along with the houses in which they are hidden.
Montag never questions the destruction and ruin his actions produce, returning each day to his bland life and wife, Mildred, who spends all day with her television "family." But then he meets an eccentric young neighbor, Clarisse, who introduces him to a past where people didn't live in fear and to a present where one sees the world through the ideas in books instead of the mindless chatter of television.
When Mildred attempts suicide and Clarisse suddenly disappears, Montag begins to question everything he has ever known. He starts hiding books in his home, and when his pilfering is discovered, the fireman has to run for his life.
Why we enjoyed it: Bradbury's novel reminds us that books are indeed important!
Things Fall Apart tells two intertwining stories, both centering on Okonkwo, a "strong man" of an Ibo village in Nigeria. The first, a powerful fable of the immemorial conflict between the individual and society, traces Okonkwo's fall from grace with the tribal world. The second, as modern as the first is ancient, concerns the clash of cultures and the destruction of Okonkwo's world with the arrival of aggressive European missionaries. These perfectly harmonized twin dramas are informed by an awareness capable of encompassing at once the life of nature, human history, and the mysterious compulsions of the soul.
Why we enjoyed it: Oft-neglected in American schools, Achebe's classic brings Africa to the forefront.
One of the best-loved stories of all time, To Kill a Mockingbird has been translated into more than 40 languages, sold more than 30 million copies worldwide, served as the basis for an enormously popular motion picture, and was voted one of the best novels of the 20th century by librarians across the country. A gripping, heart-wrenching, and wholly remarkable tale of coming-of-age in a South poisoned by virulent prejudice, it views a world of great beauty and savage inequities through the eyes of a young girl, as her father — a crusading local lawyer — risks everything to defend a black man unjustly accused of a terrible crime.
Why we enjoyed it: In addition to sparking racial discussions, To Kill a Mockingbird vividly reinforces the most elementary of lessons: Act with honor, and always be kind.
Night by Elie Wiesel
Night is Elie Wiesel's masterpiece, a candid, horrific, and deeply poignant autobiographical account of his survival as a teenager in the Nazi death camps. This new translation by Marion Wiesel, Elie's wife and frequent translator, presents this seminal memoir in the language and spirit truest to the author's original intent. And in a substantive new preface, Elie reflects on the enduring importance of Night and his lifelong, passionate dedication to ensuring that the world never forgets man's capacity for inhumanity to man.
Night offers much more than a litany of the daily terrors, everyday perversions, and rampant sadism at Auschwitz and Buchenwald; it also eloquently addresses many of the philosophical as well as personal questions implicit in any serious consideration of what the Holocaust was, what it meant, and what its legacy is and will be.
Why we enjoyed it: Wiesel's unapologetic presentation of the horrors of the Holocaust is a sobering but important shock.
Catch-22 by Joseph Heller
Fifty years after its original publication, Catch-22 remains a cornerstone of American literature and one of the funniest — and most celebrated — novels of all time. Set in Italy during World War II, this is the story of the incomparable, malingering bombardier, Yossarian, a hero who is furious because thousands of people he has never met are trying to kill him. But his real problem is not the enemy — it is his own army, which keeps increasing the number of missions the men must fly to complete their service. Yet if Yossarian makes any attempt to excuse himself from the perilous missions he's assigned, he'll be in violation of Catch-22, a hilariously sinister bureaucratic rule: A man is considered insane if he willingly continues to fly dangerous combat missions, but if he makes a formal request to be removed from duty, he is proven sane and therefore ineligible to be relieved. Since its publication in 1961, no novel has matched Catch-22's intensity and brilliance in depicting the brutal insanity of war.
Why we enjoyed it: Heller's irreverent humor makes this pointed commentary on life in a war zone all the more entertaining.
Here is a book as joyous and painful, as mysterious and memorable, as childhood itself. I Know Why the Caged Bird Sings captures the longing of lonely children, the brute insult of bigotry, and the wonder of words that can make the world right. Maya Angelou's debut memoir is a modern American classic beloved worldwide.
Sent by their mother to live with their devout, self-sufficient grandmother in a small Southern town, Maya and her brother, Bailey, endure the ache of abandonment and the prejudice of the local "powhitetrash." At eight years old and back at her mother's side in St. Louis, Maya is attacked by a man many times her age — and has to live with the consequences for a lifetime. Years later, in San Francisco, Maya learns that love for herself, the kindness of others, her own strong spirit, and the ideas of great authors ("I met and fell in love with William Shakespeare") will allow her to be free instead of imprisoned.
Poetic and powerful, I Know Why the Caged Bird Sings will touch hearts and change minds for as long as people read.
Why we enjoyed it: The powerful story of young Maya's traumatic childhood and her eventual escape through the printed word is an inspiring message to all.
Did we miss a life-changing required high school read? Let us know in the comments!
Want access to free & bargain ebooks? Sign up for BookBub here.
Comments