As the holidays draw near, we start to think about what matters most. For us bookworms, books fall pretty high on the list of things for which we are thankful. While we're certainly thankful for all books, there are some classics that we hold especially dear. Check out this list of classic books we're thankful for, complete with publishers' descriptions.
Jane, Elizabeth, Mary, Kitty and Lydia are five unmarried daughters in the Bennet household. With not a courtship on the horizon, let along prospects for a marriage, it is a surprise when the handsome, wealthy bachelor Charles Bingley sets his sights on Jane.
While Bingley exudes charm, his friend Mr Darcy makes a less than favorable impression by insulting Jane's sister, Elizabeth, and thus initiates the most excruciating yet exhilarating love-hate romance in literary history.
Pride and Prejudice feels as alive and important now as the day it was first published.
Why we're thankful: Written in the 1800s, Austen's exploration of marriage, wealth, and class still ring true. Plus, who doesn't love a good romance story?
The American classic about a young girl's coming-of-age at the turn of the century.
Why we're thankful: A Tree Grows in Brooklyn not only addresses poverty and perseverance in early 20th-century Brooklyn, but features one of the best bookworm characters of all time.
Rebecca by Daphne du Maurier
Last night I dreamt I went to Manderley again…
The novel begins in Monte Carlo, where our heroine is swept off her feet by the dashing widower Maxim de Winter and his sudden proposal of marriage. Orphaned and working as a lady's maid, she can barely believe her luck. It is only when they arrive at his massive country estate that she realizes how large a shadow his late wife will cast over their lives — presenting her with a lingering evil that threatens to destroy their marriage from beyond the grave.
Why we're thankful: Daphne du Maurier created one of the best domestic thrillers of all time. Rebecca has captured the imaginations of generations of readers — and has never been out of print.
Harper Lee's Pulitzer prize-winning masterwork of honor and injustice in the deep south — and the heroism of one man in the face of blind and violent hatred. One of the best-loved stories of all time, To Kill a Mockingbird has been translated into more than 40 languages, sold more than 30 million copies worldwide, served as the basis for an enormously popular motion picture, and was voted one of the best novels of the 20th century by librarians across the country. A gripping, heart-wrenching, and wholly remarkable tale of coming-of-age in a South poisoned by virulent prejudice, it views a world of great beauty and savage inequities through the eyes of a young girl, as her father — a crusading local lawyer –risks everything to defend a black man unjustly accused of a terrible crime.
Why we're thankful: Told largely from the point of view of young Scout, Lee addresses race and morality in an accessible way.
Few stories are as widely read and as universally cherished by children and adults alike as The Little Prince. Richard Howard's translation of the beloved classic beautifully reflects Saint-Exupéry's unique and gifted style. Howard, an acclaimed poet and one of the preeminent translators of our time, has excelled in bringing the English text as close as possible to the French, in language, style, and most important, spirit.
Why we're thankful: The Little Prince ponders philosophical questions and inspires its readers to revive their childhood curiosity.
Winner of the Pulitzer Prize and the National Book Award, this novel about a resilient and courageous woman has become a Broadway show and a cultural phenomenon.
Celie has grown up poor in rural Georgia, despised by the society around her and abused by her own family. She strives to protect her sister, Nettie, from a similar fate, and while Nettie escapes to a new life as a missionary in Africa, Celie is left behind without her best friend and confidante, married off to an older suitor, and sentenced to a life alone with a harsh and brutal husband.
In an attempt to transcend a life that often seems too much to bear, Celie begins writing letters directly to God. The letters, spanning 20 years, record a journey of self-discovery and empowerment guided by the light of a few strong women. She meets Shug Avery, her husband's mistress and a jazz singer with a zest for life, and her stepson's wife, Sophia, who challenges her to fight for independence. And though the many letters from Celie's sister are hidden by her husband, Nettie's unwavering support will prove to be the most breathtaking of all.
Why we're thankful: Alice Walker's Pulitzer Prize winner presents us with an unflinching story of racism and sexism.
The March sisters are four of the most beloved characters in literature. Beautiful and proper Meg, headstrong Jo, gentle Beth, pampered little Amy — generations of young women have recognized themselves in one or more of the devoted siblings. Set against the backdrop of the Civil War and the changing seasons of New England, the story of their passage from adolescence to adulthood, from a Christmas without presents to a glorious fall day in a bountiful apple orchard, from castles in the air to real-life hearths and homes, is just as touching and illuminating today as it was a century and a half ago.
Based on Louisa May Alcott's own childhood and early career as a writer, Little Women is her masterpiece and one of the most popular novels of all time.
Why we're thankful: Little Women is a coming-of-age story that reminds us of the value of family — especially sisterhood.
The diary as Anne Frank wrote it. At last, in a new translation, this definitive edition contains entries about Anne's burgeoning sexuality and confrontations with her mother that were cut from previous editions. Anne Frank's The Diary of a Young Girl is among the most enduring documents of the 20th century. Since its  publication in 947, it has been a beloved and deeply admired monument to the indestructible nature of the human spirit, read by millions of people and translated into more than 55 languages.
Anne Frank and her family, fleeing the horrors of Nazi occupation forces, hid in the back of an Amsterdam office building for two years. This is Anne's record of that time. She was 13 when the family went into the "Secret Annex," and in these pages, she grows to be a young woman and proves to be an insightful observer of human nature as well. A timeless story discovered by each new generation, The Diary of a Young Girl stands without peer. For young readers and adults, it continues to bring to life this young woman, who for a time survived the worst horrors the modern world had seen — and who remained triumphantly and heartbreakingly human throughout her ordeal.
Why we're thankful: Anne Frank's diary provides a key perspective from the Holocaust. Despite her hardships, though, Anne's diary is full of hope and faith.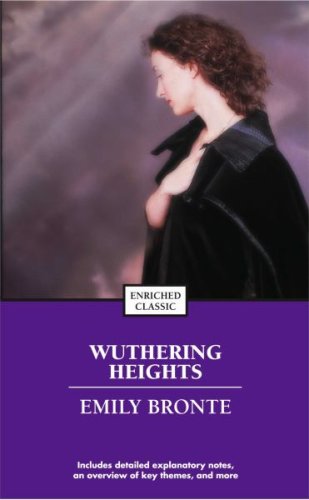 Heathcliff, a young orphan, is adopted by Catherine Earnshaw's father. Treated unkindly by her brother, Hindley, Heathcliff is at first protected by the elderly Mr. Earnshaw. When the elder Earnshaw passes away, Heathcliff is hurt and betrayed by both brother and sister, and leaves… until the day he returns to exact his revenge.
Emily Brontë demonic and brooding creation, Heathcliff, and the love-affair between him and Catherine, has fascinated and entranced readers for generations. It is a classic of gothic literature.
Why we're thankful: Emily Brontë's novel challenged the ideals of the 1800s, and Wuthering Heights has persevered throughout the centuries.
In a London studio, two men contemplate the portrait of another — younger and more beautiful — man. Despite Lord Henry Wotton's urging, Basil Hallward refuses to show his painting in public — there is too much of his true feeling for the subject in it. "I will not bare my soul to their shallow, prying eyes," he declares. "My heart shall never be put under their microscope."
Instead, it is Dorian Gray's soul put under the microscope of this unforgettable novel. Influenced by the cynical, hedonistic Lord Henry, Dorian becomes infatuated with his own youth and beauty and wishes that his portrait would grow old instead of him. His wish comes true, but it is not just the passage of time that mars the painting — the wages of sin are recorded there as well. Freed from the physical toll of his debauchery, Dorian devotes himself to the pursuit of pleasure above all else. He turns on his friends, drives his lover to suicide, and engages in every vice known to man. To society, he remains as handsome and youthful as Prince Charming. In the painting, he is hideous. Too late, Dorian realizes that only one of these two images can be real, and a reckoning deferred is not a reckoning absolved.
Why we're thankful: The Picture of Dorian Gray is a fascinating discussion of beauty and narcissism, and we can still learn from its themes today.
Pip, a poor orphan being raised by a cruel sister, does not have much in the way of great expectations — until he is inexplicably elevated to wealth by an anonymous benefactor. Full of unforgettable characters — including a terrifying convict named Magwitch, the eccentric Miss Havisham, and her beautiful but manipulative niece, Estella, Great Expectations is a tale of intrigue, unattainable love, and all of the happiness money can't buy. "Great Expectations has the most wonderful and most perfectly worked-out plot for a novel in the English language," according to John Irving, and J. Hillis Miller declares, "Great Expectations is the most unified and concentrated expression of Dickens's abiding sense of the world, and Pip might be called the archetypal Dickens hero."
Why we're thankful: Dickens gives us an orphan boy's coming-of-age story, reminding us of the stark difference between the lives of various social classes.
One of the most important and enduring books of the 20th century, Their Eyes Were Watching God brings to life a Southern love story with the wit and pathos found only in the writing of Zora Neale Hurston. Out of print for almost 30 years — due largely to initial audiences' rejection of its strong black female protagonist –Hurston's classic has since its 1978 reissue become perhaps the most widely read and highly acclaimed novel in the canon of African-American literature.
Why we're thankful: Their Eyes Were Watching God depicts a strong African American female — created by an equally strong voice in literature.
The exemplary novel of the Jazz Age, F. Scott Fitzgeralds' third book, The Great Gatsby (1925), stands as the supreme achievement of his career. T. S. Eliot read it three times and saw it as the "first step" American fiction had taken since Henry James; H. L. Mencken praised "the charm and beauty of the writing," as well as Fitzgerald's sharp social sense; and Thomas Wolfe hailed it as Fitzgerald's "best work" thus far. The story of the fabulously wealthy Jay Gatsby and his love for the beautiful Daisy Buchanan, of lavish parties on Long Island at a time when, The New York Times remarked, "gin was the national drink and sex the national obsession," it is an exquisitely crafted tale of America in the 1920s that resonates with the power of myth. A novel of lyrical beauty yet brutal realism, of magic, romance, and mysticism, The Great Gatsby is one of the great classics of 20th-century literature.
Why we're thankful: Full of metaphor, The Great Gatsby not only brings to life the Roaring Twenties, but presents moral themes we still struggle with in today's society.
Invisible Man is a milestone in American literature, a book that has continued to engage readers since its appearance in 1952. A first novel by an unknown writer, it remained on the bestseller list for 16 weeks, won the National Book Award for fiction, and established Ralph Ellison as one of the key writers of the century. The nameless narrator of the novel describes growing up in a black community in the South, attending a Negro college from which he is expelled, moving to New York and becoming the chief spokesman of the Harlem branch of "the Brotherhood", and retreating amid violence and confusion to the basement lair of the Invisible Man he imagines himself to be. The book is a passionate and witty tour de force of style, strongly influenced by T.S. Eliot's The Waste Land, Joyce, and Dostoevsky.
Why we're thankful: We're thankful not only for Ellison's insight into the African American experience in the 20th century, but for his beautiful, breathtaking prose.
1984 by George Orwell
In 1984, London is a grim city where Big Brother is always watching you and the Thought Police can practically read your mind. Winston is a man in grave danger for the simple reason that his memory still functions. Drawn into a forbidden love affair, Winston finds the courage to join a secret revolutionary organization called The Brotherhood, dedicated to the destruction of the Party. Together with his beloved Julia, he hazards his life in a deadly match against the powers that be.
Why we're thankful: A scary portrayal of a dystopian future, this story can make us thankful for what we have now, and help us consider how our actions might impact the future.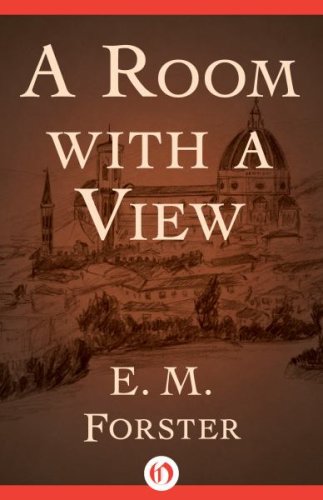 Lucy Honeychurch is a young woman torn between the opposing values of gray old England and vibrant Italy in this unforgettable story of romance and rebellion. On a trip to Florence with her older cousin and chaperone, Lucy becomes enchanted by a freedom unlike any she has known at home. The excitement she feels when she is with George Emerson, a fellow boarder at the Pension Bertolini, is as exhilarating as it is confusing, and their intoxicating kiss in a field of violets threatens to turn her whole world upside down. Back at Windy Corner, her family's Surrey estate, Lucy must finally decide if the power of passion is greater than the force of expectation.
Widely recognized as one of the finest novels of the 20th century, A Room with a View is E. M. Forster's most hopeful work and a truly timeless romance.
Why we're thankful: A Room with a View tells a romantic story that immerses the reader in the emotions of the characters. Forster's colorful descriptions of the Edwardian era also explores the strict social confines of the time.
What classics are you thankful for? Share in the comments!
Want access to free & bargain ebooks? Sign up for BookBub here.
Comments