From psychological to crime to political thrillers, we've got you covered when it comes to the biggest page-turners to hit the shelves this fall. Check out the list below, complete with publishers' descriptions, to see what you might have missed.
Being on the Murder squad is nothing like Detective Antoinette Conway dreamed it would be. Her partner, Stephen Moran, is the only person who seems glad she's there. The rest of her working life is a stream of thankless cases, vicious pranks, and harassment. Antoinette is savagely tough, but she's getting close to the breaking point.
Their new case looks like yet another by-the-numbers lovers' quarrel gone bad. Aislinn Murray is blond, pretty, groomed to a shine, and dead in her catalogue-perfect living room, next to a table set for a romantic dinner. There's nothing unusual about her — except that Antoinette's seen her somewhere before.
And that her death won't stay in its neat by-numbers box. Other detectives are trying to push Antoinette and Steve into arresting Aislinn's boyfriend, fast. There's a shadowy figure at the end of Antoinette's road. Aislinn's friend is hinting that she knew Aislinn was in danger. And everything they find out about Aislinn takes her further from the glossy, passive doll she seemed to be.
Antoinette knows the harassment has turned her paranoid, but she can't tell just how far gone she is. Is this case another step in the campaign to force her off the squad, or are there darker currents flowing beneath its polished surface?
Home by Harlan Coben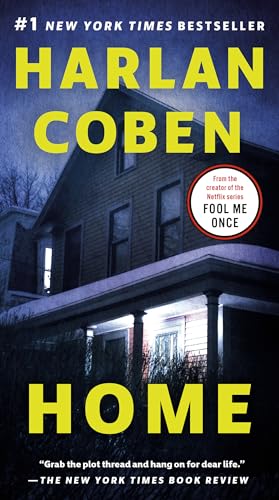 A decade ago, kidnappers grabbed two boys from wealthy families and demanded ransom, then went silent. No trace of the boys ever surfaced. For 10 years their families have been left with nothing but painful memories and a quiet desperation for the day that has finally, miraculously arrived: Myron Bolitar and his friend Win believe they have located one of the boys, now a teenager. Where has he been for 10 years, and what does he know about the day, more than half a life ago, when he was taken? And most critically: What can he tell Myron and Win about the fate of his missing friend? Drawing on his singular talent, Harlan Coben delivers an explosive and deeply moving thriller about friendship, family, and the meaning of home.
We expect our judges to be honest and wise. Their integrity and impartiality are the bedrock of the entire judicial system. We trust them to ensure fair trials, to protect the rights of all litigants, to punish those who do wrong, and to oversee the orderly and efficient flow of justice.
But what happens when a judge bends the law or takes a bribe? It's rare, but it happens.
Lacy Stoltz is an investigator for the Florida Board on Judicial Conduct. She is a lawyer, not a cop, and it is her job to respond to complaints dealing with judicial misconduct. After nine years with the Board, she knows that most problems are caused by incompetence, not corruption. But a corruption case eventually crosses her desk. A previously disbarred lawyer is back in business with a new identity. He now goes by the name Greg Myers, and he claims to know of a Florida judge who has stolen more money than all other crooked judges combined. And not just crooked judges in Florida. All judges, from all states, and throughout U.S. history.
What's the source of the ill-gotten gains? It seems the judge was secretly involved with the construction of a large casino on Native American land. The Coast Mafia financed the casino and is now helping itself to a sizable skim of each month's cash. The judge is getting a cut and looking the other way. It's a sweet deal: Everyone is making money.
But now Greg wants to put a stop to it. His only client is a person who knows the truth and wants to blow the whistle and collect millions under Florida law. Greg files a complaint with the Board on Judicial Conduct, and the case is assigned to Lacy Stoltz, who immediately suspects that this one could be dangerous.
Dangerous is one thing. Deadly is something else.
Husbands and wives. Mothers and daughters. The past and the future.
Secrets bind them. And secrets can destroy them.
The author of Pretty Girls returns with an electrifying, emotionally complex thriller that plunges its fascinating protagonist into the darkest depths of a mystery that just might destroy him.
With the discovery of a murder at an abandoned construction site, Will Trent of the Georgia Bureau of Investigation is brought in on a case that becomes much more dangerous when the dead man is identified as an ex-cop.
Studying the body, Sara Linton — the GBI's newest medical examiner and Will's lover — realizes that the extensive blood loss didn't belong to the corpse. Sure enough, bloody footprints leading away from the scene indicate there is another victim — a woman — who has vanished… and who will die soon if she isn't found.
Will is already compromised, because the site belongs to the city's most popular citizen: a wealthy, powerful, and politically connected athlete protected by the world's most expensive lawyers — a man who's already gotten away with rape, despite Will's exhaustive efforts to put him away.
But the worst is yet to come. Evidence soon links Will's troubled past to the case… and the consequences will tear through his life with the force of a tornado, wreaking havoc for Will and everyone around him, including his colleagues, family, friends — and even the suspects he pursues.
Relentlessly suspenseful and furiously paced, peopled with conflicted, fallible characters who leap from the page, The Kept Woman is a seamless blend of twisty police procedural and ingenious psychological thriller — a searing, unforgettable novel of love, loss, and redemption.
She used to work for the US government, but very few people ever knew that. An expert in her field, she was one of the darkest secrets of an agency so clandestine it doesn't even have a name. And when they decided she was a liability, they came for her without warning.
Now she rarely stays in the same place or uses the same name for long. They've killed the only other person she trusted, but something she knows still poses a threat. They want her dead, and soon.
When her former handler offers her a way out, she realizes it's her only chance to erase the giant target on her back. But it means taking one last job for her ex-employers. To her horror, the information she acquires only makes her situation more dangerous.
Resolving to meet the threat head-on, she prepares for the toughest fight of her life but finds herself falling for a man who can only complicate her likelihood of survival. As she sees her choices being rapidly whittled down, she must apply her unique talents in ways she never dreamed of.
In this tautly plotted novel, Meyer creates a fierce and fascinating new heroine with a very specialized skill set. And she shows once again why she's one of the world's bestselling authors.
Zoe Whittaker is living a charmed life. She is the beautiful young wife to handsome, charming Wall Street tycoon Henry Whittaker. She is a member of Manhattan's social elite. She is on the board of one of the city's most prestigious philanthropic organizations. She has a perfect Tribeca penthouse in the city and a gorgeous lake house in the country. The finest wine, the most up-to-date fashion, and the most luxurious vacations are all at her fingertips.
What no one knows is that five years ago, Zoe's life was in danger. Back then, Zoe wasn't Zoe at all. Now her secrets are coming back to haunt her.
As the past and present collide, Zoe must decide who she can trust before she — whoever she is — vanishes completely.
A "dark, twisty, edge-of-your-seat suspense" (Karen Robards), The Vanishing Year combines the classic sophistication of Ruth Rendell and A.S.A. Harrison with the thoroughly modern flair of Jessica Knoll. Told from the point-of-view of a heroine who is as relatable as she is enigmatic, The Vanishing Year is an unforgettable new novel by a rising star of the genre.
It's 1996, and Reacher is still in the army. In the morning they give him a medal, and in the afternoon they send him back to school. That night he's off the grid. Out of sight, out of mind.
Two other men are in the classroom — an FBI agent and a CIA analyst. Each is a first-rate operator, each is fresh off a big win, and each is wondering what the hell they are doing there.
Then they find out: A Jihadist sleeper cell in Hamburg, Germany, has received an unexpected visitor — a Saudi courier, seeking safe haven while waiting to rendezvous with persons unknown. A CIA asset, undercover inside the cell, has overheard the courier whisper a chilling message: "The American wants $100 million."
For what? And who from? Reacher and his two new friends are told to find the American. Reacher recruits the best soldier he has ever worked with: Sergeant Frances Neagley. Their mission heats up in more ways than one, while always keeping their eyes on the prize: If they don't get their man, the world will suffer an epic act of terrorism.
From Langley to Hamburg, Jalalabad to Kiev, Night School moves like a bullet through a treacherous landscape of double crosses, faked identities, and new and terrible enemies, as Reacher maneuvers inside the game and outside the law.
In this taut psychological thriller, a couple and their houseguest find themselves caught in a deadly web of secrets, obsession, and revenge.
It is summer, 2012. Charlie, a wealthy banker with an uneasy conscience, invites his troubled cousin Matthew to visit him and his wife in their idyllic mountaintop house. As the days grow hotter, the friendship between the three begins to reveal its fault lines, and with the arrival of a fourth character, the household finds itself suddenly in the grip of uncontrollable passions. As readers of James Lasdun's acclaimed fiction can expect, The Fall Guy is a complex moral tale as well as a gripping suspense story, probing questions of guilt and betrayal with ruthless incisiveness. Who is the real victim here? Who is the perpetrator? And who, ultimately, is the fall guy? Darkly vivid, with an atmosphere of erotic danger, The Fall Guy is Lasdun's most entertaining novel yet.
In 2003, 16-year-old Rebecca Winter disappeared.
She'd been enjoying her summer break: working at a fast-food restaurant, crushing on an older boy, and shoplifting with her best friend. Mysteriously ominous things began to happen — a presence in her room at night, periods of blackouts, a feeling of being watched — though Bec remained oblivious of what was to come.
Eleven years later she is replaced.
A young woman, desperate after being arrested, claims to be the decade-missing Bec.
Soon the impostor is living Bec's life. Sleeping in her bed. Hugging her mother and father. Learning her best friends' names. Playing with her little brothers.
But Bec's welcoming family and enthusiastic friends are not quite as they seem. As the impostor dodges the detective investigating her case, she begins to delve into the life of the real Bec Winter — and soon realizes that whoever took Bec is still at large, and that she is in imminent danger.
Seattle PD sex-crimes detective Livia Lone knows the monsters she hunts. Sold by her Thai parents along with her little sister, Nason; marooned in America; abused by the men who trafficked them… the only thing that kept Livia alive as a teenager was her determination to find Nason.
Livia has never stopped looking. And she copes with her failure to protect her sister by doing everything she can to put predators in prison.
Or, when that fails, by putting them in the ground.
But when a fresh lead offers new hope of finding Nason and the men who trafficked them both, Livia will have to go beyond just being a cop. Beyond even being a vigilante. She'll have to relive the horrors of the past. Take on one of the most powerful men in the US government. And uncover a conspiracy of almost unimaginable evil.
In every way, it's an unfair fight. But Livia has two advantages: her unending love for Nason —
And a lifelong lust for vengeance.
Chaos by Patricia Cornwell
In the quiet of twilight, on an early autumn day, 26-year-old Elisa Vandersteel is killed while riding her bicycle along the Charles River. It appears she was struck by lightning — except the weather is perfectly clear with not a cloud in sight. Dr. Kay Scarpetta, the Cambridge Forensic Center's director and chief, decides at the scene that this is no accidental Act of God.
Her investigation becomes complicated when she begins receiving a flurry of bizarre poems from an anonymous cyberbully who calls himself Tailend Charlie. Though subsequent lab results support Scarpetta's conclusions, the threatening messages don't stop. When the 10th poem arrives exactly 24 hours after Elisa's death, Scarpetta begins to suspect the harasser is involved, and sounds the alarm to her investigative partner Pete Marino and her husband, FBI analyst Benton Wesley.
She also enlists the help of her niece, Lucy. But to Scarpetta's surprise, tracking the slippery Tailend Charlie is nearly impossible, even for someone as brilliant as her niece. Also, Lucy can't explain how this anonymous nemesis could have access to private information. To make matters worse, a venomous media is whipping the public into a frenzy, questioning the seasoned forensics chief's judgment and "a quack cause of death on a par with spontaneous combustion."
Harry Bosch is California's newest private investigator. He doesn't advertise, he doesn't have an office, and he's picky about who he works for, but it doesn't matter. His chops from 30 years with the LAPD speak for themselves.
Soon one of Southern California's biggest moguls comes calling. The reclusive billionaire is nearing the end of his life and is haunted by one regret. When he was young, he had a relationship with a Mexican girl, his great love. But soon after becoming pregnant, she disappeared. Did she have the baby? And if so, what happened to it?
Desperate to know whether he has an heir, the dying magnate hires Bosch, the only person he can trust. With such a vast fortune at stake, Harry realizes that his mission could be risky not only for himself but for the one he's seeking. But as he begins to uncover the haunting story — and finds uncanny links to his own past — he knows he cannot rest until he finds the truth.
At the same time, unable to leave cop work behind completely, he volunteers as an investigator for a tiny cash-strapped police department and finds himself tracking a serial rapist who is one of the most baffling and dangerous foes he has ever faced.
Swift, unpredictable, and thrilling, The Wrong Side of Goodbye shows that Michael Connelly "continues to amaze with his consistent skill and sizzle" (Cleveland Plain Dealer).
IQ by Joe Ide
A resident of one of LA's toughest neighborhoods uses his blistering intellect to solve the crimes the LAPD ignores.
East Long Beach. The LAPD is barely keeping up with the neighborhood's high crime rate. Murders go unsolved, lost children unrecovered. But someone from the neighborhood has taken it upon himself to help solve the cases the police can't or won't touch.
They call him IQ. He's a loner and a high school dropout, his unassuming nature disguising a relentless determination and a fierce intelligence. He charges his clients whatever they can afford, which might be a set of tires or a homemade casserole. To get by, he's forced to take on clients that can pay.
This time, it's a rap mogul whose life is in danger. As Isaiah investigates, he encounters a vengeful ex-wife, a crew of notorious cutthroats, a monstrous attack dog, and a hit man who even other hit men say is a lunatic. The deeper Isaiah digs, the more far reaching and dangerous the case becomes.
Night Watch by Iris Johansen and Roy Johansen
Sometimes, what you can't see will kill you…
Born blind, Kendra Michaels spent the first 20 years of her life living in the darkness. Then, thanks to a revolutionary medical procedure developed by England's Night Watch Project, she was given the gift of sight. Her highly-developed senses (honed during her years in the dark), combined with her new found vision, have made her a remarkable investigator, sought after by law-enforcement agencies all over the country. But her newest case becomes deeply personal as she uncovers the truth about the shadowy organization that has given her so much.
Kendra is surprised when she is visited by Dr. Charles Waldridge, the researcher who gave her sight. All is not well with the brilliant surgeon; he's troubled by something he can't discuss with Kendra. When Waldridge disappears the very night he visits her, Kendra is on the case, recruiting government agent-for-hire Adam Lynch to join her on a trail that leads to the snow-packed California mountains. There they make a gruesome discovery: the corpse of one of Dr. Waldridge's associates. But it's only the first casualty in a white-knuckle confrontation with a deadly enemy who will push Kendra to the limits of her abilities. Soon she must fight for her very survival as she tries to stop the killing… and unearth the shocking secret of Night Watch.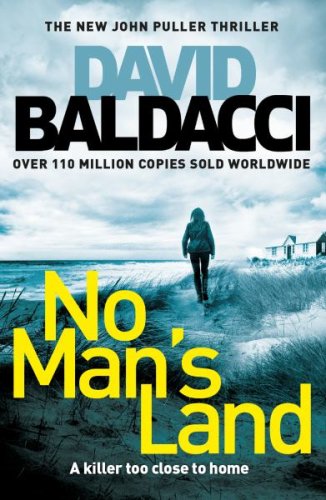 Two men. Thirty years.
John Puller's mother, Jackie, vanished 30 years ago from Fort Monroe, Virginia, when Puller was just a boy. Paul Rogers has been in prison for 10 years. But 20 years before that, he was at Fort Monroe. One night three decades ago, Puller's and Rogers' worlds collided with devastating results, and the truth has been buried ever since.
Until now.
Military investigators, armed with a letter from a friend of Jackie's, arrive in the hospital room of Puller's father — a legendary three-star now sinking into dementia — and reveal that Puller Sr. has been accused of murdering Jackie.
Aided by his brother Robert Puller, an Air Force major, and Veronica Knox, who works for a shadowy US intelligence organization, Puller begins a journey that will take him into his own past, to find the truth about his mother.
Paul Rogers's time is running out. With the clock ticking, he begins his own journey, one that will take him across the country to the place where all his troubles began: a mysterious building on the grounds of Fort Monroe. There, 30 years ago, the man Rogers had once been vanished too, and was replaced with a monster. And now the monster wants revenge. And the only person standing in his way is John Puller.
Which of these thrillers do you plan to read? Share in the comments!
Want access to free & bargain ebooks? Sign up for BookBub here.
Comments