If you're a fan of Harlan Coben's novels and have already devoured his most recent thriller, Home, we've compiled a list of new and forthcoming twisty, plot-driven novels for you to consider. Check out our list below, complete with publishers' descriptions.
Follow Harlan Coben on BookBub
Chaos by Patricia Cornwell
In the quiet of twilight, on an early autumn day, 26-year-old Elisa Vandersteel is killed while riding her bicycle along the Charles River. It appears she was struck by lightning — except the weather is perfectly clear with not a cloud in sight. Dr. Kay Scarpetta, the Cambridge Forensic Center's director and chief, decides at the scene that this is no accidental Act of God.
Her investigation becomes complicated when she begins receiving a flurry of bizarre poems from an anonymous cyberbully who calls himself Tailend Charlie. Though subsequent lab results support Scarpetta's conclusions, the threatening messages don't stop. When the 10th poem arrives exactly 24 hours after Elisa's death, Scarpetta begins to suspect the harasser is involved, and sounds the alarm to her investigative partner Pete Marino and her husband, FBI analyst Benton Wesley.
She also enlists the help of her niece, Lucy. But to Scarpetta's surprise, tracking the slippery Tailend Charlie is nearly impossible, even for someone as brilliant as her niece. Also, Lucy can't explain how this anonymous nemesis could have access to private information. To make matters worse, a venomous media is whipping the public into a frenzy, questioning the seasoned forensics chief's judgment and "a quack cause of death on a par with spontaneous combustion."
Harry Bosch is California's newest private investigator. He doesn't advertise, he doesn't have an office, and he's picky about who he works for, but it doesn't matter. His chops from 30 years with the LAPD speak for themselves.
Soon one of Southern California's biggest moguls comes calling. The reclusive billionaire is nearing the end of his life and is haunted by one regret. When he was young, he had a relationship with a Mexican girl, his great love. But soon after becoming pregnant, she disappeared. Did she have the baby? And if so, what happened to it?
Desperate to know whether he has an heir, the dying magnate hires Bosch, the only person he can trust. With such a vast fortune at stake, Harry realizes that his mission could be risky not only for himself but for the one he's seeking. But as he begins to uncover the haunting story — and finds uncanny links to his own past — he knows he cannot rest until he finds the truth.
At the same time, unable to leave cop work behind completely, he volunteers as an investigator for a tiny cash-strapped police department and finds himself tracking a serial rapist who is one of the most baffling and dangerous foes he has ever faced.
Swift, unpredictable, and thrilling, The Wrong Side of Goodbye shows that Michael Connelly "continues to amaze with his consistent skill and sizzle" (Cleveland Plain Dealer).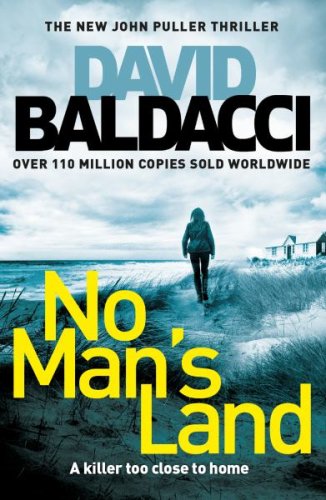 Two men. Thirty years.
John Puller's mother, Jackie, vanished 30 years ago from Fort Monroe, Virginia, when Puller was just a boy. Paul Rogers has been in prison for 10 years. But 20 years before that, he was at Fort Monroe. One night three decades ago, Puller's and Rogers' worlds collided with devastating results, and the truth has been buried ever since.
Until now.
Military investigators, armed with a letter from a friend of Jackie's, arrive in the hospital room of Puller's father — a legendary three-star now sinking into dementia — and reveal that Puller Sr. has been accused of murdering Jackie.
Aided by his brother Robert Puller, an Air Force major, and Veronica Knox, who works for a shadowy US intelligence organization, Puller begins a journey that will take him into his own past, to find the truth about his mother.
Paul Rogers's time is running out. With the clock ticking, he begins his own journey, one that will take him across the country to the place where all his troubles began: a mysterious building on the grounds of Fort Monroe. There, 30 years ago, the man Rogers had once been vanished too, and was replaced with a monster. And now the monster wants revenge. And the only person standing in his way is John Puller.
In this taut psychological thriller, a couple and their houseguest find themselves caught in a deadly web of secrets, obsession, and revenge.
It is summer, 2012. Charlie, a wealthy banker with an uneasy conscience, invites his troubled cousin Matthew to visit him and his wife in their idyllic mountaintop house. As the days grow hotter, the friendship between the three begins to reveal its fault lines, and with the arrival of a fourth character, the household finds itself suddenly in the grip of uncontrollable passions. As readers of James Lasdun's acclaimed fiction can expect, The Fall Guy is a complex moral tale as well as a gripping suspense story, probing questions of guilt and betrayal with ruthless incisiveness. Who is the real victim here? Who is the perpetrator? And who, ultimately, is the fall guy? Darkly vivid, with an atmosphere of erotic danger, The Fall Guy is Lasdun's most entertaining novel yet.
Thirteen years ago someone did something very bad to Anna. Now it's her turn to get even…
Anna lives a solitary existence, taking solace in order and routine. Her only friend is the lonely old lady next door. She doesn't like to let people to get too close – she knows how much damage they can do.
Then one ordinary day Anna witnesses a devastating road accident and recognizes the driver as Carla, the woman who ruined her life all those years ago. Now it's Anna's chance to set things straight but her revenge needs to be executed carefully…
First she needs to get to know Liam, the man injured in the accident. She needs to follow the police investigation. She needs to watch Carla from the shadows…
But as Anna's obsession with Carla escalates, her own secrets start to unravel. Is Carla really dangerous or does Anna need to worry about someone far closer to home?
Everything has been leading to this.
It's the Saturday of Memorial Day weekend, May 23rd, and the small town of Promise Falls, New York, has found itself in the midst of a full-blown catastrophe. Hundreds of people are going to the hospital with similar symptoms — vomiting, dizziness, loss of consciousness — and dozens are dying. And those investigating the cause of the epidemic quickly zero in on the water supply. But the question for many, including private investigator Cal Weaver, remains: Who would benefit from poisoning this town? And what is their motivation?
Meanwhile, as tragedies mount and the number of suspects grows larger, Detective Barry Duckworth is faced with another problem. He knows that the killer of Olivia Fisher and Rosemary Gaynor is still out there. And what's more, he knows that the mystery behind the significance of the number 23 is growing and is linked to a much larger scheme than he'd originally imagined.
Detective Duckworth will have to race to put together all the pieces of this puzzle to stop someone's sinister revenge plot.
In the darkest corners of the city, there is a thriving nightlife where people can let loose and cross the lines of work and play, of pleasure and pain. But now that sanctuary has been breached. A killer has struck and a man is dead.
In a world where disguises and discretion are the norm, one admission could unravel a life. No one wants to come forward to say what they saw or what they know — including the woman heading the investigation: Detective Helen Grace.
Helen knew the victim. And the victim knew her — better than anyone else. And when the murderer strikes again, Helen must decide how many more lines she's willing to cross to bring in a devious and elusive serial killer…
Full of twists and turns, Everything You Want Me to Be reconstructs a year in the life of a dangerously mesmerizing young woman, during which a small town's darkest secrets come to the forefront… and she inches closer and closer to her death.
High school senior Hattie Hoffman has spent her whole life playing many parts: the good student, the good daughter, the good citizen. When she's found brutally stabbed to death on the opening night of her high school play, the tragedy rips through the fabric of her small town community. Local sheriff Del Goodman, a family friend of the Hoffmans, vows to find her killer, but trying to solve her murder yields more questions than answers. It seems that Hattie's acting talents ran far beyond the stage. Told from three points of view — Del, Hattie, and the new English teacher whose marriage is crumbling — Everything You Want Me to Be weaves the story of Hattie's last school year and the events that drew her ever closer to her death.
Evocative and razor-sharp, Everything You Want Me to Be challenges you to test the lines between innocence and culpability, identity and deception. Does love lead to self-discovery — or destruction?
Edgar Award-winning author Thomas Perry writes thrillers that move "almost faster than a speeding bullet" (Wall Street Journal). The Old Man is his latest whip-smart standalone novel.
To all appearances, Dan Chase is a harmless retiree in Vermont with two big mutts and a grown daughter he keeps in touch with by phone. But most 60-year-old widowers don't have multiple driver's licenses, savings stockpiled in banks across the country, and a bugout kit with two Beretta Nanos stashed in the spare bedroom closet. Most have not spent decades on the run.
Thirty-five years ago, as a young hotshot in army intelligence, Chase was sent to Libya to covertly assist a rebel army. When the plan turned sour, Chase reacted according to his own ideas of right and wrong, triggering consequences he could never have anticipated. And someone still wants him dead because of them. Just as he had begun to think himself finally safe, Chase must reawaken his survival instincts to contend with the history he has spent his adult life trying to escape. Armed mercenaries, spectacularly crashed cars, a precarious love interest, and an unforgettable chase scene through the snow — this is lethal plotting from one of the best in crime fiction.
The author of the wildly popular The Kind Worth Killing returns with an electrifying and downright Hitchcockian psychological thriller — as tantalizing as the cinema classics Rear Window and Wait Until Dark — involving a young woman caught in a vise of voyeurism, betrayal, manipulation, and murder.
The danger isn't all in your head…
Growing up, Kate Priddy was always a bit neurotic, experiencing momentary bouts of anxiety that exploded into full blown panic attacks after an ex-boyfriend kidnapped her and nearly ended her life. When Corbin Dell, a distant cousin in Boston, suggests the two temporarily swap apartments, Kate, an art student in London, agrees, hoping that time away in a new place will help her overcome the recent wreckage of her life.
But soon after her arrival at Corbin's grand apartment on Beacon Hill, Kate makes a shocking discovery: His next-door neighbor, a young woman named Audrey Marshall, has been murdered. When the police question her about Corbin, a shaken Kate has few answers, and many questions of her own — curiosity that intensifies when she meets Alan Cherney, a handsome, quiet tenant who lives across the courtyard, in the apartment facing Audrey's. Alan saw Corbin surreptitiously come and go from Audrey's place, yet he's denied knowing her. Then, Kate runs into a tearful man claiming to be the dead woman's old boyfriend, who insists Corbin did the deed the night that he left for London.
When she reaches out to her cousin, he proclaims his innocence and calms her nerves… until she comes across disturbing objects hidden in the apartment — and accidentally learns that Corbin is not where he says he is. Could Corbin be a killer? And what about Alan? Kate finds herself drawn to this appealing man who seems so sincere, yet she isn't sure. Jetlagged and emotionally unstable, her imagination full of dark images caused by the terror of her past, Kate can barely trust herself… So how could she take the chance on a stranger she's just met?
Yet the danger Kate imagines isn't nearly as twisted and deadly as what's about to happen. When her every fear becomes very real.
And much, much closer than she thinks.
Told from multiple points of view, Her Every Fear is a scintillating, edgy novel rich with Peter Swanson's chilling insight into the darkest corners of the human psyche and virtuosic skill for plotting that has propelled him to the highest ranks of suspense, in the tradition of such greats as Gillian Flynn, Paula Hawkins, Patricia Highsmith, and James M. Cain.
Release date: January 10
The Dry by Jane Harper
A small town hides big secrets in The Dry, an atmospheric, page-turning debut mystery by award-winning author Jane Harper.
After getting a note demanding his presence, Federal Agent Aaron Falk arrives in his hometown for the first time in decades to attend the funeral of his best friend, Luke. Twenty years ago when Falk was accused of murder, Luke was his alibi. Falk and his father fled under a cloud of suspicion, saved from prosecution only because of Luke's steadfast claim that the boys had been together at the time of the crime. But now more than one person knows they didn't tell the truth back then, and Luke is dead.
Amid the worst drought in a century, Falk and the local detective question what really happened to Luke. As Falk reluctantly investigates to see if there's more to Luke's death than there seems to be, long-buried mysteries resurface, as do the lies that have haunted them. And Falk will find that small towns have always hidden big secrets.
Release date: January 10
Spoken about only in whispers, the Nowhere Man can only be reached by the truly desperate, he can — he will do anything to save them.
Evan Smoak is the Nowhere Man.
Taken from a group home at 12, Evan was raised and trained as part of the Orphan Program, an off-the-books operation designed to create deniable intelligence assets — i.e. assassins. Evan was Orphan X. He broke with the Program, using everything he learned to disappear and reinvent himself as the Nowhere Man.
But his new life is interrupted when a surprise attack comes from an unlikely angle and Evan is caught unaware. Captured, drugged, and spirited off to a remote location, he finds himself heavily guarded and cut off from everything he knows. His captors think they have him trapped and helpless in a virtual cage but they don't know who they're dealing with — or that they've trapped themselves inside that cage with one of the deadliest and most resourceful men on earth.
Continuing his electrifying series featuring Evan Smoak, Gregg Hurwitz delivers a blistering, compelling new novel in the series launched with the instant international bestseller, Orphan X.
Release date: January 17
In the tradition of The Girl on the Train, The Silent Wife, and Gone Girl comes an enthralling psychological thriller that spins one woman's seemingly good fortune, and another woman's mysterious fate, through a kaleidoscope of duplicity, death, and deception.
Please make a list of every possession you consider essential to your life.
The request seems odd, even intrusive — and for the two women who answer, the consequences are devastating.
EMMA
Reeling from a traumatic break-in, Emma wants a new place to live. But none of the apartments she sees are affordable or feel safe. Until One Folgate Street. The house is an architectural masterpiece: a minimalist design of pale stone, plate glass, and soaring ceilings. But there are rules. The enigmatic architect who designed the house retains full control: no books, no throw pillows, no photos or clutter or personal effects of any kind. The space is intended to transform its occupant — and it does.
JANE
After a personal tragedy, Jane needs a fresh start. When she finds One Folgate Street she is instantly drawn to the space — and to its aloof but seductive creator. Moving in, Jane soon learns about the untimely death of the home's previous tenant, a woman similar to Jane in age and appearance. As Jane tries to untangle truth from lies, she unwittingly follows the same patterns, makes the same choices, crosses paths with the same people, and experiences the same terror, as the girl before.
Release date: January 24
Is he a hero?
Eight years ago, Sharlah May Nash's older brother beat their drunken father to death with a baseball bat in order to save both of their lives. Now 13 years old, Sharlah has finally moved on. About to be adopted by retired FBI profiler Pierce Quincy and his partner, Rainie Conner, Sharlah loves one thing best about her new family: They are all experts on monsters.
Is he a killer?
Then the call comes in. A double murder at a local gas station, followed by reports of an armed suspect shooting his way through the wilds of Oregon. As Quincy and Rainie race to assist, they are forced to confront mounting evidence: The shooter may very well be Sharlah's older brother, Telly Ray Nash, and it appears his killing spree has only just begun.
All she knows for sure: He's back.
As the clock winds down on a massive hunt for Telly, Quincy and Rainie must answer two critical questions: Why after eight years has this young man started killing again? And what does this mean for Sharlah? Once upon a time, Sharlah's big brother saved her life. Now, she has two questions of her own: Is her brother a hero or a killer? And how much will it cost her new family before they learn the final, shattering truth? Because as Sharlah knows all too well, the biggest danger is the one standing right behind you.
Release date: January 31
Defending a woman accused of murdering the man who sexually assaulted her, Miami lawyer Jack Swyteck must uncover where the truth lies between innocence, vengeance, and justice in this spellbinding tale of suspense — based on shocking true-life events — from the New York Times bestselling author of Gone Again.
According to the FBI, the most dangerous place for a woman between the ages of 20 and 30 is in a relationship with a man. Those statistics become all too personal when Jack Swyteck takes on a new client tied to his past.
It begins at the airport, where Jack is waiting to meet his old high school buddy, Keith Ingraham, a high-powered banker based in Hong Kong, coming to Miami for his young daughter's surgery. But their long-awaited reunion is abruptly derailed when the police arrest Keith's wife, Isabelle, in the terminal, accusing her of conspiring to kill the man who raped her in college. Jack quickly agrees to represent Isa, but soon discovers that to see justice done, he must separate truth from lies — an undertaking that proves more complicated than the seasoned attorney expects.
Inspired by an actual case involving a victim of sexual assault sent to prison for the death of her attacker, James Grippando's twisty thriller brilliantly explores the fine line between victim and perpetrator, innocence and guilt, and cold-blooded revenge and rightful retribution.
Release date: February 21
What books would you recommend for Harlan Coben fans? Share in the comments!
Want access to free & bargain ebooks? Sign up for BookBub here.
Comments