Dennis Lehane's Prohibition-era crime novel Live by Night hits the silver screen on January 13, and fans of the bestselling author couldn't be more excited. If you're new to Lehane or just want to reread some of his greatest works, check out this talented and diverse author's classic books. Publishers' descriptions included.
Follow Dennis Lehane on BookBub
The basis for the blockbuster motion picture directed by Martin Scorsese and starring Leonardo DiCaprio, Shutter Island by New York Times bestselling author Dennis Lehane is a gripping and atmospheric psychological thriller where nothing is quite what it seems. The New York Times calls Shutter Island "Startlingly original." The Washington Post raves, "Brilliantly conceived and executed."
A masterwork of suspense and surprise from the author of Mystic River and Gone, Baby, Gone, Shutter Island carries the reader into a nightmare world of madness, mind control, and CIA Cold War paranoia and is unlike anything you've ever read before.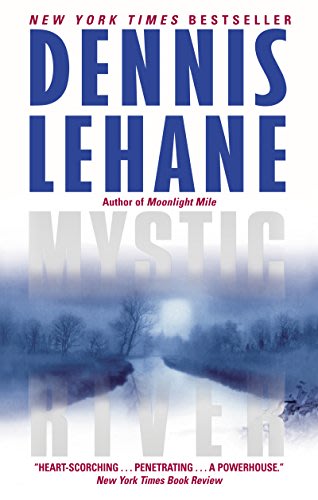 "There are threads in our lives. You pull one, and everything else gets affected."
When they were children, Sean Devine, Jimmy Marcus, and Dave Boyle were friends. But then a strange car pulled tip to their street. One boy got into the car, two did not, and something terrible happened — something that ended their friendship and changed all three boys forever.
Twenty-five years later, Sean Devine is a homicide detective. Jimmy Marcus is an ex-con who owns a corner store. And Dave Boyle is trying to hold his marriage together and keep his demons at bay — demons that urge him to do terrible things.
When Jimmy Marcus's daughter is found murdered, Sean Devine is assigned to the case. His personal life unraveling, he must go back into a world he thought he'd left behind to confront not only the violence, of the present but the nightmares of his past. His investigation brings him into conflict with Jimmy Marcus, who finds that his old criminal impulses tempt him to solve the crime with brutal justice. And then there is Dave Boyle, who came home the night Jimmy's daughter died covered with someone else's blood.
While Sean Devine attempts to use the law to return peace and order to the neighborhood, Jimmy Marcus finds his need for vengeance pushing him ever closer to a moral abyss from which lie wont be able to return, and Dave's wife, Celeste, sleeps at night with a man she fears may very well be a monster… a monster who fathered her child and hides his true nature from everyone, possibly even himself.
A tense and unnerving psychological thriller, Mystic River is also an epic novel of love and loyalty, faith, and family, in which people irrevocably marked by the past find themselves on a collision course with the darkest truths of their own hidden selves.
As richly complex and brutal as the terrain it depicts, here is the mesmerizing, darkly original novel that heralded the arrival of Dennis Lehane, the master of the new noir — and introduced Patrick Kenzie and Angela Gennaro, his smart and tough private investigators weaned on the blue-collar streets of Dorchester.
A cabal of powerful Boston politicians is willing to pay Kenzie and Gennaro big money for a seemingly small job: to find the missing cleaning woman who stole some secret documents. As Kenzie and Gennaro learn, however, this crime is no ordinary theft. It's about justice. About right and wrong. But in Boston, finding the truth isn't just a dirty business… it's deadly.
In Gone, Baby, Gone, the master of the new noir, New York Times bestselling author Dennis Lehane (Mystic River, Shutter Island), vividly captures the complex beauty and darkness of working-class Boston. A gripping, deeply evocative thriller about the devastating secrets surrounding a little girl lost, featuring the popular detective team of Patrick Kenzie and Angela Gennaro, Gone, Baby, Gone was the basis for the critically acclaimed motion picture directed by Ben Affleck and starring Casey Affleck, Ed Harris, and Morgan Freeman.
Master of new noir Dennis Lehane magnificently evokes the dignity and savagery of working-class Boston in Darkness, Take My Hand, a terrifying tale of redemption.
Patrick Kenzie and Angela Gennaro's latest client is a prominent Boston psychiatrist, running scared from a vengeful Irish mob. The private investigators know about cold-blooded retribution. Born and bred on the mean streets of blue-collar Dorchester, they've seen the darkness that lives in the hearts of the unfortunate.
But an evil for which even they are unprepared is about to strike, as secrets that have long lain dormant erupt, setting off a chain of violent murders that will stain everything — including the truth.
With razor-sharp dialogue and penetrating prose, Darkness, Take My Hand is another superior crime novel from the author of Mystic River; Gone, Baby, Gone and Shutter Island.
Dennis Lehane, the New York Times bestselling author of Live by Night — now a Warner Bros. movie starring Ben Affleck — offers an unflinching family epic that captures the political unrest of a nation caught between a well-patterned past and an unpredictable future. This beautifully written novel of American history tells the story of two families — one black, one white — swept up in a maelstrom of revolutionaries and anarchists, immigrants and ward bosses, Brahmins and ordinary citizens, all engaged in a battle for survival and power at the end of World War I.
What's your favorite book by Dennis Lehane? Tell us in the comments!
Want access to free & bargain ebooks? Sign up for BookBub here.
Comments