So many of us still love The Golden Girls. The successful sitcom that ran in the '80s and early '90s remains so popular because it had four very funny older women: Sophia, Dorothy, Blanche, and Rose. These Golden Girls were all very different, but they always had love, laughter, and a lot of cheesecake to keep them together when they fought or got sick of hearing one too many of Rose's stories about being "back in St. Olaf."
In honor of The Golden Girls star Betty White's 95th birthday today, we've rounded up a list of books you'll enjoy if you want more funny stories about mature women and their friends. Publishers' descriptions included below.
Fiction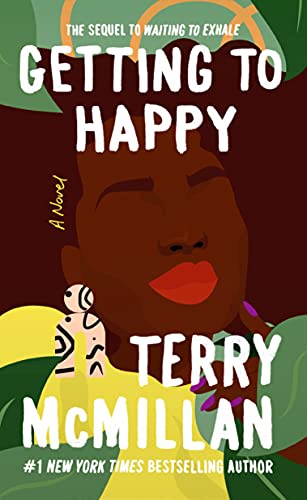 In Waiting to Exhale, Terry McMillan chronicled the lives and love affairs of women in their mid-30s, opening up an entirely new literary field and audience for African-American writers. Getting to Happy, her exuberant and engaging "sequel," revisits the same four spirited women — Savannah, Gloria, Bernadine, and Robin — now catapulted into midlife. Fifteen years later, her heroines are as sassy, vivid, and smart-mouthed as ever. As a broadcast investigative journalist, Savannah takes pride in her work exposing secrets and scandals — but she never expected to uncover one in her own home that would bring her already diminishing marriage to an explosive end. Bernie has had man problems that put her past challenges in the shade — these days, she finds herself popping pills and forgetting details that she might do well to recall. Robin's high-rolling life as a serial shopper runs into trouble when she loses her job to a merger, and she's hardly faring any better in the world of online dating. Gloria still runs the bustling Oasis salon, but back-to-back family tragedies hit her hard. All four face tough questions about love and loss, but they keep faith in themselves and each other as their lives fall apart and reconfigure. A particular reward of this novel is the cast of younger characters — Bernadine's now-college-age Onika; Robin's daughter Sparrow; and Gloria's son Tariq, married and with young children (and problems) of his own. McMillan's pitch-perfect prose draws us into the deeply affecting stories of these women, highlighting the humor and joy that carry them through their struggles. Although girlfriend time may have eroded somewhat under life's pressures, four-way calls and movie night get-togethers continue to reaffirm the importance of friendship not only to getting by but to chasing that perennial goal — getting to happy.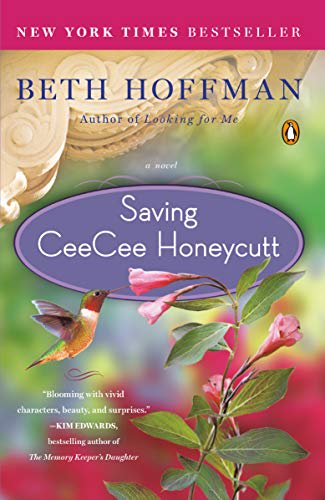 Twelve-year-old CeeCee Honeycutt is in trouble. For years, she has been the caretaker of her psychotic mother, Camille-the tiara-toting, lipstick-smeared laughingstock of an entire town-a woman trapped in her long-ago moment of glory as the 1951 Vidalia Onion Queen. But when Camille is hit by a truck and killed, CeeCee is left to fend for herself. To the rescue comes her previously unknown great-aunt, Tootie Caldwell.
In her vintage Packard convertible, Tootie whisks CeeCee away to Savannah's perfumed world of prosperity and Southern eccentricity, a world that seems to be run entirely by women. From the exotic Miz Thelma Rae Goodpepper, who bathes in her backyard bathtub and uses garden slugs as her secret weapons, to Tootie's all-knowing housekeeper, Oletta Jones, to Violene Hobbs, who entertains a local police officer in her canary-yellow peignoir, the women of Gaston Street keep CeeCee entertained and enthralled for an entire summer.
Laugh-out-loud funny and deeply touching, Beth Hoffman's sparkling debut is, as Kristin Hannah says, "packed full of Southern charm, strong women, wacky humor, and good old-fashioned heart." It is a novel that explores the indomitable strengths of female friendship and gives us the story of a young girl who loses one mother and finds many others.
From the bestselling author of Between Husbands and Friends and An Act of Love comes a wise, wonderful, and delightfully witty "coming of age" novel about four intrepid women who discover themselves as they were truly meant to be: passionate, alive, and ready to face the best years of their lives.
Meet Faye, Marilyn, Alice, and Shirley. Four women with skills, smarts, and secrets — all feeling over the hill and out of the race. But in a moment of delicious serendipity, they meet and realize they share more than raging hormones and lost dreams. Now as the Hot Flash Club, where the topics of motherhood, sex, and men are discussed with double servings of chocolate cake, they vow to help each other… and themselves.
Faye, the artist. A determinedly cheerful widow and connoisseur of control-top pantyhose, she's struggling with creative block and an empty, lonely house. Now she's got a tricky problem to bring to the club's table: how can they catch her perfect son-in-law cheating on her only daughter Laura?
Shirley, the healer. Though her yoga-slender body belie her years, decades of dating losers and the strain of being broke make her feel her age. Shirley has a secret dream: a wellness spa that nurtures body and soul. But first she needs to believe in herself, in her abilities, and in her friends at the club.
Marilyn, the brain. A paleontologist who has spent so many years looking at dried-up fossils, she's almost become one herself. Worried that her brilliant but nerdy son is about to marry the very wrong woman, she gets some help from the HFC, who transform her from a caterpillar to a butterfly, with amazing results.
Alice, the executive. Black and regal, she soared to the top of the corporate ladder. Now her shoes are murder on her arthritic back and the younger jackals are circling in for the kill. But as the inspiration behind the HFC, she's about to discover something extraordinary: contentment.
For Faye, Shirley, Marilyn, and Alice, the time has come to use it or lose it — be it their bodies, their brains, their spirits, and their sense of fun. Together they realize that they can have it all, perhaps for the first time in their lives. And though what sags may never rise again, feeling sexy has no expiration date — and best of all, with a little help from her friends, a woman can always start over… and never, ever, give up what matters most.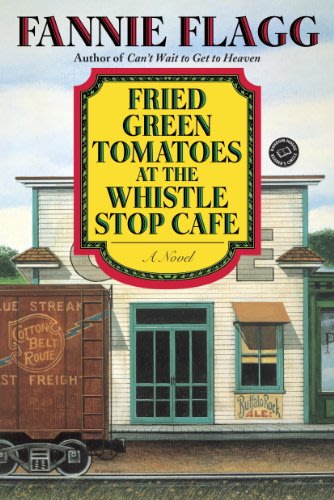 Folksy and fresh, endearing and affecting, Fried Green Tomatoes at the Whistle Stop Cafe is a now-classic novel about two women: Evelyn, who's in the sad slump of middle age, and gray-headed Mrs. Threadgoode, who's telling her life story. Her tale includes two more women — the irrepressibly daredevilish tomboy Idgie and her friend Ruth — who back in the thirties ran a little place in Whistle Stop, Alabama, offering good coffee, southern barbecue, and all kinds of love and laughter — even an occasional murder. And as the past unfolds, the present will never be quite the same again.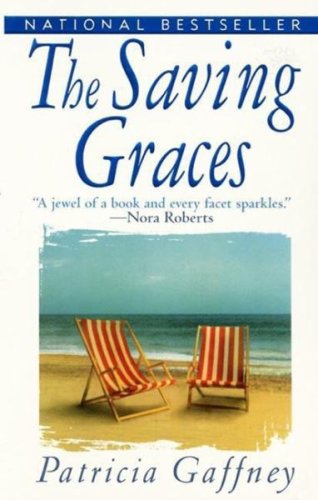 Meet The Saving Graces, Four Of The Best Friends A Woman Can Ever Have…
For ten years, Emma, Rudy, Lee, and Isabel have shared a deep affection that has helped them deal with the ebb and flow of expectations and disappointments common to us all. Calling themselves the Saving Graces, the quartet is united by understanding, honesty, and acceptance  —a connection that has grown stronger as the years go by…
Though these sisters of the heart and soul have seen it all, talked through it all, Emma, Rudy, Lee, and Isabel will not be prepared for a crisis of astounding proportions that will put their love and courage to the ultimate test.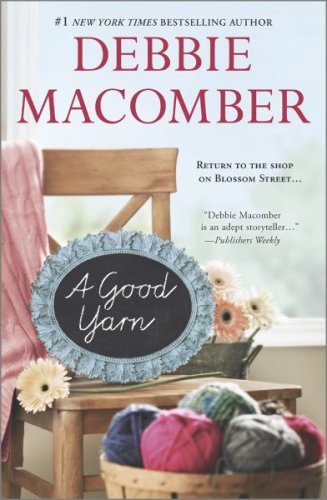 A place of welcome and warmth, of friends old and new. Watch three women discover how knitting can change their lives!
Lydia Hoffman owns a knitting shop on Seattle's Blossom Street. In the year since it opened, A Good Yarn has thrived — and so has Lydia. A lot of that is due to Brad Goetz. But when Brad's ex-wife reappears, Lydia is suddenly afraid to trust her newfound happiness.
Three women join Lydia's newest class. Elise Beaumont, retired and bitterly divorced, learns that her onetime husband is reentering her life. Bethanne Hamlin is facing the fallout from a much more recent divorce. And Courtney Pulanski is a depressed and overweight teenager, whose grandmother's idea of helping her is to drag her to seniors' swim sessions — and to the knitting class at A Good Yarn.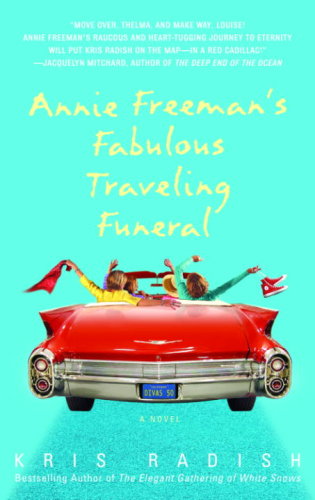 For Katherine Givens and the four women about to become her best friends, the adventure begins with a UPS package. Inside is a pair of red sneakers filled with ashes and a note that will forever change their lives. Katherine's oldest and dearest friend, the irrepressible Annie Freeman, left one final request — a traveling funeral — and she wants the most important women in her life as "pallbearers."
From Sonoma to Manhattan, Katherine, Laura, Rebecca, Jill, and Marie will carry Annie's ashes to the special places in her life. At every stop there's a surprise encounter and a small miracle waiting, and as they whoop it up across the country, attracting interest wherever they go, they share their deepest secrets — tales of broken hearts and second chances, missed opportunities and new beginnings. And as they grieve over what they've lost, they discover how much is still possible if only they can unravel the secret Annie left them…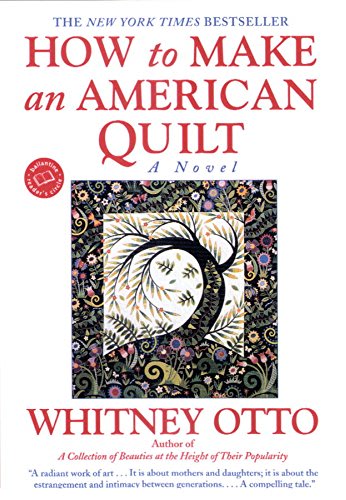 An extraordinary and moving reading experience, How to Make an American Quilt is an exploration of women of yesterday and today, who join together in a uniquely female experience. As they gather year after year, their stories, their wisdom, their lives, form the pattern from which all of us draw warmth and comfort for ourselves.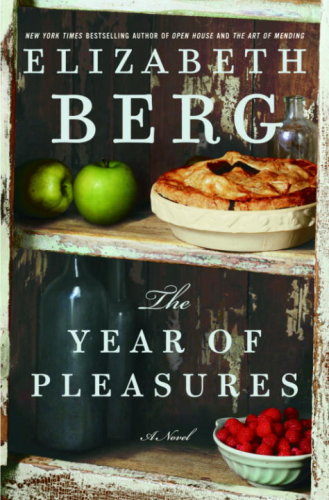 In this rich and deeply satisfying novel by the beloved author of The Art of Mending, and Open House, a resilient woman embarks upon an unforgettable journey of adventure, self-discovery, and renewal.
Betta Nolan moves to a small town after the death of her husband to try to begin anew. Pursuing a dream of a different kind of life, she is determined to find pleasure in her simply daily routines. Among those who help her in both expected and unexpected ways are the 10-year-old boy next door, three wild women friends from her college days, a 20-year-old who is struggling to find his place in the world, and a handsome man who is ready for love.
Elizabeth Berg's The Year of Pleasures about acknowledging the solace found in ordinary things: a warm bath, good food, the beauty of nature, music, friends, and art. "Berg writes with humor and a big heart about resilience, loneliness, love, and hope. And the transcendence that redeems," said Andre Dubus about Durable Goods. And the same could be said about The Year of Pleasures.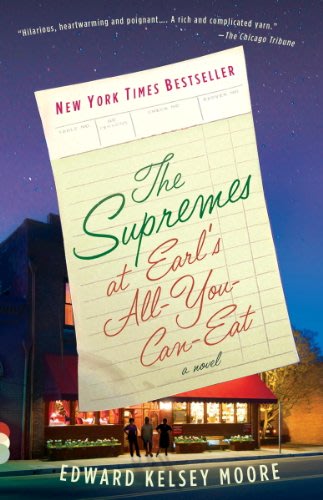 This diner in Plainview, Indiana is home away from home for Odette, Clarice, and Barbara Jean. Dubbed "The Supremes" by high school pals in the tumultuous 1960s, they've weathered life's storms for over four decades and counseled one another through marriage and children, happiness and the blues.
Now, however, they're about to face their most challenging year yet. Proud, talented Clarice is struggling to keep up appearances as she deals with her husband's humiliating infidelities; beautiful Barbara Jean is rocked by the tragic reverberations of a youthful love affair; and fearless Odette is about to embark on the most terrifying battle of her life. With wit, style and sublime talent, Edward Kelsey Moore brings together three devoted allies in a warmhearted novel that celebrates female friendship and second chances.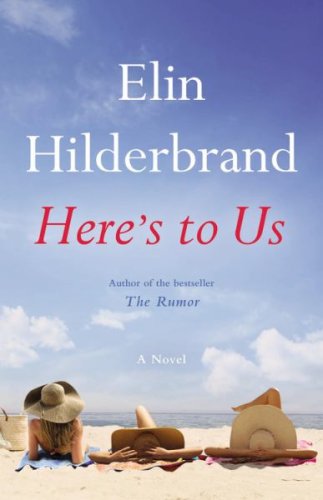 Three romantic rivals. One crowded house. Plenty of room for jealousy.
Laurel Thorpe, Belinda Rowe, and Scarlett Oliver share only two things; a love for the man they all married, Deacon Thorpe — a celebrity chef with an insatiable appetite for life — and a passionate dislike of one another. All three are remarkable, spirited women, but they couldn't be more different. Laurel: Deacon's high school sweetheart and an effortlessly beautiful social worker; Belinda: a high-maintenance Hollywood diva; and Scarlett: a sexy southern belle floating by on her family money and her fabulous looks. They've established a delicate understanding over the years — they avoid each other at all costs.
But their fragile detente threatens to come crashing down after Deacon's tragic death on his favorite place on earth: A ramshackle Nantucket summer cottage. Deacon's final wish was for his makeshift family to assemble on his beloved Nantucket to say good-bye. Begrudgingly, Laurel, Belinda, and Scarlett gather on the island as once again, as in each of their marriages, they're left to pick up Deacon's mess. Now they're trapped in the crowded cottage where they all made their own memories — a house that they now share in more ways than one — along with the children they raised with Deacon, and his best friend. Laurel, Belinda, and Scarlett each had an unbreakable bond with Deacon — and they all have secrets to hide.
Before the weekend is over, there are enough accusations, lies, tears, and drama to turn even the best of friends — let alone three women who married the same man — into adversaries. As his unlikely family says good-bye to the man who brought them together — for better or worse — will they be able to put aside their differences long enough to raise a glass in Deacon's honor?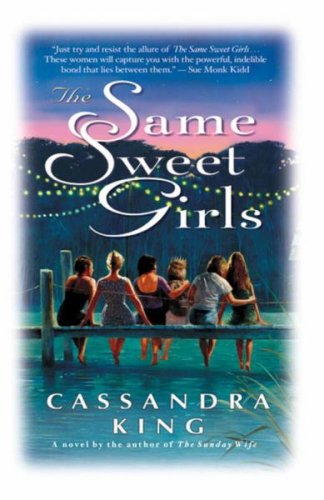 The new novel by the celebrated author of The Sunday Wife chronicles the lives of a tight-knit group of lifelong friends.
None of the Same Sweet Girls are really girls anymore and none of them have actually ever been that sweet. But this spirited group of Southern women, who have been holding biannual reunions ever since they were together in college, are nothing short of compelling. There's Julia Stovall, the First Lady of Alabama, who, despite her public veneer, is a down-to-earth gal who only wants to know who her husband is sneaking out with late at night. There's Lanier Sanders, whose husband won custody of their children after he found out about her fling with a colleague. Then there's Astor Deveaux, a former Broadway showgirl who simply can't keep her flirtations in check. And Corinne Cooper, whose incredible story comes to light as the novel unfolds.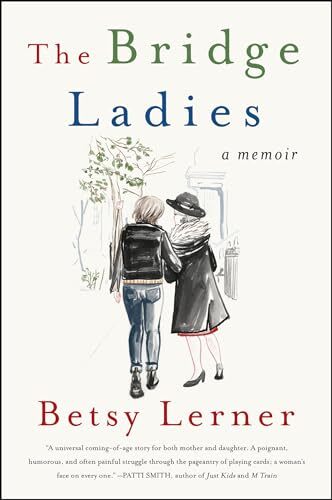 A 50-year-old Bridge game provides an unexpected way to cross the generational divide between a daughter and her mother. Betsy Lerner takes us on a powerfully personal literary journey, where we learn a little about Bridge and a lot about life.
After a lifetime defining herself in contrast to her mother's "don't ask, don't tell" generation, Lerner finds herself back in her childhood home, not five miles from the mother she spent decades avoiding. When Roz needs help after surgery, it falls to Betsy to take care of her. She expected a week of tense civility; what she got instead were the Bridge Ladies. Impressed by their loyalty, she saw something her generation lacked. Facebook was great, but it wouldn't deliver a pot roast.
Tentatively at first, Betsy becomes a regular at her mother's Monday Bridge club. Through her friendships with the ladies, she is finally able to face years of misunderstandings and family tragedy, the Bridge table becoming the common ground she and Roz never had.
By turns darkly funny and deeply moving, The Bridge Ladies is the unforgettable story of a hard-won — but never-too-late — bond between mother and daughter.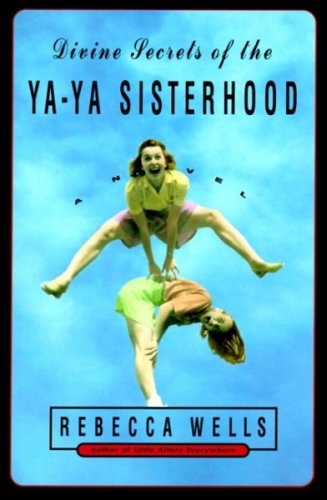 The incomparable #1 New York Times bestseller — a book that reigned at the top of the list for an remarkable 68 weeks — Rebecca Wells's Divine Secrets of the Ya-Ya Sisterhood is a classic of Southern women's fiction to be read and reread over and over again. A poignant, funny, outrageous, and wise novel about a lifetime friendship between four Southern women, Divine Secrets of the Ya-Ya Sisterhood brilliantly explores the bonds of female friendship, the often-rocky relationship between mothers and daughters, and the healing power of humor and love, in a story as fresh and uplifting as when it was first published a decade and a half ago. If you haven't yet met the Ya-Yas, what are you waiting for?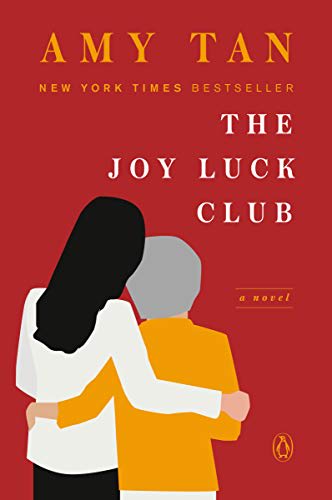 This widely acclaimed bestseller spans two countries and two generations, following a group of Chinese women who meet to play mah jong, invest money and tell the secret stories of their lives. They call their gathering the Joy Luck Club.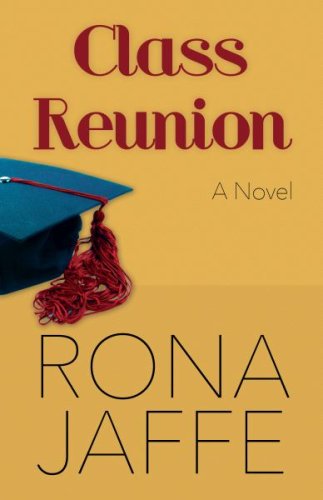 Twenty years after their college graduation, four Radcliffe girls return to their Harvard class reunion with mixed emotions and curiosity. It is the first time they have met since their hopeful student years, when each of them had wonderful dreams of becoming wives, mothers, and successful career women. But much has changed since the 50s, and the former classmates' lives have been altered by events none of them could have foreseen.
Humorous, heartwarming, often poignant and nostalgic, Class Reunion captures the spirit of the 50s brilliantly in contrast to the changing world the four girls have embraced, often with straightforward and pithy commentary on the social conventions of the past.
Nonfiction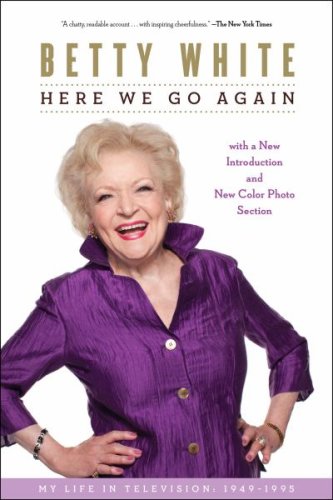 A memoir of Betty White's first five decades on television — as irreverent and irresistible as the beloved actress herself.
Betty White first appeared on television in 1949 and has gone on to have one of the most amazing careers in TV history, starring in shows such as Life with Elizabeth, The Mary Tyler Moore Show, and The Golden Girls, among many others. She is one of the hardest-working actresses of any era, and her sense of humor and perennial optimism have seen her through half a century of industry changes and delighted millions of fans.
Now, during Betty's 61st year on screen, a year in which she has enjoyed a huge resurgence of popularity, her 1995 memoir makes a comeback too. Here We Go Again is a behind-the-scenes look at Betty's career from her start on radio to her first show, Hollywood on Television, to several iterations of The Betty White Show and much, much more. Packed with wonderful anecdotes about famous personalities and friendships, stories of Betty's off-screen life, and the comedienne's trademark humor, this deliciously entertaining book will give readers an entrée into Betty's fascinating life, confirming yet again why we can't get enough of this funny lady.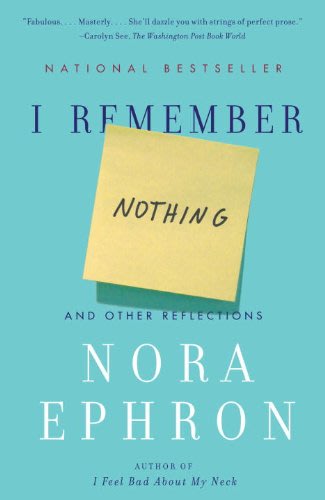 Nora Ephron returns with her first book since the astounding success of I Feel Bad About My Neck, taking a cool, hard, hilarious look at the past, the present, and the future, bemoaning the vicissitudes of modern life, and recalling with her signature clarity and wisdom everything she hasn't (yet) forgotten.
Ephron writes about falling hard for a way of life ("Journalism: A Love Story") and about breaking up even harder with the men in her life ("The D Word"); lists "Twenty-five Things People Have a Shocking Capacity to Be Surprised by Over and Over Again" ("There is no explaining the stock market but people try"; "You can never know the truth of anyone's marriage, including your own"; "Cary Grant was Jewish"; "Men cheat"); reveals the alarming evolution, a decade after she wrote and directed You've Got Mail, of her relationship with her in-box ("The Six Stages of E-Mail"); and asks the age-old question, which came first, the chicken soup or the cold? All the while, she gives candid, edgy voice to everything women who have reached a certain age have been thinking… but rarely acknowledging.
Filled with insights and observations that instantly ring true — and could have come only from Nora Ephron — I Remember Nothing is pure joy.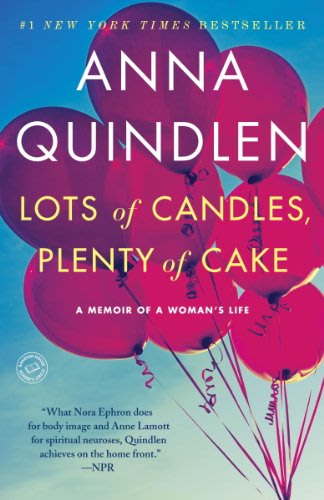 In this irresistible memoir, Anna Quindlen writes about a woman's life, from childhood memories to manic motherhood to middle age, using the events of her life to illuminate ours. Considering — and celebrating — everything from marriage, girlfriends, our mothers, parenting, faith, loss, to all the stuff in our closets, and more, Quindlen says for us here what we may wish we could have said ourselves. As she did in her beloved New York Times columns, and in A Short Guide to a Happy Life, Quindlen uses her past, present, and future to explore what matters most to women at different ages. Quindlen talks about
Marriage: "A safety net of small white lies can be the bedrock of a successful marriage. You wouldn't believe how cheaply I can do a kitchen renovation."
Girlfriends: "Ask any woman how she makes it through the day, and she may mention her calendar, her to-do lists, her babysitter. But if you push her on how she really makes it through her day, she will mention her girlfriends. "
Our bodies: "I've finally recognized my body for what it is: a personality-delivery system, designed expressly to carry my character from place to place, now and in the years to come."
Parenting: "Being a parent is not transactional. We do not get what we give. It is the ultimate pay-it-forward endeavor: We are good parents not so they will be loving enough to stay with us but so they will be strong enough to leave us."
Candid, funny, and moving, Lots of Candles, Plenty of Cake is filled with the sharp insights and revealing observations that have long confirmed Quindlen's status as America's laureate of real life.
Who was your favorite Golden Girl? Let us know in the comments!
Want access to free & bargain ebooks? Sign up for BookBub here.
Comments