The American Library Association announced today that March: Book Three by John Lewis, Andrew Aydin, and Nate Powell has won the 2017 Michael L. Printz Award for young adult literature. The coveted Printz Award names the "best book written for teens, based entirely on its literary merit."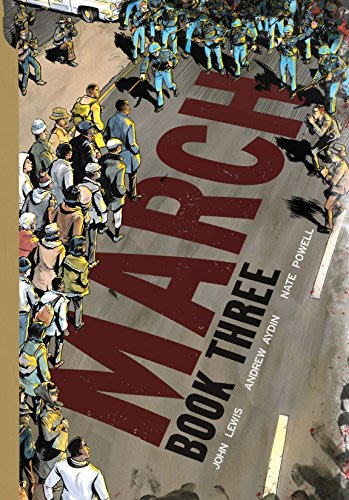 From the publisher:
By Fall 1963, the Civil Rights Movement is an undeniable keystone of the national conversation, and as chair of the Student Nonviolent Coordinating Committee, John Lewis is right in the thick of it. With the stakes continuing to rise, white supremacists intensify their opposition through government obstruction and civilian terrorist attacks, a supportive president is assassinated, and African-Americans across the South are still blatantly prohibited from voting. To carry out their nonviolent revolution, Lewis and an army of young activists launch a series of innovative projects, including the Freedom Vote, Mississippi Freedom Summer, and a pitched battle for the soul of the Democratic Party waged live on national television. But strategic disputes are deepening within the movement, even as 25-year-old John Lewis heads to Alabama to risk everything in a historic showdown that will shock the world.
March: Book Three also took home three other honors, including the Robert F. Sibert Award for the most distinguished informational book for children, the Coretta Scott King Author award, and the YALSA Award for Excellence in Nonfiction for Young Adults.
If you'd like to check out other fantastic writing for young adults, the 2017 Printz honor books and winners from years past are listed below with their publishers' descriptions.
2017 Printz Honor Books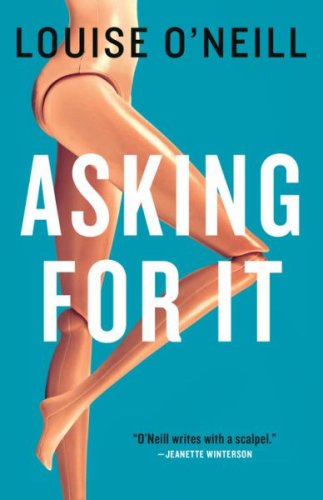 Emma O'Donovan is 18, beautiful, and fearless. It's the beginning of summer in a quiet Irish town and tonight she and her friends have dressed to impress. Everyone is at the party, and all eyes are on Emma.
The next morning Emma's parents discover her collapsed on the doorstop of their home, unconscious. She is disheveled, bleeding, and disoriented, looking as if she had been dumped there.
To her distress, Emma can't remember what happened the night before. All she knows is that none of her friends will respond to her texts. At school, people turn away from her and whisper under their breath. Her mind may be a blank as far as the events of the previous evening, but someone has posted photos of it on Facebook under a fake account, "Easy Emma" — photos she will never be able to forget.
As the photos go viral and a criminal investigation is launched, the community is thrown into tumult. The media descends, neighbors chose sides, and people from all over the world want to talk about her story. Everyone has something to say about Emma.
Asking For It is a powerful story about the devastating effects of rape and public shaming, told through the awful experience of a young woman whose life is changed forever by an act of violence.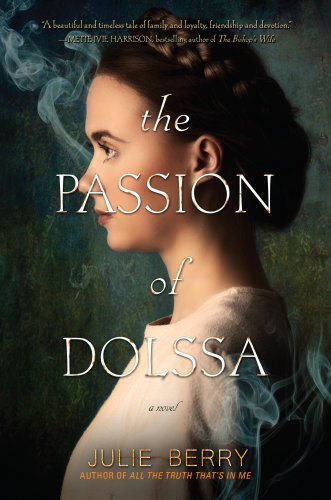 Buried deep within the archives of a convent in medieval France is an untold story of love, loss, and wonder and the two girls at the heart of it all.
Dolssa is an upper-crust city girl who's been branded a heretic, on the run from the friar who condemned her mother to death by fire and wants Dolssa executed, too. Botille is a matchmaker and a tavern-keeper, struggling to keep herself and her sisters on the right side of the law in their seaside town. When their lives collide by a dark riverside, Botille rescues a dying Dolssa and conceals her in the tavern, where an unlikely friendship blooms. Aided by her sisters and Symo, her surly but loyal neighbor, Botille nurses Dolssa back to health and hides her from her pursuers. But all of Botille's tricks, tales, and cleverness can't protect them forever, and when the full wrath of the Church bears down upon them, Dolssa's passion and Botille's good intentions could destroy the entire village.
From the author of the critically acclaimed and award-winning All the Truth That's in Me comes a spellbinding thriller that will keep you on the edge of your seat until the final page and make you wonder if miracles really are possible.
Scythe by Neal Shusterman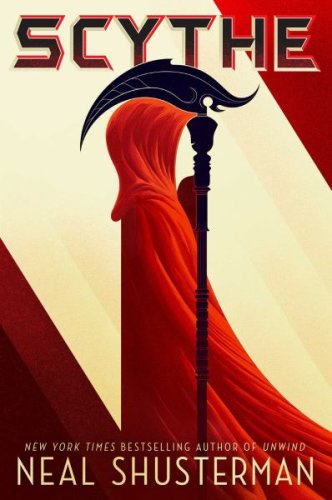 Two teens must learn the "art of killing" in the first in a chilling new series from Neal Shusterman, author of the New York Times bestselling Unwind dystology.
A world with no hunger, no disease, no war, no misery: humanity has conquered all those things, and has even conquered death. Now Scythes are the only ones who can end life — and they are commanded to do so, in order to keep the size of the population under control.
Citra and Rowan are chosen to apprentice to a scythe — a role that neither wants. These teens must master the "art" of taking life, knowing that the consequence of failure could mean losing their own.
Scythe is the first novel of a thrilling new series by National Book Award–winning author Neal Shusterman in which Citra and Rowan learn that a perfect world comes only with a heavy price.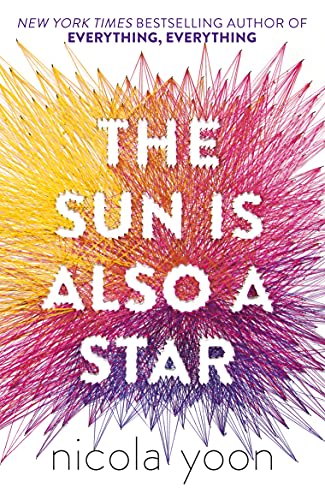 Natasha: I'm a girl who believes in science and facts. Not fate. Not destiny. Or dreams that will never come true. I'm definitely not the kind of girl who meets a cute boy on a crowded New York City street and falls in love with him. Not when my family is twelve hours away from being deported to Jamaica. Falling in love with him won't be my story.
Daniel: I've always been the good son, the good student, living up to my parents' high expectations. Never the poet. Or the dreamer. But when I see her, I forget about all that. Something about Natasha makes me think that fate has something much more extraordinary in store — for both of us.
The Universe: Every moment in our lives has brought us to this single moment. A million futures lie before us. Which one will come true?
Previous Printz Award Winners:
2016: Bone Gap by Laura Ruby
Everyone knows Bone Gap is full of gaps.
So when young, beautiful Roza went missing, the people of Bone Gap weren't surprised. But Finn knows what really happened to Roza. He knows she was kidnapped by a dangerous man whose face he cannot remember.
As we follow the stories of Finn, Roza, and the people of Bone Gap, acclaimed author Laura Ruby weaves a tale of the ways in which the face the world sees is never the sum of who we are.
At first, Jude and her twin brother are NoahandJude; inseparable. Noah draws constantly and is falling in love with the charismatic boy next door, while daredevil Jude wears red-red lipstick, cliff-dives, and does all the talking for both of them.
Years later, they are barely speaking. Something has happened to change the twins in different yet equally devastating ways… but then Jude meets an intriguing, irresistible boy and a mysterious new mentor.
The early years are Noah's to tell; the later years are Jude's. But they each have only half the story, and if they can only find their way back to one another, they'll have a chance to remake their world.
Seven stories of passion and love separated by centuries but mysteriously intertwined — this is a tale of horror and beauty, tenderness and sacrifice.
An archaeologist who unearths a mysterious artifact, an airman who finds himself far from home, a painter, a ghost, a vampire, and a Viking: the seven stories in this compelling novel all take place on the remote Scandinavian island of Blessed where a curiously powerful plant that resembles a dragon grows. What binds these stories together? What secrets lurk beneath the surface of this idyllic countryside? And what might be powerful enough to break the cycle of midwinterblood? From award-winning author Marcus Sedgwick comes a book about passion and preservation and ultimately an exploration of the bounds of love.
This is the story of "Shorty" — a 15-year-old boy trapped in a collapsed hospital during the earthquake in Haiti. Surrounded by the bodies of the dead, increasingly weak from lack of food and water, Shorty begins to hallucinate. As he waits in darkness for a rescue that may never come, a mystical bridge seems to emerge between him and Haitian leader Toussaint L'Ouverture, uniting the two in their darkest suffering — and their hope.
A modern teen and a black slave, separated by hundreds of years. Yet in some strange way, the boy in the ruins of Port au Prince and the man who led the struggle for Haiti's independence might well be one and the same…
In the remarkable, bizarre, and heart-wrenching summer before Cullen Witter's senior year of high school, he is forced to examine everything he thinks he understands about his small and painfully dull Arkansas town. His cousin overdoses; his town becomes absurdly obsessed with the alleged reappearance of an extinct woodpecker; and most troubling of all, his sensitive, gifted 15-year-old brother, Gabriel, suddenly and inexplicably disappears.
Meanwhile, the crisis of faith spawned by a young missionary's disillusion in Africa prompts a frantic search for meaning that has far-reaching consequences. As distant as the two stories initially seem, they are woven together through masterful plotting and merge in a surprising and harrowing climax.
This extraordinary tale from a rare literary voice finds wonder in the ordinary and illuminates the hope of second chances.
2011: Ship Breaker by Paolo Bacigalupi
In America's Gulf Coast region, where grounded oil tankers are being broken down for parts, Nailer, a teenage boy, works the light crew, scavenging for copper wiring just to make quota — and hopefully live to see another day. But when, by luck or chance, he discovers an exquisite clipper ship beached during a recent hurricane, Nailer faces the most important decision of his life: Strip the ship for all it's worth or rescue its lone survivor, a beautiful and wealthy girl who could lead him to a better life…
In this powerful novel, award-winning author Paolo Bacigalupi delivers a thrilling, fast-paced adventure set in a vivid and raw, uncertain future.
Which of these are on your reading list?
Want access to free & bargain ebooks? Sign up for BookBub here.
Comments