January 27 marks International Holocaust Remembrance Day, a day in which we commemorate the slaughter of millions by the Nazi regime during World War II. In the decades following, many writers have penned heartrending accounts of life during this period. We've gathered a list of moving nonfiction and fiction books that will enlighten readers about the Holocaust. Publishers' descriptions included below.
Nonfiction
Edith Hahn was an outspoken young woman in Vienna when the Gestapo forced her into a ghetto and then into a labor camp. When she returned home months later, she knew she would become a hunted woman and went underground. With the help of a Christian friend, she emerged in Munich as Grete Denner. There she met Werner Vetter, a Nazi Party member who fell in love with her. Despite Edith's protests and even her eventual confession that she was Jewish, he married her and kept her identity a secret.
In wrenching detail, Edith recalls a life of constant, almost paralyzing fear. She tells of German officials who casually questioned the lineage of her parents; of how, when giving birth to her daughter, she refused all painkillers, afraid that in an altered state of mind she might reveal something of her past; and of how, after her husband was captured by the Soviet army, she was bombed out of her house and had to hide while drunken Russian soldiers raped women on the street.
Yet despite the risk it posed to her life, Edith created a remarkable record of survival. She saved every document and set of papers issued to her, as well as photographs she managed to take inside labor camps. Now part of the permanent collection at the Holocaust Memorial Museum in Washington, DC, these hundreds of documents, several of which are included in this volume, form the fabric of a gripping new chapter in the history of the Holocaust — complex, troubling, and ultimately triumphant.
Night by Elie Wiesel
A terrifying account of the Nazi death camp horror that turns a young Jewish boy into an agonized witness to the death of his family… the death of his innocence… and the  death of his God. Penetrating and powerful, as personal as The Diary Of Anne Frank, Night awakens the shocking  memory of evil at its absolute and carries with it  the unforgettable message that this horror must  never be allowed to happen again.
The diary as Anne Frank wrote it. At last, in a new translation, this definitive edition contains entries about Anne's burgeoning sexuality and confrontations with her mother that were cut from previous editions. Anne Frank's The Diary of a Young Girl is among the most enduring documents of the 20th century. Since its  publication in 947, it has been a beloved and deeply admired monument to the indestructible nature of the human spirit, read by millions of people and translated into more than 55 languages.
Anne Frank and her family, fleeing the horrors of Nazi occupation forces, hid in the back of an Amsterdam office building for two years. This is Anne's record of that time. She was 13 when the family went into the "Secret Annex," and in these pages, she grows to be a young woman and proves to be an insightful observer of human nature as well. A timeless story discovered by each new generation, The Diary of a Young Girl stands without peer. For young readers and adults, it continues to bring to life this young woman, who for a time survived the worst horrors the modern world had seen — and who remained triumphantly and heartbreakingly human throughout her ordeal.
Named one of the Best Books of 1999 by the Los Angeles Times, The Pianist is now a major motion picture directed by Roman Polanski and starring Adrien Brody (Son of Sam).
On September 23, 1939, Wladyslaw Szpilman played Chopin's Nocturne in C-sharp minor live on the radio as shells exploded outside — so loudly that he couldn't hear his piano. It was the last live music broadcast from Warsaw: That day, a German bomb hit the station, and Polish Radio went off the air.
Though he lost his entire family, Szpilman survived in hiding. In the end, his life was saved by a German officer who heard him play the same Chopin Nocturne on a piano found among the rubble. Written immediately after the war and suppressed for decades, The Pianist is a stunning testament to human endurance and the redemptive power of fellow feeling.
The Lost by Daniel Mendelsohn
In this rich and riveting narrative, a writer's search for the truth behind his family's tragic past in World War II becomes a remarkably original epic — part memoir, part reportage, part mystery, and part scholarly detective work — that brilliantly explores the nature of time and memory, family and history.
The Nazis murdered their husbands but concentration camp prisoners Priska, Rachel, and Anka would not let evil take their unborn children too — a remarkable true story that will appeal to readers of The Lost and The Nazi Officer's Wife, Born Survivors celebrates three mothers who defied death to give their children life.
Eastern Europe, 1944: Three women believe they are pregnant, but are torn from their husbands before they can be certain. Rachel is sent to Auschwitz, unaware that her husband has been shot. Priska and her husband travel there together, but are immediately separated. Also at Auschwitz, Anka hopes in vain to be reunited with her husband. With the rest of their families gassed, these young wives are determined to hold on to all they have left — their lives, and those of their unborn babies. Having concealed their condition from infamous Nazi doctor Josef Mengele, they are forced to work and almost starved to death, living in daily fear of their pregnancies being detected by the SS.
In April 1945, as the Allies close in, Priska gives birth. She and her baby, along with Anka, Rachel, and the remaining inmates, are sent to Mauthausen concentration camp on a hellish seventeen-day train journey. Rachel gives birth on the train, and Anka at the camp gates. All believe they will die, but then a miracle occurs. The gas chamber runs out of Zyklon-B, and as the Allied troops near, the SS flee. Against all odds, the three mothers and their newborns survive their treacherous journey to freedom.
On the 70th anniversary of Mauthausen's liberation from the Nazis by American soldiers, renowned biographer Wendy Holden recounts this extraordinary story of three children united by their mothers' unbelievable — yet ultimately successful — fight for survival.
Fiction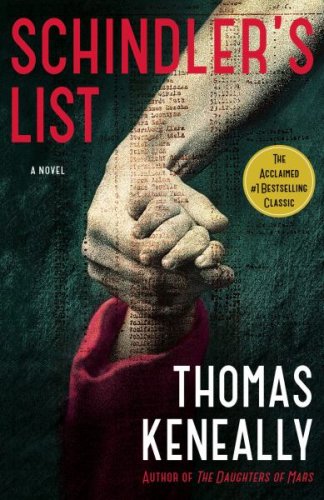 The acclaimed bestselling classic of Holocaust literature, winner of the Booker Prize and the Los Angeles Times Book Award for Fiction, and the inspiration for the classic film — "a masterful account of the growth of the human soul" (Los Angeles Times Book Review).
A stunning novel based on the true story of how German war profiteer and factory director Oskar Schindler came to save more Jews from the gas chambers than any other single person during World War II. In this milestone of Holocaust literature, Thomas Keneally, author of The Daughter of Mars, uses the actual testimony of the Schindlerjuden — Schindler's Jews — to brilliantly portray the courage and cunning of a good man in the midst of unspeakable evil.
Berlin, 1942: When Bruno returns home from school one day, he discovers that his belongings are being packed in crates. His father has received a promotion and the family must move to a new house far, far away, where there is no one to play with and nothing to do. A tall fence stretches as far as the eye can see and cuts him off from the strange people in the distance.
But Bruno longs to be an explorer and decides that there must be more to this desolate new place than meets the eye. While exploring his new environment, he meets another boy whose life and circumstances are very different from his own, and their meeting results in a friendship that has devastating consequences.
New York socialite Caroline Ferriday has her hands full with her post at the French consulate and a new love on the horizon. But Caroline's world is forever changed when Hitler's army invades Poland in September 1939 — and then sets its sights on France.
An ocean away from Caroline, Kasia Kuzmerick, a Polish teenager, senses her carefree youth disappearing as she is drawn deeper into her role as courier for the underground resistance movement. In a tense atmosphere of watchful eyes and suspecting neighbors, one false move can have dire consequences.
For the ambitious young German doctor, Herta Oberheuser, an ad for a government medical position seems her ticket out of a desolate life. Once hired, though, she finds herself trapped in a male-dominated realm of Nazi secrets and power.
The lives of these three women are set on a collision course when the unthinkable happens and Kasia is sent to Ravensbrück, the notorious Nazi concentration camp for women. Their stories cross continents — from New York to Paris, Germany, and Poland — as Caroline and Kasia strive to bring justice to those whom history has forgotten.
A stunningly ambitious and beautiful novel, perfect for fans of The Nightingale, Schindler's List, and All the Light We Cannot See, about 12-year-old Hannah Rosenthal's harrowing experience fleeing Nazi-occupied Germany with her family and best friend, only to discover that the overseas asylum they had been promised is an illusion.
Before everything changed, young Hannah Rosenthal lived a charmed life. But now, in 1939, the streets of Berlin are draped with red, white, and black flags; her family's fine possessions are hauled away; and they are no longer welcome in the places that once felt like home. Hannah and her best friend, Leo Martin, make a pact: Whatever the future has in store for them, they'll meet it together.
Hope appears in the form of the SS St. Louis, a transatlantic liner offering Jews safe passage out of Germany. After a frantic search to obtain visas, the Rosenthals and the Martins depart on the luxurious ship bound for Havana. Life on board the St. Louis is like a surreal holiday for the refugees, with masquerade balls, exquisite meals, and polite, respectful service. But soon ominous rumors from Cuba undermine the passengers' fragile sense of safety. From one day to the next, impossible choices are offered, unthinkable sacrifices are made, and the ship that once was their salvation seems likely to become their doom.
Seven decades later in New York City, on her 12th birthday, Anna Rosen receives a strange package from an unknown relative in Cuba, her great-aunt Hannah. Its contents will inspire Anna and her mother to travel to Havana to learn the truth about their family's mysterious and tragic past, a quest that will help Anna understand her place and her purpose in the world.
The German Girl sweeps from Berlin at the brink of the Second World War to Cuba on the cusp of revolution, to New York in the wake of September 11, before reaching its deeply moving conclusion in the tumult of present-day Havana. Based on a true story, this masterful novel gives voice to the joys and sorrows of generations of exiles, forever seeking a place called home.
It is 1939. Nazi Germany. The country is holding its breath. Death has never been busier, and will become busier still.
Liesel Meminger is a foster girl living outside of Munich, who scratches out a meager existence for herself by stealing when she encounters something she can't resist — books. With the help of her accordion-playing foster father, she learns to read and shares her stolen books with her neighbors during bombing raids as well as with the Jewish man hidden in her basement.
In superbly crafted writing that burns with intensity, award-winning author Markus Zusak, author of I Am the Messenger, has given us one of the most enduring stories of our time.
Pearl is in charge of: the sad, the good, the past.
Stasha must care for: the funny, the future, the bad.
It's 1944 when the twin sisters arrive at Auschwitz with their mother and grandfather. In their benighted new world, Pearl and Stasha Zagorski take refuge in their identical natures, comforting themselves with the private language and shared games of their childhood.
As part of the experimental population of twins known as Mengele's Zoo, the girls experience privileges and horrors unknown to others, and they find themselves changed, stripped of the personalities they once shared, their identities altered by the burdens of guilt and pain.
That winter, at a concert orchestrated by Mengele, Pearl disappears. Stasha grieves for her twin, but clings to the possibility that Pearl remains alive. When the camp is liberated by the Red Army, she and her companion Feliks — a boy bent on vengeance for his own lost twin — travel through Poland's devastation. Undeterred by injury, starvation, or the chaos around them, motivated by equal parts danger and hope, they encounter hostile villagers, Jewish resistance fighters, and fellow refugees, their quest enabled by the notion that Mengele may be captured and brought to justice within the ruins of the Warsaw Zoo. As the young survivors discover what has become of the world, they must try to imagine a future within it.
A superbly crafted story, told in a voice as exquisite as it is boundlessly original, Mischling defies every expectation, traversing one of the darkest moments in human history to show us the way toward ethereal beauty, moral reckoning, and soaring hope.
Christopher would always be there for Rebecca no matter what it took, from the beaches of Jersey to the hell of the holocaust and Auschwitz.
The prisoners in Auschwitz called it Canada, the land of unimaginable riches, where the last possessions of those who perished in the gas chambers were gathered and counted. Christopher is the new head of Canada, the "Dollar King." He is the one who controls the river of dirty money flowing through the camp. But Christopher is on a different mission. He is not in Auschwitz to serve the Reich, but to find Rebecca, lost somewhere inside the sprawling system of concentration camps set up to murder the innocent victims of the holocaust.
They were six years old when they meet on the island of Jersey in 1924. Christopher, recently arrived from Germany with his sister, and grieving father, and Rebecca, born and raised on the island, the daughter of an abusive father and alcoholic mother. Their lives would never be the same. When Rebecca runs away as a teenager to England to escape her parents Christopher thinks he has lost her forever, but nothing can keep them apart, not her parents, or the fiancée she brings back with her from England, or even the war clouds gathering over Europe. When World War II comes to Jersey with the Nazi invaders, Christopher tries to hide Rebecca's Jewish roots, but along with millions of other victims of the holocaust, Rebecca is swallowed up by the evils of the Nazi regime.
As Christopher searches for Rebecca he finds the noose around his own neck tightening, as he struggles to not only maintain his cover, but also the grip on his soul amongst the melee of death and corruption that is daily currency in the camp. Christopher knows that one misstep by him will mean not only the end of his own life but surely that of Rebecca's also. But Christopher finds that his position in the camp as the man in charge of the money in the corrupt world of Auschwitz affords him opportunities, and that sometimes the mission, and the life that fate leads us to is not necessarily the one we had in mind.
A Nazi doctor. A Jewish rebel. A little girl. Each one will fight for freedom — or die trying.
Imprisoned in the Lodz Ghetto, Elsi discovers her mother's desperate attempt to end her pregnancy and comes face-to-face with the impossibility of their situation. Risking her own life, Elsi joins a resistance group to sabotage the regime.
Blonde, blue-eyed Matilda is wrenched from her family in Romania and taken to Germany, where her captors attempt to mold her into the perfect Aryan child. Spirited and brave, she must inspire hope in the other stolen children to make her dreams of escape a reality.
Willem, a high-ranking Nazi doctor, plans to save lives when he takes posts in both the ghetto and Auschwitz. After witnessing unimaginable cruelties, he begins to question his role and the future of those he is ordered to destroy.
While Hitler ransacks Europe in pursuit of a pure German race, the lives of three broken souls — thrown together by chance — intertwine. Only love and sacrifice might make them whole again.
Which of these books have you read? Share in the comments.
Want access to free & bargain ebooks? Sign up for BookBub here.
Comments