February marks National African American History Month, during which we celebrate black leaders, writers, artists, activists, musicians, scientists, and more. To honor their legacy, here are a selection of award-winning books by black authors to read this month. Publishers' descriptions included below.
In A Brief History of Seven Killings, Marlon James combines brilliant storytelling with his unrivaled skills of characterization and meticulous eye for detail to forge an enthralling novel of dazzling ambition and scope.
On December 3, 1976, just before the Jamaican general election and two days before Bob Marley was to play the Smile Jamaica Concert to ease political tensions in Kingston, seven gunmen stormed the singer's house, machine guns blazing. The attack wounded Marley, his wife, and his manager, and injured several others. Little was officially released about the gunmen, but much has been whispered, gossiped and sung about in the streets of West Kingston. Rumors abound regarding the assassins' fates, and there are suspicions  that the attack was politically motivated.
A Brief History of Seven Killings delves deep into that dangerous and unstable time in Jamaica's history and beyond. James deftly chronicles the lives of a host of unforgettable characters — gunmen, drug dealers, one-night stands, CIA agents,  even ghosts — over the course of 30 years as they roam the streets of 1970s Kingston, dominate the crack houses of 1980s New York, and ultimately reemerge into the radically altered Jamaica of the 1990s. Along the way, they learn that evil does indeed cast long shadows, that justice and retribution are inextricably linked, and that no one can truly escape his fate.
Gripping and inventive, shocking and irresistible, A Brief History of Seven Killings is a mesmerizing modern classic of power, mystery, and insight.
Awards: Man Booker Prize, American Book Award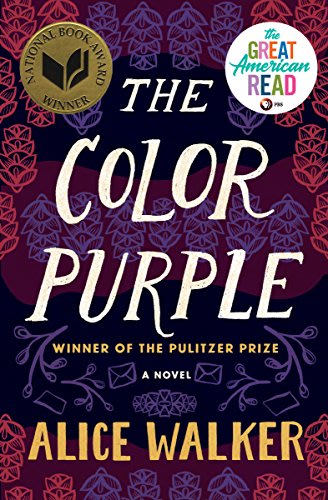 Winner of the Pulitzer Prize and the National Book Award, this novel about a resilient and courageous woman has become a Broadway show and a cultural phenomenon.
Celie has grown up poor in rural Georgia, despised by the society around her and abused by her own family. She strives to protect her sister, Nettie, from a similar fate, and while Nettie escapes to a new life as a missionary in Africa, Celie is left behind without her best friend and confidante, married off to an older suitor, and sentenced to a life alone with a harsh and brutal husband.
In an attempt to transcend a life that often seems too much to bear, Celie begins writing letters directly to God. The letters, spanning 20 years, record a journey of self-discovery and empowerment guided by the light of a few strong women. She meets Shug Avery, her husband's mistress and a jazz singer with a zest for life, and her stepson's wife, Sophia, who challenges her to fight for independence. And though the many letters from Celie's sister are hidden by her husband, Nettie's unwavering support will prove to be the most breathtaking of all.
The Color Purple has sold more than 5 million copies, inspired an Academy Award–nominated film starring Oprah Winfrey and directed by Steven Spielberg, and been adapted into a Tony-nominated Broadway musical. Lauded as a literary masterpiece, this is the groundbreaking novel that placed Walker "in the company of Faulkner" (The Nation), and remains a wrenching — yet intensely uplifting — experience for new generations of readers.
Award: National Book Award
In Waiting to Exhale, Terry McMillan chronicled the lives and love affairs of women in their mid-thirties, opening up an entirely new literary field and audience for African-American writers. Getting to Happy, her exuberant and engaging "sequel," revisits the same four spirited women — Savannah, Gloria, Bernadine, and Robin — now catapulted into midlife. Fifteen years later, her heroines are as sassy, vivid, and smart-mouthed as ever. As a broadcast investigative journalist, Savannah takes pride in her work exposing secrets and scandals — but she never expected to uncover one in her own home that would bring her already diminishing marriage to an explosive end. Bernie has had man problems that put her past challenges in the shade — these days, she finds herself popping pills and forgetting details that she might do well to recall. Robin's high-rolling life as a serial shopper runs into trouble when she loses her job to a merger, and she's hardly faring any better in the world of online dating. Gloria still runs the bustling Oasis salon, but back-to-back family tragedies hit her hard. All four face tough questions about love and loss, but they keep faith in themselves and each other as their lives fall apart and reconfigure. A particular reward of this novel is the cast of younger characters — Bernadine's now-college-age Onika; Robin's daughter Sparrow; and Gloria's son Tariq, married and with young children (and problems) of his own. McMillan's pitch-perfect prose draws us into the deeply affecting stories of these women, highlighting the humor and joy that carry them through their struggles. Although girlfriend time may have eroded somewhat under life's pressures, four-way calls and movie night get-togethers continue to reaffirm the importance of friendship not only to getting by but to chasing that perennial goal — getting to happy.
Award: NAACP Image Award
Six extraordinary stories from the author of Kindred, a master of modern science fiction — including a Hugo and Nebula award-winning novella. Octavia E. Butler's classic "Bloodchild," winner of both the Nebula and Hugo awards, anchors this collection of incomparable stories and essays. "Bloodchild" is set on a distant planet where human children spend their lives preparing to become hosts for the offspring of the alien Tlic. Sometimes the procedure is harmless, but often it is not. Also included is the Hugo Award-winning "Speech Sounds," about a near future in which humans must adapt after an apocalyptic event robs them of their ability to speak. "The Evening and the Morning and the Night," another esteemed title in this collection, is a Nebula Award finalist.   In these pages, Butler shows us life on Earth and amongst the stars, telling her tales with characteristic imagination and clarity.   This ebook features an illustrated biography of Octavia E. Butler including rare images from the author's estate.
Awards: Nebula Award, Hugo Award
This is the way the world ends… for the last time.
A season of endings has begun.
It starts with the great red rift across the heart of the world's sole continent, spewing ash that blots out the sun.
It starts with death, with a murdered son and a missing daughter.
It starts with betrayal, and long dormant wounds rising up to fester.
This is the Stillness, a land long familiar with catastrophe, where the power of the earth is wielded as a weapon. And where there is no mercy.
Award: Hugo Award
Binti by Nnedi Okorafor
Her name is Binti, and she is the first of the Himba people ever to be offered a place at Oomza University, the finest institution of higher learning in the galaxy. But to accept the offer will mean giving up her place in her family to travel between the stars among strangers who do not share her ways or respect her customs.
Knowledge comes at a cost, one that Binti is willing to pay, but her journey will not be easy. The world she seeks to enter has long warred with the Meduse, an alien race that has become the stuff of nightmares. Oomza University has wronged the Meduse, and Binti's stellar travel will bring her within their deadly reach.
If Binti hopes to survive the legacy of a war not of her making, she will need both the the gifts of her people and the wisdom enshrined within the University, itself — but first she has to make it there, alive.
Awards: Nebula Award, Hugo Award
March: Book Three by John Lewis, Andrew Aydin, and Nate Powell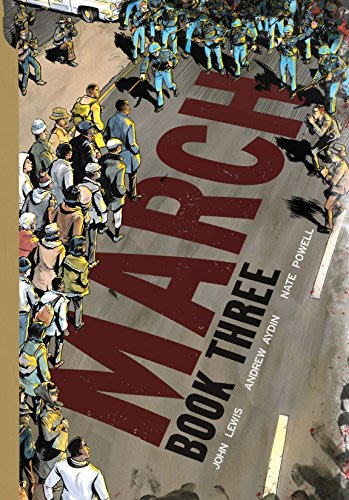 By fall 1963, the Civil Rights Movement is an undeniable keystone of the national conversation, and as chair of the Student Nonviolent Coordinating Committee, John Lewis is right in the thick of it. With the stakes continuing to rise, white supremacists intensify their opposition through government obstruction and civilian terrorist attacks, a supportive president is assassinated, and African-Americans across the South are still blatantly prohibited from voting. To carry out their nonviolent revolution, Lewis and an army of young activists launch a series of innovative projects, including the Freedom Vote, Mississippi Freedom Summer, and a pitched battle for the soul of the Democratic Party waged live on national television. But strategic disputes are deepening within the movement, even as 25-year-old John Lewis heads to Alabama to risk everything in a historic showdown that will shock the world.
Awards: Printz Award, National Book Award
The National Book Award Winner and #1 New York Times bestseller from Colson Whitehead, a magnificent tour de force chronicling a young slave's adventures as she makes a desperate bid for freedom in the antebellum South.
Cora is a slave on a cotton plantation in Georgia. Life is hell for all the slaves, but especially bad for Cora; an outcast even among her fellow Africans, she is coming into womanhood — where even greater pain awaits. When Caesar, a recent arrival from Virginia, tells her about the Underground Railroad, they decide to take a terrifying risk and escape. Matters do not go as planned — Cora kills a young white boy who tries to capture her. Though they manage to find a station and head north, they are being hunted.
In Whitehead's ingenious conception, the Underground Railroad is no mere metaphor — engineers and conductors operate a secret network of tracks and tunnels beneath the Southern soil. Cora and Caesar's first stop is South Carolina, in a city that initially seems like a haven. But the city's placid surface masks an insidious scheme designed for its black denizens. And even worse: Ridgeway, the relentless slave catcher, is close on their heels. Forced to flee again, Cora embarks on a harrowing flight, state by state, seeking true freedom.
Like the protagonist of Gulliver's Travels, Cora encounters different worlds at each stage of her journey — hers is an odyssey through time as well as space. As Whitehead brilliantly re-creates the unique terrors for black people in the pre-Civil War era, his narrative seamlessly weaves the saga of America from the brutal importation of Africans to the unfulfilled promises of the present day. The Underground Railroad is at once a kinetic adventure tale of one woman's ferocious will to escape the horrors of bondage and a shattering, powerful meditation on the history we all share.
Award: National Book Award
Held captive by her employers — and by her own demons — on a mysterious farm, a widow struggles to reunite with her young son in this uniquely American story of freedom, perseverance, and survival.
Darlene, once an exemplary wife and a loving mother to her young son, Eddie, finds herself devastated by the unforeseen death of her husband. Unable to cope with her grief, she turns to drugs, and quickly forms an addiction. One day she disappears without a trace.
Unbeknownst to eleven-year-old Eddie, now left behind in a panic-stricken search for her, Darlene has been lured away with false promises of a good job and a rosy life. A shady company named Delicious Foods shuttles her to a remote farm, where she is held captive, performing hard labor in the fields to pay off the supposed debt for her food, lodging, and the constant stream of drugs the farm provides to her and the other unfortunates imprisoned there.
In Delicious Foods, James Hannaham tells the gripping story of three unforgettable characters: a mother, her son, and the drug that threatens to destroy them. Through Darlene's haunted struggle to reunite with Eddie, through the efforts of both to triumph over those who would enslave them, and through the irreverent and mischievous voice of the drug that narrates Darlene's travails, Hannaham's daring and shape-shifting prose infuses this harrowing experience with grace and humor.
The desperate circumstances that test the unshakeable bond between this mother and son unfold into myth, and Hannaham's treatment of their ordeal spills over with compassion. Along the way we experience a tale at once contemporary and historical that wrestles with timeless questions of love and freedom, forgiveness and redemption, tenacity and the will to survive.
Awards: PEN/Faulkner Award for Fiction, Hurston/Wright Legacy Fiction Award
A hurricane is building over the Gulf of Mexico, threatening the coastal town of Bois Sauvage, Mississippi, and Esch's father is growing concerned. A hard drinker, largely absent, he doesn't show concern for much else. Esch and her three brothers are stocking food, but there isn't much to save. Lately, Esch can't keep down what food she gets; she's fourteen and pregnant. Her brother Skeetah is sneaking scraps for his prized pitbull's new litter, dying one by one in the dirt. While brothers Randall and Junior try to stake their claim in a family long on child's play and short on parenting. As the twelve days that comprise the novel's framework yield to the final day and Hurricane Katrina, the unforgettable family at the novel's heart — motherless children sacrificing for each other as they can, protecting and nurturing where love is scarce — pulls itself up to struggle for another day. A wrenching look at the lonesome, brutal, and restrictive realities of rural poverty, Salvage the Bone is muscled with poetry, revelatory, and real.
Award: National Book Award
Jacqueline Woodson, the acclaimed author of Another Brooklyn, tells the moving story of her childhood in mesmerizing verse.
Raised in South Carolina and New York, Woodson always felt halfway home in each place. In vivid poems, she shares what it was like to grow up as an African American in the 1960s and 1970s, living with the remnants of Jim Crow and her growing awareness of the Civil Rights movement. Touching and powerful, each poem is both accessible and emotionally charged, each line a glimpse into a child's soul as she searches for her place in the world. Woodson's eloquent poetry also reflects the joy of finding her voice through writing stories, despite the fact that she struggled with reading as a child. Her love of stories inspired her and stayed with her, creating the first sparks of the gifted writer she was to become.
Awards: National Book Award, Coretta Scott King Book Award, and NAACP Image Award
Easy Rawlins, L.A.'s most reluctant detective, comes home one day to find Easter, the daughter of his friend Chrismas Black, left on his doorstep. Easy knows that this could only mean that the ex-marine Black is probably dead, or will be soon. Easter's appearance is only the beginning, as Easy is immersed in a sea of problems. The love of his life is marrying another man and his friend Mouse is wanted for the murder of a father of 12. As he's searching for a clue to Christmas Black's whereabouts, two suspicious MPs hire him to find his friend Black on behalf of the U.S. Army. Easy's investigation brings him to Faith Laneer, a blonde woman with a dark past. As Easy begins to put the pieces together, he realizes that Black's disappearance has its roots in Vietnam, and that Faith might be in a world of danger.
Award: NAACP Image Award
The unforgettable New York Times best seller begins with the story of two half-sisters, separated by forces beyond their control: one sold into slavery, the other married to a British slaver. Written with tremendous sweep and power, Homegoing traces the generations of family who follow, as their destinies lead them through two continents and three hundred years of history, each life indeliably drawn, as the legacy of slavery is fully revealed in light of the present day.
Effia and Esi are born into different villages in eighteenth-century Ghana. Effia is married off to an Englishman and lives in comfort in the palatial rooms of Cape Coast Castle. Unbeknownst to Effia, her sister, Esi, is imprisoned beneath her in the castle's dungeons, sold with thousands of others into the Gold Coast's booming slave trade, and shipped off to America, where her children and grandchildren will be raised in slavery. One thread of Homegoing follows Effia's descendants through centuries of warfare in Ghana, as the Fante and Asante nations wrestle with the slave trade and British colonization. The other thread follows Esi and her children into America. From the plantations of the South to the Civil War and the Great Migration, from the coal mines of Pratt City, Alabama, to the jazz clubs and dope houses of twentieth-century Harlem, right up through the present day, Homegoing makes history visceral, and captures, with singular and stunning immediacy, how the memory of captivity came to be inscribed in the soul of a nation
Award: National Book Critics Circle's John Leonard Award
A biting satire about a young man's isolated upbringing and the race trial that sends him to the Supreme Court, Paul Beatty's The Sellout showcases a comic genius at the top of his game. It challenges the sacred tenets of the United States Constitution, urban life, the civil rights movement, the father-son relationship, and the holy grail of racial equality — the black Chinese restaurant. Born in the "agrarian ghetto" of Dickens — on the southern outskirts of Los Angeles — the narrator of The Sellout resigns himself to the fate of lower-middle-class Californians: "I'd die in the same bedroom I'd grown up in, looking up at the cracks in the stucco ceiling that've been there since '68 quake." Raised by a single father, a controversial sociologist, he spent his childhood as the subject in racially charged psychological studies. He is led to believe that his father's pioneering work will result in a memoir that will solve his family's financial woes. But when his father is killed in a police shoot-out, he realizes there never was a memoir. All that's left is the bill for a drive-thru funeral. Fueled by this deceit and the general disrepair of his hometown, the narrator sets out to right another wrong: Dickens has literally been removed from the map to save California from further embarrassment. Enlisting the help of the town's most famous resident — the last surviving Little Rascal, Hominy Jenkins — he initiates the most outrageous action conceivable: reinstating slavery and segregating the local high school, which lands him in the Supreme Court.
Awards: The Man Booker Prize, National Book Critics Circle Award
Americanah by Chimamanda Ngozi Adichie
A powerful, tender story of race and identity by Chimamanda Ngozi Adichie, the award-winning author of Half of a Yellow Sun.
Ifemelu and Obinze are young and in love when they depart military-ruled Nigeria for the West. Beautiful, self-assured Ifemelu heads for America, where despite her academic success, she is forced to grapple with what it means to be black for the first time. Quiet, thoughtful Obinze had hoped to join her, but with post-9/11 America closed to him, he instead plunges into a dangerous, undocumented life in London. Fifteen years later, they reunite in a newly democratic Nigeria, and reignite their passion — for each other and for their homeland.
Awards: National Book Critics Circle Award
From the bestselling author of The Color of Water, Song Yet Sung, and Kill 'Em and Leave, a James Brown biography, comes the story of a young boy born a slave who joins John Brown's antislavery crusade — and who must pass as a girl to survive.
Henry Shackleford is a young slave living in the Kansas Territory in 1857, when the region is a battleground between anti- and pro-slavery forces. When John Brown, the legendary abolitionist, arrives in the area, an argument between Brown and Henry's master quickly turns violent. Henry is forced to leave town — with Brown, who believes he's a girl.
Over the ensuing months, Henry — whom Brown nicknames Little Onion — conceals his true identity as he struggles to stay alive. Eventually Little Onion finds himself with Brown at the historic raid on Harpers Ferry in 1859 — one of the great catalysts for the Civil War.
An absorbing mixture of history and imagination, and told with McBride's meticulous eye for detail and character, The Good Lord Bird is both a rousing adventure and a moving exploration of identity and survival.
Henry Shackleford is a young slave living in the Kansas Territory in 1857, when the region is a battleground between anti- and pro-slavery forces. When John Brown, the legendary abolitionist, arrives in the area, an argument between Brown and Henry's master quickly turns violent. Henry is forced to leave town — with Brown, who believes he's a girl.
Over the ensuing months, Henry — whom Brown nicknames Little Onion — conceals his true identity as he struggles to stay alive. Eventually Little Onion finds himself with Brown at the historic raid on Harpers Ferry in 1859 — one of the great catalysts for the Civil War.
An absorbing mixture of history and imagination, and told with McBride's meticulous eye for detail and character, The Good Lord Bird is both a rousing adventure and a moving exploration of identity and survival.
Awards: National Book Award
Beloved by Toni Morrison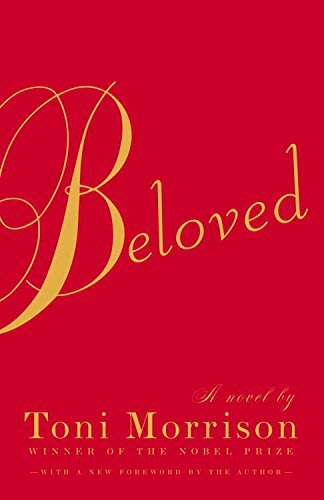 Staring unflinchingly into the abyss of slavery, this spellbinding novel transforms history into a story as powerful as Exodus and as intimate as a lullaby. Sethe, its protagonist, was born a slave and escaped to Ohio, but eighteen years later she is still not free. She has too many memories of Sweet Home, the beautiful farm where so many hideous things happened. And Sethe's new home is haunted by the ghost of her baby, who died nameless and whose tombstone is engraved with a single word: Beloved. Filled with bitter poetry and suspense as taut as a rope, Beloved is a towering achievement.
Award: Pulitzer Prize
In a profound work that pivots from the biggest questions about American history and ideals to the most intimate concerns of a father for his son, Ta-Nehisi Coates offers a powerful new framework for understanding our nation's history and current crisis. Americans have built an empire on the idea of "race," a falsehood that damages us all but falls most heavily on the bodies of black women and men — bodies exploited through slavery and segregation, and, today, threatened, locked up, and murdered out of all proportion. What is it like to inhabit a black body and find a way to live within it? And how can we all honestly reckon with this fraught history and free ourselves from its burden?
Between the World and Me is Ta-Nehisi Coates's attempt to answer these questions in a letter to his adolescent son. Coates shares with his son — and readers — the story of his awakening to the truth about his place in the world through a series of revelatory experiences, from Howard University to Civil War battlefields, from the South Side of Chicago to Paris, from his childhood home to the living rooms of mothers whose children's lives were taken as American plunder. Beautifully woven from personal narrative, reimagined history, and fresh, emotionally charged reportage, Between the World and Me clearly illuminates the past, bracingly confronts our present, and offers a transcendent vision for a way forward.
Award: National Book Award
New poetry by the award-winning poet Tracy K. Smith, whose "lyric brilliance and political impulses never falter" (Publishers Weekly, starred review)
You lie there kicking like a baby, waiting for God himself
To lift you past the rungs of your crib. What
Would your life say if it could talk?
–from "No Fly Zone"
With allusions to David Bowie and interplanetary travel, Life on Mars imagines a soundtrack for the universe to accompany the discoveries, failures, and oddities of human existence. In these brilliant new poems, Tracy K. Smith envisions a sci-fi future sucked clean of any real dangers, contemplates the dark matter that keeps people both close and distant, and revisits the kitschy concepts like "love" and "illness" now relegated to the Museum of Obsolescence. These poems reveal the realities of life lived here, on the ground, where a daughter is imprisoned in the basement by her own father, where celebrities and pop stars walk among us, and where the poet herself loses her father, one of the engineers who worked on the Hubble Space Telescope. With this remarkable third collection, Smith establishes herself among the best poets of her generation.
Award: Pulitzer Prize
It is 1937, and Amabelle Désir, a young Haitian woman living in the Dominican Republic, has built herself a life as the servant and companion of the wife of a wealthy colonel. She and Sebastien, a cane worker, are deeply in love and plan to marry. But Amabelle's  world collapses when a wave of genocidal violence, driven by Dominican dictator Rafael Trujillo, leads to the slaughter of Haitian workers. Amabelle and Sebastien are separated, and she desperately flees the tide of violence for a Haiti she barely remembers.
Already acknowledged as a classic, this harrowing story of love and survival — from one of the most important voices of her generation — is an unforgettable memorial to the victims of the Parsley Massacre and a testimony to the power of human memory.
Award: American Book Award
When Hurricane Katrina tore through New Orleans and the Gulf Coast, hundreds of thousands were left behind to suffer the ravages of destruction, disease, and even death. The majority of these people were black; nearly all were poor. The Federal government's slow response to local appeals for help is by now notorious. Yet despite the cries of outrage that have mounted since the levees broke, we have failed to confront the disaster's true lesson: to be poor, or black, in today's ownership society, is to be left behind. Displaying the intellectual rigor, political passion, and personal empathy that have won him acclaim and fans all across the color line, Michael Eric Dyson offers a searing assessment of the meaning of Hurricane Katrina. Combining interviews with survivors of the disaster with his deep knowledge of black migrations and government policy over decades, Dyson provides the historical context that has been sorely missing from public conversation. He explores the legacy of black suffering in America since slavery and ties its psychic scars to today's crisis. And, finally, his critique of the way black people are framed in the national consciousness will shock and surprise even the most politically savvy reader. With this clarion call Dyson warns us that we can only find redemption as a society if we acknowledge that Katrina was more than an engineering or emergency response failure. From the TV newsroom to the Capitol Building to the backyard, we must change the way we relate to the black and the poor among us. What's at stake is no less than the future of democracy.
Award: American Book Award
For bell hooks, the best cultural criticism sees no need to separate politics from the pleasure of reading. Yearning collects together some of hooks's classic and early pieces of cultural criticism from the '80s. Addressing topics like pedagogy, postmodernism, and politics, hooks examines a variety of cultural artifacts, from Spike Lee's film Do the Right Thing and Wim Wenders's film Wings of Desire to the writings of Zora Neale Hurston and Toni Morrison. The result is a poignant collection of essays which, like all of hooks's work, is above all else concerned with transforming oppressive structures of domination.
Award: American Book Award
Which of these books have you read? Share in the comments!
Want access to free & bargain ebooks? Sign up for BookBub here.
Comments