If you're on the hunt for your next favorite author, then look no further. We've gone beyond New York Times bestsellers to compile top-selling books from around the globe. Spanning mysteries, thrillers, romance, and more, these books gained popularity outside the US — and are sure to please even the most discerning bibliophile. Publishers' descriptions include.
A modern masterpiece from one of Italy's most acclaimed authors, My Brilliant Friend is a rich, intense, and generous-hearted story about two friends, Elena and Lila. Ferrante's inimitable style lends itself perfectly to a meticulous portrait of these two women that is also the story of a nation and a touching meditation on the nature of friendship.
The story begins in the 1950s, in a poor but vibrant neighborhood on the outskirts of Naples. Growing up on these tough streets the two girls learn to rely on each other ahead of anyone or anything else. As they grow, as their paths repeatedly diverge and converge, Elena and Lila remain best friends whose respective destinies are reflected and refracted in the other. They are likewise the embodiments of a nation undergoing momentous change. Through the lives of these two women, Ferrante tells the story of a neighborhood, a city, and a country as it is transformed in ways that, in turn, also transform the relationship between her protagonists, the unforgettable Elena and Lila.
Ferrante is the author of three previous works of critically acclaimed fiction: The Days of Abandonment, Troubling Love, and The Lost Daughter. With this novel, the first in a tetralogy, she proves herself to be one of Italy's great storytellers. She has given her readers a masterfully plotted page-turner, abundant and generous in its narrative details and characterizations, that is also a stylish work of literary fiction destined to delight her many fans and win new readers to her fiction.
When Rajaa Alsanea boldly chose to open up the hidden world of Saudi women — their private lives and their conflicts with the traditions of their culture — she caused a sensation across the Arab world. Now in English, Alsanea's tale of the personal struggles of four young upper-class women offers Westerners an unprecedented glimpse into a society often veiled from view. Living in restrictive Riyadh but traveling all over the globe, these modern Saudi women literally and figuratively shed traditional garb as they search for love, fulfillment, and their place somewhere in between Western society and their Islamic home.
By turns comic and tragic, Elif Shafak's The Flea Palace is an outstandingly original novel driven by an overriding sense of social justice.
Bonbon Palace was once a stately apartment block in Istanbul. Now it is a sadly dilapidated home to 10 wildly different individuals and their families.
There's a womanizing, hard-drinking academic with a penchant for philosophy; a 'clean freak' and her lice-ridden daughter; a lapsed Jew in search of true love; and a charmingly naïve mistress whose shadowy past lurks in the building. When the garbage at Bonbon Palace is stolen, a mysterious sequence of events unfolds that result in a soul-searching quest for truth.
After two separate catastrophes, two very different families leave the country for the bright lights of Perth. The Lambs are industrious, united, and — until God seems to turn His back on their boy Fish — religious. The Pickleses are gamblers, boozers, fractious, and unlikely landlords.
Change, hardship, and the war force them to swallow their dignity and share a great, breathing, shuddering house called Cloudstreet. Over the next 20 years, they struggle and strive, laugh and curse, come apart and pull together under the same roof, and try as they can to make their lives.
Winner of the Miles Franklin Award and recognized as one of the greatest works of Australian literature, Cloudstreet is Tim Winton's sprawling, comic epic about luck and love, fortitude and forgiveness, and the magic of the everyday.
In this "outstanding psychological thriller" (Publishers Weekly, starred review) by the Edgar-nominated author of Joe Victim, a famous crime writer struggles to differentiate between his own reality and the frightening plot lines he's created for the page.
Jerry Grey is known to most of the world by his crime writing pseudonym, Henry Cutter — a name that has been keeping readers on the edge of their seats for more than a decade. Recently diagnosed with early onset Alzheimer's at the age of 49, Jerry's crime writing days are coming to an end. His 12 books tell stories of brutal murders committed by bad men, of a world out of balance, of victims finding the darkest forms of justice. As his dementia begins to break down the wall between his life and the lives of the characters he has created, Jerry confesses his worst secret: The stories are real. He knows this because he committed the crimes. Those close to him, including the nurses at the care home where he now lives, insist that it is all in his head, that his memory is being toyed with and manipulated by his unfortunate disease. But if that were true, then why are so many bad things happening? Why are people dying?
The Best Exotic Marigold Hotel meets The Italian Job in internationally-bestselling author Catharina Ingelman-Sundberg's witty and insightful comedy of errors about a group of delinquent seniors whose desire for a better quality of life leads them to rob and ransom priceless artwork.
Martha Andersson may be 79-years-old and live in a retirement home, but that doesn't mean she's ready to stop enjoying life. So when the new management of Diamond House starts cutting corners to save money, Martha and her four closest friends — The Genius, The Rake, Christina and Anna-Gretta (a.k.a. The League of Pensioners) — won't stand for it. Fed up with early bedtimes and overcooked veggies, this group of feisty seniors sets about to regain their independence, improve their lot, and stand up for seniors everywhere.
Their solution? White collar crime. What begins as a relatively straightforward robbery of a nearby luxury hotel quickly escalates into an unsolvable heist at the National Museum. With police baffled and the Mafia hot on their trail, the League of Pensioners has to stay one walker's length ahead if it's going to succeed….
Told with all the insight and humor of A Man Called Ove or Where'd You Go Bernadette?, The Little Old Lady Who Broke All the Rules is a delightful and heartwarming novel that goes to prove the adage that it's not the years in your life that count, it's the life in your years.
The Big Green Tent epitomizes what we think of when we imagine the classic Russian novel.
With epic breadth and intimate detail, Ludmila Ulitskaya's remarkable work tells the story of three school friends who meet in Moscow in the 1950s and go on to embody the heroism, folly, compromise, and hope of the Soviet dissident experience. These three boys — an orphaned poet; a gifted, fragile pianist; and a budding photographer with a talent for collecting secrets — struggle to reach adulthood in a society where their heroes have been censored and exiled. Rich with love stories, intrigue, and a cast of dissenters and spies, The Big Green Tent offers a panoramic survey of life after Stalin and a dramatic investigation into the prospects for individual integrity in a society defined by the KGB. Each of the central characters seeks to transcend an oppressive regime through art, a love of Russian literature, and activism. And each of them ends up face-to-face with a secret police that is highly skilled at fomenting paranoia, division, and self-betrayal. A man and his wife each become collaborators, without the other knowing; an artist is chased into the woods, where he remains in hiding for four years; a researcher is forced to deem a patient insane, damning him to torture in a psychiatric ward. Ludmila Ulitskaya's novel belongs to the tradition of Dostoevsky, Tolstoy, and Pasternak: It is a work consumed with politics, love, and belief — and a revelation of life in dark times.
Her pupils murdered her daughter. Now she will have her revenge.
After calling off her engagement in the wake of a tragic revelation, Yuko Moriguchi had nothing to live for except her only child, four-year-old child, Manami. Now, following an accident on the grounds of the middle school where she teaches, Yuko has given up and tendered her resignation.
But first she has one last lecture to deliver. She tells a story that upends everything her students ever thought they knew about two of their peers, and sets in motion a diabolical plot for revenge.
Narrated in alternating voices, with twists you'll never see coming, Confessions probes the limits of punishment, despair, and tragic love, culminating in a harrowing confrontation between teacher and student that will place the occupants of an entire school in danger. You'll never look at a classroom the same way again.
When 69-year-old So-nyo is separated from her husband among the crowds of the Seoul subway station, her family begins a desperate search to find her. Yet as long-held secrets and private sorrows begin to reveal themselves, they are forced to wonder: How well did they actually know the woman they called Mom?
Told through the piercing voices and urgent perspectives of a daughter, son, husband, and mother, Please Look After Mom is at once an authentic picture of contemporary life in Korea and a universal story of family love.
Earthy, magical, and utterly charming, this tale of family life in turn-of-the-century Mexico became a best-selling phenomenon with its winning blend of poignant romance and bittersweet wit. The classic love story takes place on the De la Garza ranch, as the tyrannical owner, Mama Elena, chops onions at the kitchen table in her final days of pregnancy. While still in her mother's womb, her daughter to be weeps so violently she causes an early labor, and little Tita slips out amid the spices and fixings for noodle soup. This early encounter with food soon becomes a way of life, and Tita grows up to be a master chef. She shares special points of her favorite preparations with listeners throughout the story.
On a rainy November day police detectives Pia Kirchhoff and Oliver von Bodenstein are summoned to a mysterious traffic accident: A woman has fallen from a pedestrian bridge onto a car driving underneath. According to a witness, the woman may have been pushed. The investigation leads Pia and Oliver to a small village, and the home of the victim, Rita Cramer.
On a September evening 11 years earlier, two 17-year-old girls vanished from the village without a trace. In a trial based only on circumstantial evidence, 20-year-old Tobias Sartorius, Rita Cramer's son, was sentenced to 10 years in prison. Bodenstein and Kirchhoff discover that Tobias, after serving his sentence, has now returned to his home town. Did the attack on his mother have something to do with his return?
In the village, Pia and Oliver encounter a wall of silence. When another young girl disappears, the events of the past seem to be repeating themselves in a disastrous manner. The investigation turns into a race against time, because for the villagers it is soon clear who the perpetrator is — and this time they are determined to take matters into their own hands.
An atmospheric, character-driven and suspenseful mystery set in a small town that could be anywhere, dealing with issues of gossip, power, and keeping up appearances.
MI5 intelligence officer Liz Carlyle has just been despatched to Northern Ireland. It's a promotion, and she'll be running agents — her favourite activity — but it also means being separated from Charles Wetherby, her old boss, recently widowed and a very close friend. Attachments in the Intelligence Services are not encouraged: It seems her superiors know more about Liz's life than she thinks.
In Belfast, Liz and her team are monitoring the brutal breakaway Republican groups who never accepted the peace process and want to continue their "war." Intelligence is focused on the shady Fraternity, with links to drug-running, arms-dealing and organized crime. With some help from Special Branch and a volunteer informant who seems to be legit, the Fraternity's leader is identified as a cold, calculating and ruthless American, hijacking the Cause for his own financial ends. It is a perilous group to become involved with. Especially if your informant turns tail.
Just after midnight on December 23, 1980, a night flight bound for Paris plummets toward the Swiss Alps, crashing into a snowy mountainside. Within seconds flames engulf the plane, which is filled with holiday travelers. Of the 169 passengers, all but one perish.
The sole survivor is a three-month-old girl — thrown from the airliner before fire consumes the cabin. But two infants were on board. Is "the Miracle Child of Mont Terri" Lyse-Rose or Emilie? The families of both girls step forward to claim the child. Dogged by bad luck, the Vitrals live a simple life, selling snacks from a van on the beaches of northern France. In contrast, the de Carvilles, who amassed a fortune in the oil business, are powerful-and dangerous.
Eighteen years later, a private detective tasked with solving the mystery of the girl known as "Lylie" is on the verge of giving up. As he contemplates taking his own life, Crédule Grand-Duc suddenly discovers a secret hidden in plain view. Will he live to tell it?
Meanwhile, Lylie, now a beautiful university student, entrusts a secret notebook into the hands of Marc, the brooding young man who loves her, and then vanishes. After Marc reads the notebook's contents, he embarks on a frantic search for Lylie.
But he is not the only one looking for her.
The Bear by Claire Cameron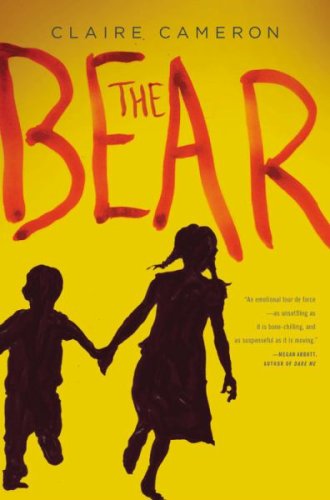 While camping with her family on a remote island, five-year-old Anna awakes in the night to the sound of her mother screaming. A rogue black bear, 300 pounds of fury, is attacking the family's campsite — and pouncing on her parents as prey.
At her dying mother's faint urging, Anna manages to get her brother into the family's canoe and paddle away. But when the canoe runs aground on the edge of the woods, the sister and brother must battle hunger, the elements, and a wilderness alive with danger. Lost and completely alone, they find that their only hope resides in Anna's heartbreaking love for her family, and her struggle to be brave when nothing in her world seems safe anymore.
This is a story with a small narrator and a big heart. Cameron gracefully plumbs Anna's young perspective on family, responsibility, and hope, charting both a tragically premature loss of innocence and a startling evolution as Anna reasons through the impossible situations that confront her.
Lean and confident, and told in the innocent and honest voice of a five-year-old, The Bear is a transporting tale of loss — but also a poignant and surprisingly funny adventure about love and the raw instincts that enable us to survive.
Have you read any of these books? Let us know in the comments!
Want access to free & bargain ebooks? Sign up for BookBub here.
Comments