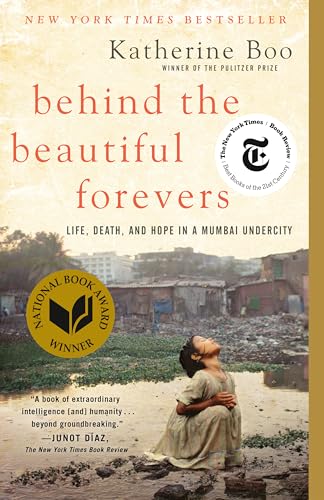 It's been five years since the publication of Katherine Boo's bestselling book Behind the Beautiful Forevers. Her dramatic, moving book tells the true story of families striving for a better life in a very unequal Mumbai. First published in 2012, Behind the Beautiful Forevers earned the National Book Award and was named a best book of the year by several publications, including the New York Times, the Wall Street Journal, and Publishers Weekly.
While Boo's book is specific to Mumbai, there are sadly many such stories to be told around the globe. If you enjoyed reading Behind the Beautiful Forevers, we've put together a list of book that highlight the unique human stories behind social division. Publishers' descriptions included below.
Follow Katherine Boo on BookBub
Fiction
Shantaram by Gregory David Roberts
"It took me a long time and most of the world to learn what I know about love and fate and the choices we make, but the heart of it came to me in an instant, while I was chained to a wall and being tortured."
So begins this epic, mesmerizing first novel by Gregory David Roberts, set in the underworld of contemporary Bombay. Shantaram is narrated by Lin, an escaped convict with a false passport who flees maximum security prison in Australia for the teeming streets of a city where he can disappear.
Accompanied by his guide and faithful friend, Prabaker, the two enter Bombay's hidden society of beggars and gangsters, prostitutes and holy men, soldiers and actors, and Indians and exiles from other countries, who seek in this remarkable place what they cannot find elsewhere.
As a hunted man without a home, family, or identity, Lin searches for love and meaning while running a clinic in one of the city's poorest slums, and serving his apprenticeship in the dark arts of the Bombay mafia. The search leads him to war, prison torture, murder, and a series of enigmatic and bloody betrayals. The keys to unlock the mysteries and intrigues that bind Lin are held by two people. The first is Khader Khan: mafia godfather, criminal-philosopher-saint, and mentor to Lin in the underworld of the Golden City. The second is Karla: elusive, dangerous, and beautiful, whose passions are driven by secrets that torment her and yet give her a terrible power.
Burning slums and five-star hotels, romantic love and prison agonies, criminal wars and Bollywood films, spiritual gurus and mujaheddin guerrillas — this huge novel has the world of human experience in its reach, and a passionate love for India at its heart. Based on the life of the author, it is by any measure the debut of an extraordinary voice in literature.
With a compassionate realism and narrative sweep that recall the work of Charles Dickens, this magnificent novel captures all the cruelty and corruption, dignity and heroism, of India. The time is 1975. The place is an unnamed city by the sea. The government has just declared a State of Emergency, in whose upheavals four strangers — a spirited widow, a young student uprooted from his idyllic hill station, and two tailors who have fled the caste violence of their native village — will be thrust together, forced to share one cramped apartment and an uncertain future.
As the characters move from distrust to friendship and from friendship to love, A Fine Balance creates an enduring panorama of the human spirit in an inhuman state.
Vikram Seth's novel is, at its core, a love story: Lata and her mother, Mrs. Rupa Mehra, are both trying to find — through love or through exacting maternal appraisal — a suitable boy for Lata to marry. Set in the early 1950s, in an India newly independent and struggling through a time of crisis, A Suitable Boy takes us into the richly imagined world of four large extended families and spins a compulsively readable tale of their lives and loves. A sweeping panoramic portrait of a complex, multiethnic society in flux, A Suitable Boy remains the story of ordinary people caught up in a web of love and ambition, humor and sadness, prejudice and reconciliation, the most delicate social etiquette and the most appalling violence.
Saleem Sinai is born at the stroke of midnight on August 15, 1947, the very moment of India's independence. Greeted by fireworks displays, cheering crowds, and Prime Minister Nehru himself, Saleem grows up to learn the ominous consequences of this coincidence. His every act is mirrored and magnified in events that sway the course of national affairs; his health and well-being are inextricably bound to those of his nation; his life is inseparable, at times indistinguishable, from the history of his country. Perhaps most remarkable are the telepathic powers linking him with India's 1,000 other "midnight's children," all born in that initial hour and endowed with magical gifts.
This novel is at once a fascinating family saga and an astonishing evocation of a vast land and its people — a brilliant incarnation of the universal human comedy. Twenty-five years after its publication, Midnight' s Children stands apart as both an epochal work of fiction and a brilliant performance by one of the great literary voices of our time.
In the north of England, a group of young Indian immigrants struggle to begin something new — to support their families; to build their futures; to show their worth; to escape their pasts. An epic for our times, The Year of the Runaways is a stunning work of fiction that explores what it means and what it costs to make a new life, the capaciousness of the human spirit, and the power of humanity in the face of unspeakable suffering.
A stunning literary debut critics have likened to Richard Wright's Native Son, The White Tiger follows a darkly comic Bangalore driver through the poverty and corruption of modern India's caste society. "This is the authentic voice of the Third World, like you've never heard it before" (John Burdett, Bangkok 8).
The white tiger of this novel is Balram Halwai, a poor Indian villager whose great ambition leads him to the zenith of Indian business culture, the world of the Bangalore entrepreneur. On the occasion of the president of China's impending trip to Bangalore, Balram writes a letter to him describing his transformation and his experience as driver and servant to a wealthy Indian family, which he thinks exemplifies the contradictions and complications of Indian society.
Recalling The Death of Vishnu and Bangkok 8 in ambition, scope, The White Tiger is narrative genius with a mischief and personality all its own. Amoral, irreverent, deeply endearing, and utterly contemporary, this novel is an international publishing sensation — and a startling, provocative debut.
The Cook, the Crook, and the Real Estate Tycoon by prize-winning Chinese novelist Liu Zhenyun is a novel of Beijing that paints a microcosm of contemporary China, dealing with classes at the two extremes: the super rich and the migrant workers who make them rich through deceit and corruption.
The protagonist, Liu Yuejin, is a work site cook and small-time thief whose bag is stolen. In searching for it he stumbles upon another bag, which contains a flash disk that chronicles high-level corruption, and sets off a convoluted chase. There are no heroes in this scathing, complex, and highly readable critique of the dark side of China's predatory capitalism, corruption, and the plight of the underclasses.
Born in a São Paulo shantytown, Ludo undergoes a remarkable transformation from one side of the city's impermeable social divide to the other. Rescued and raised by a plutocrat, Zeno Generoso, Ludo finds himself entrenched in the gated, guarded community of the super-rich.
Now 27, Ludo works for a vacuous "communications company" that markets unwanted, unaffordable products aimed at the very underclass into which he was born and from which he escaped. To make matters more complicated, he has developed an obsessive, adulterous love for his adoptive sister, whose husband is his only friend.
Ludo's involvement in an ill-conceived supermarket launch aimed at the favela's desperately poor population risks embroiling him in a world of violence and brutality. By turns darkly humorous and poignant, James Scudamore's Booker Prize-nominated novel is a highly original, surprising take on the rags-to-riches story.
The searing novel on which the internationally acclaimed hit film was based, City of God is a gritty, gorgeous tour de force from the Brazilian street.
Cidade de Deus, the City of God: welcome to one of Rio's most notorious slums. A place where the streets are awash with narcotics, where violence can erupt at any moment over drugs, money, and love — but also a place where the samba beat rocks till dawn, where the women are the most beautiful on earth, and where one young man wants to escape his background and become a photographer.
When City of God erupted on screens worldwide, it became one of the most critically and commercially successful foreign films of recent years. But few were aware of the story behind the film. Written by Paulo Lins, who grew up in the favela (shantytown) Cidade de Deus in Rio de Janeiro and who spent years researching its gang history, City of God began life as a coruscating, harrowing novelistic account of twenty years in the illicit pursuits of the youth gangs born from the favela. Blood runs like water through the streets as gang leaders chal­lenge local drug lords in constant street warfare.
Now available in English for the first time, City of God is a raw, powerful portrait of the countless millions of poor people all over the world. A book and film that gave voice to the dispossessed of multiethnic Brazil, it will earn Paulo Lins more well-deserved international acclaim.
Nonfiction
Sparkling with irrepressible wit, City of Djinns peels back the layers of Delhi's centuries-old history, revealing an extraordinary array of characters along the way — from eunuchs to descendants of great Moguls. With refreshingly open-minded curiosity, William Dalrymple explores the seven "dead" cities of Delhi as well as the eighth city — today's Delhi. Underlying his quest is the legend of the djinns, fire-formed spirits that are said to assure the city's Phoenix-like regeneration no matter how many times it is destroyed. Entertaining, fascinating, and informative, City of Djinns is an irresistible blend of research and adventure.
A National Book Award finalist and National Book Critics Circle finalist, Barbara Demick's Nothing to Envy is a remarkable view into North Korea, as seen through the lives of six ordinary citizens.
Award-winning journalist Barbara Demick follows the lives of six North Korean citizens over fifteen years — a chaotic period that saw the death of Kim Il-sung, the rise to power of his son Kim Jong-il, and a devastating famine that killed one-fifth of the population. Demick brings to life what it means to be living under the most repressive totalitarian regime today — an Orwellian world that is by choice not connected to the Internet, where displays of affection are punished, informants are rewarded, and an offhand remark can send a person to the gulag for life. Demick takes us deep inside the country, beyond the reach of government censors, and through meticulous and sensitive reporting we see her subjects fall in love, raise families, nurture ambitions, and struggle for survival. One by one, we witness their profound, life-altering disillusionment with the government and their realization that, rather than providing them with lives of abundance, their country has betrayed them.
When Asad was eight years old, his mother was shot in front of him. With his father in hiding, he was swept alone into the great wartime migration that has scattered the Somali people throughout the world.
This extraordinary book tells Asad's story. Serially betrayed by the people who promised to care for him, Asad lived his childhood at a sceptical remove from the adult world, living in a bewildering number of places, from the cosmopolitan streets of inner-city Nairobi to towns deep in the Ethiopian desert.
By the time he reached the cusp of adulthood, Asad had made good as a street hustler, brokering relationships between hardnosed Ethiopian businessmen and bewildered Somali refugees. He also courted the famously beautiful Foosiya, and married her, to the astonishment of his peers.
Buoyed by success in work and in love, Asad put $1,200 in his pocket and made his way down the length of the African continent to Johannesburg, whose streets he believed to be lined with gold. So began an adventure in a country richer and more violent than he could possibly have imagined. A Man of Good Hope is the story of a person shorn of the things we have come to believe make us human – personal possessions, parents, siblings. And yet Asad's is an intensely human life, one suffused with dreams and desires and a need to leave something of permanence on this earth.
On January 12, 2010, the deadliest earthquake in the history of the Western Hemisphere struck the nation least prepared to handle it. Jonathan M. Katz, the only full-time American news correspondent in Haiti, was inside his house when it buckled along with hundreds of thousands of others. In this visceral, authoritative first-hand account, Katz chronicles the terror of that day, the devastation visited on ordinary Haitians, and how the world reacted to a nation in need.
More than half of American adults gave money for Haiti, part of a monumental response totaling $16.3 billion in pledges. But three years later the relief effort has foundered. Its most basic promises — to build safer housing for the homeless, alleviate severe poverty, and strengthen Haiti to face future disasters — remain unfulfilled.
The Big Truck That Went By presents a sharp critique of international aid that defies today's conventional wisdom; that the way wealthy countries give aid makes poor countries seem irredeemably hopeless, while trapping millions in cycles of privation and catastrophe. Katz follows the money to uncover startling truths about how good intentions go wrong, and what can be done to make aid "smarter."
With coverage of Bill Clinton, who came to help lead the reconstruction; movie-star aid worker Sean Penn; Wyclef Jean; Haiti's leaders and people alike, Katz weaves a complex, darkly funny, and unexpected portrait of one of the world's most fascinating countries. The Big Truck That Went By is not only a definitive account of Haiti's earthquake, but of the world we live in today.
Jan Wong, a Canadian of Chinese descent, went to China as a starry-eyed Maoist in 1972 at the height of the Cultural Revolution. A true believer — and one of only two Westerners permitted to enroll at Beijing University — her education included wielding a pneumatic drill at the Number One Machine Tool Factory. In the name of the Revolution, she renounced rock & roll, hauled pig manure in the paddy fields, and turned in a fellow student who sought her help in getting to the United States. She also met and married the only American draft dodger from the Vietnam War to seek asylum in China.
Red China Blues is Wong's startling — and ironic — memoir of her rocky six-year romance with Maoism (which crumbled as she became aware of the harsh realities of Chinese communism); her dramatic firsthand account of the devastating Tiananmen Square uprising; and her engaging portrait of the individuals and events she covered as a correspondent in China during the tumultuous era of capitalist reform under Deng Xiaoping. In a frank, captivating, deeply personal narrative she relates the horrors that led to her disillusionment with the "worker's paradise." And through the stories of the people — an unhappy young woman who was sold into marriage, China's most famous dissident, a doctor who lengthens penises — Wong reveals long-hidden dimensions of the world's most populous nation.
In setting out to show readers in the Western world what life is like in China, and why we should care, she reacquaints herself with the old friends — and enemies of her radical past, and comes to terms with the legacy of her ancestral homeland.
Find Me Unafraid by Kennedy Odede and Jessica Posner
Find Me Unafraid tells the uncommon love story between two uncommon people whose collaboration sparked a successful movement to transform the lives of vulnerable girls and the urban poor.
This is the story of two young people from completely different worlds: Kennedy Odede from Kibera, the largest slum in Africa, and Jessica Posner from Denver, Colorado.  Kennedy foraged for food, lived on the street, and taught himself to read with old newspapers. When an American volunteer gave him the work of Mandela, Garvey, and King, teenaged Kennedy decided he was going to change his life and his community. He bought a soccer ball and started a youth empowerment group he called Shining Hope for Communities (SHOFCO). Then in 2007, Wesleyan undergraduate Jessica Posner spent a semester abroad in Kenya working with SHOFCO. Breaking all convention, she decided to live in Kibera with Kennedy, and they fell in love. Their connection persisted, and Jessica helped Kennedy to escape political violence and fulfill his lifelong dream of an education, at Wesleyan University.
The alchemy of their remarkable union has drawn the support of community members and celebrities alike — The Clintons, Mia Farrow, and Nicholas Kristof are among their fans — and their work has changed the lives of many of Kibera's most vulnerable population: Its girls. Jess and Kennedy founded Kibera's first tuition-free school for girls, a large, bright blue building, which stands as a bastion of hope in what once felt like a hopeless place. But Jessica and Kennedy are just getting started — they have expanded their model to connect essential services like health care, clean water, and economic empowerment programs. They've opened an identical project in Mathare, Kenya's second largest slum, and intend to expand their remarkably successful program for change.
Ultimately this is a love story about a fight against poverty and hopelessness, the transformation made possible by a true love, and the power of young people to have a deep impact on the world.
In a remote corner of West Africa, Monique Dembele saved lives and dispensed hope every day in a place where childbirth is a life-and-death matter. Monique and the Mango Rains is the compelling story of the author's decade-long friendship with Monique, an extraordinary midwife in rural Mali. It is a tale of Monique's unquenchable passion to better the lives of women and children in the face of poverty, unhappy marriages, and endless backbreaking work, as well as her tragic and ironic death. In the course of this deeply personal narrative, as readers immerse in village life and learn firsthand the rhythms of Monique's world, they come to know her as a friend, as a mother, and as an inspired woman who struggled to find her place in a male-dominated world.
The Corpse Walker introduces us to regular men and women at the bottom of Chinese society, most of whom have been battered by life but have managed to retain their dignity: a professional mourner, a human trafficker, a public toilet manager, a leper, a grave robber, and a Falung Gong practitioner, among others. By asking challenging questions with respect and empathy, Liao Yiwu managed to get his subjects to talk openly and sometimes hilariously about their lives, desires, and vulnerabilities, creating a book that is an instance par excellence of what was once upon a time called "The New Journalism." The Corpse Walker reveals a fascinating aspect of modern China, describing the lives of normal Chinese citizens in ways that constantly provoke and surprise.
This is the moving and powerful account of two remarkable boys struggling to survive in Chicago's  Henry Horner Homes, a public housing complex disfigured by crime and neglect.
What books on this list have you read? Leave a comment and tell us about them!
Want access to free & bargain ebooks? Sign up for BookBub here.
Comments