True book lover knows that libraries are the most magical places on earth, and the people who work in them are pretty incredible, too. The keeper of stories and protectors of knowledge, librarians are smart, kind, and full of great reading suggestions. They're also the perfect fodder for fiction and nonfiction stories alike. From mysteries to fantasies to nonfiction stories, here is a list of books featuring librarians. Publishers' descriptions included below.
Israel Armstrong is a passionate soul, lured to Ireland by the promise of an exciting new career. Alas, the job that awaits him is not quite what he has in mind. Still, Israel is not one to dwell on disappointment, as he prepares to drive a mobile library around a small, damp Irish town. After all, the scenery is lovely, the people are charming — but where are the books? The rolling library's 15,000 volumes have mysteriously gone missing, and it's up to Israel to discover who would steal them… and why. And perhaps, after that, he will tackle other bizarre and perplexing local mysteries — like, where does one go to find a proper cappuccino and a decent newspaper?
Fiona Sweeney wants to do something that matters, and she chooses to make her mark in the arid bush of northeastern Kenya. By helping to start a traveling library, she hopes to bring the words of Homer, Hemingway, and Dr. Seuss to far-flung tiny communities where people live daily with drought, hunger, and disease. Her intentions are honorable, and her rules are firm: Due to the limited number of donated books, if any one of them is not returned, the bookmobile will not return.
But, encumbered by her Western values, Fi does not understand the people she seeks to help. And in the impoverished small community of Mididima, she finds herself caught in the middle of a volatile local struggle when the bookmobile's presence sparks a dangerous feud between the proponents of modernization and those who fear the loss of traditional ways.
A funny and uplifting story of how a Mormon kid with Tourette's found salvation in books and weight lifting.
Josh Hanagarne couldn't be invisible if he tried. Although he wouldn't officially be diagnosed with Tourette Syndrome until his freshman year of high school, Josh was six years old when he first began exhibiting symptoms. When he was 20 and had reached his towering height of 6'7", his tics escalated to nightmarish levels. Determined to conquer his affliction, Josh tried countless remedies, with dismal results. At last, an eccentric, autistic strongman taught Josh how to "throttle" his tics into submission using increasingly elaborate feats of strength. What started as a hobby became an entire way of life — and an effective way of managing his disorder.
Today, Josh is a librarian at Salt Lake City's public library and founder of a popular blog about books and weight lifting — and the proud father of five-year-old Max. Funny and offbeat, The World's Strongest Librarian traces this unlikely hero as he attempts to overcome his disability, find love, and create a life worth living.
In this delightful, funny, and moving first novel, a librarian and a young boy obsessed with reading take to the road.
Lucy Hull, a young children's librarian in Hannibal, Missouri, finds herself both a kidnapper and kidnapped when her favorite patron, 10-year-old Ian Drake, runs away from home. The precocious Ian is addicted to reading, but needs Lucy's help to smuggle books past his overbearing mother, who has enrolled Ian in weekly antigay classes with celebrity Pastor Bob. Lucy stumbles into a moral dilemma when she finds Ian camped out in the library after hours with a knapsack of provisions and an escape plan. Desperate to save him from Pastor Bob and the Drakes, Lucy allows herself to be hijacked by Ian. The odd pair embarks on a crazy road trip from Missouri to Vermont, with ferrets, an inconvenient boyfriend, and upsetting family history thrown in their path. But is it just Ian who is running away? Who is the man who seems to be on their tail? And should Lucy be trying to save a boy from his own parents?
From internationally acclaimed author Haruki Murakami — a fantastical illustrated short novel about a boy imprisoned in a nightmarish library.
Opening the flaps on this unique little book, readers will find themselves immersed in the strange world of best-selling Haruki Murakami's wild imagination. The story of a lonely boy, a mysterious girl, and a tormented sheep man plotting their escape from a nightmarish library, the book is like nothing else Murakami has written. Designed by Chip Kidd and fully illustrated, in full color, throughout, this small format, 96 page volume is a treat for book lovers of all ages.
Straight from the library — the strange and bizarre, ready to be checked out!
From a patron's missing wetsuit to the scent of crab cakes wafting through the stacks, I Work at a Public Library showcases the oddities that have come across Gina Sheridan's circulation desk. Throughout these pages, she catalogs her encounters with local eccentrics as well as the questions that plague her, such as, "What is the standard length of eyebrow hairs?" Whether she's helping someone scan his face onto an online dating site or explaining why the library doesn't have any dragon autobiographies, Sheridan's bizarre tales prove that she's truly seen it all.
Stacked high with hundreds of strange-but-true stories, I Work at a Public Library celebrates librarians and the unforgettable patrons that roam the stacks every day.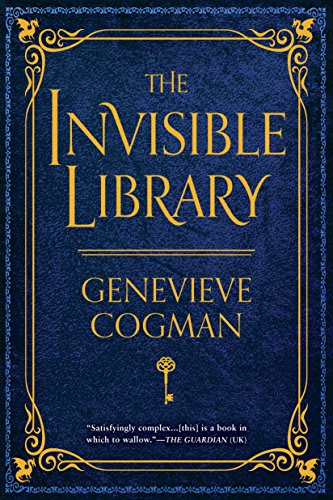 One thing any Librarian will tell you: the truth is much stranger than fiction…
Irene is a professional spy for the mysterious Library, a shadowy organization that collects important works of fiction from all of the different realities. Most recently, she and her enigmatic assistant Kai have been sent to an alternative London. Their mission: Retrieve a particularly dangerous book. The problem: By the time they arrive, it's already been stolen.
London's underground factions are prepared to fight to the death to find the tome before Irene and Kai do, a problem compounded by the fact that this world is chaos-infested — the laws of nature bent to allow supernatural creatures and unpredictable magic to run rampant. To make matters worse, Kai is hiding something — secrets that could be just as volatile as the chaos-filled world itself.
To save precious centuries-old Arabic texts from Al Qaeda, a band of librarians in Timbuktu pulls off a brazen heist worthy of Ocean's Eleven.
In the 1980s, a young adventurer and collector for a government library, Abdel Kader Haidara, journeyed across the Sahara Desert and along the Niger River, tracking down and salvaging tens of thousands of ancient Islamic and secular manuscripts that had fallen into obscurity. The Bad-Ass Librarians of Timbuktu tells the incredible story of how Haidara, a mild-mannered archivist and historian from the legendary city of Timbuktu, later became one of the world's greatest and most brazen smugglers.
In 2012, thousands of Al Qaeda militants from northwest Africa seized control of most of Mali, including Timbuktu. They imposed Sharia law, chopped off the hands of accused thieves, stoned to death unmarried couples, and threatened to destroy the great manuscripts. As the militants tightened their control over Timbuktu, Haidara organized a dangerous operation to sneak all 350,000 volumes out of the city to the safety of southern Mali.
Over the past 20 years, journalist Joshua Hammer visited Timbuktu numerous times and is uniquely qualified to tell the story of Haidara's heroic and ultimately successful effort to outwit Al Qaeda and preserve Mali's — and the world's — literary patrimony. Hammer explores the city's manuscript heritage and offers never-before-reported details about the militants' march into northwest Africa. But above all, The Bad-Ass Librarians of Timbuktu is an inspiring account of the victory of art and literature over extremism.
A missing God.
A library with the secrets to the universe. 
A woman too busy to notice her heart slipping away.
 
Carolyn's not so different from the other people around her. She likes guacamole and cigarettes and steak. She knows how to use a phone. Clothes are a bit tricky, but everyone says nice things about her outfit with the Christmas sweater over the gold bicycle shorts.
After all, she was a normal American herself once.
That was a long time ago, of course. Before her parents died. Before she and the others were taken in by the man they called Father.
In the years since then, Carolyn hasn't had a chance to get out much. Instead, she and her adopted siblings have been raised according to Father's ancient customs. They've studied the books in his Library and learned some of the secrets of his power. And sometimes, they've wondered if their cruel tutor might secretly be God.
Now, Father is missing — perhaps even dead — and the Library that holds his secrets stands unguarded. And with it, control over all of creation.
As Carolyn gathers the tools she needs for the battle to come, fierce competitors for this prize align against her, all of them with powers that far exceed her own.
But Carolyn has accounted for this.
And Carolyn has a plan.
The only trouble is that in the war to make a new God, she's forgotten to protect the things that make her human.
Populated by an unforgettable cast of characters and propelled by a plot that will shock you again and again, The Library at Mount Char is at once horrifying and hilarious, mind-blowingly alien and heartbreakingly human, sweepingly visionary and nail-bitingly thrilling — and signals the arrival of a major new voice in fantasy.
Simon Watson, a young librarian, lives alone in a house that is slowly crumbling toward the Long Island Sound. His parents are long dead. His mother, a circus mermaid who made her living by holding her breath, drowned in the very water his house overlooks. His younger sister, Enola, ran off six years ago and now reads tarot cards for a traveling carnival.
One June day, an old book arrives on Simon's doorstep, sent by an antiquarian bookseller who purchased it on speculation. Fragile and water damaged, the book is a log from the owner of a traveling carnival in the 1700s, who reports strange and magical things, including the drowning death of a circus mermaid. Since then, generations of "mermaids" in Simon's family have drowned — always on July 24, which is only weeks away.
As his friend Alice looks on with alarm, Simon becomes increasingly worried about his sister. Could there be a curse on Simon's family? What does it have to do with the book, and can he get to the heart of the mystery in time to save Enola?
In the tradition of Sara Gruen's Water for Elephants, Erin Morgenstern's The Night Circus, and Elizabeth Kostova's The Historian, The Book of Speculation — with two-color illustrations by the author — is Erika Swyler's moving debut novel about the power of books, family, and magic.
In This Book is Overdue!, acclaimed author Marilyn Johnson celebrates libraries and librarians, and, as she did in her popular first book, The Dead Beat, discovers offbeat and eloquent characters in the quietest corners. In defiance of doomsayers, Johnson finds librarians more vital and necessary than ever, as they fuse the tools of the digital age with love for the written word and the enduring values of truth, service to all, and free speech. This Book Is Overdue! is a romp through the ranks of information professionals who organize our messy world and offer old-fashioned human help through the maze.
What would you add to the list? Tell us in the comments!
Want access to free & bargain ebooks? Sign up for BookBub here.
Comments