From Henry VIII's love for Anne Boleyn to pharaohs falling head over heels in ancient Egypt, kingly passion has driven political affairs for millennia. Here are several tales of royal love affairs that changed everything. Publishers' descriptions included below.
The #1 New York Times bestseller from "the queen of royal fiction" (USA TODAY) Philippa Gregory is a rich, compelling novel of love, sex, ambition, and intrigue surrounding the Tudor court of Henry VIII, Anne Boleyn, and the infamous Boleyn family.
When Mary Boleyn comes to court as an innocent girl of 14, she catches the eye of the handsome and charming Henry VIII. Dazzled by the king, Mary falls in love with both her golden prince and her growing role as unofficial queen. However, she soon realizes just how much she is a pawn in her family's ambitious plots as the king's interest begins to wane, and soon she is forced to step aside for her best friend and rival: her sister, Anne. With her own destiny suddenly unknown, Mary realizes that she must defy her family and take fate into her own hands.
With more than one million copies in print and adapted for the big screen, The Other Boleyn Girl is a riveting historical drama. It brings to light a woman of extraordinary determination and desire who lived at the heart of the most exciting and glamorous court in Europe, and survived a treacherous political landscape by following her heart.
History has not been kind to Alice Perrers, the notorious mistress of King Edward III. Scholars and contemporaries alike have deemed her a manipulative woman who used her great beauty and sensuality to take advantage of an aging and increasingly senile king. But who was the woman behind the scandal? A cold-hearted opportunist or someone fighting for her very survival?
Like most girls of her era Alice is taught obedience in all things. At the age of fourteen she marries the man her father chooses for her, dutifully accepting the cost of being torn from the family she holds so dear and losing the love of her mother forever. Despite these heartbreaks Alice finds that merchant Janyn Perrers is a good and loving husband and the two settle into a happy life together. Their bliss is short-lived, however, unraveled the dark day a messenger appears at Alice's door and notifies her of Janyn's sudden disappearance.
In the wake of this tragedy, Alice learns that her husband kept many dangerous secrets — secrets that result in a price on her own head and that of her beloved daughter. Her only chance to survive lies in the protection of King Edward and Queen Philippa, but she therefore must live at court as a virtual prisoner. When she is singled out by the king for more than just royal patronage, the stakes are raised. Disobeying Edward is not an option, not when her family is at risk, but the court is full of ambitious men and women, many of whom will stop at nothing to see her fall from grace. The whispers and gossip abound, isolating Alice, who finds unexpected solace in her love for the king.
Emma Campion paints a colorful and thrilling portrait of the court of Edward III — with all of its extravagance, scandalous love affairs, political machinations, and murder — and the devastating results of being singled out by the royal family. At the center of the storm is Alice, surviving by her wits in this dangerous world where the choices are not always of her own making. Emma Campion's dazzling novel shows that there is always another side to the story.
Jane Lambert, the quick-witted and alluring daughter of a silk merchant, is 22 and still unmarried. When Jane's father finally finds her a match, she's married off to the dull, older silk merchant William Shore. Marriage doesn't stop Jane from flirtation, however, and when the king's chamberlain, Will Hastings, comes to her husband's shop, Will knows King Edward will find her irresistible.
Edward IV has everything: power, majestic bearing, superior military leadership, a sensual nature, and charisma. And with Jane as his mistress, he also finds true happiness. But when his hedonistic tendencies get in the way of being the strong leader England needs, his life, as well as those of Jane and Will Hastings, hangs in the balance. Jane must rely on her talents to survive as the new monarch, Richard III, bent on reforming his brother's licentious court, ascends the throne.
This dramatic tale has been an inspiration to poets and playwrights for five hundred years, and, as told through the unique perspective of a woman plucked from obscurity and thrust into a life of notoriety, Royal Mistress is sure to enthrall today's historical fiction lovers as well.
Katherine is an epic novel of the love affair that changed history — that of Katherine Swynford and John of Gaunt, Duke of Lancaster, the ancestors of most of the British royal family. Set in the vibrant 14th century of Chaucer and the Black Death, the story features knights fighting in battle, serfs struggling in poverty, and the magnificent Plantagenets — Edward III, the Black Prince, and Richard II — who ruled despotically over a court rotten with intrigue. Within this era of danger and romance, John of Gaunt, the king's son, falls passionately in love with the already married Katherine. Their affair persists through decades of war, adultery, murder, loneliness, and redemption. Anya Seton's vivid rendering of the lives of the Duke and Duchess of Lancaster makes Katherine an unmistakable classic.
Goodness, but sisters are a thing to fear.
Court intriguers are beginning to sense that young King Louis XV, after seven years of marriage, is tiring of his Polish wife. The race is on to find a mistress for the royal bed as various factions put their best feet — and women — forward. The king's scheming ministers push sweet, naive Louise, the eldest of the aristocratic Nesle sisters, into the arms of the king. Over the following decade, she and three of her younger sisters — ambitious Pauli, complacent Diane, and cunning Marie Anne — will conspire, betray, suffer, and triumph in a desperate fight for both love and power as each becomes the king's favorite for a time.
In the tradition of The Other Boleyn Girl, The Sisters of Versailles is a clever, intelligent, and absorbing novel that historical fiction fans will devour. Based on meticulous research on a group of women never before written about in English, Sally Christie's stunning debut is a complex exploration of power and sisterhood — of the admiration, competition, and even hatred that can coexist within a family when the stakes are high enough.
The author of the internationally acclaimed Josephine Bonaparte trilogy returns with another irresistible historical novel, this one based on the life of Louise de la Valliere, who, against all odds, became one of the most mysterious consorts of France's Louis XIV, the charismatic Sun King.
Set against the magnificent decadence of the seventeenth-century French court, Mistress of the Sun begins when an eccentric young Louise falls in love with a wild white stallion and uses ancient magic to tame him. This one desperate action of her youth shadows her throughout her life, changing it in ways she could never imagine.
Unmarriageable, and too poor to join a convent, Louise enters the court of the Sun King, where the king is captivated by her. As their love unfolds, Louise bears Louis four children, is made a duchess, and reigns unrivaled as his official mistress until dangerous intrigue threatens her position at court and in Louis's heart.
A riveting love story with a captivating mystery at its heart, Mistress of the Sun illuminates both the power of true and perfect love and the rash actions we take to capture and tame it.
A king would abdicate his throne for her in one of the world's great love stories — but who was Wallis Simpson?
Born into a poor southern family but taken in by rich relatives, Wallis Simpson was raised as a socialite. Between family conflicts and debutante balls, she and her friends dream of their future husbands, and like millions of girls worldwide, dream of Prince Edward, the heir to the British throne who would someday be king. Beloved author Rebecca Dean imagines the early life of Wallis Simpson, her triumphs and heartbreaks, and the making of the twice divorced, nearly destitute woman who captured a king's heart and changed the course of history. Set against a background of high society, royal circles, and diplomatic intrigue, The Shadow Queen features one of the most fascinating and controversial women of the 20th century.
When Anne Boleyn falls to the executioner's ax on a cold spring morning in 1536, Anne Seymour knows her family faces peril. As alliances shift and conspiracies multiply, the Seymours plot to establish their place in the treacherous court of King Henry VIII, where a courtier's fate is decided by the whims of a hot-tempered and fickle monarch.
Lady Anne's own sister-in-law, Jane Seymour, soon takes Anne Boleyn's place as queen. But if Jane cannot give King Henry a son, history portends that she, too, will be executed or set aside — and her family with her. In desperation, Lady Anne throws herself into the intoxicating intrigue of the Tudor court, determined to ensure the success of the new queen's marriage and the elevation of the Seymour family to a more powerful position. Soon her machinations earn her a reputation as a viper in a den of rabbits. In a game of betrayal and favor, will her family's rise be worth the loss of her soul?
Abandoned pregnant and penniless on the teeming streets of London, 16-year-old Amber St. Clare manages, by using her wits, beauty, and courage, to climb to the highest position a woman could achieve in Restoration England — that of favorite mistress of the Merry Monarch, Charles II. From whores and highwaymen to courtiers and noblemen, from events such as the Great Plague and the Fire of London to the intimate passions of ordinary — and extraordinary — men and women, Amber experiences it all. But throughout her trials and escapades, she remains, in her heart, true to the one man she really loves, the one man she can never have. Frequently compared to Gone with the Wind, Forever Amber is the other great historical romance, outselling every other American novel of the 1940s — despite being banned in Boston for its sheer sexiness. A book to read and reread, this edition brings back to print an unforgettable romance and a timeless masterpiece.
Before Versailles transports you to a world of secret passions and plots, a world of duplicity and malice… a world that created one of the best known monarchs to grace the French throne.
At the most decisive time in the young king's life, Louis XIV can taste the danger. His court teems with greed and corruption, the wrong woman draws him into a wrenching love affair, and a mysterious boy in an iron mask haunts the woods. The untried ruler is coming into his own in 1661, and Louis XIV must face what he is willing to sacrifice for honor and for love.
Meticulously researched and gorgeously brought to life by New York Times bestselling author Karleen Koen, Before Versailles offers up a sumptuous, authentic exploration of a time that forged a man into a king.
Impoverished and exiled to the French countryside after the overthrow of the English Crown, Frances Stuart survives merely by her blood-relation to the Stuart Royals. But in 1660, the Restoration of the Stuart Monarchy in England returns her family to favor. Frances discards threadbare gowns and moves to gilded Fontainebleau Palace, where she soon catches the Sun King's eye. But Frances is no ordinary court beauty — she has Stuart secrets to keep and her family to protect. King Louis XIV turns vengeful when she rejects his offer to become his Official Mistress. He banishes her to England with orders to seduce King Charles II and secure an alliance.
Armed in pearls and silks, Frances maneuvers the political turbulence of Whitehall Palace, but still can't afford to stir a scandal. Her tactic to inspire King Charles to greatness captivates him. He believes her love can make him a better man, and even chooses Frances to pose as Britannia for England's coins. Frances survives the Great Fire, the Great Plague, and the debauchery of the Restoration Court, yet loses her heart to the very king she must control. The discovery of a dangerous plot will force her to choose between love for herself and war for her beloved country.
Debut author Marci Jefferson's Girl on the Golden Coin brings to life a captivating woman whose beauty, compassion, and intellect impacted a king and a nation.
The New York Times bestseller from Margaret George, author of Mary, Called Magdalene and Elizabeth I.
With her amazing ability to summon the voices of historical characters, Margaret George tells the story of the woman whose face "launched a thousand ships" in Helen of Troy. Laden with doom, yet surprising in its moments of innocence and beauty, this is a beautifully told story of a legendary woman and her times. An exquisite page-turner with a cast of irresistible characters — Odysseus, Hector, Achilles, Priam, Clytemnestra, Agamemnon, as well as Helen and Paris themselves — and a wealth of material that reproduces the Age of Bronze in all its glory, Helen of Troy brings to life a war that we have all learned about but never before experienced.
In this first of three books inspired by the life of Josephine Bonaparte, Sandra Gulland has created a novel of immense and magical proportions. We meet Josephine in the exotic and lush Martinico, where an old island woman predicts that one day she will be queen. The journey from the remote village of her birth to the height of European elegance is long, but Josephine's fortune proves to be true. By way of fictionalized diary entries, we traverse her early years as she marries her one true love, bears his children, and is left betrayed, widowed, and penniless. It is Josephine's extraordinary charm, cunning, and will to survive that catapults her to the heart of society, where she meets Napoleon, whose destiny will prove to be irrevocably intertwined with hers.
In this "energetic" (Kirkus Reviews) re-creation of Anne Boleyn's tragic life — and death — Robin Maxwell offers a pitch-perfect version of a bawdy and exuberant time filled with lust, betrayal, love, and murder.
When the young Queen Elizabeth I is entrusted with Anne Boleyn's secret diary, she discovers a great deal about the much-maligned mother she never knew. And on learning the truth about her lascivious and despotic father, Henry VIII, she vows never to relinquish control to any man. But this avowal doesn't prevent Elizabeth from pursuing a torrid love affair with her horsemaster, Robin Dudley — described with near-shocking candor — as too are Anne's graphic trysts with a very persistent and lustful Henry. Blending a historian's attention to accuracy with a novelist's artful rendering, Maxwell weaves compelling descriptions of court life and devastating portraits of actual people into her naughty, page-turning tale. The result is a masterpiece of historical fiction — so prophetic of our time that one would think it were ripped from today's headlines.
New York Times bestselling author Allison Pataki follows up on her critically acclaimed debut novel, The Traitor's Wife, with the little-known and tumultuous love story of "Sisi" the Austro-Hungarian Empress and captivating wife of Emperor Franz Joseph.
The year is 1853, and the Habsburgs are Europe's most powerful ruling family. With his empire stretching from Austria to Russia, from Germany to Italy, Emperor Franz Joseph is young, rich, and ready to marry.
Fifteen-year-old Elisabeth, "Sisi," Duchess of Bavaria, travels to the Habsburg Court with her older sister, who is betrothed to the young emperor. But shortly after her arrival at court, Sisi finds herself in an unexpected dilemma: She has inadvertently fallen for and won the heart of her sister's groom. Franz Joseph reneges on his earlier proposal and declares his intention to marry Sisi instead.
Thrust onto the throne of Europe's most treacherous imperial court, Sisi upsets political and familial loyalties in her quest to win, and keep, the love of her emperor, her people, and of the world.
With Pataki's rich period detail and cast of complex, bewitching characters, The Accidental Empress offers a captivating glimpse into one of history's most intriguing royal families, shedding new light on the glittering Hapsburg Empire and its most mesmerizing, most beloved "Fairy Queen."
Bestselling author and acclaimed historian Alison Weir takes on what no fiction writer has done before: Creating a dramatic six-book series in which each novel covers one of King Henry VIII's wives. In this captivating opening volume, Weir brings to life the tumultuous tale of Katherine of Aragon, Henry's first, devoted, and "true" queen.
A princess of Spain, Catalina is only 16-years-old when she sets foot on the shores of England. The youngest daughter of the powerful monarchs Ferdinand and Isabella, Catalina is a coveted prize for a royal marriage — and Arthur, Prince of Wales, and heir to the English throne, has won her hand. But tragedy strikes and Catalina, now Princess Katherine, is betrothed to the future Henry VIII. She must wait for his coming-of-age, an ordeal that tests her resolve, casts doubt on her trusted confidantes, and turns her into a virtual prisoner.
Katherine's patience is rewarded when she becomes Queen of England. The affection between Katherine and Henry is genuine, but forces beyond her control threaten to rend her marriage, and indeed the nation, apart. Henry has fallen under the spell of Katherine's maid of honor, Anne Boleyn. Now Katherine must be prepared to fight, to the end if God wills it, for her faith, her legitimacy, and her heart.
An exciting debut: a vivid, richly imagined saga of ancient Rome from a masterful new voice in historical fiction
Thea is a slave girl from Judaea, passionate, musical, and guarded. Purchased as a toy for the spiteful heiress Lepida Pollia, Thea will become her mistress's rival for the love of Arius the Barbarian, Rome's newest and most savage gladiator. His love brings Thea the first happiness of her life — that is quickly ended when a jealous Lepida tears them apart.
As Lepida goes on to wreak havoc in the life of a new husband and his family, Thea remakes herself as a polished singer for Rome's aristocrats. Unwittingly, she attracts another admirer in the charismatic Emperor of Rome. But Domitian's games have a darker side, and Thea finds herself fighting for both soul and sanity. Many have tried to destroy the Emperor: a vengeful gladiator, an upright senator, a tormented soldier, a Vestal Virgin. But in the end, the life of the brilliant and paranoid Domitian lies in the hands of one woman: the Emperor's mistress.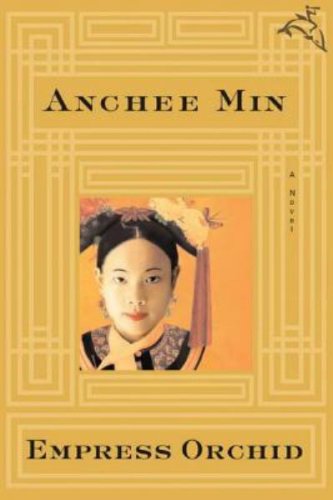 From a master of the historical novel, Empress Orchid sweeps readers into the heart of the Forbidden City to tell the fascinating story of a young concubine who becomes China's last empress. Min introduces the beautiful Tzu Hsi, known as Orchid, and weaves an epic of a country girl who seized power through seduction, murder, and endless intrigue. When China is threatened by enemies, she alone seems capable of holding the country together.
In this "absorbing companion piece to her novel Becoming Madame Mao" (New York Times), readers and reading groups will once again be transported by Min's lavish evocation of the Forbidden City in its last days of imperial glory and by her brilliant portrait of a flawed yet utterly compelling woman who survived, and ultimately dominated, a male world.
In ancient Egypt, a forgotten princess must overcome her family's past and remake history.
The winds of change are blowing through Thebes. A devastating palace fire has killed the Eighteenth Dynasty's royal family — all with the exception of Nefertari, the niece of the reviled former queen, Nefertiti. The girl's deceased family has been branded as heretical, and no one in Egypt will speak their names. A relic of a previous reign, Nefertari is pushed aside, an unimportant princess left to run wild in the palace. But this changes when she is taken under the wing of the Pharaoh's aunt, then brought to the Temple of Hathor, where she is educated in a manner befitting a future queen.
Soon Nefertari catches the eye of the Crown Prince, and despite her family's history, they fall in love and wish to marry. Yet all of Egypt opposes this union between the rising star of a new dynasty and the fading star of an old, heretical one. While political adversity sets the country on edge, Nefertari becomes the wife of Ramesses the Great. Destined to be the most powerful Pharaoh in Egypt, he is also the man who must confront the most famous exodus in history.
Sweeping in scope and meticulous in detail, The Heretic Queen is a novel of passion and power, heartbreak and redemption.
Which of these royal love stories are you excited to read? Tell us in the comments below.
Want access to free & bargain ebooks? Sign up for BookBub here.
Comments