If you love NBC's hit drama The Blacklist, then you probably can't get enough of high-powered government operatives who don't stop until they get justice. The books below feature agents and spies who work to take down all sorts of bad guys — villains that would surely give Elizabeth Keen and Raymond "Red" Reddington a run for their money. In honor of the season four winter finale and first episode of The Blacklist: Redemption, we've rounded up recent thrillers for fans of The Blacklist. Publishers' descriptions included below.
Alex Cross chases a cold-blooded killer… with a conscience.
Shots ring out in the early morning hours in the suburbs of Washington, DC. When the smoke clears, a prominent police official lies dead, leaving the city's police force scrambling for answers. Under pressure from the mayor, Alex Cross steps into the leadership vacuum to crack the case. But before Cross can make any headway, a brutal crime wave sweeps across the region. The deadly scenes share only one common thread — the victims are all criminals. And the only thing more dangerous than a murderer without a conscience, is a killer who thinks he has justice on his side. As Cross pursues an adversary who has appointed himself judge, jury, and executioner, he must take the law back into his own hands before the city he's sworn to protect descends into utter chaos.
New York Times bestselling author Daniel Silva delivers another spellbinding international thriller — one that finds the legendary Gabriel Allon grappling with an ISIS mastermind.
Gabriel Allon, the art restorer, spy, and assassin described as the most compelling fictional creation "since Ian Fleming put down his martini and invented James Bond" (Rocky Mountain News), is poised to become the chief of Israel's secret intelligence service. But on the eve of his promotion, events conspire to lure him into the field for one final operation. ISIS has detonated a massive bomb in the Marais district of Paris, and a desperate French government wants Gabriel to eliminate the man responsible before he can strike again.
Acclaimed novelist Daniel Silva has thrilled, entertained and educated readers with eighteen thoughtful and gripping spy novels featuring a diverse cast of compelling characters and ingenious plots that have taken them around the globe and back — from the United States to Europe, Russia to the Middle East. From its shocking opening to its explosive denouement in Washington, D.C., The Black Widow reveals itself as Silva's most timely and powerful novel yet. Following the success of his smash hit The English Spy, this electrifying thriller showcases Silva's consummate skill and brilliant imagination, and is sure to be a must read for his multitude of current and future fans.
Discover the thriller series that The New York Times calls "utterly addictive." After 11 straight global #1 bestsellers, Lee Child sends readers back to school with the most explosive Jack Reacher novel yet.
It's 1996, and Reacher is still in the army. In the morning they give him a medal, and in the afternoon they send him back to school. That night he's off the grid. Out of sight, out of mind.
Two other men are in the classroom — an FBI agent and a CIA analyst. Each is a first-rate operator, each is fresh off a big win, and each is wondering what the hell they are doing there.
Then they find out: A Jihadist sleeper cell in Hamburg, Germany, has received an unexpected visitor — a Saudi courier, seeking safe haven while waiting to rendezvous with persons unknown. A CIA asset, undercover inside the cell, has overheard the courier whisper a chilling message: "The American wants a hundred million dollars."
For what? And who from? Reacher and his two new friends are told to find the American. Reacher recruits the best soldier he has ever worked with: Sergeant Frances Neagley. Their mission heats up in more ways than one, while always keeping their eyes on the prize: If they don't get their man, the world will suffer an epic act of terrorism.
From Langley to Hamburg, Jalalabad to Kiev, Night School moves like a bullet through a treacherous landscape of double crosses, faked identities, and new and terrible enemies, as Reacher maneuvers inside the game and outside the law.
Order to Kill by Vince Flynn and Kyle Mills
In the next thrilling novel in the #1 New York Times bestselling Mitch Rapp series, the anti-terrorism operative heads to Pakistan to confront a mortal threat he may not be prepared for. In fact, this time he might have met his match.
Mitch Rapp is used to winning.
But in this follow-up to #1 New York Times bestselling The Survivor, the CIA operative finds himself chasing false leads from continent to continent in an effort to keep Pakistani nukes from falling into the hands of terrorists. Together with friend and colleague Scott Coleman, Rapp struggles to prevent the loss of these lethal weapons, particularly because Russia is also interested in the nukes, though not for the same reason as Rapp and Coleman.
Soon, it becomes alarmingly clear that the forces in Moscow are bent on fomenting even more chaos and turmoil in the Middle East, and Rapp must go deep into Russian territory, posing as an American ISIS recruit. There, he uncovers a plan much more dangerous and insidious than he ever expected, one that could have far-reaching and catastrophic consequences.
Written with breathless tension and heart-pounding action, Mitch Rapp's latest adventure is as timely and provocative as ever.
From #1 New York Times bestselling author Brad Thor, a brilliant thriller as "current as tomorrow's headlines."
Terrorism in Europe has spun out of control. The United States has decided on a dramatic response. Now, the CIA needs a very special kind of operative.
Scot Harvath has exactly the skills the CIA is looking for. He's a former US Navy SEAL with extensive experience in espionage. Working for a private intelligence company, he will provide the CIA, and more important, the President, with absolute deniability.
But deep within the Russian Caucasus, Moscow also has its own special kind of operative. As a child, Sacha Baseyev endured an unimaginable horror. Today, he lives and breathes for only one reason — to kill. And he will kill as many Americans as it takes to accomplish his mission.
When a clandestine American operations team is ambushed near Syria, all signs point toward a dangerous informant in Brussels. But as Harvath searches for the man, he uncovers another actor — a rogue player hell-bent on forcing America's hand and drawing it into a confrontation deadlier than anyone could have imagined.
As the attacks mount, and terror is brought to the very doorstep of the White House, Harvath finds himself in the race of his life. From Vienna, Brussels, and Berlin, to Malta, Jordan, and Syria — he will push himself beyond the edge in order to confront one of the greatest evils the world has ever known.
Filled with action, intrigue, and edge-of-your-seat suspense, Foreign Agent is a nonstop thrill ride that reaffirms Thor's position as the "master of thrillers."
CIA agent John Wells refuses to let a privileged businessman walk away from a crime in this novel of modern suspense from the #1 New York Times-bestselling author.
John Wells has just barely managed to stop an operation designed to drive the United States and Iran into war, but the instigator himself disappeared behind an impenetrable war of security. Now it's time for him to pay, and Wells has made it his personal mission. There are plenty of crosscurrents at work, though. The White House doesn't want anybody stirring the pot; his old CIA bosses have their own agendas; other countries are starting to sniff around, sensing something unusual. It is when Russia and China enter the mix, however, that the whole affair is set to combust. With alarming speed, Wells is once again on his own… and the wolves are closing in.
Special Agent John Puller, combat veteran and the army's most tenacious investigator, is back in this action-packed thriller from worldwide #1 bestselling author David Baldacci.
Two men. Thirty years.
John Puller's mother, Jackie, vanished 30 years ago from Fort Monroe, Virginia, when Puller was just a boy. Paul Rogers has been in prison for 10 years. But 20 years before that, he was at Fort Monroe. One night three decades ago, Puller's and Rogers' worlds collided with devastating results, and the truth has been buried ever since.
Until now.
Military investigators, armed with a letter from a friend of Jackie's, arrive in the hospital room of Puller's father — a legendary three-star now sinking into dementia — and reveal that Puller Sr. has been accused of murdering Jackie.
Aided by his brother Robert Puller, an Air Force major, and Veronica Knox, who works for a shadowy US intelligence organization, Puller begins a journey that will take him into his own past, to find the truth about his mother.
Paul Rogers' time is running out. With the clock ticking, he begins his own journey, one that will take him across the country to the place where all his troubles began: a mysterious building on the grounds of Fort Monroe. There, 30 years ago, the man Rogers had once been vanished too, and was replaced with a monster. And now the monster wants revenge. And the only person standing in his way is John Puller.
From Ronald H. Balson, author of Once We Were Brothers, Saving Sophie is the powerful story of the lengths a father will go through to protect his daughter and an action-packed thriller that will take you on an unforgettable journey of murder and deception, testing the bonds of family and love.
Jack Sommers was just an ordinary accountant from Chicago. That is, until his wife passed away, his young daughter was kidnapped, and he became the main suspect in an $88 million dollar embezzlement case. Now, Jack is on the run, hoping to avoid the feds long enough to rescue his daughter, Sophie, from her maternal grandfather, a suspected terrorist in Palestine.
With the help of the investigative team who first appeared in Once We Were Brothers, Liam and Catherine, and a new CIA operative, a secret mission is launched to not only rescue Sophie, but also to thwart a major terrorist attack in Hebron. But will being caught in the crossfires of the Palestine-Israeli conflict keep their team from accomplishing the task at hand, or can they overcome the odds and save countless lives, including their own?
Deep within the Pentagon, a covert, multi-billion arms-for-influence program was created. The objective was to protect the United States and its allies from terrorist acts by secretly enabling a hand-picked man to emerge as the most powerful leader in the Middle East. But the charismatic Tristan Nazir double-crosses America, twisting the program for his own violent ends to create ISIS. Now America is at great risk.
Elite operative Dewey Andreas is sent to Syria to retrieve details about the source of ISIS's funding but his cover is blown mid-operation and chaos erupts in the streets of Damascus. Trapped and outnumbered, Dewey manages to send proof of the awful truth — unknown at even the highest levels in the government — that ISIS's munitions were indeed provided by America itself.
This information arrives in time to for the U.S. to cut off a final arms shipment before it reaches ISIS. But the vicious Nazir, is far from finished. He launches a bold strike into the heart of America, sending a terrorist cell to take over a dorm at Columbia University, capturing hundreds of college students as hostages. For every hour that the shipment of weapons is withheld, the terrorists will publicly execute one student. The potential loss of life is intolerable. A frontal assault is impossible. Releasing the shipment is unthinkable. There is nowhere to turn…
In a situation with no solutions, there remains only one option — Dewey Andreas.
Six master assassins — each a legend in the dark corners of international espionage — band together to steal a fortune from the middle of a war zone. But the mission goes tragically wrong, and they retreat into the shadows.
Now THE ASSASSINS are back.
Former military spy Judd Ryder is walking to his D.C. home when he spots a man coming out of his row house, who looks like Ryder and is wearing his clothes. As Ryder slows to follow, the imposter is killed in a hit-and-run that's no accident. Was the man the intended victim, or was it Ryder himself? Soon Ryder learns that the key to the mysterious events of the past and to his double's murder is an infamous Cold War assassin, the Carnivore. Two of the last people to see the Carnivore were Ryder and CIA trainee Eva Blake, and someone is using them to lure him out.
From Washington D.C. to Marrakech and Baghdad, the assassins wage a final battle — this time against one another — fighting for their reputations and Saddam Hussein's long-missing billion-dollar fortune. In the end, only one can be left standing. Caught in the crossfire, Judd and Eva go on the run while desperately unraveling the tangled past and battling not only for their lives, but for their destinies.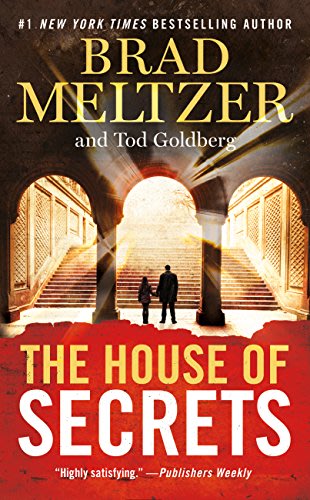 When Hazel Nash was six years old, her father taught her: Mysteries need to be solved. He should know. Hazel's father is Jack Nash, the host of America's favorite conspiracy TV show, The House of Secrets.
Even as a child, she loved hearing her dad's tall tales, especially the one about a leather book belonging to Benedict Arnold that was hidden in a corpse.
Now, years later, Hazel wakes up in the hospital and remembers nothing, not even her own name. She's told she's been in a car accident that killed her father and injured her brother. But she can't remember any of it, because of her own traumatic brain injury. Then a man from the FBI shows up, asking questions about her dad — and about his connection to the corpse of a man found with an object stuffed into his chest: a priceless book that belonged to Benedict Arnold.
Back at her house, Hazel finds guns that she doesn't remember owning. On her forehead, she sees scars from fights she can't recall. Most important, the more Hazel digs, the less she likes the person she seems to have been.
Trying to put together the puzzle pieces of her past and present, Hazel Nash needs to figure out who killed this man — and how the book wound up in his chest. The answer will tell her the truth about her father, what he was really doing for the government — and who Hazel really is. Mysteries need to be solved. Especially the ones about yourself.
Which of these thrillers will you add to your to-read list? Tell us in the comments!
Want access to free & bargain ebooks? Sign up for BookBub here.
Comments