Are you a big fan of Gone Girl or Sharp Objects and looking for similarly gripping reads? Gillian Flynn has you covered! Check out these recent reading recommendations from Flynn. Covering new releases, classics, and even some true crime — these books are sure to please fans of Flynn. Publishers' descriptions included.
Follow Gillian Flynn on BookBub
More than 20 years ago, Claire and Lydia's teenaged sister Julia vanished without a trace. The two women have not spoken since, and now their lives could not be more different. Claire is the glamorous trophy wife of an Atlanta millionaire. Lydia, a single mother, dates an ex-con and struggles to make ends meet. But neither has recovered from the horror and heartbreak of their shared loss — a devastating wound that's cruelly ripped open when Claire's husband is killed.
The disappearance of a teenage girl and the murder of a middle-aged man, almost a quarter-century apart: What could connect them? Forming a wary truce, the surviving sisters look to the past to find the truth, unearthing the secrets that destroyed their family all those years ago… and uncovering the possibility of redemption, and revenge, where they least expect it.
Flynn's recommendation: Flynn is a fan of Slaughter's works, saying, "I'd follow her anywhere."
Motherhood hasn't been easy for Molly Anderson, and the years since the loss of her second child have been a particular struggle. But six months after moving from New York City to sophisticated Ridgedale, New Jersey, she's finally enjoying life again, as mother of a five-year-old daughter and fledgling arts reporter for the local paper. But this tenuous stability is threatened when the body of a newborn is found in the woods behind prestigious Ridgedale University and Molly is assigned the story. Over the objections of her increasingly concerned husband, Molly dives into reporting, determined to prove herself by uncovering the truth. What she finds is a decades-old trail of dark secrets that winds through every corner of the town.
Told from the perspectives of Molly; Barbara, wife of Ridgedale's police chief, whose faltering son is unraveling her picture-perfect life; and a sixteen-year old high school dropout, Sandy, who is dealing with her wayward mother, Where They Found Her reveals that the tragic truth about what happened to the baby lies at the unexpected intersection of these three very different women's lives. It is a taut and profoundly moving novel about mothers and daughters—the fierce bonds that unite them and the deceit that can drive them apart. But most of all it's about the heartbreakingly high price of history. The past can be artfully denied, but never truly buried.
Flynn's recommendation: "McCreight creates a world that pulls us in completely and genuinely, with characters that can enrage, amuse, and fill us with empathy. It's a thrilling novel."
In bestselling Tana French's newest "tour de force," being on the Murder squad is nothing like Detective Antoinette Conway dreamed it would be. Her partner, Stephen Moran, is the only person who seems glad she's there. The rest of her working life is a stream of thankless cases, vicious pranks, and harassment. Antoinette is savagely tough, but she's getting close to the breaking point.
Their new case looks like yet another by-the-numbers lovers' quarrel gone bad. Aislinn Murray is blond, pretty, groomed to a shine, and dead in her catalogue-perfect living room, next to a table set for a romantic dinner. There's nothing unusual about her — except that Antoinette's seen her somewhere before.
And that her death won't stay in its neat by-numbers box. Other detectives are trying to push Antoinette and Steve into arresting Aislinn's boyfriend, fast. There's a shadowy figure at the end of Antoinette's road. Aislinn's friend is hinting that she knew Aislinn was in danger. And everything they find out about Aislinn takes her further from the glossy, passive doll she seemed to be.
Antoinette knows the harassment has turned her paranoid, but she can't tell just how far gone she is. Is this case another step in the campaign to force her off the squad, or are there darker currents flowing beneath its polished surface?
Flynn's recommendation: "To say Tana French is one of the great thriller writers is really too limiting. Rather she's simply this: a truly great writer."­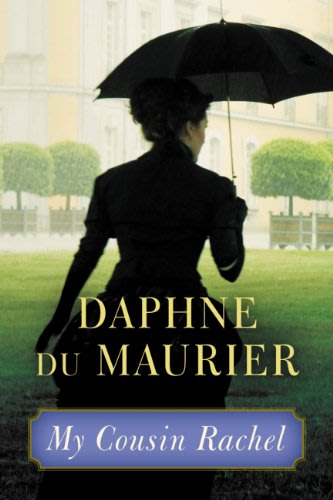 Orphaned at an early age, Philip Ashley is raised by his benevolent older cousin, Ambrose. Resolutely single, Ambrose delights in Philip as his heir, a man who will love his grand home as much as he does himself. But the cosy world the two construct is shattered when Ambrose sets off on a trip to Florence. There he falls in love and marries — and there he dies suddenly.
Jealous of his marriage, racked by suspicion at the hints in Ambrose's letters, and grief-stricken by his death, Philip prepares to meet his cousin's widow with hatred in his heart.
Despite himself, Philip is drawn to this beautiful, sophisticated, mysterious Rachel like a moth to the flame. And yet… might she have had a hand in Ambrose's death?
Flynn's recommendation: "Moody and unnerving."
There's something special about eight-year-old Rhoda Penmark. With her carefully plaited hair and her sweet cotton dresses, she's the very picture of old-fashioned innocence. But when their neighborhood suffers a series of terrible accidents, her mother begins to wonder: Why do bad things seem to happen when little Rhoda is around?
Originally published in 1954, William March's final novel was an instant bestseller and National Book Award finalist before it was adapted for the stage and made into a 1956 film. The Bad Seed is an indelible portrait of an evil that wears an innocent face, one which still resonates in popular culture today.
Flynn's recommendation: "If you've never read William March's stunning 1954 novel about an adorable little sociopath murderess, treat yourself."
The War of the Roses has over time emerged as a synonym for modern divorce and its emotional aftershock. It has since its publication spawned numerous film and stage adaptations, endless discourse on the dynamics of divorce as well as becoming part of the legal jargon describing the proceedings that follow.
Adler's iconic tale takes us from suburban bliss to an deadly territorial battle. Jonathan and Barbara Rose are at first glance the perfect couple. Jonathan has a stable law career; Barbara is an aspiring gourmet entrepreneur with a promising pâté recipe. Their large home holds the rich antique collection that originally brought them together, as well as the loving familial bond that intertwines them with their children Eve and Josh.
When Jonathan finds himself suddenly gripped by what is presumably a heart attack and Barbara confronts the loveless spell lingering between them, the sun-soaked sky that was once the Rose family union drifts into a torrential downpour. Their mutual hatred becomes ammunition in a domestic warfare that escalates in the most unpredictable ways while they helplessly eye their dwindling nuptial flame. In the chaos that unfolds Adler allows a moment of much needed contemplation on the shape of today's matrimonial bonds.
The War of the Roses illuminates the relationship-shattering materialism, contempt and selfishness of husband and wife by posing a timeless question, how far are we willing to allow our material possessions the power to define who we are? Are today's marriages haunted by the struggle to get even?
Flynn's recommendation: In a guest post on Read it Forward, Flynn recommended this novel on a list of  "four brilliantly written books about husbands and wives who drive each other to dark extremes."
An in-depth account of Betty Broderick's killing of her ex-husband and his new wife describes the crime and the resulting trial, painting a disturbing portrait of divorce in America and its victims.
Flynn's recommendation: "I always have to recommend Bella Stumbo's brilliant Until the Twelfth of Never."
A bizarre chain of events begins when sixteen unlikely people gather for the reading of Samuel W. Westing's will. And though no one knows why the eccentric, game-loving millionaire has chosen a virtual stranger — and a possible murderer — to inherit his vast fortune, on things for sure: Sam Westing may be dead… but that won't stop him from playing one last game!
Flynn's recommendation: "It sucked me in when I read it for the first time as a kid, and it has influenced all my novels in some small way."
In this superb work of literary true crime — a spellbinding combination of memoir and psychological suspense — a female journalist chronicles her unusual connection with a convicted serial killer and her search to understand the darkness inside us.
"Well, well, Claudia. Can I call you Claudia? I'll have to give it to you, when confronted at least you're honest, as honest as any reporter… You want to go into the depths of my mind and into my past. I want a peek into yours. It is only fair, isn't it?" — Kendall Francois
In September 1998, young reporter Claudia Rowe was working as a stringer for the New York Times in Poughkeepsie, New York, when local police discovered the bodies of eight women stashed in the attic and basement of the small colonial home that Kendall Francois, a painfully polite 27-year-old community college student, shared with his parents and sister.
Growing up amid the safe, bourgeois affluence of New York City, Rowe had always been secretly fascinated by the darkness, and soon became obsessed with the story and with Francois. She was consumed with the desire to understand just how a man could abduct and strangle eight women — and how a family could live for two years, seemingly unaware, in a house with the victims' rotting corpses. She also hoped to uncover what humanity, if any, a murderer could maintain in the wake of such monstrous evil.
Reaching out after Francois was arrested, Rowe and the serial killer began a dizzying four-year conversation about cruelty, compassion, and control; an unusual and provocative relationship that would eventually lead her to the abyss, forcing her to clearly see herself and her own past — and why she was drawn to danger.
Flynn's recommendation:"Extraordinarily suspenseful and truly gut-wrenching… A must-read."
For 30 years humanity struggled to cope with the brilliants, the one percent of people born with remarkable gifts. For 30 years we tried to avoid a devastating civil war. We failed.
The White House is a smoking ruin. Madison Square Garden is an internment camp. In Wyoming, an armed militia of thousands marches toward a final, apocalyptic battle.
Nick Cooper has spent his life fighting for his children and his country. Now, as the world staggers on the edge of ruin, he must risk everything he loves to face his oldest enemy — a brilliant terrorist so driven by his ideals that he will sacrifice humanity's future to achieve them.
Flynn's recommendation: "Ridiculously good. I love this story so much."
Once a century, for only six days, the bay around a small Washington island glows like a water-bound aurora. Dr. Rachel Bell, a scientist studying the 100-Year Miracle and the tiny sea creatures that create it, knows a secret about the phenomenon that inspired the region's myths and folklore: The rare green water may contain a power that could save Rachel's own life (and change the world). When Rachel connects with Harry and Tilda, a divorced couple cohabiting once again as Harry enters the last stages of a debilitating disease, Harry is pulled into Rachel's obsession and hope as they both grasp at this once-in-a-lifetime chance to save themselves.
But the Miracle does things to people. Strange and mysterious things. And as these things begin to happen, Rachel has only six days to uncover and control the Miracle's secrets before the waters go dark for another hundred years.
Flynn's recommendation: Flynn called The 100 Year Miracle one of her "favorite novels of 2016."
Which of these books do you plan to read? Let us know in the comments!
Want access to free & bargain ebooks? Sign up for BookBub here.
Comments