If you're looking for a twisty psychological thriller, we've compiled a list of books that will lead you down a dark and winding path and keep you guessing until the very end. These books feature unreliable and manipulative narrators that will make you wonder who you can trust. From deceptive marriages to hidden pasts, these secrets and lies will unravel before your very eyes. Publishers' descriptions included.
On a warm summer morning in North Carthage, Missouri, it is Nick and Amy Dunne's fifth wedding anniversary. Presents are being wrapped and reservations are being made when Nick's clever and beautiful wife disappears. Husband-of-the-Year Nick isn't doing himself any favors with cringe-worthy daydreams about the slope and shape of his wife's head, but passages from Amy's diary reveal the alpha-girl perfectionist could have put anyone dangerously on edge. Under mounting pressure from the police and the media — as well as Amy's fiercely doting parents — the town golden boy parades an endless series of lies, deceits, and inappropriate behavior. Nick is oddly evasive, and he's definitely bitter — but is he really a killer?
What should be a cozy and fun-filled weekend deep in the English countryside takes a sinister turn in Ruth Ware's suspenseful, compulsive, and darkly twisted psychological thriller.
Leonora, known to some as Lee and others as Nora, is a reclusive crime writer, unwilling to leave her "nest" of an apartment unless it is absolutely necessary. When a friend she hasn't seen or spoken to in years unexpectedly invites Nora (Lee?) to a weekend away in an eerie glass house deep in the English countryside, she reluctantly agrees to make the trip. Forty-eight hours later, she wakes up in a hospital bed injured but alive, with the knowledge that someone is dead. Wondering not "what happened?" but "what have I done?", Nora (Lee?) tries to piece together the events of the past weekend. Working to uncover secrets, reveal motives, and find answers, Nora (Lee?) must revisit parts of herself that she would much rather leave buried where they belong: in the past.
In the tradition of Paula Hawkins's instant New York Times bestseller The Girl On the Train and S. J. Watson's riveting national sensation Before I Go To Sleep, this gripping literary debut from UK novelist Ruth Ware will leave you on the edge of your seat through the very last page.
Every Day the Same
Rachel takes the same commuter train every morning and night. Every day she rattles down the track, flashes past a stretch of cozy suburban homes, and stops at the signal that allows her to daily watch the same couple breakfasting on their deck. She's even started to feel like she knows them. Jess and Jason, she calls them. Their life — as she sees it — is perfect. Not unlike the life she recently lost.
Until Today
And then she sees something shocking. It's only a minute until the train moves on, but it's enough. Now everything's changed. Unable to keep it to herself, Rachel goes to the police. But is she really as unreliable as they say? Soon she is deeply entangled not only in the investigation but in the lives of everyone involved. Has she done more harm than good?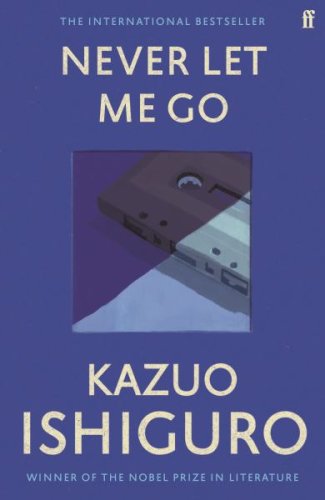 From the Booker Prize-winning author of The Remains of the Day comes a devastating new novel of innocence, knowledge, and loss. As children Kathy, Ruth, and Tommy were students at Hailsham, an exclusive boarding school secluded in the English countryside. It was a place of mercurial cliques and mysterious rules where teachers were constantly reminding their charges of how special they were.
Now, years later, Kathy is a young woman. Ruth and Tommy have reentered her life. And for the first time she is beginning to look back at their shared past and understand just what it is that makes them special — and how that gift will shape the rest of their time together. Suspenseful, moving, beautifully atmospheric, Never Let Me Go is another classic by the author of The Remains of the Day.
Like the spellbinding psychological suspense in The Girl on the Train and Luckiest Girl Alive, Megan Miranda's novel is a nail-biting, breathtaking story about the disappearances of two young women — a decade apart — told in reverse.
It's been 10 years since Nicolette Farrell left her rural hometown after her best friend, Corinne, disappeared from Cooley Ridge without a trace. Back again to tie up loose ends and care for her ailing father, Nic is soon plunged into a shocking drama that reawakens Corinne's case and breaks open old wounds long since stitched.
The decade-old investigation focused on Nic, her brother Daniel, boyfriend Tyler, and Corinne's boyfriend Jackson. Since then, only Nic has left Cooley Ridge. Daniel and his wife, Laura, are expecting a baby; Jackson works at the town bar; and Tyler is dating Annaleise Carter, Nic's younger neighbor and the group's alibi the night Corinne disappeared. Then, within days of Nic's return, Annaleise goes missing.
Told backwards — Day 15 to Day 1 — from the time Annaleise goes missing, Nic works to unravel the truth about her younger neighbor's disappearance, revealing shocking truths about her friends, her family, and what really happened to Corinne that night 10 years ago.
Like nothing you've ever read before, All the Missing Girls delivers in all the right ways. With twists and turns that lead down dark alleys and dead ends, you may think you're walking a familiar path, but then Megan Miranda turns it all upside down and inside out and leaves us wondering just how far we would be willing to go to protect those we love.
Her perfect life is a perfect lie.
As a teenager at the prestigious Bradley School, Ani FaNelli endured a shocking, public humiliation that left her desperate to reinvent herself. Now, with a glamorous job, expensive wardrobe, and handsome blue blood fiancé, she's this close to living the perfect life she's worked so hard to achieve.
But Ani has a secret.
There's something else buried in her past that still haunts her, something private and painful that threatens to bubble to the surface and destroy everything.
With a singular voice and twists you won't see coming, Luckiest Girl Alive explores the unbearable pressure that so many women feel to "have it all" and introduces a heroine whose sharp edges and cutthroat ambition have been protecting a scandalous truth, and a heart that's bigger than it first appears.
The question remains: will breaking her silence destroy all that she has worked for — or, will it at long last, set Ani free?
For fans of Gone Girl and The Girl on the Train, an electrifying thriller that will take you into the dark spaces that exist between a husband and a wife.
When the police started asking questions, Jean Taylor turned into a different woman. One who enabled her and her husband to carry on, when more bad things began to happen…
But that woman's husband died last week. And Jean doesn't have to be her anymore.
There's a lot Jean hasn't said over the years about the crime her husband was suspected of committing. She was too busy being the perfect wife, standing by her man while living with the accusing glares and the anonymous harassment.
Now there's no reason to stay quiet. There are people who want to hear her story. They want to know what it was like living with that man. She can tell them that there were secrets. There always are in a marriage.
The truth — that's all anyone wants. But the one lesson Jean has learned in the last few years is that she can make people believe anything…
A chance encounter sparks an unrelenting web of lies in this new gripping and complex psychological thriller from the New York Times bestselling author of The Good Girl and the upcoming page-turner Don't You Cry, Mary Kubica.
She sees the teenage girl on the train platform, standing in the pouring rain, clutching an infant in her arms. She boards a train and is whisked away. But she can't get the girl out of her head…
Heidi Wood has always been a charitable woman: She works for a nonprofit, takes in stray cats. Still, her husband and daughter are horrified when Heidi returns home one day with a young woman named Willow and her four-month-old baby in tow. Disheveled and apparently homeless, this girl could be a criminal — or worse. But despite her family's objections, Heidi invites Willow and the baby to take refuge in their home.
Heidi spends the next few days helping Willow get back on her feet, but as clues into Willow's past begin to surface, Heidi is forced to decide how far she's willing to go to help a stranger. What starts as an act of kindness quickly spirals into a story far more twisted than anyone could have anticipated.
With the same page-turning suspense as The Girl on the Train and The Husband's Secret, New York Times bestselling author J.T. Ellison's No One Knows is a "riveting… skillfully plotted" (Publishers Weekly) thriller that questions if the narrator's husband really has returned from the dead — or if she's merely losing her mind.
Aubrey Hamilton has been mourning her missing husband for five years, despite being even while she was considered the prime suspect in his murder. But when he is officially declared dead, there are still more questions than answers: Why didn't Josh show up at his friend's bachelor party? Was he murdered, or did he run away? And who is the new, mysterious and strangely familiar figureman suddenly appearing in Aubrey's life? And has she finally lost her mind after years of loneliness and confusion?
No One Knows is an evocative mystery that explores the complex darkness within all of us, perfect for fans of Gillian Flynn, Liane Moriarty, and Paula Hawkins.
She's a wife.
She's a mother.
She isn't who you think she is.
Nicki Clements has secrets, just like anybody else — secrets she keeps from her children, from her husband, from everyone who knows her. Secrets she shares with only one person: A stranger she's never seen. A person whose voice she's never heard.
And then Nicki is arrested for murder. The murder of a man she doesn't know.
As a pair of husband-and-wife detectives investigate her every word, and as the media circle like sharks, all Nicki's secrets are laid bare — illusions and deceptions that she has kept up for years. And even the truth might not be enough to save her. For although Nicki isn't guilty of homicide, she's far from innocent. . . .
For fans of The Girl on the Train, Gone Girl, and the best of Hitchcock comes an extraordinary thriller — and an extraordinarily unreliable narrator — from an author whose work has been described by Tana French as "like watching a nightmare come to life."
The basis for the blockbuster motion picture directed by Martin Scorsese and starring Leonardo DiCaprio, Shutter Island by New York Times bestselling author Dennis Lehane is a gripping and atmospheric psychological thriller where nothing is quite what it seems. The New York Times calls Shutter Island, "Startlingly original." The Washington Post raves, "Brilliantly conceived and executed." A masterwork of suspense and surprise from the author of Mystic River and Gone, Baby, Gone, Shutter Island carries the reader into a nightmare world of madness, mind control, and CIA Cold War paranoia and is unlike anything you've ever read before.
S. J. Watson makes his powerful debut with this  compelling, fast-paced  psychological thriller,reminiscent of Shutter Island and Memento, in which an amnesiac who, following a mysterious accident, cannot remember her past or form new memories, desperately tries to uncover the truth about who she is — and who she can trust.
An internationally bestselling phenomenon: the darkly suspenseful, highly controversial tale of two families struggling to make the hardest decision of their lives — all over the course of one meal.
It's a summer's evening in Amsterdam, and two couples meet at a fashionable restaurant for dinner. Between mouthfuls of food and over the polite scrapings of cutlery, the conversation remains a gentle hum of polite discourse — the banality of work, the triviality of the holidays. But behind the empty words, terrible things need to be said, and with every forced smile and every new course, the knives are being sharpened.
Each couple has a 15-year-old son. The two boys are united by their accountability for a single horrific act; an act that has triggered a police investigation and shattered the comfortable, insulated worlds of their families. As the dinner reaches its culinary climax, the conversation finally touches on their children. As civility and friendship disintegrate, each couple show just how far they are prepared to go to protect those they love.
Tautly written, incredibly gripping, and told by an unforgettable narrator, The Dinner promises to be the topic of countless dinner party debates. Skewering everything from parenting values to pretentious menus to political convictions, this novel reveals the dark side of genteel society and asks what each of us would do in the face of unimaginable tragedy.
Liar, liar, pants on fire… College senior Lana Granger has told so many lies about her past that the truth seems like a distant, cloudy nightmare. But she meets her match when she begins babysitting for a volatile, manipulative 11-year-old boy. Soon after Lana takes the job, her close friend Beck mysteriously disappears. Lana instantly begins fabricating stories — to friends, to police, to herself. Why doesn't her account jibe with those of eye-witnesses?  Lana will do anything to bury the truth about that night… and about her life.  But someone else knows her secrets.  And he's dying to tell.
As darkly startling and finely crafted as her blockbuster bestseller Beautiful Lies, Lisa Unger's masterful new psychological thriller is packed with no-holds-barred raw power.
On a rainy afternoon, a mother's life is shattered as her son slips from her grip and runs into the street…
I Let You Go follows Jenna Gray as she moves to a ramshackle cottage on the remote Welsh coast, trying to escape the memory of the car accident that plays again and again in her mind and desperate to heal from the loss of her child and the rest of her painful past.
At the same time, the novel tracks the pair of Bristol police investigators trying to get to the bottom of this hit-and-run. As they chase down one hopeless lead after another, they find themselves as drawn to each other as they are to the frustrating, twist-filled case before them.
Which books have you read? Tell us in the comments!
Want access to free & bargain ebooks? Sign up for BookBub here.
Comments