March marks Women's History Month, and we're celebrating the many wonderful women authors who have received major literary awards in the past few years. From riveting mysteries to heartrending contemporary stories, these books are absolutely worth a read. Publishers' descriptions included below.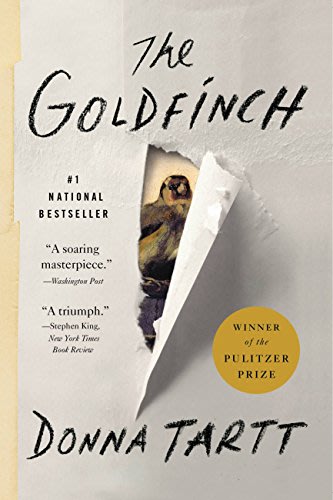 Theo Decker, a 13-year-old New Yorker, miraculously survives an accident that kills his mother. Abandoned by his father, Theo is taken in by the family of a wealthy friend. Bewildered by his strange new home on Park Avenue, disturbed by schoolmates who don't know how to talk to him, and tormented above all by his longing for his mother, he clings to the one thing that reminds him of her: a small, mysteriously captivating painting that ultimately draws Theo into the underworld of art.
As an adult, Theo moves silkily between the drawing rooms of the rich and the dusty labyrinth of an antiques store where he works. He is alienated and in love — and at the center of a narrowing, ever more dangerous circle. The Goldfinch is a mesmerizing, stay-up-all-night and tell-all-your-friends triumph, an old-fashioned story of loss and obsession, survival and self-invention, and the ruthless machinations of fate.
Awarded: Pulitzer Prize for Fiction
Over the last half a billion years, there have been five mass extinctions, when the diversity of life on earth suddenly and dramatically contracted. Scientists around the world are currently monitoring the sixth extinction, predicted to be the most devastating extinction event since the asteroid impact that wiped out the dinosaurs. This time around, the cataclysm is us.
In The Sixth Extinction, two-time winner of the National Magazine Award and New Yorker writer Elizabeth Kolbert draws on the work of scores of researchers in half a dozen disciplines, accompanying many of them into the field: Geologists who study deep ocean cores, botanists who follow the tree line as it climbs up the Andes, marine biologists who dive off the Great Barrier Reef. She introduces us to a dozen species, some already gone, others facing extinction, including the Panamian golden frog, staghorn coral, the great auk, and the Sumatran rhino. Through these stories, Kolbert provides a moving account of the disappearances occurring all around us and traces the evolution of extinction as concept, from its first articulation by Georges Cuvier in revolutionary Paris up through the present day. The sixth extinction is likely to be mankind's most lasting legacy; as Kolbert observes, it compels us to rethink the fundamental question of what it means to be human.
Awarded: Pulitzer Prize for General Nonfiction
Lila by Marilynne Robinson
Lila, homeless and alone after years of roaming the countryside, steps inside a small-town Iowa church — the only available shelter from the rain — and ignites a romance and a debate that will reshape her life. She becomes the wife of a minister, John Ames, and begins a new existence while trying to make sense of the life that preceded her newfound security.
Neglected as a toddler, Lila was rescued by Doll, a canny young drifter, and brought up by her in a hardscrabble childhood. Together they crafted a life on the run, living hand to mouth with nothing but their sisterly bond and a ragged blade to protect them. Despite bouts of petty violence and moments of desperation, their shared life was laced with moments of joy and love. When Lila arrives in Gilead, she struggles to reconcile the life of her makeshift family and their days of hardship with the gentle Christian worldview of her husband which paradoxically judges those she loves.
Awarded: National Book Critics Circle Award for Fiction
The unforgettable New York Times best seller begins with the story of two half-sisters, separated by forces beyond their control: one sold into slavery, the other married to a British slaver. Written with tremendous sweep and power, Homegoing traces the generations of family who follow, as their destinies lead them through two continents and three hundred years of history, each life indeliably drawn, as the legacy of slavery is fully revealed in light of the present day.
Effia and Esi are born into different villages in 18th-century Ghana. Effia is married off to an Englishman and lives in comfort in the palatial rooms of Cape Coast Castle. Unbeknownst to Effia, her sister, Esi, is imprisoned beneath her in the castle's dungeons, sold with thousands of others into the Gold Coast's booming slave trade, and shipped off to America, where her children and grandchildren will be raised in slavery. One thread of Homegoing follows Effia's descendants through centuries of warfare in Ghana, as the Fante and Asante nations wrestle with the slave trade and British colonization. The other thread follows Esi and her children into America. From the plantations of the South to the Civil War and the Great Migration, from the coal mines of Pratt City, Alabama, to the jazz clubs and dope houses of twentieth-century Harlem, right up through the present day, Homegoing makes history visceral, and captures, with singular and stunning immediacy, how the memory of captivity came to be inscribed in the soul of a nation.
Awarded: National Book Critics Circle's John Leonard Award
From Lisa McInerney, hailed by The Irish Times as "arguably the most talented writer at work in Ireland today," comes The Glorious Heresies, a searing debut novel about life on the fringes of Ireland's post-crash society.
When grandmother Maureen Phelan is surprised in her home by a stranger, she clubs the intruder with a Holy Stone. The consequences of this unplanned murder connect four misfits struggling against their meager circumstances. Ryan is a fifteen-year-old drug dealer desperate not to turn out like his alcoholic father, Tony, whose feud with his next-door neighbor threatens to ruin his family. Georgie is a sex worker who half-heartedly joins a born-again movement to escape her profession and drug habit. And Jimmy Phelan, the most fearsome gangster in the city and Maureen's estranged son, finds that his mother's bizarre attempts at redemption threaten his entire organization.
Biting and darkly funny, The Glorious Heresies presents an unforgettable vision of a city plagued by poverty and exploitation, where salvation still awaits in the most unexpected places.
Awarded: The Bailey's Women's Prize for Fiction
Passionate, compassionate, vitally inventive, and scrupulously playful, Ali Smith's novels are like nothing else. A true original, she is a one-of-a-kind literary sensation. Her novels consistently attract serious acclaim and discussion — and have won her a dedicated readership who are drawn again and again to the warmth, humanity, and humor of her voice.
How to Be Both is a novel all about art's versatility. Borrowing from painting's fresco technique to make an original literary double-take, it's a fast-moving genre-bending conversation between forms, times, truths, and fictions. There's a Renaissance artist of the 1460s. There's the child of a child of the 1960s. Two tales of love and injustice twist into a singular yarn where time gets timeless, structural gets playful, knowing gets mysterious, fictional gets real — and all life's givens get given a second chance.
Awarded: The Bailey's Women's Prize for Fiction
This is the way the world ends… for the last time.
A season of endings has begun.
It starts with the great red rift across the heart of the world's sole continent, spewing ash that blots out the sun.
It starts with death, with a murdered son and a missing daughter.
It starts with betrayal, and long dormant wounds rising up to fester.
This is the Stillness, a land long familiar with catastrophe, where the power of the earth is wielded as a weapon. And where there is no mercy.
Awarded: Hugo Award for Best Novel
"Our Dragon doesn't eat the girls he takes, no matter what stories they tell outside our valley. We hear them sometimes, from travelers passing through. They talk as though we were doing human sacrifice, and he were a real dragon. Of course that's not true: he may be a wizard and immortal, but he's still a man, and our fathers would band together and kill him if he wanted to eat one of us every ten years. He protects us against the Wood, and we're grateful, but not that grateful."
Agnieszka loves her valley home, her quiet village, the forests and the bright shining river. But the corrupted Wood stands on the border, full of malevolent power, and its shadow lies over her life.
Her people rely on the cold, driven wizard known only as the Dragon to keep its powers at bay. But he demands a terrible price for his help: One young woman handed over to serve him for 10 years, a fate almost as terrible as falling to the Wood.
The next choosing is fast approaching, and Agnieszka is afraid. She knows — everyone knows — that the Dragon will take Kasia: beautiful, graceful, brave Kasia, all the things Agnieszka isn't, and her dearest friend in the world. And there is no way to save her.
But Agnieszka fears the wrong things. For when the Dragon comes, it is not Kasia he will choose.
Awarded: Nebula Award for Best Novel
Everyone knows Hollerans don't go near Baines. Aunt Juna was the start of all the hatred between the families, and even though she's been gone a good many years, the hatred has stayed put.
On a dark Kentucky night in 1952, exactly halfway between her 15th and 16th birthdays, Annie Holleran crosses over into forbidden territory. It's been that way since Joseph Carl Baine was hanged in 1936. But local superstition says that tonight Annie can see her future in the Baines' well.
What she sees instead, there in the moonlight, is a dead woman. And suddenly the events of 1936, events that have twisted and shaped the lives of Annie and all her kin, are brought back into the present.
Juna will come home now, to finish what she started. And if Annie is to save herself, her family, and this small Kentucky town, she must face the terrible reality of what happened all those years ago.
Inspired by the true story of the last lawful public hanging in the United States, Let Me Die in His Footsteps is a gothic masterpiece filled with tension and dread.
Awarded: Edgar Award for Best Novel
Mindy McGinnis, the acclaimed author of Not a Drop to Drink and In a Handful of Dust, combines murder, madness, and mystery in a beautifully twisted gothic historical thriller perfect for fans of novels such as Asylum and The Diviners as well as television's True Detective and American Horror Story.
Grace Mae is already familiar with madness when family secrets and the bulge in her belly send her to an insane asylum — but it is in the darkness that she finds a new lease on life. When a visiting doctor interested in criminal psychology recognizes Grace's brilliant mind beneath her rage, he recruits her as his assistant. Continuing to operate under the cloak of madness at crime scenes allows her to gather clues from bystanders who believe her less than human. Now comfortable in an ethical asylum, Grace finds friends — and hope. But gruesome nights bring Grace and the doctor into the circle of a killer who will bring her shaky sanity and the demons in her past dangerously close to the surface.
Awarded: Edgar Award for Best Young Adult Novel
Before the nightmares began, Yeong-hye and her husband lived an ordinary, controlled life. But the dreams — invasive images of blood and brutality — torture her, driving Yeong-hye to purge her mind and renounce eating meat altogether. It's a small act of independence, but it interrupts her marriage and sets into motion an increasingly grotesque chain of events at home. As her husband, her brother-in-law, and sister each fight to reassert their control, Yeong-hye obsessively defends the choice that's become sacred to her. Soon their attempts turn desperate, subjecting first her mind, and then her body, to ever more intrusive and perverse violations, sending Yeong-hye spiraling into a dangerous, bizarre estrangement, not only from those closest to her, but also from herself.
Celebrated by critics around the world, The Vegetarian is a darkly allegorical, Kafka-esque tale of power, obsession, and one woman's struggle to break free from the violence both without and within her.
Awarded: Man Booker International Prize
Imagine a world where your destiny has already been decided… by your future self.
It's Callie's 17th birthday and, like everyone else, she's eagerly awaiting her vision — a memory sent back in time to sculpt each citizen into the person they're meant to be. A world-class swimmer. A renowned scientist.
Or in Callie's case, a criminal.
In her vision, she sees herself murdering her gifted younger sister. Before she can process what it means, Callie is arrested and placed in prison. The only person who can help is her childhood crush, Logan, a boy she hasn't spoken to in five years.
Logan breaks her free, but can she trust him? He's almost the same boy she remembers, but now he's a whole lot hotter. And he's got his own past to deal with. Callie's falling for him, fast, but she soon learns he has secrets of his own. Secrets that mean they can never be together.
Now, Callie's on the run not only from the government, but also from her fate. If she wants any hope of a future with Logan, she must first find a way to protect her sister from the biggest threat of all — herself.
Awarded: RITA Award for Best First Book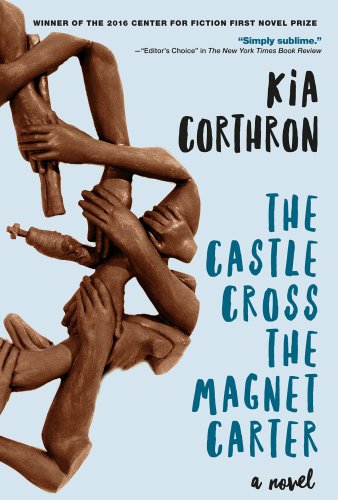 The hotly anticipated first novel by lauded playwright and The Wire TV writer Kia Corthron, The Castle Cross the Magnet Carter sweeps American history from 1941 to the 21st century through the lives of four men — two white brothers from rural Alabama, and two black brothers from small-town Maryland — whose journey culminates in an explosive and devastating encounter between the two families.
On the eve of America's entry into World War II, in a tiny Alabama town, two brothers come of age in the shadow of the local chapter of the Klan, where Randall — a brilliant eighth-grader and the son of a sawmill worker — begins teaching sign language to his 18-year-old deaf and uneducated brother B.J. Simultaneously, in small-town Maryland, the sons of a Pullman Porter — gifted six-year-old Eliot and his artistic 12-year-old brother Dwight — grow up navigating a world expanded both by a visit from civil and labor rights activist A. Philip Randolph and by the legacy of a lynched great-aunt.
The four mature into men, directly confronting the fierce resistance to the early civil rights movement, and are all ultimately uprooted. Corthron's ear for dialogue, honed from years of theater work, brings to life all the major concerns and movements of America's past century through the organic growth of her marginalized characters, and embraces a quiet beauty in their everyday existences.
Sharing a cultural and literary heritage with the work of Toni Morrison, Alex Haley, and Edward P. Jones, Kia Corthron's The Castle Cross the Magnet Carter is a monumental epic deftly bridging the political and the poetic, and wrought by one of America's most recently recognized treasures.
Awarded: Center for Fiction's First Novel Prize
At first, Jude and her twin brother Noah are inseparable. Noah draws constantly and is falling in love with the charismatic boy next door, while daredevil Jude wears red-red lipstick, cliff-dives, and does all the talking for both of them.
Years later, they are barely speaking. Something has happened to change the twins in different yet equally devastating ways… but then Jude meets an intriguing, irresistible boy and a mysterious new mentor.
The early years are Noah's to tell; the later years are Jude's. But they each have only half the story, and if they can only find their way back to one another, they'll have a chance to remake their world.
This radiant, award-winning novel from the acclaimed author of The Sky Is Everywhere will leave you breathless and teary and laughing — often all at once.
Awarded: Michael L. Printz Award
Bone Gap is the story of Roza, a beautiful girl who is taken from a quiet Midwestern town and imprisoned by a mysterious man, and Finn, the only witness, who cannot forgive himself for being unable to identify her kidnapper. As we follow them through their melancholy pasts, their terrifying presents, their uncertain futures, acclaimed author Laura Ruby weaves a heartbreaking tale of love and loss, magic and mystery, regret and forgiveness — a story about how the face the world sees is never the sum of who we are.
Awarded: Michael L. Printz Award
The Book of Harlan opens with the courtship of Harlan's parents and his 1917 birth in Macon, Georgia. After his prominent minister grandfather dies, Harlan and his parents move to Harlem, where he eventually becomes a professional musician. When Harlan and his best friend, trumpeter Lizard Robbins, are invited to perform at a popular cabaret in the Parisian enclave of Montmartre — affectionately referred to as "The Harlem of Paris" by black American musicians — Harlan jumps at the opportunity, convincing Lizard to join him.
But after the City of Light falls under Nazi occupation, Harlan and Lizard are thrown into Buchenwald — the notorious concentration camp in Weimar, Germany — irreparably changing the course of Harlan's life. Based on exhaustive research and told in McFadden's mesmeric prose, The Book of Harlan skillfully blends the stories of McFadden's familial ancestors with those of real and imagined characters.
Awarded: NAACP Image Award for Outstanding Literary Work, Fiction
From the award-winning author of Boy, Snow, Bird and Mr. Fox comes an enchanting collection of intertwined stories.
Playful, ambitious, and exquisitely imagined, What Is Not Yours Is Not Yours is cleverly built around the idea of keys, literal and metaphorical. The key to a house, the key to a heart, the key to a secret — Oyeyemi's keys not only unlock elements of her characters' lives, they promise further labyrinths on the other side. In "Books and Roses" one special key opens a library, a garden, and clues to at least two lovers' fates. In "Is Your Blood as Red as This?" an unlikely key opens the heart of a student at a puppeteering school. "'Sorry' Doesn't Sweeten Her Tea" involves a "house of locks," where doors can be closed only with a key — with surprising, unobservable developments. And in "If a Book Is Locked There's Probably a Good Reason for That Don't You Think," a key keeps a mystical diary locked (for good reason).
Oyeyemi's tales span multiple times and landscapes as they tease boundaries between coexisting realities. Is a key a gate, a gift, or an invitation? What Is Not Yours Is Not Yours captivates as it explores the many possible answers.
Awarded: PEN/Open Book Award
The New York Times bestselling author of The Jane Austen Book Club introduces a middle-class American family, ordinary in every way but one.
Meet the Cooke family: Mother and Dad, brother Lowell, sister Fern, and Rosemary, who begins her story in the middle. She has her reasons. "I was raised with a chimpanzee," she explains. "I tell you Fern was a chimp and already you aren't thinking of her as my sister. But until Fern's expulsion… she was my twin, my funhouse mirror, my whirlwind other half and I loved her as a sister." As a child, Rosemary never stopped talking. Then, something happened, and Rosemary wrapped herself in silence.
In We Are All Completely Beside Ourselves, Karen Joy Fowler weaves her most accomplished work to date — a tale of loving but fallible people whose well-intentioned actions lead to heartbreaking consequences.
Awarded: PEN/Faulkner Award
Which of these books have you read? Tell us in the comments!
Want access to free & bargain ebooks? Sign up for BookBub here.
Comments