If truth is stranger than fiction, it's also just as fascinating. Some of the most captivating historical fiction books about World War II are actually based on real people and real events. From tragic tales to heroic stories, check out these reads inspired by true-to-life events and individuals. Publishers' descriptions included blow.
Inspired by Real-Life People
For readers of The Nightingale and Sarah's Key, inspired by the life of a real World War II heroine, this remarkable debut novel reveals the power of unsung women to change history in their quest for love, freedom, and second chances.
New York socialite Caroline Ferriday has her hands full with her post at the French consulate and a new love on the horizon. But Caroline's world is forever changed when Hitler's army invades Poland in September 1939 — and then sets its sights on France.
An ocean away from Caroline, Kasia Kuzmerick, a Polish teenager, senses her carefree youth disappearing as she is drawn deeper into her role as courier for the underground resistance movement. In a tense atmosphere of watchful eyes and suspecting neighbors, one false move can have dire consequences.
For the ambitious young German doctor, Herta Oberheuser, an ad for a government medical position seems her ticket out of a desolate life. Once hired, though, she finds herself trapped in a male-dominated realm of Nazi secrets and power.
The lives of these three women are set on a collision course when the unthinkable happens and Kasia is sent to Ravensbrück, the notorious Nazi concentration camp for women. Their stories cross continents — from New York to Paris, Germany, and Poland — as Caroline and Kasia strive to bring justice to those whom history has forgotten.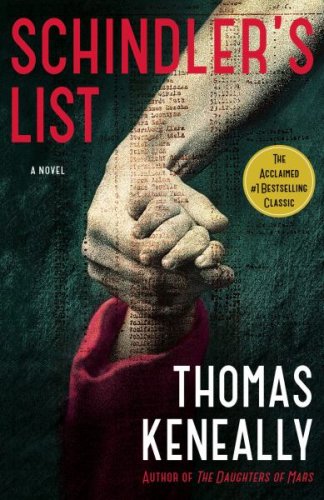 The acclaimed bestselling classic of Holocaust literature, winner of the Booker Prize and the Los Angeles Times Book Award for Fiction, and the inspiration for the classic film — "a masterful account of the growth of the human soul" (Los Angeles Times Book Review).
A stunning novel based on the true story of how German war profiteer and factory director Oskar Schindler came to save more Jews from the gas chambers than any other single person during World War II. In this milestone of Holocaust literature, Thomas Keneally, author of The Daughter of Mars, uses the actual testimony of the Schindlerjuden — Schindler's Jews — to brilliantly portray the courage and cunning of a good man in the midst of unspeakable evil.
When AP political reporter Lorena Hickok — Hick — is assigned to cover Eleanor Roosevelt in the 1932 campaign, the two women become deeply involved. Their relationship begins with mutual romantic passion, matures through stormy periods of enforced separation and competing interests, and warms into an enduring, encompassing friendship documented by 3,300 letters.
Set during the chaotic years of the Great Depression, the New Deal, and the Second World War, Loving Eleanor reveals Eleanor Roosevelt as a complex, contradictory, and entirely human woman who is pulled in many directions by her obligations to her husband and family and her role as the nation's First Lady. Hick is revealed as an accomplished journalist, who, at the pinnacle of her career, gives it all up for the woman she loves. Then, as Eleanor is transformed into Eleanor Everywhere, First Lady of the World, Hick must create her own independent, productive life. Loving Eleanor is a profoundly moving novel that illuminates a relationship we are seldom privileged to see, celebrating the depth and durability of women's love.
The final work of fiction from Norman Mailer, a defining voice of the postwar era, is also one of his most ambitious, taking as its subject the evil of Adolf Hitler. The narrator, a mysterious SS man in possession of extraordinary secrets, follows Adolf from birth through adolescence and offers revealing portraits of Hitler's parents and siblings. A crucial reflection on the shadows that eclipsed the twentieth century, Mailer's novel delivers myriad twists and surprises along with characteristically astonishing insights into the struggle between good and evil that exists in us all.
Hitler's Niece tells the story of the intense and disturbing relationship between Adolf Hitler and the daughter of his only half-sister, Angela, a drama that evolves against the backdrop of Hitler's rise to prominence and power from particularly inauspicious beginnings. The story follows Geli from her birth in Linz, Austria, through the years in Berchtesgaden and Munich, to her tragic death in 1932 in Hitler's apartment in Munich. Through the eyes of a favorite niece who has been all but lost to history, we see the frightening rise in prestige and political power of a vain, vulgar, sinister man who thrived on cruelty and hate and would stop at nothing to keep the horror of his inner life hidden from the world.
Called "one of the most original talents in American fiction" by The New York Times Book Review, Paul West is a continuously surprising and satisfying writer, whose oeuvre stands as one of the most important in American literature in recent decades.
In The Very Rich Hours of Count von Stauffenberg, West weaves a brilliant tapestry of fact and imagination about the ill-fated attempt to assassinate Adolf Hitler.
Berchtesgaden, Germany, is a beautiful place, set among the gentle meadow-clad hills rising to the sheer heights of bare Alpine peaks. It is here where an elderly woman arrives and recollects her past — and her peripheral role in a chapter of world history. She walks along a beaten path, which has come into being because so many tourists have ventured this way… to see something that exists only in her memory.
In the summer of 1944, 20-year-old Marlene is thrilled when her older, more glamorous cousin, Eva Braun, Adolph Hitler's mistress, invites her to come to the Fuhrer's Bavarian mountain retreat. Against her father's wishes, Marlene accepts, and immediately sets forth to Berghof.
There, while Hitler is away desperately trying to turn the tides of war, Marlene finds herself in a strange paradise, a world of opulence and imminent danger, of freedom and surveillance. The two women sneak off and skinny-dip in a nearby-lake, watch films in the Fuhrer's private cinema, and flirt with the SS officers at the dinner table — one of whom will become Marlene's first lover.
Initially delighted by Eva's attentions, Marlene later tries to understand the elusive connection between her cousin and the man she loves.
In quiet defiance, she begins to commit her own acts of subversion, which include listening to BBC radio broadcasts, forbidden by the Fuhrer. But a clandestine mission of mercy will force her to question her allegiance to both her cousin and her country — and to face the chilling reality that exists outside her sheltered world.
Based on the true experiences of Eva Braun's cousin, Gertrude Weisker, who has shared her memories with Sibylle Knauss after more than fifty years of silence, Eva's Cousin is a novel that illuminates the banality of the domestic face of evil. It casts a special light on the profound questions of innocence and complicity that still haunt much of the world today.
In a spellbinding novel that combines the suspense of a thriller and the accuracy of a work of history, the psychology of a monster is fully revealed, every atom of his madness explored, every twist of his homicidal logic followed to its logical conclusion. "Leon Trotsky is trying to kill me," thinks Joseph Stalin. It's a paranoid lie, but all too real to Stalin. Trotsky, in exile in Mexico City, is writing a biography of Stalin that may offer proof of a secret crime that could force Stalin from power. What will Trotsky disclose before the long hand of Stalin reaches him and eliminates the threat? The prospect leads Stalin to reflect on his own life — the sly and domineering schoolboy battling a sadistic father… a youthful poet, thief, and seminarian who questions morality, evil, and the existence of God until he finds answers that free him to a life of power and slaughter. Stalin takes us deeper and deeper into his life and into the labyrinth of his psyche until we are finally alone with him. The Autobiography of Joseph Stalin is a mesmerizing journey to the very heart of evil.
It is the dawn of World War II, and Neville Chamberlain believes he has bought "peace for our time" from Adolph Hitler, who has just seized Czechoslovakia's Sudetenland. The English are alarmed by the huge German army, while the soldiers that would defend London don't even have steel helmets. For many, compromise and appeasement seem to be England's best defense.
But there are a few leaders who don't agree. Among them is Winston Churchill, who understands that the relentless march of fascism will be democracy's death knell. In October 1938, Churchill pleads his case in the press to the BBC's Guy Burgess. One of these two will become the most revered man of his time, and the other will be known as the greatest of traitors.
This stunning novel brings to life the surprising political intrigues that set the stage for World War II, and brings alive the passionate, grumpy, whiskey-drinking Winston Churchill, as he inspires his fellow countrymen to take on the world's mightiest army.
A modern master of the historical novel, Jeff Shaara has painted brilliant depictions of the Civil War, the Revolutionary War, and World War I. Now he embarks upon his most ambitious epic, a trilogy about the military conflict that defined the twentieth century. The Rising Tide begins a staggering work of fiction bound to be a new generation' s most poignant chronicle of World War II. With you-are-there immediacy, painstaking historical detail, and all-inclusive points of view, Shaara portrays the momentous and increasingly dramatic events that pulled America into the vortex of this monumental conflict.
As Hitler conquers Poland, Norway, France, and most of Western Europe, England struggles to hold the line. When Germany's ally Japan launches a stunning attack on Pearl Harbor, America is drawn into the war, fighting to hold back the Japanese conquest of the Pacific, while standing side-by-side with their British ally, the last hope for turning the tide of the war.
Through unforgettable battle scenes in the unforgiving deserts of North Africa and the rugged countryside of Sicily, Shaara tells this story through the voices of this conflict's most heroic figures, some familiar, some unknown. As British and American forces strike into the "soft underbelly" of Hitler's Fortress Europa, the new weapons of war come clearly into focus. In North Africa, tank battles unfold in a tapestry of dust and fire unlike any the world has ever seen. In Sicily, the Allies attack their enemy with a barely tested weapon: the paratrooper. As battles rage along the coasts of the Mediterranean, the momentum of the war begins to shift, setting the stage for the massive invasion of France, at a seaside resort called Normandy.
More than an unprecedented and intimate portrait of those who waged this astonishing global war, The Rising Tide is a vivid gallery of characters both immortal and unknown: the as-yet obscure administrator Dwight D. Eisenhower, whose tireless efficiency helped win the war; his subordinates, clashing in both style and personality, from George Patton and Mark Clark to Omar Bradley and Bernard Montgomery. In the desolate hills and deserts, the Allies confront Erwin Rommel, the battlefield genius known as "the Desert Fox," a wounded beast who hands the Americans their first humiliating defeat in the European theater of the war. From tank driver to paratrooper to the men who gave the commands, Shaara's stirring portrayals bring the heroic and the tragic to life in brilliant detail.
A new level of accomplishment from this already acclaimed author, The Rising Tide will leave readers eager for the next volume of this superb saga of the war that saved and changed the world.
Bletchley Park, 1942: As World War II rages on, Honey Deschamps sits at her type-x machine, tediously transcribing decrypted signals from the German Army, doing her part to assist the British war effort. Halfway across the world, Hitler's armies are marching into Leningrad, leaving a trail of destruction and pillaging the country's most treasured artworks, including the famous Amber Room — the eighth wonder of the world.
As reports begin filtering into Bletchley Park about the stolen loot, Honey receives a mysterious package, hand-delivered from a man that she has never seen before who claims that he works at the Park as well. The package is postmarked from Russia, and inside is a small piece of amber. It is just the first of several such packages, and when she examines them together she realizes that someone, relying on her abilities to unravel codes, is trying to tell her something.
Honey can't help but fear that the packages are a trap set by the authorities to test her loyalties — surely nothing so valuable could get through the mail during a time of war. And yet, something about the packages reminds her of stories that her brother used to tell her about her absent father, and when her brother is found brutally murdered on his way to visit Honey, she can't help but assume that the events are connected. But at Bletchley Park, secrecy reigns supreme, and she has nowhere to turn for help…
Release date: August 8
Inspired by Real-Life Events
In love we find out who we want to be. In war we find out who we are.
FRANCE, 1939
In the quiet village of Carriveau, Vianne Mauriac says goodbye to her husband, Antoine, as he heads for the Front. She doesn't believe that the Nazis will invade France… but invade they do, in droves of marching soldiers, in caravans of trucks and tanks, in planes that fill the skies and drop bombs upon the innocent. When a German captain requisitions Vianne's home, she and her daughter must live with the enemy or lose everything. Without food or money or hope, as danger escalates all around them, she is forced to make one impossible choice after another to keep her family alive.
Vianne's sister, Isabelle, is a rebellious 18-year-old girl, searching for purpose with all the reckless passion of youth. While thousands of Parisians march into the unknown terrors of war, she meets Gäetan, a partisan who believes the French can fight the Nazis from within France, and she falls in love as only the young can… completely. But when he betrays her, Isabelle joins the Resistance and never looks back, risking her life time and again to save others.
With courage, grace and powerful insight, bestselling author Kristin Hannah captures the epic panorama of WWII and illuminates an intimate part of history seldom seen: the women's war. The Nightingale tells the stories of two sisters, separated by years and experience, by ideals, passion and circumstance, each embarking on her own dangerous path toward survival, love, and freedom in German-occupied, war-torn France — a heartbreakingly beautiful novel that celebrates the resilience of the human spirit and the durability of women. It is a novel for everyone, a novel for a lifetime.
For readers of Between Shades of Gray and All the Light We Cannot See, bestselling author Ruta Sepetys returns to WWII in this epic novel that shines a light on one of the war's most devastating — yet unknown — tragedies.

World War II is drawing to a close in East Prussia and thousands of refugees are on a desperate trek toward freedom, many with something to hide. Among them are Joana, Emilia, and Florian, whose paths converge en route to the ship that promises salvation, the Wilhelm Gustloff. Forced by circumstance to unite, the three find their strength, courage, and trust in each other tested with each step closer to safety.
Just when it seems freedom is within their grasp, tragedy strikes. Not country, nor culture, nor status matter as all 10 thousand people — adults and children alike — aboard must fight for the same thing: survival.
Told in alternating points of view and perfect for fans of Anthony Doerr's Pulitzer Prize-winning All the Light We Cannot See, Erik Larson's Dead Wake, and Elizabeth Wein's Printz Honor Book Code Name Verity, this masterful work of historical fiction is inspired by the real-life tragedy that was the sinking of the Wilhelm Gustloff — the greatest maritime disaster in history. As she did in Between Shades of Gray, Ruta Sepetys unearths a shockingly little-known casualty of a gruesome war, and proves that humanity and love can prevail, even in the darkest of hours.
Inspired by the wartime experiences of her father-in-law, Bobbie Ann Mason has crafted the haunting and profoundly moving story of an American World War II pilot shot down in Occupied Europe, and his wrenching odyssey of discovery, decades later, as he uncovers the truth about those who helped him escape in 1944.
At 23, Marshall Stone was a confident, cocksure U.S. flyboy stationed in England, with several bombing raids in a B-17 under his belt. But when enemy fighters forced his plane to crash-land in a Belgian field during a mission to Germany, Marshall had to rely solely on the kindness of ordinary Belgian and French citizens to help him hide from and evade the Nazis. Decades later, restless and at the end of his career as an airline pilot, Marshall returns to the crash site and finds himself drawn back in time, unable to stop thinking about the people who risked their lives to save Allied pilots like him. Most of all, he is obsessed by the girl in the blue beret, a courageous young woman who protected and guided him in occupied Paris.
Framed in spellbinding, luminous prose, Marshall's search for her gradually unfolds, becoming a voyage of discovery that reveals truths about himself and the people he knew during the war. Deeply beautiful and impossible to put down, The Girl in the Blue Beret is an unforgettable story — intimate, affecting, exquisite — of memories, second chances, and one intrepid girl who risked it all for a stranger.
A stunningly ambitious and beautiful novel, perfect for fans of The Nightingale, Schindler's List, and All the Light We Cannot See, about 12-year-old Hannah Rosenthal's harrowing experience fleeing Nazi-occupied Germany with her family and best friend, only to discover that the overseas asylum they had been promised is an illusion.
Before everything changed, young Hannah Rosenthal lived a charmed life. But now, in 1939, the streets of Berlin are draped with red, white, and black flags; her family's fine possessions are hauled away; and they are no longer welcome in the places that once felt like home. Hannah and her best friend, Leo Martin, make a pact: Whatever the future has in store for them, they'll meet it together.
Hope appears in the form of the SS St. Louis, a transatlantic liner offering Jews safe passage out of Germany. After a frantic search to obtain visas, the Rosenthals and the Martins depart on the luxurious ship bound for Havana. Life on board the St. Louis is like a surreal holiday for the refugees, with masquerade balls, exquisite meals, and polite, respectful service. But soon ominous rumors from Cuba undermine the passengers' fragile sense of safety. From one day to the next, impossible choices are offered, unthinkable sacrifices are made, and the ship that once was their salvation seems likely to become their doom.
Seven decades later in New York City, on her 12th birthday, Anna Rosen receives a strange package from an unknown relative in Cuba, her great-aunt Hannah. Its contents will inspire Anna and her mother to travel to Havana to learn the truth about their family's mysterious and tragic past, a quest that will help Anna understand her place and her purpose in the world.
The German Girl sweeps from Berlin at the brink of the Second World War to Cuba on the cusp of revolution, to New York in the wake of September 11, before reaching its deeply moving conclusion in the tumult of present-day Havana. Based on a true story, this masterful novel gives voice to the joys and sorrows of generations of exiles, forever seeking a place called home.
On a sunny day in Berkeley, California, in 1942, a woman sees a sign in a post office window, returns to her home, and matter-of-factly begins to pack her family's possessions. Like thousands of other Japanese Americans they have been reclassified, virtually overnight, as enemy aliens and are about to be uprooted from their home and sent to a dusty internment camp in the Utah desert.
In this lean and devastatingly evocative first novel, Julie Otsuka tells their story from five flawlessly realized points of view and conveys the exact emotional texture of their experience: the thin-walled barracks and barbed-wire fences, the omnipresent fear and loneliness, the unheralded feats of heroism. When the Emperor Was Divine is a work of enormous power that makes a shameful episode of our history as immediate as today's headlines.
Inspired by a true story, prize-winning historian and acclaimed novelist Simon Sebag Montefiore explores the consequences of forbidden love in this heartbreaking epic of marriage, childhood, danger, and betrayal that unfolds in Stalin's Moscow during the bleak days after World War II.
As Moscow celebrates the motherland's glorious victory over the Nazis, shots ring out on the crowded streets. On a nearby bridge, a teenage boy and girl — dressed in traditional 19th-century costumes — lie dead. But this is no ordinary tragedy, because these are no ordinary teenagers. As the son and daughter of high-ranking Soviet officials, they attend the most elite school in Moscow. Was it an accident, or murder? Is it a conspiracy against Stalin, or one of his own terrifying intrigues?
On Stalin's instructions, a ruthless investigation begins into what becomes known as the Children's Case. Youth across the city are arrested and forced to testify against their friends and their parents. As families are ripped apart, all kinds of secrets come spilling out. Trapped at the center of this witch-hunt are two pairs of illicit lovers, who learn that matters of the heart exact a terrible price. By turns a darkly sophisticated political thriller, a rich historical saga, and a deeply human love story, Montefiore's masterful novel powerfully portrays the terror and drama of Stalin's Russia.
Donn Pearce, the author of Cool Hand Luke, again revisits the subject of men under tremendous pressure, living and dying according to oppressive circumstances. Now, he brings you another tragic hero, thrust out of the only world he knew and forced to create one on his own terms… or die trying.
Toby Parker was America's unwanted son. Only 16 years old, he was too young to be enlisted in the army, but old enough to know that he didn't want to return to the life he knew: moving from new home to new home, neglected by his mother, ignored by his father, overlooked by everyone else.
The war overseas promised exotic locations and adventure, but what it delivered was something else entirely. The Nazis were beginning to fall back, and the war was all but over. But the fighting still raged on in pockets of Europe. Out of the critical focus on France, only one last position needed to hold: the city of Bastogne. Thrown into battle almost immediately upon arrival, he soon found himself wounded and alone, struggling to survive and looked upon to lead. It was here that Toby was to learn what war really was, and what kind of man he was destined to become.
Many American boys went into World War II, and each one lived their own nightmare, critically shaped by what they experienced. Told with gritty authenticity, Donn Pearce captures the very essence of what it means to be caught under the worst circumstances imaginable, while having the strength and humanity to rise above them.
November 9, 1938 — Kristallnacht — the Nazis unleash a night of terror for Jews all across Germany. Meanwhile, the Japanese Imperial Army rampages through China and tightens its stranglehold on Shanghai, a city that becomes the last haven for thousands of desperate European Jews.
Dr. Franz Adler, a renowned surgeon, is swept up in the wave of anti-Semitic violence and flees to Shanghai with his daughter. At a refugee hospital, Franz meets an enigmatic nurse, Soon Yi "Sunny" Mah. The chemistry between them is intense and immediate, but Sunny's life is shattered when a drunken Japanese sailor murders her father.
The danger escalates for Shanghai's Jews as the Japanese attack Pearl Harbor. Facing starvation and disease, Franz struggles to keep the refugee hospital open and protect his family from a terrible fate.
The Far Side of the Sky focuses on a short but extraordinary period of Chinese, Japanese, and Jewish history when cultures converged and heroic sacrifices were part of the everyday quest for survival.
The D-day landings — the fate of 2.5 million men, three thousand landing craft and the entire future of Europe depend on the right weather conditions on the English Channel on a single day. A team of Allied scientists is charged with agreeing on an accurate forecast five days in advance. But is it even possible to predict the weather so far ahead? And what is the relationship between predictability and turbulence, one of the last great mysteries of modern physics?
Wallace Ryman has devised a system that comprehends all of this — but he is a reclusive pacifist who stubbornly refuses to divulge his secrets. Henry Meadows, a young math prodigy from the Met Office, is sent to Scotland to uncover Ryman's system and apply it to the Normandy landings. But turbulence proves more elusive than anyone could have imagined. When Henry meets Gill, Ryman's beautiful wife, events, like the weather, begin to spiral out of control.
From Giles Foden, prizewinning author of The Last King of Scotland, a gripping blend of fact and fiction in a novel about how human beings deal with uncertainty.
Bomber by Len Deighton
The classic novel of the Second World War that relates in devastating detail the 24-hour story of an allied bombing raid.
Bomber is a novel war. There are no victors, no vanquished. There are simply those who remain alive, and those who die.
Bomber follows the progress of an Allied air raid through a period of twenty-four hours in the summer of 1943. It portrays all the participants in a terrifying drama, both in the air and on the ground, in Britain and in Germany.
In its documentary style, it is unique. In its emotional power it is overwhelming.
Len Deighton has been equally acclaimed as a novelist and as an historian. In Bomber he has combined both talents to produce a masterpiece.
Which of these books do you recommend? Share in the comments!
Want access to free & bargain ebooks? Sign up for BookBub here.
Comments