Charles William Eliot said: "Books are the quietest and most constant of friends; they are the most accessible and wisest of counselors, and the most patient of teachers." As book lovers, we wholeheartedly agree, which is why it's no wonder we turn to books when we need a lift. If you're in a rut and are looking for a little inspiration or just a good laugh, check out these great reads below. Publishers' descriptions included. 
Inspirational Books
Gretchen Rubin had an epiphany one rainy afternoon in the unlikeliest of places: a city bus. "The days are long, but the years are short," she realized. "Time is passing, and I'm not focusing enough on the things that really matter." In that moment, she decided to dedicate a year to her happiness project.
In this lively and compelling account — now updated with new material by the author — Rubin chronicles her adventures during the twelve months she spent test-driving the wisdom of the ages, current scientific research, and lessons from popular culture about how to be happier. Among other things, she found that novelty and challenge are powerful sources of happiness; that money can help buy happiness, when spent wisely; that outer order contributes to inner calm; and that the very smallest of changes can make the biggest difference.
Life can be hard: your lover cheats on you; you lose a family member; you can't pay the bills — and it can be great: you've had the hottest sex of your life; you get that plum job; you muster the courage to write your novel. Sugar — the once-anonymous online columnist at The Rumpus, now revealed as Cheryl Strayed, author of the bestselling memoir Wild — is the person thousands turn to for advice.
Tiny Beautiful Things brings the best of Dear Sugar in one place and includes never-before-published columns and a new introduction by Steve Almond.
Rich with humor, insight, compassion — and absolute honesty — this book is a balm for everything life throws our way.
The mega-talented creator of Grey's Anatomy and Scandal and executive producer of How to Get Away With Murder chronicles how saying YES for one year changed her life — and how it can change yours, too.
With three hit shows on television and three children at home, the uber-talented Shonda Rhimes had lots of good reasons to say NO when an unexpected invitation arrived. Hollywood party? No. Speaking engagement? No. Media appearances? No.
And there was the side-benefit of saying No for an introvert like Shonda: nothing new to fear.
Then Shonda's sister laid down a challenge: just for one year, try to say YES to the unexpected invitations that come your way. Shonda reluctantly agreed — and the result was nothing short of transformative. In Year of Yes, Shonda Rhimes chronicles the powerful impact saying yes had on every aspect of her life — and how we can all change our lives with one little word. Yes.
"My predominant feeling is one of gratitude. I have loved and been loved. I have been given much and I have given something in return. Above all, I have been a sentient being, a thinking animal, on this beautiful planet, and that in itself has been an enormous privilege and adventure."
—Oliver Sacks
No writer has succeeded in capturing the medical and human drama of illness as honestly and as eloquently as Oliver Sacks.
During the last few months of his life, he wrote a set of essays in which he movingly explored his feelings about completing a life and coming to terms with his own death.
"It is the fate of every human being," Sacks writes, "to be a unique individual, to find his own path, to live his own life, to die his own death."
Together, these four essays form an ode to the uniqueness of each human being and to gratitude for the gift of life.
Your Illustrated Guide to Becoming One with the Universe will set you free on a visual journey of self-discovery. Set against a surreal backdrop of intricate ink illustrations, you will find nine metaphysical lessons with dreamlike instructions that require you to open your heart to unexplored inner landscapes. From setting fire to your anxieties to sharing a cup of tea with your inner demons, you will learn how to let go and truly connect with the world around you.
Whether you need a little inspiration or a completely new life direction, Your Illustrated Guide to Becoming One with the Universe provides you with the necessary push to find your true path — and a whimsical adventure to enjoy on the way there.
Combining magic, mysticism, wisdom, and wonder into an inspiring tale of self-discovery, The Alchemist has become a modern classic, selling millions of copies around the world and transforming the lives of countless readers across generations.
Paulo Coelho's masterpiece tells the mystical story of Santiago, an Andalusian shepherd boy who yearns to travel in search of a worldly treasure. His quest will lead him to riches far different — and far more satisfying — than he ever imagined. Santiago's journey teaches us about the essential wisdom of listening to our hearts, of recognizing opportunity and learning to read the omens strewn along life's path, and, most importantly, to follow our dreams.
"We cannot change the cards we are dealt, just how we play the hand." — Randy Pausch
A lot of professors give talks titled "The Last Lecture." Professors are asked to consider their demise and to ruminate on what matters most to them. And while they speak, audiences can't help but mull the same question: What wisdom would we impart to the world if we knew it was our last chance? If we had to vanish tomorrow, what would we want as our legacy?
When Randy Pausch, a computer science professor at Carnegie Mellon, was asked to give such a lecture, he didn't have to imagine it as his last, since he had recently been diagnosed with terminal cancer. But the lecture he gave –"Really Achieving Your Childhood Dreams" — wasn't about dying. It was about the importance of overcoming obstacles, of enabling the dreams of others, of seizing every moment (because "time is all you have… and you may find one day that you have less than you think"). It was a summation of everything Randy had come to believe. It was about living.
In this book, Randy Pausch has combined the humor, inspiration, and intelligence that made his lecture such a phenomenon and given it an indelible form. It is a book that will be shared for generations to come.
Maybe it was a grandparent, or a teacher, or a colleague. Someone older, patient and wise, who understood you when you were young and searching, helped you see the world as a more profound place, gave you sound advice to help you make your way through it.
For Mitch Albom, that person was Morrie Schwartz, his college professor from nearly 20 years ago.
Maybe, like Mitch, you lost track of this mentor as you made your way, and the insights faded, and the world seemed colder. Wouldn't you like to see that person again, ask the bigger questions that still haunt you, receive wisdom for your busy life today the way you once did when you were younger?
Mitch Albom had that second chance. He rediscovered Morrie in the last months of the older man's life. Knowing he was dying, Morrie visited with Mitch in his study every Tuesday, just as they used to back in college. Their rekindled relationship turned into one final "class": lessons in how to live.
Tuesdays with Morrie is a magical chronicle of their time together, through which Mitch shares Morrie's lasting gift with the world.
Bestselling author Bruce Feiler was a young father when he was diagnosed with cancer. He instantly worried what his daughters' lives would be like without him. "Would they wonder who I was? Would they wonder what I thought? Would they yearn for my approval, my love, my voice?"
Three days later he came up with a stirring idea of how he might give them that voice. He would reach out to six men from all the passages in his life, and ask them to be present in the passages in his daughters' lives. And he would call this group "The Council of Dads."
"I believe my daughters will have plenty of opportunities in their lives," he wrote to these men. "They'll have loving families. They'll have each other. But they may not have me. They may not have their dad. Will you help be their dad?"
The Council of Dads is the inspiring story of what happened next. Feiler introduces the men in his Council and captures the life lesson he wants each to convey to his daughters — how to see, how to travel, how to question, how to dream. He mixes these with an intimate, highly personal chronicle of his experience battling cancer while raising young children, along with vivid portraits of his father, his two grandfathers, and various father figures in his life that explore the changing role of fathers in America.
This is the work of a master storyteller confronting the most difficult experience of his life and emerging with wisdom and hope. The Council of Dads is a touching, funny, and ultimately deeply moving book on how to live life, how the human spirit can respond to adversity, and how to deepen and cherish the friendships that enrich our lives.
The Little Prince is French aviator Antoine de Saint-Exupery's most famous novella. It has been translated into more than 190 languages and sold more than 200 million copies, making it one of the bestselling books ever. The story, first published in 1943, is about a pilot who must make an emergency landing in the desert because of engine problems. This is ironic, since the author himself took off in a plane over the Mediterranean just a year later and was never seen or heard from again.
Elizabeth Gilbert's Eat Pray Love touched the world and changed countless lives, inspiring and empowering millions of readers to search for their own best selves.
In her early 30s, Elizabeth Gilbert had everything a modern American woman was supposed to want — husband, country home, successful career — but instead of feeling happy and fulfilled, she was consumed by panic and confusion. This wise and rapturous book is the story of how she left behind all these outward marks of success, and set out to explore three different aspects of her nature, against the backdrop of three different cultures: pleasure in Italy, devotion in India, and on the Indonesian island of Bali, a balance between worldly enjoyment and divine transcendence.
After the sinking of a cargo ship, a solitary lifeboat remains bobbing on the wild blue Pacific. The only survivors from the wreck are a 16-year-old boy named Pi, a hyena, a wounded zebra, an orangutan — and a 450-pound royal bengal tiger. The scene is set for one of the most extraordinary and beloved works of fiction in recent years. Universally acclaimed upon publication, Life of Pi is a modern classic.
Fragments of a Great Secret have been found in the oral traditions, in literature, in religions and philosophies throughout the centuries. For the first time, all the pieces of The Secret come together in an incredible revelation that will be life-transforming for all who experience it.
In this book, you'll learn how to use The Secret in every aspect of your life — money, health, relationships, happiness, and in every interaction you have in the world. You'll begin to understand the hidden, untapped power that's within you, and this revelation can bring joy to every aspect of your life.
The Secret contains wisdom from modern-day teachers — men and women who have used it to achieve health, wealth, and happiness. By applying the knowledge of The Secret, they bring to light compelling stories of eradicating disease, acquiring massive wealth, overcoming obstacles, and achieving what many would regard as impossible.
Wanderlust by Jeff Krasno, Sarah Herrington, Nicole Lindstrom
Like the wildly popular festivals that have taken the yoga world by storm, Wanderlust is a road map for the millions of people engaged in cultivating their best selves. For the 20 million people who grab their yoga mats in the United States every week, this book gives a completely unique way to understand "yoga" — not just as something to do in practice, but as a broader principle for living. Wanderlust helps readers navigate their personal path and find their own true north, curating principles that embody the brand and lifestyle — authentic yoga practices, provocative thinking, music, art, good food, eco-friendly activities, and more.
Each chapter includes expert yoga instruction by renowned teachers; inspiring music playlists to motivate readers to practice; thought-provoking art; awesome recipes for delicious, healthy foods to sustain a yoga regimen; and fun, unexpected detours. This wide array of ideas and beautiful visuals is designed to be hyper-stimulating — whether a reader follows the arc of the book from beginning to end or dips into chapters at random, she is sure to find something pleasing to the eye, to feel motivated to practice, and to want to reach for her deepest desires and dreams. This book brings the Wanderlust festival experience into any reader's home.
Rewire by Richard O'Connor
We humans tend to get in our own way time and time again — whether it comes to not speaking up for ourselves, going back to bad romantic partners, dieting for the umpteenth try, or acting on any of a range of bad habits we just can't seem to shake. In Rewire, renowned psychotherapist Richard O'Connor, PhD, reveals exactly why our bad habits die so hard. We have two brains — one a thoughtful, conscious, deliberative self, and the other an automatic self that makes most of our decisions without our attention. Using new research and knowledge about how the brain works, the book clears a path to lasting, effective change for behaviors that include:
Procrastination
Overeating
Chronic disorganization
Staying in bad situations
Excessive worrying
Risk taking
Passive aggression
Self-medication
Bringing together many different fields in psychology and brain science, Dr. O'Connor gives you a road map to overcoming whatever self-destructive habits are plaguing you, with exercises throughout the book. We can rewire our brains to develop healthier circuitry, training the automatic self to make wiser decisions without having to think about it; ignore distractions; withstand temptations; see ourselves and the world more clearly; and interrupt our reflexive responses before they get us in trouble. Meanwhile, our conscious minds will be freed to view ourselves with compassion at the same time as we practice self-discipline. By learning valuable skills and habits — including mindfulness, self-control, confronting fear, and freeing yourself from mindless guilt — we can open ourselves to vastly more successful, productive, and happy lives. The book even demystifies how to overcome what Dr. O'Connor calls the "undertow" (the mysterious force that sabotages our best efforts when we're just on the edge of victory) for long-lasting change. Offering a valuable science-based new paradigm for rewiring our brains, Rewire is a refreshing guide to becoming a healthier, happier self.
No matter what your bad habit is, you have the power to change it. Drawing on a powerful combination of neuroscience and spirituality, this book will show you that you are not your habits. Rather, your habits and addictions are the result of simple brain wiring that is easily reversed. By learning to stop bad habits at the source, you will take charge of your habits and addictions for good.
Anything done repeatedly has the potential to form neural circuitry in the brain. In this light, habits and addictions are impersonal brain wiring problems that result from taking your habitual thinking as truth, and acting on that thinking in the form of doing your habit — over and over. This book offers a number of small changes you can make in your everyday life that will help you stop your bad habit in its tracks.
If you want to understand the science behind your habit, make the decision to end it, and commit to real, lasting change, this book will help you to finally take charge of your life — once and for all.
This New York Times bestselling guide to decluttering your home from Japanese cleaning consultant Marie Kondo takes readers step-by-step through her revolutionary KonMari Method for simplifying, organizing, and storing. Despite constant efforts to declutter your home, do papers still accumulate like snowdrifts and clothes pile up like a tangled mess of noodles? Japanese cleaning consultant Marie Kondo takes tidying to a whole new level, promising that if you properly simplify and organize your home once, you'll never have to do it again. Most methods advocate a room-by-room or little-by-little approach, which doom you to pick away at your piles of stuff forever. The KonMari Method, with its revolutionary category-by-category system, leads to lasting results. In fact, none of Kondo's clients have lapsed (and she still has a three-month waiting list). With detailed guidance for determining which items in your house "spark joy" (and which don't), this international bestseller featuring Tokyo's newest lifestyle phenomenon will help you clear your clutter and enjoy the unique magic of a tidy home — and the calm, motivated mindset it can inspire.
Deep within each one of us lies the ability to step up and care for those in need, even though we often feel overwhelmed by a complex world. In fact, more than 200 million people throughout the world offer their time and love to volunteering.
The stories in Chicken Soup for the Volunteer's Soul highlight the efforts of everyday people in the United States and around the globe who volunteer with the American Red Cross, Big Brothers Big Sisters, Habitat for Humanity, the Peace Corps, Points of Light, Rotary, and many, many other nonprofit organizations. Lovingly chosen from more than six thousand stories, poems, and cartoons, these tales will inspire readers to do everything in their power to help those in need. Chapters include: The Rewards of Volunteering, Giving Back, Making a Difference, New Appreciation, Love and Kindness, Defining Moments, A Matter of Perspective, Overcoming Obstacles, and On Wisdom.
Readers will cherish the story of a community that rallied together to send warm winter coats to refugee families in Kosovo. They'll be moved by the tale of a woman with a "smiley voice" who made audiotapes for the visually impaired despite a losing battle with cancer. They'll never forget the eight-year-old boy without arms or legs who fearlessly wielded a tennis racquet to propel a ball down the length of a room. And they'll be charmed by a rabbit named Cadberi who brings boundless joy to residents of a nursing home.
For readers of Three Cups of Tea; Eat, Pray, Love; and Wild comes the inspiring story of an ordinary American family that embarks on an extraordinary journey. Wide-Open World follows the Marshall family as they volunteer their way around the globe, living in a monkey sanctuary in Costa Rica, teaching English in rural Thailand, and caring for orphans in India. There's a name for this kind of endeavor — voluntourism — and it might just be the future of travel.
Oppressive heat, grueling bus rides, backbreaking work, and one vicious spider monkey… Best family vacation ever!
John Marshall needed a change. His 20-year marriage was falling apart, his 17-year-old son was about to leave home, and his 14-year-old daughter was lost in cyberspace. Desperate to get out of a rut and reconnect with his family, John dreamed of a trip around the world, a chance to leave behind, if only just for a while, routines and responsibilities. He didn't have the money for resorts or luxury tours, but he did have an idea that would make traveling the globe more affordable and more meaningful than he'd ever imagined: The family would volunteer their time and energy to others in far-flung locales.
Wide-Open World is the inspiring true story of the six months that changed the Marshall family forever. Once they'd made the pivotal decision to go, John and his wife, Traca, quit their jobs, pulled their kids out of school, and embarked on a journey that would take them far off the beaten path, and far out of their comfort zones.
Here is the totally engaging, bluntly honest chronicle of the Marshalls' life-altering adventure from Central America to East Asia. It was no fairy tale. The trip offered little rest, even less relaxation, and virtually no certainty of what was to come. But it did give the Marshalls something far more valuable: a once-in-a-lifetime opportunity to conquer personal fears, strengthen family bonds, and find their true selves by helping those in need. In the end, as John discovered, he and his family did not change the world. It was the world that changed them.
A year after getting divorced, Helen Carpenter, 32, lets her annoying, 10 years younger brother talk her into signing up for a wilderness survival course. It's supposed to be a chance for her to pull herself together again, but when she discovers that her brother's even-more-annoying best friend is also coming on the trip, she can't imagine how it will be anything other than a disaster. Thus begins the strangest adventure of Helen's well-behaved life: Three weeks in the remotest wilderness of a mountain range in Wyoming where she will survive mosquito infestations, a surprise summer blizzard, and a group of sorority girls.
Yet, despite everything, the vast wilderness has a way of making Helen's own little life seem bigger, too. And, somehow the people who annoy her the most start teaching her the very things she needs to learn. Like how to stand up for herself. And how being scared can make you brave. And how sometimes you just have to get really, really lost before you can even have a hope of being found.
How can I be the person I want to be when I'm stuck in a job I hate? How is it possible to stay present in an era of nearly constant distractions? Can I pick someone up at a bar or club and still call myself spiritual?
This nitty-gritty guide to life for the spiritual-but-not-necessarily-religious uses Buddhist teachings to answer those burning questions and a host of others related to going out, relationships, work, and social action. Based on Lodro Rinzler's popular advice columns, Walk Like a Buddha offers wisdom that can be applied to just the sort of dilemmas that tend to arise for anyone making even a modest attempt to walk like a Buddha — that is, to live with honesty, wisdom, and compassion in the face of whatever life surprises you with.
Why is it easier to ruminate over hurt feelings than it is to bask in the warmth of being appreciated?
Because your brain evolved to learn quickly from bad experiences but slowly from the good ones.
You can change this.
Hardwiring Happiness lays out a simple method that uses the hidden power of everyday experiences to build new neural structures full of happiness, love, confidence, and peace. Dr. Hanson's four steps build strengths into your brain — balancing its ancient negativity bias — making contentment and a powerful sense of resilience the new normal. In mere minutes each day, we can transform our brains into refuges and power centers of calm and happiness.
Set in ancient India, Hermann Hesse's Siddhartha follows the spiritual journey of a young man who leaves his family home and meets the Buddha. An exploration of both Buddhist philosophy and individual morality, Siddhartha charts a quest from ascetic simplicity to worldly luxury and back again. While he draws on the Buddha's teachings, Siddhartha ultimately forges his own path, creating a personal philosophy that has fascinated readers for nearly a century. Siddhartha is considered one the most influential works written by Hesse, who was awarded the Nobel Prize for Literature, and a classic of 20th-century literature.
The how of Pooh? The Tao of who? The Tao of Pooh!?! In which it is revealed that one of the world's great Taoist masters isn't Chinese — or a venerable philosopher — but is in fact none other than that effortlessly calm, still, reflective bear. A. A. Milne's Winnie-the-Pooh! While Eeyore frets, and Piglet hesitates, and Rabbit calculates, and Owl pontificates, Pooh just is.
And that's a clue to the secret wisdom of the Taoists.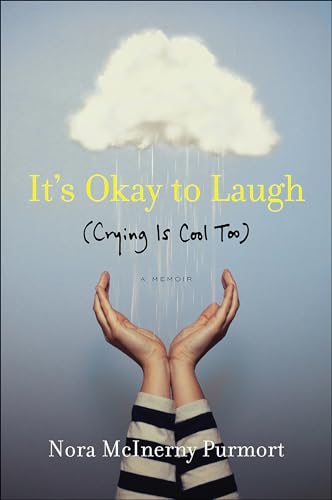 comedy = tragedy + time/rosé
Twenty-seven-year-old Nora McInerny Purmort bounced from boyfriend to dopey "boyfriend" until she met Aaron — a charismatic art director and comic-book nerd who once made Nora laugh so hard she pulled a muscle. When Aaron was diagnosed with a rare form of brain cancer, they refused to let it limit their love. They got engaged on Aaron's hospital bed and had a baby boy while he was on chemo. In the period that followed, Nora and Aaron packed 50 years of marriage into the three they got, spending their time on what really matters: Buffy the Vampire Slayer, each other, and Beyonce. A few months later, Aaron died in Nora's arms. The obituary they wrote during Aaron's hospice care revealing his true identity as Spider-Man touched the nation. With It's Okay to Laugh, Nora puts a young, fresh twist on the subjects of mortality and resilience. What does it actually mean to live your "one wild and precious life" to the fullest? How can a joyful marriage contain more sickness than health? How do you keep going when life kicks you in the junk? In this deeply felt and deeply funny memoir, Nora gives her readers a true gift — permission to struggle, permission to laugh, permission to tell the truth and know that everything will be okay. It's Okay to Laugh is a love letter to life, in all its messy glory; it reads like a conversation with a close friend, and leaves a trail of glitter in its wake.
This book is for people who have been through some shit.
This is for people who aren't sure if they're saying or doing the right thing (you're not, but nobody is). This is for people who had their life turned upside down and just learned to live that way. For people who have laughed at a funeral or cried in a grocery store. This is for everyone who wondered what exactly they're supposed to be doing with their one wild and precious life. I don't actually have the answer, but if you find out, will you text me?
In Furiously Happy, #1 New York Times bestselling author Jenny Lawson explores her lifelong battle with mental illness. A hysterical, ridiculous book about crippling depression and anxiety? That sounds like a terrible idea.
But terrible ideas are what Jenny does best.
As Jenny says:
"Some people might think that being 'furiously happy' is just an excuse to be stupid and irresponsible and invite a herd of kangaroos over to your house without telling your husband first because you suspect he would say no since he's never particularly liked kangaroos. And that would be ridiculous because no one would invite a herd of kangaroos into their house. Two is the limit. I speak from personal experience. My husband says that none is the new limit. I say he should have been clearer about that before I rented all those kangaroos.
"Most of my favorite people are dangerously fucked-up but you'd never guess because we've learned to bare it so honestly that it becomes the new normal. Like John Hughes wrote in The Breakfast Club, 'We're all pretty bizarre. Some of us are just better at hiding it.' Except go back and cross out the word 'hiding.'"
Furiously Happy is about "taking those moments when things are fine and making them amazing, because those moments are what make us who we are, and they're the same moments we take into battle with us when our brains declare war on our very existence. It's the difference between "surviving life" and "living life." It's the difference between "taking a shower" and "teaching your monkey butler how to shampoo your hair." It's the difference between being "sane" and being "furiously happy."
Lawson is beloved around the world for her inimitable humor and honesty, and in Furiously Happy, she is at her snort-inducing funniest. This is a book about embracing everything that makes us who we are — the beautiful and the flawed — and then using it to find joy in fantastic and outrageous ways. Because as Jenny's mom says, "Maybe 'crazy' isn't so bad after all." Sometimes crazy is just right.
Do you want to get to know the woman we first came to love on Comedy Central's Upright Citizens Brigade? Do you want to spend some time with the lady who made you howl with laughter on Saturday Night Live, and in movies like Baby Mama, Blades of Glory, and They Came Together? Do you find yourself daydreaming about hanging out with the actor behind the brilliant Leslie Knope on Parks and Recreation? Did you wish you were in the audience at the last two Golden Globes ceremonies, so you could bask in the hilarity of Amy's one-liners?
If your answer to these questions is "Yes Please!" then you are in luck. In her first book, one of our most beloved funny folk delivers a smart, pointed, and ultimately inspirational read. Full of the comedic skill that makes us all love Amy, Yes Please is a rich and varied collection of stories, lists, poetry (Plastic Surgery Haiku, to be specific), photographs, mantras, and advice. With chapters like "Treat Your Career Like a Bad Boyfriend," "Plain Girl Versus the Demon" and "The Robots Will Kill Us All" Yes Please will make you think as much as it will make you laugh. Honest, personal, real, and righteous, Yes Please is full of words to live by.
Funny Books
Bernadette Fox is notorious. To her Microsoft-guru husband, she's a fearlessly opinionated partner; to fellow private-school mothers in Seattle, she's a disgrace; to design mavens, she's a revolutionary architect, and to 15-year-old Bee, she is a best friend and, simply, Mom.
Then Bernadette disappears. It began when Bee aced her report card and claimed her promised reward: a family trip to Antarctica. But Bernadette's intensifying allergy to Seattle — and people in general — has made her so agoraphobic that a virtual assistant in India now runs her most basic errands. A trip to the end of the earth is problematic.
To find her mother, Bee compiles email messages, official documents, secret correspondence — creating a compulsively readable and touching novel about misplaced genius and a mother and daughter's role in an absurd world.
Bridget Jones's Diary is the devastatingly self-aware, laugh-out-loud account of a year in the life of a 30-something Singleton on a permanent doomed quest for self-improvement. Caught between the joys of Singleton fun, and the fear of dying alone and being found three weeks later half eaten by an Alsatian; tortured by Smug Married friends asking, "How's your love life?" with lascivious, yet patronizing leers, Bridget resolves to: reduce the circumference of each thigh by 1.5 inches, visit the gym three times a week not just to buy a sandwich, form a functional relationship with a responsible adult, and learn to program the VCR. With a blend of flighty charm, existential gloom, and endearing self-deprecation, Bridget Jones's Diary has touched a raw nerve with millions of readers the world round. Read it and laugh — before you cry, "Bridget Jones is me!"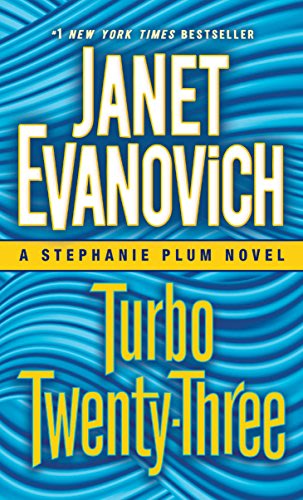 Larry Virgil skipped out on his latest court date after he was arrested for hijacking an 18-wheeler full of premium bourbon. Fortunately for bounty hunter Stephanie Plum, Larry is just stupid enough to attempt almost the exact same crime again. Only this time he flees the scene, leaving behind a freezer truck loaded with Bogart ice cream and a dead body — frozen solid and covered in chocolate and chopped pecans.
As fate would have it, Stephanie's mentor and occasional employer, Ranger, needs her to go undercover at the Bogart factory to find out who's putting their employees on ice and sabotaging the business. It's going to be hard for Stephanie to keep her hands off all that ice cream, and even harder for her to keep her hands off Ranger. It's also going to be hard to explain to Trenton's hottest cop, Joe Morelli, why she is spending late nights with Ranger, late nights with Lula and Randy Briggs — who are naked and afraid — and late nights keeping tabs on Grandma Mazur and her new fella. Stephanie Plum has a lot on her plate, but for a girl who claims to have "virtually no marketable skills," these are the kinds of sweet assignments she does best.
Before Liz Lemon, before "Weekend Update," before "Sarah Palin," Tina Fey was just a young girl with a dream: a recurring stress dream that she was being chased through a local airport by her middle-school gym teacher. She also had a dream that one day she would be a comedian on TV.
She has seen both these dreams come true.
At last, Tina Fey's story can be told. From her youthful days as a vicious nerd to her tour of duty on Saturday Night Live; from her passionately halfhearted pursuit of physical beauty to her life as a mother eating things off the floor; from her one-sided college romance to her nearly fatal honeymoon — from the beginning of this paragraph to this final sentence.
Tina Fey reveals all, and proves what we've all suspected: You're no one until someone calls you bossy.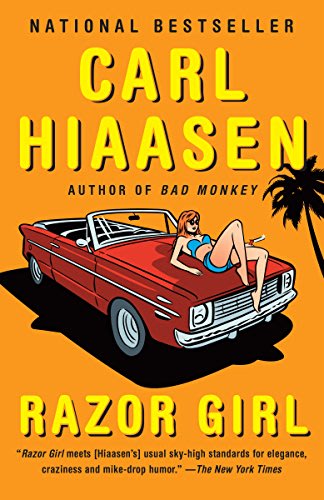 The new full-tilt, unstoppably hilarious and entertaining novel from the best-selling author of Skinny Dip and Bad Monkey.
When Lane Coolman's car is bashed from behind on the road to the Florida Keys, what appears to be an ordinary accident is anything but (this is Hiaasen!). Behind the wheel of the other car is Merry Mansfield — the eponymous Razor Girl — and the crash scam is only the beginning of events that spiral crazily out of control while unleashing some of the wildest characters Hiaasen has ever set loose on the page. There's Trebeaux, the owner of Sedimental Journeys — a company that steals sand from one beach to restore erosion on another… Dominick "Big Noogie" Aeola, a NYC mafia capo with a taste for tropic-wear… Buck Nance, a Wisconsin accordionist who has rebranded himself as the star of a redneck reality show called Bayou Brethren… a street psycho known as Blister who's more Buck Nance than Buck could ever be… Brock Richardson, a Miami product-liability lawyer who's getting dangerously — and deformingly — hooked on the very E.D. product he's litigating against… and Andrew Yancy — formerly Detective Yancy, busted down to the Key West roach patrol after accosting his then-lover's husband with a Dust Buster. Yancy believes that if he can singlehandedly solve a high-profile murder, he'll get his detective badge back. That the Razor Girl may be the key to Yancy's future will be as surprising as anything else he encounters along the way — including the giant Gambian rats that are livening up his restaurant inspections.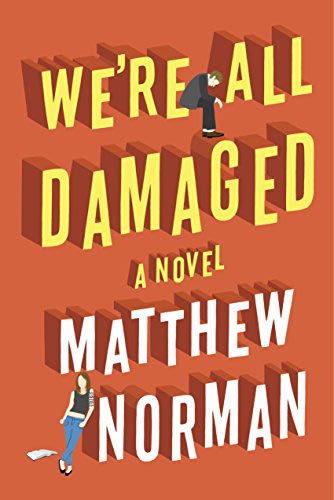 Andy Carter was happy. He had a solid job. He ran 5Ks for charity. He was living a nice, safe Midwestern existence. And then his wife left him for a handsome paramedic down the street.
We're All Damaged begins after Andy has lost his job, ruined his best friend's wedding, and moved to New York City, where he lives in a tiny apartment with an angry cat named Jeter that isn't technically his. But before long he needs to go back to Omaha to say good-bye to his dying grandfather.
Back home, Andy is confronted with his past, which includes his ex, his ex's new boyfriend, his right-wing talk-radio-host mother, his parents' crumbling marriage, and his still-angry best friend.
As if these old problems weren't enough, Andy encounters an entirely new complication: Daisy. She has 15 tattoos, no job, and her own difficult past. But she claims she is the only person who can help Andy be happy again, if only she weren't hiding a huge secret that will mess things up even more. Andy Carter needs a second chance at life, and Daisy — and the person Daisy pushes Andy to become — may be his last chance to set things right.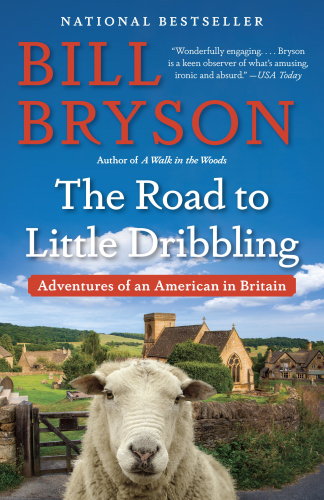 A loving and hilarious — if occasionally spiky — valentine to Bill Bryson's adopted country, Great Britain. Prepare for total joy and multiple episodes of unseemly laughter.
Twenty years ago, Bill Bryson went on a trip around Britain to discover and celebrate that green and pleasant land. The result was Notes from a Small Island, a true classic and one of the bestselling travel books ever written. Now he has traveled about Britain again, by bus and train and rental car and on foot, to see what has changed — and what hasn't.
Following (but not too closely) a route he dubs the Bryson Line, from Bognor Regis in the south to Cape Wrath in the north, by way of places few travelers ever get to at all, Bryson rediscovers the wondrously beautiful, magnificently eccentric, endearingly singular country that he both celebrates and, when called for, twits. With his matchless instinct for the funniest and quirkiest and his unerring eye for the idiotic, the bewildering, the appealing, and the ridiculous, he offers acute and perceptive insights into all that is best and worst about Britain today.
Nothing is more entertaining than Bill Bryson on the road — and on a tear. The Road to Little Dribbling reaffirms his stature as a master of the travel narrative — and a really, really funny guy.
The Princess Diarist is Carrie Fisher's intimate, hilarious, and revealing recollection of what happened behind the scenes on one of the most famous film sets of all time, the first Star Wars movie. Named a PEOPLE Magazine Best Book of Fall 2016.
When Carrie Fisher recently discovered the journals she kept during the filming of the first Star Wars movie, she was astonished to see what they had preserved — plaintive love poems, unbridled musings with youthful naiveté, and a vulnerability that she barely recognized. Today, her fame as an author, actress, and pop-culture icon is indisputable, but in 1977, Carrie Fisher was just a teenager with an all-consuming crush on her costar, Harrison Ford.
With these excerpts from her handwritten notebooks, The Princess Diarist is Fisher's intimate and revealing recollection of what happened on one of the most famous film sets of all time — and what developed behind the scenes. And today, as she reprises her most iconic role for the latest Star Wars trilogy, Fisher also ponders the joys and insanity of celebrity, and the absurdity of a life spawned by Hollywood royalty, only to be surpassed by her own outer-space royalty. Laugh-out-loud hilarious and endlessly quotable, The Princess Diarist brims with the candor and introspection of a diary while offering shrewd insight into the type of stardom that few will ever experience.
Jennifer Weiner is many things: a bestselling author, a Twitter phenomenon, and an unlikely feminist enforcer (The New Yorker). She's also a mom, a daughter and a sister, a former rower and current clumsy yogini, a wife, a friend, and a reality-TV devotee. In her first essay collection, she takes the raw stuff of her life and spins it into a collection of tales of modern-day womanhood as uproariously funny and moving as the best of Nora Ephron and Tina Fey.
Born in Louisiana, raised in Connecticut, educated at Princeton, Jennifer spent years feeling like an outsider (a Lane Bryant outtake in an Abercrombie & Fitch world) before finding her people in newsrooms, and her voice as a novelist, activist, and New York Times columnist. No subject is off-limits in these intimate and honest stories: sex, weight, envy, money, her mother's coming out of the closet, her estranged father's death. From lonely adolescence to modern childbirth to hearing her six-year-old daughter say the f-word-fat–for the first time, Jen dives deep into the heart of female experience, with the wit and candor that have endeared her to readers all over the world.
Hilarious and moving, Hungry Heart is about yearning and fulfillment, loss and love, and a woman who searched for her place in the world, and found it as a storyteller.
In Talking as Fast as I Can, Lauren Graham hits pause for a moment and looks back on her life, sharing laugh-out-loud stories about growing up, starting out as an actress, and, years later, sitting in her trailer on the Parenthood set and asking herself, "Did you, um, make it?" She opens up about the challenges of being single in Hollywood ("Strangers were worried about me; that's how long I was single!"), the time she was asked to audition her butt for a role, and her experience being a judge on Project Runway ("It's like I had a fashion-induced blackout").
In "What It Was Like, Part One," Graham sits down for an epic Gilmore Girls marathon and reflects on being cast as the fast-talking Lorelai Gilmore. The essay "What It Was Like, Part Two" reveals how it felt to pick up the role again nine years later, and what doing so has meant to her.
Some more things you will learn about Lauren: She once tried to go vegan just to bond with Ellen DeGeneres, she's aware that meeting guys at awards shows has its pitfalls ("If you're meeting someone for the first time after three hours of hair, makeup, and styling, you've already set the bar too high"), and she's a card-carrying REI shopper ("My bungee cords now earn points!").
Including photos and excerpts from the diary Graham kept during the filming of the recent Gilmore Girls: A Year in the Life, this book is like a cozy night in, catching up with your best friend, laughing and swapping stories, and — of course — talking as fast as you can.
The Emmy Award-winning comedian, actress, writer, and star of Inside Amy Schumer and the acclaimed film Trainwreck has taken the entertainment world by storm with her winning blend of smart, satirical humor. Now, Amy Schumer has written a refreshingly candid and uproariously funny collection of (extremely) personal and observational essays.
In The Girl with the Lower Back Tattoo, Amy mines her past for stories about her teenage years, her family, relationships, and sex and shares the experiences that have shaped who she is a woman with the courage to bare her soul to stand up for what she believes in, all while making us laugh. Ranging from the raucous to the romantic, the heartfelt to the harrowing, this highly entertaining and universally appealing collection is the literary equivalent of a night out with your best friend an unforgettable and fun adventure that you wish could last forever. Whether she's experiencing lust-at-first-sight while in the airport security line, sharing her own views on love and marriage, admitting to being an introvert, or discovering her cross-fit instructors secret bad habit, Amy Schumer proves to be a bighearted, brave, and thoughtful storyteller that will leave you nodding your head in recognition, laughing out loud, and sobbing uncontrollably but only because it's over.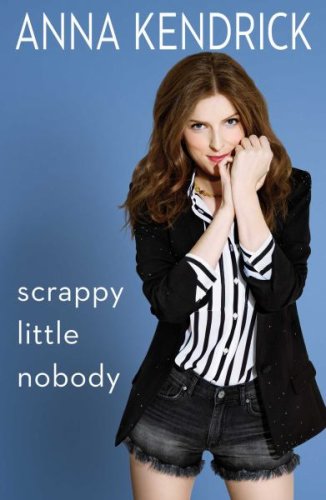 A collection of humorous autobiographical essays by the Academy Award-nominated actress and star of Up in the Air and Pitch Perfect. Even before she made a name for herself on the silver screen starring in films like Pitch Perfect, Up in the Air, Twilight, and Into the Woods, Anna Kendrick was unusually small, weird, and 10 percent defiant. At the ripe age of 13, she had already resolved to keep the crazy inside my head where it belonged. Forever. But here's the thing about crazy: It. Wants. Out.
In Scrappy Little Nobody, she invites readers inside her brain, sharing extraordinary and charmingly ordinary stories with candor and winningly wry observations. With her razor-sharp wit, Anna recounts the absurdities she's experienced on her way to and from the heart of pop culture as only she can — from her unusual path to the performing arts (Vanilla Ice and baggy neon pants may have played a role) to her double life as a middle-school student who also starred on Broadway to her initial dating experiments (including only liking boys who didn't like her back) to reviewing a binder full of butt doubles to her struggle to live like an adult woman instead of a perpetual man-child. Enter Anna's world and follow her rise from scrappy little nobody to somebody who dazzles on the stage, the screen, and now the page — with an electric, singular voice, at once familiar and surprising, sharp and sweet, funny, and serious (well, not that serious).
New York Times bestselling author and stand-up comedian Michael Ian Black delivers a frank and funny memoir about confronting his genetic legacy as he hits his 40s.
Whether it's family history, religion, aging, or his parents, Michael Ian Black always has something to say in the dry, irreverent voice that has captured a fan base of millions. When a medical diagnosis forces him to realize he's not getting any younger, he reexamines his life as a middle-aged guy — of course, in the deadpan wit and self-deprecating vignettes that have become trademarks of his humor.
The alt-comedy take on getting older, Navel Gazing is a funny-because-it's-true memoir about looking around when you're 40 and realizing that life is about more than receding hairlines and proving one's manliness on Twitter —it's about laughing at yourself.
Welcome to the magnificent Making It Up as I Go Along — aka the World According to Marian Keyes™ — A bold, brilliant book bursting with Marian's hilarious and heartfelt observations on modern life, love and much, much else besides. Such as? you are determined to ask. Well, how about her guide to breaking up with your hairdresser? Or the warning she has for us all after a particularly traumatic fling with fake tan. There's the pure and bounteous joy of the nail varnish museum. Not to mention the very best lies to tell if you find yourself on an Arctic cruise. She has words of advice for those fast approaching 50. And she's here to tell you the secret secret truth about writers — well, this one anyway. You'll be wincing in recognition and scratching your head in incredulity, but like Marian herself you won't be able to stop laughing at the sheer delightful absurdity that is modern life — because each and every one of us is clearly making it up as we go along.
A charming, hilarious, irresistible romp of a novel that brings together nine unrelated women, each touched by the same little black dress that weaves through their lives, bringing a little magic with it.
Natalie is a Bloomingdale's salesgirl mooning over her lawyer ex-boyfriend who's engaged to someone else after just two months. Felicia has been quietly in love with her boss for 17 years and has one night to finally make the feeling mutual. Andie is a private detective who specializes in gathering evidence on cheating husbands — a skill she unfortunately learned from her own life — and lands a case that may restore her faith in true love. For these three women, as well as half a dozen others in sparkling supporting roles — a young model fresh from rural Alabama; a diva Hollywood star making her Broadway debut; an overachieving, unemployed Brown grad who starts faking a fabulous life on social media, to name just a few — everything is about to change, thanks to the dress of the season, the perfect little black number everyone wants to get their hands on…
Becky Bloomwood has a fabulous flat in London's trendiest neighborhood, a troupe of glamorous socialite friends, and a closet brimming with the season's must-haves. The only trouble is that she can't actually afford it — not any of it.
Her job writing at Successful Savings not only bores her to tears, it doesn't pay much at all. And lately Becky's been chased by dismal letters from Visa and the Endwich Bank — letters with large red sums she can't bear to read — and they're getting ever harder to ignore.
She tries cutting back; she even tries making more money. But none of her efforts succeeds. Becky's only consolation is to buy herself something… just a little something…
Finally a story arises that Becky actually cares about, and her front-page article catalyzes a chain of events that will transform her life–and the lives of those around her — forever.
Sophie Kinsella has brilliantly tapped into our collective consumer conscience to deliver a novel of our times — and a heroine who grows stronger every time she weakens. Becky Bloomwood's hilarious schemes to pay back her debts are as endearing as they are desperate. Her "confessions" are the perfect pick-me-up when life is hanging in the (bank) balance.
The Oscar-nominated Precious star and Empire actress delivers a much-awaited memoir — wise, complex, smart, funny — a version of the American experience different from anything we've read.
Gabourey Sidibe — "Gabby" to her legion of fans — skyrocketed to international fame in 2009 when she played the leading role in Lee Daniels's acclaimed movie Precious. In This Is Just My Face, she shares a one-of-a-kind life story in a voice as fresh and challenging as many of the unique characters she's played onscreen. With full-throttle honesty, Sidibe paints her Bed-Stuy/Harlem family life with a polygamous father and a gifted mother who supports her two children by singing in the subway. Sidibe tells the engrossing, inspiring story of her first job as a phone sex "talker." And she shares her unconventional (of course!) rise to fame as a movie star, alongside "a superstar cast of rich people who lived in mansions and had their own private islands and amazing careers while I lived in my mom's apartment."
Sidibe's memoir hits hard with self-knowing dispatches on friendship, depression, celebrity, haters, fashion, race, and weight ("If I could just get the world to see me the way I see myself," she writes, "would my body still be a thing you walked away thinking about?"). Irreverent, hilarious, and untraditional, This Is Just My Face takes its place and fills a void on the shelf of writers from Mindy Kaling to David Sedaris to Lena Dunham.
A new collection from David Sedaris is cause for jubilation. His recent move to Paris has inspired hilarious pieces, including Me Talk Pretty One Day, about his attempts to learn French. His family is another inspiration. 'You Cant Kill the Rooster' is a portrait of his brother who talks incessant hip-hop slang to his bewildered father. And no one hones a finer fury in response to such modern annoyances as restaurant meals presented in ludicrous towers and cashiers with 6-inch fingernails. Compared by The New Yorker to Twain and Hawthorne, Sedaris has become one of our best-loved authors.
With her disarming, intimate, completely accessible voice, and dry sense of humor, Nora Ephron shares with us her ups and downs in I Feel Bad About My Neck, a candid, hilarious look at women who are getting older and dealing with the tribulations of maintenance, menopause, empty nests, and life itself.
In One Day We'll All Be Dead and None of This Will Matter, Scaachi Koul deploys her razor-sharp humor to share all the fears, outrages, and mortifying moments of her life. She learned from an early age what made her miserable, and for Scaachi anything can be cause for despair. Whether it's a shopping trip gone awry; enduring awkward conversations with her bikini waxer; overcoming her fear of flying while vacationing halfway around the world; dealing with Internet trolls, or navigating the fears and anxieties of her parents. Alongside these personal stories are pointed observations about life as a woman of color: where every aspect of her appearance is open for critique, derision, or outright scorn; where strict gender rules bind in both Western and Indian cultures, leaving little room for a woman not solely focused on marriage and children to have a career (and a life) for herself.
With a sharp eye and biting wit, incomparable rising star and cultural observer Scaachi Koul offers a hilarious, scathing, and honest look at modern life.
The bestselling and "perennially hilarious" mother-daughter team is back with a new collection of stories from their real lives, guaranteed to make you laugh out loud. Join Lisa and Francesca as they regret drunk-shopping online, try smell-dating, and explore the freedom of a hiatus from men — a Guyatus. They offer a fresh and funny take on the triumphs and facepalm moments of modern life, showing that when it comes to navigating the crazy world we live in, you're always your own best lifeguard.
In a suburb outside Cleveland, a community of Indian Americans has settled into lives that straddle the divide between Eastern and Western cultures. For some, America is a bewildering and alienating place where coworkers can't pronounce your name but will eagerly repeat the Sanskrit phrases from their yoga class. Harit, a lonely Indian immigrant in his midforties, lives with his mother who can no longer function after the death of Harit's sister, Swati. In a misguided attempt to keep both himself and his mother sane, Harit has taken to dressing up in a sari every night to pass himself off as his sister. Meanwhile, Ranjana, also an Indian immigrant in her midforties, has just seen her only child, Prashant, off to college. Worried that her husband has begun an affair, she seeks solace by writing paranormal romances in secret. When Harit and Ranjana's paths cross, they begin a strange yet necessary friendship that brings to light their own passions and fears.
Reminiscent of Angela Flournoy's The Turner House, Ayad Akhtar's American Dervish, and Jade Chang's The Wangs vs. the World, No One Can Pronounce My Name is a distinctive, funny, and insightful look into the lives of people who must reconcile the strictures of their culture and traditions with their own dreams and desires.
Since their children left home, Ruth, Dania, and Bess have grown used to living wonderfully free lives. Only now they're beset by children again ― this time, their grandchildren. In order to escape, they decide to run away to Greece together for a year.
At first, settled on a glorious island, barefoot and contented, they think they've rediscovered the wheel. But then things begin to go awry. Dionysus, a local poet, takes up with Bess, at least until his wife gets wind of things. Dania, a therapist, is being stalked by one of her patients. And Ruth's ex-lover turns up out of the blue, closely followed by the man who lost Bess her fortune. It doesn't help when the children and grandchildren also start turning up whenever they feel like it. As Bess writes in one of Ruth's weekly "Granny à Go Go" columns, this is not an Enchanted April sort of year.
Lynn Freed's previous novels have received rave reviews everywhere from The New York Times Book Review ("Makes us laugh while packing, finally, a punch"), to the Los Angeles Times Book Review ("Deeply absorbing and ambitious… Astonishingly vivid"). In The Last Laugh she returns with a beautifully written and funny novel about money, sex, friendship, and the pleasures and perils of children.
From filmmaker and New Yorker contributor Susanna Fogel comes a comedic novel about a fractured family of New England Jews and their discontents, over the course of three decades. Told entirely in letters to a heroine we never meet, we get to know the Fellers through their check-ins with Julie: their thank-you notes, letters of condolence, family gossip, and good old-fashioned familial passive-aggression.
Together, their missives — some sardonic, others absurd, others heartbreaking — weave a tapestry of a very modern family trying (and often failing) to show one another they care.
The titular Nuclear Family includes, among many others:
A narcissistic former-child-prodigy father who has taken up haiku writing in his old age and his new wife, a traditional Chinese woman whose attempts to help her stepdaughter find a man include FedExing her silk gowns from Filene's Basement.
Their six-year-old son, Stuart, whose favorite condiment is truffle oil and who wears suits to bed.
Julie's mother, a psychologist who never remarried but may be in love with her arrogant Rabbi and overshares about everything, including the threesome she had with Dutch grad students in 1972.
Debut author Sally Thorne bursts on the scene with a hilarious and sexy workplace comedy all about that thin, fine line between hate and love.
Nemesis (n.) 1) An opponent or rival whom a person cannot best or overcome.
                       2) A person's undoing
                       3) Joshua Templeman
Lucy Hutton and Joshua Templeman hate each other. Not dislike. Not begrudgingly tolerate. Hate. And they have no problem displaying their feelings through a series of ritualistic passive aggressive maneuvers as they sit across from each other, executive assistants to co-CEOs of a publishing company. Lucy can't understand Joshua's joyless, uptight, meticulous approach to his job. Joshua is clearly baffled by Lucy's overly bright clothes, quirkiness, and Pollyanna attitude.
Now up for the same promotion, their battle of wills has come to a head, and Lucy refuses to back down when their latest game could cost her her dream job… But the tension between Lucy and Joshua has also reached its boiling point, and Lucy is discovering that maybe she doesn't hate Joshua. And maybe, he doesn't hate her either. Or maybe this is just another game.
The Wangs vs. the World is an outrageously funny tale about a wealthy Chinese-American family that "loses it all, then takes a healing, uproarious road trip across the United States" (Entertainment Weekly). Their spectacular fall from riches to rags brings the Wangs together in a way money never could. It's an epic family saga and an entirely fresh look at what it means to belong in America.
The new novel from the New York Times bestselling author of The Descendants — a hilarious and charming story about a quirky single mom in San Francisco who tiptoes through the minefields of the "Mommy Wars" and manages to find friendship and love.
When Mele Bart told her boyfriend Bobby she was pregnant with his child, he stunned her with an announcement of his own: He was engaged to someone else.
Fast forward two years, Mele's daughter is a toddler, and Bobby and his fiancée want Ellie to be the flower girl at their wedding. Mele, who also has agreed to attend the nuptials, knows she can't continue obsessing about Bobby and his cheese-making, Napa-residing fiancée. She needs something to do. So she answers a questionnaire provided by the San Francisco Mommy Club in elaborate and shocking detail and decides to enter their cookbook writing contest. Even though she joined the group out of desperation, Mele has found her people: Annie, Barrett, Georgia, and Henry (a stay-at-home dad). As the wedding date approaches, Mele uses her friends' stories to inspire recipes and find comfort, both.
How to Party with an Infant is a hilarious and poignant novel from Kaui Hart Hemmings, who has an uncanny ability to make disastrous romances and tragic circumstances not only relatable and funny, but unforgettable.
The bestselling author of Fried Green Tomatoes at the Whistle Stop Cafe is at her superb best in this fun-loving, moving novel about what it means to be truly alive.
Elmwood Springs, Missouri, is a small town like any other, but something strange is happening at the cemetery. Still Meadows, as it's called, is anything but still. Original, profound, The Whole Town's Talking, a novel in the tradition of Thornton Wilder's Our Town and Flagg's own Can't Wait to Get to Heaven, tells the story of Lordor Nordstrom, his Swedish mail-order bride, Katrina, and their neighbors and descendants as they live, love, die, and carry on in mysterious and surprising ways.
Lordor Nordstrom created, in his wisdom, not only a lively town and a prosperous legacy for himself but also a beautiful final resting place for his family, friends, and neighbors yet to come. "Resting place" turns out to be a bit of a misnomer, however. Odd things begin to happen, and it starts the whole town talking.
With her wild imagination, great storytelling, and deep understanding of folly and the human heart, the beloved Fannie Flagg tells an unforgettable story of life, afterlife, and the remarkable goings-on of ordinary people. In The Whole Town's Talking, she reminds us that community is vital, life is a gift, and love never dies.
What books would you add to the list? Share in the comments!
Want access to free & bargain ebooks? Sign up for BookBub here.
Comments