Though the preceding decade may get all the attention, the 30s are an equally pivotal time of life, marked by big life changes and continued self-discovery. We've rounded up a list of great books to read in your 30s, from inspiring nonfiction to classics worth checking off your bucket list. Publishers' descriptions included below.
Nonfiction
Gretchen Rubin had an epiphany one rainy afternoon in the unlikeliest of places: a city bus. "The days are long, but the years are short," she realized. "Time is passing, and I'm not focusing enough on the things that really matter." In that moment, she decided to dedicate a year to her happiness project.
In this lively and compelling account — now updated with new material by the author — Rubin chronicles her adventures during the 12 months she spent test-driving the wisdom of the ages, current scientific research, and lessons from popular culture about how to be happier. Among other things, she found that novelty and challenge are powerful sources of happiness; that money can help buy happiness, when spent wisely; that outer order contributes to inner calm; and that the very smallest of changes can make the biggest difference.
At the age of 36, on the verge of completing a decade's worth of training as a neurosurgeon, Paul Kalanithi was diagnosed with stage IV lung cancer. One day he was a doctor treating the dying, and the next he was a patient struggling to live. And just like that, the future he and his wife had imagined evaporated. When Breath Becomes Air chronicles Kalanithi's transformation from a naïve medical student "possessed," as he wrote, "by the question of what, given that all organisms die, makes a virtuous and meaningful life" into a neurosurgeon at Stanford working in the brain, the most critical place for human identity, and finally into a patient and new father confronting his own mortality.
What makes life worth living in the face of death? What do you do when the future, no longer a ladder toward your goals in life, flattens out into a perpetual present? What does it mean to have a child, to nurture a new life as another fades away? These are some of the questions Kalanithi wrestles with in this profoundly moving, exquisitely observed memoir.
Paul Kalanithi died in March 2015, while working on this book, yet his words live on as a guide and a gift to us all. "I began to realize that coming face to face with my own mortality, in a sense, had changed nothing and everything," he wrote. "Seven words from Samuel Beckett began to repeat in my head: 'I can't go on. I'll go on.'" When Breath Becomes Air is an unforgettable, life-affirming reflection on the challenge of facing death and on the relationship between doctor and patient, from a brilliant writer who became both.
Elizabeth Gilbert's Eat Pray Love touched the world and changed countless lives, inspiring and empowering millions of readers to search for their own best selves.
In her early 30s, Elizabeth Gilbert had everything a modern American woman was supposed to want — husband, country home, successful career — but instead of feeling happy and fulfilled, she was consumed by panic and confusion. This wise and rapturous book is the story of how she left behind all these outward marks of success, and set out to explore three different aspects of her nature, against the backdrop of three different cultures: pleasure in Italy, devotion in India, and on the Indonesian island of Bali, a balance between worldly enjoyment and divine transcendence.
Fragments of a Great Secret have been found in the oral traditions, in literature, in religions and philosophies throughout the centuries. For the first time, all the pieces of The Secret come together in an incredible revelation that will be life-transforming for all who experience it.
In this book, you'll learn how to use The Secret in every aspect of your life — money, health, relationships, happiness, and in every interaction you have in the world. You'll begin to understand the hidden, untapped power that's within you, and this revelation can bring joy to every aspect of your life.
The Secret contains wisdom from modern-day teachers — men and women who have used it to achieve health, wealth, and happiness. By applying the knowledge of The Secret, they bring to light compelling stories of eradicating disease, acquiring massive wealth, overcoming obstacles, and achieving what many would regard as impossible.
The first thing Sophia Amoruso sold online wasn't fashion — it was a stolen book. She spent her teens hitchhiking, committing petty theft, and dumpster diving. By 22, she had resigned herself to employment, but was still broke, directionless, and working a mediocre day job she'd taken for the health insurance.
It was there that Sophia decided to start selling vintage clothes on eBay. Eight years later, she is the founder, CEO, and creative director of Nasty Gal, a $100 million plus online fashion retailer with more than 350 employees. Sophia's never been a typical CEO, or a typical anything, and she's written #GIRLBOSS for outsiders (and insiders) seeking a unique path to success, even when that path is winding as all hell and lined with naysayers.
#GIRLBOSS includes Sophia's story, yet is infinitely bigger than Sophia. It's deeply personal yet universal. Filled with brazen wake-up calls ("You are not a special snowflake"), cunning and frank observations ("Failure is your invention"), and behind-the-scenes stories from Nasty Gal's meteoric rise, #GIRLBOSS covers a lot of ground. It proves that being successful isn't about how popular you were in high school or where you went to college (if you went to college). Rather, success is about trusting your instincts and following your gut, knowing which rules to follow and which to break.
A #GIRLBOSS takes her life seriously without taking herself too seriously. She takes chances and takes responsibility on her own terms. She knows when to throw punches and when to roll with them. When to button up and when to let her freak flag fly.
As Sophia writes, "I have three pieces of advice I want you to remember: Don't ever grow up. Don't become a bore. Don't let The Man get to you. OK? Cool. Then let's do this."
From one of America's iconic writers, a stunning book of electric honesty and passion. Joan Didion explores an intensely personal yet universal experience: a portrait of a marriage — and a life, in good times and bad — that will speak to anyone who has ever loved a husband or wife or child.
Several days before Christmas 2003, John Gregory Dunne and Joan Didion saw their only daughter, Quintana, fall ill with what seemed at first flu, then pneumonia, then complete septic shock. She was put into an induced coma and placed on life support. Days later — the night before New Year's Eve — the Dunnes were just sitting down to dinner after visiting the hospital when John Gregory Dunne suffered a massive and fatal coronary. In a second, this close, symbiotic partnership of 40 years was over. Four weeks later, their daughter pulled through. Two months after that, arriving at LAX, she collapsed and underwent six hours of brain surgery at UCLA Medical Center to relieve a massive hematoma.
This powerful book is Didion's attempt to make sense of the "weeks and then months that cut loose any fixed idea I ever had about death, about illness… about marriage and children and memory… about the shallowness of sanity, about life itself."
Life can be hard: your lover cheats on you; you lose a family member; you can't pay the bills — and it can be great: you've had the hottest sex of your life; you get that plum job; you muster the courage to write your novel. Sugar — the once-anonymous online columnist at The Rumpus, now revealed as Cheryl Strayed, author of the bestselling memoir Wild — is the person thousands turn to for advice.
Tiny Beautiful Things brings the best of Dear Sugar in one place and includes never-before-published columns and a new introduction by Steve Almond.  Rich with humor, insight, compassion — and absolute honesty — this book is a balm for everything life throws our way.
In this poignant, hilarious and deeply intimate call to arms, Hollywood's most powerful woman, the mega-talented creator of Grey's Anatomy and Scandal and executive producer of How to Get Away with Murder, reveals how saying YES changed her life — and how it can change yours too.
With three hit shows on television and three children at home, Shonda Rhimes had lots of good reasons to say no when invitations arrived. Hollywood party? No. Speaking engagement? No. Media appearances? No.
And to an introvert like Shonda, who describes herself as 'hugging the walls' at social events and experiencing panic attacks before press interviews, there was a particular benefit to saying no: nothing new to fear.
Then came Thanksgiving 2013, when Shonda's sister Delorse muttered six little words at her: You never say yes to anything.
Profound, impassioned and laugh-out-loud funny, in Year of Yes Shonda Rhimes reveals how saying YES changed — and saved — her life. And inspires readers everywhere to change their own lives with one little word: Yes.
Based on the hugely popular website, ScaryMommy.com, Confessions of a Scary Mommy digs deep into the underbelly of parenting and tackles the issues many mothers are too afraid to expose.
As Jill says, "We like to paint motherhood as picture perfect. A newborn peacefully resting on his mother's chest. A toddler taking tentative first steps into his mother's loving arms. A mother fluffing her daughter's prom dress. These moments are indeed miraculous and joyful; they can also be few and far between." Of course you adore your kids. Of course you would lay down your life for them. But be honest now: Have you ever wondered what possessed you to sign up for the job of motherhood?
STOP! DO NOT OPEN THIS BOOK UNTIL YOU RECITE THESE VOWS!
I shall remember that no mother is perfect and my children will thrive because, and sometimes even in spite, of me.
I shall not preach to a fellow mother who has not asked my opinion. It's none of my damn business.
I shall maintain a sense of humor about all things motherhood.
"We cannot change the cards we are dealt, just how we play the hand." — Randy Pausch
A lot of professors give talks titled "The Last Lecture." Professors are asked to consider their demise and to ruminate on what matters most to them. And while they speak, audiences can't help but mull the same question: What wisdom would we impart to the world if we knew it was our last chance? If we had to vanish tomorrow, what would we want as our legacy?
When Randy Pausch, a computer science professor at Carnegie Mellon, was asked to give such a lecture, he didn't have to imagine it as his last, since he had recently been diagnosed with terminal cancer. But the lecture he gave — "Really Achieving Your Childhood Dreams" — wasn't about dying. It was about the importance of overcoming obstacles, of enabling the dreams of others, of seizing every moment (because "time is all you have… and you may find one day that you have less than you think"). It was a summation of everything Randy had come to believe. It was about living.
In this book, Randy Pausch has combined the humor, inspiration, and intelligence that made his lecture such a phenomenon and given it an indelible form. It is a book that will be shared for generations to come.
Maybe it was a grandparent, or a teacher, or a colleague. Someone older, patient and wise, who understood you when you were young and searching, helped you see the world as a more profound place, gave you sound advice to help you make your way through it.
For Mitch Albom, that person was Morrie Schwartz, his college professor from nearly 20 years ago.
Maybe, like Mitch, you lost track of this mentor as you made your way, and the insights faded, and the world seemed colder. Wouldn't you like to see that person again, ask the bigger questions that still haunt you, receive wisdom for your busy life today the way you once did when you were younger?
Mitch Albom had that second chance. He rediscovered Morrie in the last months of the older man's life. Knowing he was dying, Morrie visited with Mitch in his study every Tuesday, just as they used to back in college. Their rekindled relationship turned into one final "class": lessons in how to live.
Tuesdays with Morrie is a magical chronicle of their time together, through which Mitch shares Morrie's lasting gift with the world.
Contemporary Fiction
Freedom by Jonathan Franzen
Patty and Walter Berglund were the new pioneers of old St. Paul ― the gentrifiers, the hands-on parents, the avant-garde of the Whole Foods generation. Patty was the ideal sort of neighbor, who could tell you where to recycle your batteries and how to get the local cops to actually do their job. She was an enviably perfect mother and the wife of Walter's dreams. Together with Walter ― environmental lawyer, commuter cyclist, total family man ― she was doing her small part to build a better world.
But now, in the new millennium, the Berglunds have become a mystery. Why has their teenage son moved in with the aggressively Republican family next door? Why has Walter taken a job working with Big Coal? What exactly is Richard Katz ― outré rocker and Walter's college best friend and rival ― still doing in the picture? Most of all, what has happened to Patty? Why has the bright star of Barrier Street become "a very different kind of neighbor," an implacable Fury coming unhinged before the street's attentive eyes?
In his first novel since The Corrections, Jonathan Franzen has given us an epic of contemporary love and marriage. Freedom comically and tragically captures the temptations and burdens of liberty: the thrills of teenage lust, the shaken compromises of middle age, the wages of suburban sprawl, the heavy weight of empire. In charting the mistakes and joys of Freedom's characters as they struggle to learn how to live in an ever more confusing world, Franzen has produced an indelible and deeply moving portrait of our time.
Meet Ove. He's a curmudgeon — the kind of man who points at people he dislikes as if they were burglars caught outside his bedroom window. He has staunch principles, strict routines, and a short fuse. People call him "the bitter neighbor from hell." But must Ove be bitter just because he doesn't walk around with a smile plastered to his face all the time?
Behind the cranky exterior there is a story and a sadness. So when one November morning a chatty young couple with two chatty young daughters move in next door and accidentally flatten Ove's mailbox, it is the lead-in to a comical and heartwarming tale of unkempt cats, unexpected friendship, and the ancient art of backing up a U-Haul. All of which will change one cranky old man and a local residents' association to their very foundations.
A feel-good story in the spirit of The Unlikely Pilgrimage of Harold Fry and Major Pettigrew's Last Stand, Fredrik Backman's novel about the angry old man next door is a thoughtful exploration of the profound impact one life has on countless others.
Americanah by Chimamanda Ngozi Adichie
A powerful, tender story of race and identity by Chimamanda Ngozi Adichie, the award-winning author of Half of a Yellow Sun.
Ifemelu and Obinze are young and in love when they depart military-ruled Nigeria for the West. Beautiful, self-assured Ifemelu heads for America, where despite her academic success, she is forced to grapple with what it means to be black for the first time. Quiet, thoughtful Obinze had hoped to join her, but with post-9/11 America closed to him, he instead plunges into a dangerous, undocumented life in London. Fifteen years later, they reunite in a newly democratic Nigeria, and reignite their passion — for each other and for their homeland.
A postmodern visionary and one of the leading voices in 21st-century fiction, David Mitchell combines flat-out adventure, a Nabokovian love of puzzles, a keen eye for character, and a taste for mind-bending, philosophical, and scientific speculation in the tradition of Umberto Eco, Haruki Murakami, and Philip K. Dick. The result is brilliantly original fiction as profound as it is playful. In this groundbreaking novel, an influential favorite among a new generation of writers, Mitchell explores with daring artistry fundamental questions of reality and identity.
Cloud Atlas begins in 1850 with Adam Ewing, an American notary voyaging from the Chatham Isles to his home in California. Along the way, Ewing is befriended by a physician, Dr. Goose, who begins to treat him for a rare species of brain parasite… Abruptly, the action jumps to Belgium in 1931, where Robert Frobisher, a disinherited bisexual composer, contrives his way into the household of an infirm maestro who has a beguiling wife and a nubile daughter… From there we jump to the West Coast in the 1970s and a troubled reporter named Luisa Rey, who stumbles upon a web of corporate greed and murder that threatens to claim her life… And onward, with dazzling virtuosity, to an inglorious present-day England; to a Korean superstate of the near future where neo-capitalism has run amok; and, finally, to a post-apocalyptic Iron Age Hawaii in the last days of history.
But the story doesn't end even there. The narrative then boomerangs back through centuries and space, returning by the same route, in reverse, to its starting point. Along the way, Mitchell reveals how his disparate characters connect, how their fates intertwine, and how their souls drift across time like clouds across the sky.
As wild as a video game, as mysterious as a Zen koan, Cloud Atlas is an unforgettable tour de force that, like its incomparable author, has transcended its cult classic status to become a worldwide phenomenon.
A biting satire about a young man's isolated upbringing and the race trial that sends him to the Supreme Court, Paul Beatty's The Sellout showcases a comic genius at the top of his game. It challenges the sacred tenets of the United States Constitution, urban life, the civil rights movement, the father-son relationship, and the holy grail of racial equality — the black Chinese restaurant. Born in the "agrarian ghetto" of Dickens — on the southern outskirts of Los Angeles — the narrator of The Sellout resigns himself to the fate of lower-middle-class Californians: "I'd die in the same bedroom I'd grown up in, looking up at the cracks in the stucco ceiling that've been there since '68 quake." Raised by a single father, a controversial sociologist, he spent his childhood as the subject in racially charged psychological studies. He is led to believe that his father's pioneering work will result in a memoir that will solve his family's financial woes. But when his father is killed in a police shoot-out, he realizes there never was a memoir. All that's left is the bill for a drive-thru funeral. Fueled by this deceit and the general disrepair of his hometown, the narrator sets out to right another wrong: Dickens has literally been removed from the map to save California from further embarrassment. Enlisting the help of the town's most famous resident — the last surviving Little Rascal, Hominy Jenkins — he initiates the most outrageous action conceivable: reinstating slavery and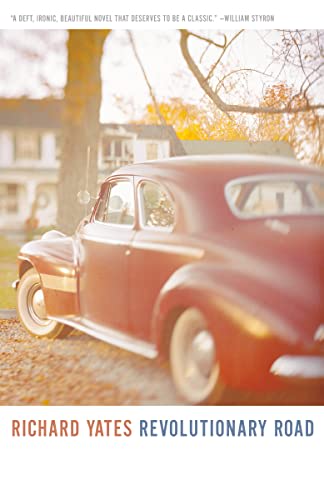 In the hopeful 1950s, Frank and April Wheeler appear to be a model couple: Bright, beautiful, talented, with two young children and a starter home in the suburbs. Perhaps they married too young and started a family too early. Maybe Frank's job is dull. And April never saw herself as a housewife. Yet they have always lived on the assumption that greatness is only just around the corner. But now that certainty is about to crumble.With heartbreaking compassion and remorseless clarity, Richard Yates shows how Frank and April mortgage their spiritual birthright, betraying not only each other, but their best selves.
Audrey Niffenegger's innovative debut, The Time Traveler's Wife, is the story of Clare, a beautiful art student, and Henry, an adventuresome librarian, who have known each other since Clare was six and Henry was 36, and were married when Clare was 23 and Henry 31. Impossible but true, because Henry is one of the first people diagnosed with Chrono-Displacement Disorder: periodically his genetic clock resets and he finds himself misplaced in time, pulled to moments of emotional gravity in his life, past and future. His disappearances are spontaneous, his experiences unpredictable, alternately harrowing and amusing.
The Time Traveler's Wife depicts the effects of time travel on Henry and Clare's marriage and their passionate love for each other as the story unfolds from both points of view. Clare and Henry attempt to live normal lives, pursuing familiar goals — steady jobs, good friends, children of their own. All of this is threatened by something they can neither prevent nor control, making their story intensely moving and entirely unforgettable.
When four classmates from a small Massachusetts college move to New York to make their way, they're broke, adrift, and buoyed only by their friendship and ambition. There is kind, handsome Willem, an aspiring actor; JB, a quick-witted, sometimes cruel Brooklyn-born painter seeking entry to the art world; Malcolm, a frustrated architect at a prominent firm; and withdrawn, brilliant, enigmatic Jude, who serves as their center of gravity. Over the decades, their relationships deepen and darken, tinged by addiction, success, and pride. Yet their greatest challenge, each comes to realize, is Jude himself, by midlife a terrifyingly talented litigator yet an increasingly broken man, his mind and body scarred by an unspeakable childhood, and haunted by what he fears is a degree of trauma that he'll not only be unable to overcome — but that will define his life forever.
In rich and resplendent prose, Yanagihara has fashioned a tragic and transcendent hymn to brotherly love, a masterful depiction of heartbreak, and a dark examination of the tyranny of memory and the limits of human endurance.
Bernadette Fox is notorious. To her Microsoft-guru husband, she's a fearlessly opinionated partner; to fellow private-school mothers in Seattle, she's a disgrace; to design mavens, she's a revolutionary architect; and to 15-year-old Bee, she is a best friend and, simply, Mom. Then Bernadette disappears. It began when Bee aced her report card and claimed her promised reward: a family trip to Antarctica. But Bernadette's intensifying allergy to Seattle — and people in general — has made her so agoraphobic that a virtual assistant in India now runs her most basic errands. A trip to the end of the earth is problematic. To find her mother, Bee compiles email messages, official documents, secret correspondence — creating a compulsively readable and touching novel about misplaced genius and a mother and daughter's role in an absurd world.
From New York Times bestselling author and neuroscientist Lisa Genova comes the definitive — and illuminating — novel about Alzheimer's disease.
Alice Howland is proud of the life she worked so hard to build. At 50 years old, she's a cognitive psychology professor at Harvard and a world-renowned expert in linguistics with a successful husband and three grown children. When she becomes increasingly disoriented and forgetful, a tragic diagnosis changes her life — and her relationship with her family and the world — forever. As she struggles to cope with Alzheimer's, she learns that her worth is comprised of far more than her ability to remember.
At once beautiful and terrifying, Still Alice is a moving and vivid depiction of life with early-onset Alzheimer's disease that is as compelling as A Beautiful Mind and as unforgettable as Ordinary People.
Bridget Jones's Diary is the devastatingly self-aware, laugh-out-loud account of a year in the life of a thirty-something Singleton on a permanent doomed quest for self-improvement. Caught between the joys of Singleton fun, and the fear of dying alone and being found three weeks later half eaten by an Alsatian; tortured by Smug Married friends asking, "How's your love life?" with lascivious, yet patronizing leers, Bridget resolves to: reduce the circumference of each thigh by 1.5 inches, visit the gym three times a week not just to buy a sandwich, form a functional relationship with a responsible adult and learn to program the VCR. With a blend of flighty charm, existential gloom, and endearing self-deprecation, Bridget Jones's Diary has touched a raw nerve with millions of readers the world round. Read it and laugh — before you cry, "Bridget Jones is me!"
Classics
The Handmaid's Tale is not only a radical and brilliant departure for Margaret Atwood, it is a novel of such power that the reader will be unable to forget its images and its forecast. Set in the near future, it describes life in what was once the United States, now called the Republic of Gilead, a monotheocracy that has reacted to social unrest and a sharply declining birthrate by reverting to, and going beyond, the repressive intolerance of the original Puritans. The regime takes the Book of Genesis absolutely at its word, with bizarre consequences for the women and men of its population.
The story is told through the eyes of Offred, one of the unfortunate Handmaids under the new social order. In condensed but eloquent prose, by turns cool-eyed, tender, despairing, passionate, and wry, she reveals to us the dark corners behind the establishment's calm facade, as certain tendencies now in existence are carried to their logical conclusions. The Handmaid's Tale is funny, unexpected, horrifying, and altogether convincing. It is at once scathing satire, dire warning, and tour de force. It is Margaret Atwood at her best.
In their youth, Florentino Ariza and Fermina Daza fall passionately in love. When Fermina eventually chooses to marry a wealthy, well-born doctor, Florentino is devastated, but he is a romantic. As he rises in his business career he whiles away the years in 622 affairs — yet he reserves his heart for Fermina. Her husband dies at last, and Florentino purposefully attends the funeral. Fifty years, nine months, and four days after he first declared his love for Fermina, he will do so again.
Raised among New York's high society, Lily Bart is beautiful, charming, and entirely without means. Determined to maintain the extravagant lifestyle to which she is accustomed, Lily embarks on a mission to marry a wealthy man who can secure her station. However, the businesslike proposals from her many suitors remain fruitless, and her thoughts keep returning to the one man she truly loves. Bedeviled by debt, betrayal, and vicious gossip, she is forced to confront the tragic cruelty just beneath the surface of the Gilded Age.
First appearing in Scribner's Magazine as a monthly serial, The House of Mirth was a runaway bestseller upon its release as a full-length novel in 1905. Hailed as "a fireworks display of brilliantly sardonic social satire deepened by a story of thwarted love" by the Wall Street Journal, it was the first popular and critical success for Edith Wharton, who went on to become the first female author to win the Pulitzer Prize. Since its initial publication, The House of Mirth has been adapted into two feature films and continues to captivate modern readers.
I am doomed to remember a boy with a wrecked voice — not because of his voice, or because he was the smallest person I ever knew, or even because he was the instrument of my mother's death, but because he is the reason I believe in God; I am a Christian because of Owen Meany.
In the summer of 1953, two 11-year-old boys — best friends — are playing in a Little League baseball game in Gravesend, New Hampshire. One of the boys hits a foul ball that kills the other boy's mother. The boy who hits the ball doesn't believe in accidents; Owen Meany believes he is God's instrument. What happens to Owen after that 1953 foul ball is extraordinary.
In his journal, Nobel Prize winner John Steinbeck called East of Eden "the first book," and indeed it has the primordial power and simplicity of myth. Set in the rich farmland of California's Salinas Valley, this sprawling and often brutal novel follows the intertwined destinies of two families — the Trasks and the Hamiltons — whose generations helplessly reenact the fall of Adam and Eve and the poisonous rivalry of Cain and Abel.
The masterpiece of Steinbeck's later years, East of Eden is a work in which Steinbeck created his most mesmerizing characters and explored his most enduring themes: the mystery of identity, the inexplicability of love, and the murderous consequences of love's absence. Adapted for the 1955 film directed by Elia Kazan introducing James Dean, and read by thousands as the book that brought Oprah's Book Club back, East of Eden has remained vitally present in American culture for over half a century.
This is the story of a man who said that he would stop the motor of the world — and did. Was he a destroyer or the greatest of liberators? Why did he have to fight his battle, not against his enemies, but against those who needed him most, and his hardest battle against the woman he loved? What is the world's motor — and the motive power of every man? You will know the answer to these questions when you discover the reason behind the baffling events that play havoc with the lives of the characters in this story. Tremendous in its scope, this novel presents an astounding panorama of human life — from the productive genius who becomes a worthless playboy — to the great steel industrialist who does not know that he is working for his own destruction — to the philosopher who becomes a pirate — to the composer who gives up his career on the night of his triumph — to the woman who runs a transcontinental railroad — to the lowest track worker in her Terminal tunnels. You must be prepared, when you read this novel, to check every premise at the root of your convictions. This is a mystery story, not about the murder — and rebirth — of man's spirit. It is a philosophical revolution, told in the form of an action thriller of violent events, a ruthlessly brilliant plot structure and an irresistible suspense. Do you say this is impossible? Well, that is the first of your premises to check.
Described by William Faulkner as the best novel ever written and by Fyodor Dostoevsky as "flawless," Anna Karenina tells of the doomed love affair between the sensuous and rebellious Anna and the dashing officer, Count Vronsky. Tragedy unfolds as Anna rejects her passionless marriage and thereby exposes herself to the hypocrisies of society. Set against a vast and richly textured canvas of 19th-century Russia, the novel's seven major characters create a dynamic imbalance, playing out the contrasts of city and country life and all the variations on love and family happiness.
Jane Eyre by Charlotte Brontë
Charlotte Brontë's enduring classic — the story of a young woman's quest for love and acceptance in Victorian England.
The young orphan Jane Eyre inhabits a fragile position. Born to a good family but with no wealth of her own, Jane is sent to live with her uncle's family — an arrangement that turns sour when he dies — and then to Lowood, a punitive and tyrannically run boarding school for girls. As she matures into adulthood, Jane's fiery spirit and independence grow more acute, as does her sensitivity to the world around her. Now governess of the secluded Thornfield Hall, the first place she has ever really felt at home, Jane falls in love with the passionate and impulsive Edward Rochester, master of the house. Just when it seems her luck has finally changed, Jane discovers the secret of the attic — a terrible revelation that threatens to destroy her dreams of happiness forever.
Narrated in the unforgettable voice of its remarkable heroine, Jane Eyre is a timeless tale of heartbreak, mystery, and romance that shines a brilliant light into the dark corners of Victorian society.
Which of these books do you recommend? Share in the comments!
Want access to free & bargain ebooks? Sign up for BookBub here.
Comments