With spring comes rejuvenation — and new books! This season was packed with great releases, as many talented new authors made their mark on the literary scene. We've rounded up some of the most exciting debut novels to hit shelves this spring. Publishers' descriptions included below.
Violet and Finn were "meant to be," said everyone, always. They ended up together by the hands of fate aligning things just so. Three years into their marriage, they have a wonderful little boy, and as the three of them embark on their first vacation as a family, Violet can't help thinking that she can't believe her luck. Life is good.
So no one is more surprised than she when Finn leaves her at the beach — just packs up the hotel room and disappears. And takes their son with him. Violet is suddenly in her own worst nightmare, and faced with the knowledge that the man she's shared her life with, she never really knew at all.
Caitlin and Finn have been best friends since way back when, but when Finn shows up on Caitlin's doorstep with the son he's wanted for kidnapping, demands that she hide them from the authorities, and threatens to reveal a secret that could destroy her own family if she doesn't, Caitlin faces an impossible choice.
Told through alternating viewpoints of Violet, Finn and Caitlin, Jessica Strawser's Almost Missed You is a powerful story of a mother's love, a husband's betrayal, connections that maybe should have been missed, secrets that perhaps shouldn't have been kept, and spaces between what's meant to be and what might have been
She's your best friend.
She knows all your secrets.
That's why she's so dangerous.
A single mother's life is turned upside down when her best friend vanishes in this chilling debut thriller in the vein of Gone Girl and The Girl on the Train.
It starts with a simple favor — an ordinary kindness mothers do for one another. When her best friend, Emily, asks Stephanie to pick up her son Nicky after school, she happily says yes. Nicky and her son, Miles, are classmates and best friends, and the five-year-olds love being together — just like she and Emily. A widow and stay-at-home mommy blogger living in woodsy suburban Connecticut, Stephanie was lonely until she met Emily, a sophisticated PR executive whose job in Manhattan demands so much of her time.
But Emily doesn't come back. She doesn't answer calls or return texts. Stephanie knows something is terribly wrong — Emily would never leave Nicky, no matter what the police say. Terrified, she reaches out to her blog readers for help. She also reaches out to Emily's husband, the handsome, reticent Sean, offering emotional support. It's the least she can do for her best friend. Then, she and Sean receive shocking news. Emily is dead. The nightmare of her disappearance is over.
Or is it? Because soon, Stephanie will begin to see that nothing — not friendship, love, or even an ordinary favor — is as simple as it seems.
A Simple Favor is a remarkable tale of psychological suspense — a clever and twisting free-fall of a ride filled with betrayals and reversals, twists and turns, secrets and revelations, love and loyalty, murder and revenge. Darcey Bell masterfully ratchets up the tension in a taut, unsettling, and completely absorbing story that holds you in its grip until the final page.
Twelve-year-old Elvis Babbitt has a head for the facts: She knows science proves yellow is the happiest color, she knows a healthy male giraffe weighs about 3,000 pounds, and she knows that the naked mole rat is the longest living rodent. She knows she should plan to grieve her mother, who has recently drowned while sleepwalking, for exactly 18 months. But there are things Elvis doesn't yet know — like how to keep her sister Lizzie from poisoning herself while sleep-eating or why her father has started wearing her mother's silk bathrobe around the house. Elvis investigates the strange circumstances of her mother's death and finds comfort, if not answers, in the people (and animals) of Freedom, Alabama. As hilarious a storyteller as she is heartbreakingly honest, Elvis is a truly original voice in this exploration of grief, family, and the endurance of humor after loss.
Ragdoll by Daniel Cole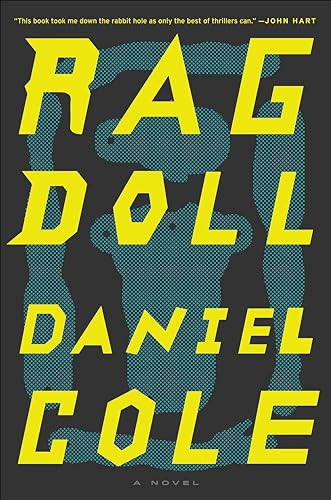 William Fawkes, a controversial detective known as The Wolf, has just been reinstated to his post after he was suspended for assaulting a vindicated suspect. Still under psychological evaluation, Fawkes returns to the force eager for a big case. When his former partner and friend, Detective Emily Baxter, calls him to a crime scene, he's sure this is it: the body is made of the dismembered parts of six victims, sewn together like a puppet — a corpse that becomes known as "The Ragdoll."
Fawkes is tasked with identifying the six victims, but that gets dicey when his reporter ex-wife anonymously receives photographs from the crime scene, along with a list of six names, and the dates on which the Ragdoll Killer plans to murder them.
The final name on the list is Fawkes.
Baxter and her trainee partner, Alex Edmunds, hone in on figuring out what links the victims together before the killer strikes again. But for Fawkes, seeing his name on the list sparks a dark memory, and he fears that the catalyst for these killings has more to do with him — and his past — than anyone realizes.
With a breakneck pace, a twisty plot, and a wicked sense of humor, Ragdoll announces the arrival of the hottest new brand in crime fiction.
An audacious and powerful debut novel: a second American Civil War, a devastating plague, and one family caught deep in the middle — a story that asks what might happen if America were to turn its most devastating policies and deadly weapons upon itself.
Sarat Chestnut, born in Louisiana, is only six when the Second American Civil War breaks out in 2074. But even she knows that oil is outlawed, that Louisiana is half underwater, and that unmanned drones fill the sky. When her father is killed and her family is forced into Camp Patience for displaced persons, she begins to grow up shaped by her particular time and place. But not everyone at Camp Patience is who they claim to be. Eventually Sarat is befriended by a mysterious functionary, under whose influence she is turned into a deadly instrument of war. The decisions that she makes will have tremendous consequences not just for Sarat but for her family and her country, rippling through generations of strangers and kin alike.
The Great Gatsby brilliantly recast in the contemporary South: A powerful first novel about an extended African-American family and their colliding visions of the American Dream.
JJ Ferguson has returned home to Pinewood, North Carolina to build his dream home and to woo his high school sweetheart, Ava. But he finds that the people he once knew and loved have changed, just as he has. Ava is now married, and wants a baby more than anything. The decline of the town's once-thriving furniture industry has made Ava's husband Henry grow distant and frustrated. Ava's mother Sylvia has put her own life on hold as she caters to and meddles with those around her, trying to fill the void left by her absent son. And Don, Sylvia's undeserving but charming husband, just won't stop hanging around.
JJ's newfound wealth forces everyone to consider what more they want and deserve from life than what they already have — and how they might go about getting it. Can they shape their lives to align with their wishes rather than their realities? Or are they resigned to the rhythms of the particular lives they lead? No One Is Coming to Save Us is a revelatory debut from an insightful voice that combines a universally resonant story with an intimate glimpse into the hearts of one family.
A richly textured coming-of-age story about fathers and sons, home and family, recalling classics by Thomas Wolfe and William Styron, by a powerful new voice in fiction
Just before Henry Aster's birth, his father — outsized literary ambition and pregnant wife in tow — reluctantly returns to the small Appalachian town in which he was raised and installs his young family in an immense house of iron and glass perched high on the side of a mountain. There, Henry grows up under the writing desk of this fiercely brilliant man. But when tragedy tips his father toward a fearsome unraveling, what was once a young son's reverence is poisoned and Henry flees, not to return until years later when he, too, must go home again.
Mythic in its sweep and mesmeric in its prose, The Barrowfields is a breathtaking debut about the darker side of devotion, the limits of forgiveness, and the reparative power of shared pasts.
From a remarkable new voice in fiction, Bethany Ball, comes a transporting debut; a hilarious multigenerational family saga set in Israel, New York, and Los Angeles that explores the secrets and gossip-filled lives of a kibbutz community near Jerusalem
Meet Marc Solomon, an Israeli ex-Navy commando now living in L.A., who is falsely accused of money laundering through his asset management firm. As the Solomons' Santa Monica home is raided, Marc's American wife, Carolyn — concealing her own dark past — makes hopeless attempts to hold their family of five together. But news of the scandal makes its way from America to the rest of the Solomon clan on the kibbutz in the Jordan River Valley. There we encounter various members of the family and the community — from Marc's self-absorbed movie actress sister, Shira, and her forgotten son Joseph; to his rich and powerful construction magnate father, Yakov; to his former star-crossed love, Maya; and his brother-in-law Guy Gever, a local ranger turned "artist." As the secrets and rumors of the kibbutz are revealed through various memories and tales, we witness the things that keep the Solomons together, and those that tear them apart.
Reminiscent of Nathan Englander's For the Relief of Unbearable Urges and Jennifer Egan's A Visit from the Goon Squad, and told with razor-sharp humor and elegant acuity, What to Do About the Solomons is an exhilarating first book from a bright new star in fiction.
Helen Moran is thirty-two years old, single, childless, college-educated, and partially employed as a guardian of troubled young people in New York. She's accepting a delivery from IKEA in her shared studio apartment when her uncle calls to break the news: Helen's adoptive brother is dead.
Helen knows what she must do, and purchases a one-way ticket to Milwaukee. There, as she searches her childhood home and attempts to uncover why someone would choose to die, she will face her estranged family, her brother's few friends, and the overzealous grief counselor Chad Lambo; she may also discover what it truly means to be alive.
A bleakly comic debut that's by turns poignant, uproariously funny, and unsettling, Sorry to Disrupt the Peace has shades of Bernhard, Beckett and Bowles — and it announces the singular voice of Patty Yumi Cottrell.
Patty Yumi Cottrell's work has appeared in BOMB, Gulf Coast, and Black Warrior Review, among other places. She lives in Los Angeles.
The year is 1995, and email is new. Selin, the daughter of Turkish immigrants, arrives for her freshman year at Harvard. She signs up for classes in subjects she has never heard of, befriends her charismatic and worldly Serbian classmate, Svetlana, and, almost by accident, begins corresponding with Ivan, an older mathematics student from Hungary. Selin may have barely spoken to Ivan, but with each email they exchange, the act of writing seems to take on new and increasingly mysterious meanings.
At the end of the school year, Ivan goes to Budapest for the summer, and Selin heads to the Hungarian countryside, to teach English in a program run by one of Ivan's friends. On the way, she spends two weeks visiting Paris with Svetlana. Selin's summer in Europe does not resonate with anything she has previously heard about the typical experiences of American college students, or indeed of any other kinds of people. For Selin, this is a journey further inside herself: a coming to grips with the ineffable and exhilarating confusion of first love, and with the growing consciousness that she is doomed to become a writer.
With superlative emotional and intellectual sensitivity, mordant wit, and pitch-perfect style, Batuman dramatizes the uncertainty of life on the cusp of adulthood. Her prose is a rare and inimitable combination of tenderness and wisdom; its logic as natural and inscrutable as that of memory itself. The Idiot is a heroic yet self-effacing reckoning with the terror and joy of becoming a person in a world that is as intoxicating as it is disquieting. Batuman's fiction is unguarded against both life's affronts and its beauty — and has at its command the complete range of thinking and feeling which they entail.
Marlena by Julie Buntin
An electric debut novel about love, addiction, and loss; the story of two girls and the feral year that will cost one her life, and define the other's for decades.
Everything about 15-year-old Cat's new town in rural Michigan is lonely and off-kilter, until she meets her neighbor, the manic, beautiful, pill-popping Marlena. Cat, inexperienced and desperate for connection, is quickly lured into Marlena's orbit by little more than an arched eyebrow and a shake of white-blond hair. As the two girls turn the untamed landscape of their desolate small town into a kind of playground, Cat catalogues a litany of firsts — first drink, first cigarette, first kiss — while Marlena's habits harden and calcify. Within the year, Marlena is dead, drowned in six inches of icy water in the woods nearby. Now, decades later, when a ghost from that pivotal year surfaces unexpectedly, Cat must try to forgive herself and move on, even as the memory of Marlena keeps her tangled in the past.
Alive with an urgent, unshakable tenderness, Julie Buntin's Marlena is an unforgettable look at the people who shape us beyond reason and the ways it might be possible to pull oneself back from the brink.
A literary jigsaw puzzle of a debut novel set in Colombia during the peak of its decades-long conflict, and in New York City.
While her parents are away, a teenager finds herself home alone, with the household staff mysteriously gone, no phone connection, and news of an insurgency on the radio — and then she hears a knock at the door. Her teacher, who has been kidnapped by guerrillas, recites Shakespeare in the jungle to a class of sticks, leaves, and stones while his captors watch his every move. Another classmate, who has fled Colombia for the clubs of New York, is unable to forget the life she left behind without the help of the little bags of powder she carries with her. Taking place over two decades, The Lucky Ones presents us with a world in which perpetrators are indistinguishable from saviors, the truth is elusive, and loved ones can disappear without a trace.
A prismatic tale of a group of characters who emerge and recede throughout the novel and touch one another's lives in ways even they cannot comprehend, The Lucky Ones captures the intensity of life in Colombia as paramilitaries, guerrillas, and drug traffickers tear the country apart. Combining vivid descriptions of life under siege with a hallucinatory feel that befits its violent world, The Lucky Ones introduces a truly original and exciting new voice in fiction.
In this moving and enormously entertaining debut novel, longtime romantic partners Kathryn and Chris experiment with an open relationship and reconsider everything they thought they knew about love.
After nine years together, Kathryn and Chris have the sort of relationship most would envy. They speak in the shorthand they have invented, complete one another's sentences, and help each other through every daily and existential dilemma. But, as content as they are together, an enduring loneliness continues to haunt the dark corners of their relationship. When Chris tells Kathryn about his feelings for Emily, a vivacious young woman he sees often at the Laundromat, Kathryn encourages her boyfriend to pursue this other woman — certain that her bond with Chris is strong enough to weather a little side dalliance.
Next Year, For Sure tracks the tumultuous, revelatory, and often very funny year that follows. When Chris's romance with Emily evolves beyond what anyone anticipated, both Chris and Kathryn are invited into Emily's communal home, where Kathryn will discover new possibilities of her own. In the confusions, passions, and upheavals of their new lives, both Kathryn and Chris are forced to reconsider their past and what they thought they knew about love.
Offering a luminous portrait of a relationship from two perspectives, Zoey Leigh Paterson has written an empathic, beautiful, and tremendously honest novel about a great love pushed to the edge. Deeply poignant and hugely entertaining, Next Year, For Sure shows us what lies at the mysterious heart of relationships, and what true openness and transformation require.
The Ship by Antonia Honeywell
London burned for three weeks. And then it got worse…
Lalla has grown up sheltered from the chaos amid the ruins of civilization. But things are getting more dangerous outside. People are killing each other for husks of bread, and the police are detaining anyone without an identification card. On her sixteenth birthday, Lalla's father decides it's time to use their escape route — a ship he's built that is only big enough to save five hundred people.
But the utopia her father has created isn't everything it appears. There's more food than anyone can eat, but nothing grows; more clothes than anyone can wear, but no way to mend them; and no-one can tell her where they are going.
The Cutaway draws you into the tangled world of corruption and cover-up as a young television producer investigates the disappearance of a beautiful Georgetown lawyer in this stunning psychological thriller, perfect for fans of Paula Hawkins and Gillian Flynn.
When brilliant TV news producer Virginia Knightly receives a disturbing "MISSING" notice on her desk related to the disappearance of a beautiful young attorney, she can't seem to shake the image from her head. Despite skepticism from her colleagues, Knightly suspects this ambitious young lawyer may be at the heart of something far more sinister, especially since she was last seen leaving an upscale restaurant after a domestic dispute. Yet, as the only woman of power at her station, Knightly quickly finds herself investigating on her own.
Risking her career, her life, and perhaps even her own sanity, Knightly dives deep into the dark underbelly of Washington, DC business and politics in an investigation that will drag her mercilessly through the inextricable webs of corruption that bind the press, the police, and politics in our nation's capital.
Harkening to dark thrillers such as Gone Girl, Luckiest Girl Alive, and Big Little Lies, The Cutaway is a striking debut that will haunt you long after you reach the last page.
Emily Addams, foodie professor of women's studies at Arbor State — a land grant university in Northern California — finds herself an unlikely suspect in the poisoning of a man she barely knows: Professor Peter Elliott of Plant Biology, the hotshot developer of a new genetically modified corn.
How did her cornbread end up in his hand as he lay in the smelly muck of a pig's pen?
As Emily and her colleagues try to identify who and what has poisoned Peter, they also struggle to keep a new and corporate-minded administration from defunding the women's and ethnic studies programs.
In the process of solving the mystery, Emily and her network deepen their ties to each other — and uncover some of the dark secrets of a university whose traditionally communal values are being polluted by a wave of profit-fueled ideals.
Oink comes with recipes.
A charming, clever, and quietly moving debut novel of of endless possibilities and joyful discoveries that explores the promises we make and break, losing and finding ourselves, the objects that hold magic and meaning for our lives, and the surprising connections that bind us.
Lime green plastic flower-shaped hair bobbles — Found, on the playing field, Derrywood Park, 2nd September.
Bone china cup and saucer — Found, on a bench in Riveria Public Gardens, 31st October.
Anthony Peardew is the keeper of lost things. Forty years ago, he carelessly lost a keepsake from his beloved fiancée, Therese. That very same day, she died unexpectedly. Brokenhearted, Anthony sought consolation in rescuing lost objects — the things others have dropped, misplaced, or accidentally left behind — and writing stories about them. Now, in the twilight of his life, Anthony worries that he has not fully discharged his duty to reconcile all the lost things with their owners. As the end nears, he bequeaths his secret life's mission to his unsuspecting assistant, Laura, leaving her his house and and all its lost treasures, including an irritable ghost.
Recovering from a bad divorce, Laura, in some ways, is one of Anthony's lost things. But when the lonely woman moves into his mansion, her life begins to change. She finds a new friend in the neighbor's quirky daughter, Sunshine, and a welcome distraction in Freddy, the rugged gardener. As the dark cloud engulfing her lifts, Laura, accompanied by her new companions, sets out to realize Anthony's last wish: reuniting his cherished lost objects with their owners.
Long ago, Eunice found a trinket on the London pavement and kept it through the years. Now, with her own end drawing near, she has lost something precious — a tragic twist of fate that forces her to break a promise she once made.
As the Keeper of Lost Objects, Laura holds the key to Anthony and Eunice's redemption. But can she unlock the past and make the connections that will lay their spirits to rest?
Full of character, wit, and wisdom, The Keeper of Lost Things is heartwarming tale that will enchant fans of The Particular Sadness of Lemon Cake, Garden Spells, Mrs Queen Takes the Train, and The Silver Linings Playbook.
Which of these do you plan to read? Tell us in the comments!
Want access to free & bargain ebooks? Sign up for BookBub here.
Comments