We're crazy for all things royal, especially when it comes to historical fiction. With that in mind, here is a list of recent novels about kings, queens, and emperors from all ages. From ancient Egypt to the French court, these books explore fascinating rulers and their worlds. Publishers' descriptions included below.
Victoria by Daisy Goodwin
Drawing on Queen Victoria's diaries, which she first started reading when she was a student at Cambridge University, Daisy Goodwin — creator and writer of the new PBS/Masterpiece drama Victoria and author of the bestselling novels The American Heiress and The Fortune Hunter — brings the young 19th-century monarch, who would go on to reign for 63 years, richly to life in this magnificent novel.
Early one morning, less than a month after her 18th birthday, Alexandrina Victoria is roused from bed with the news that her uncle William IV has died and she is now Queen of England. The men who run the country have doubts about whether this sheltered young woman, who stands less than five feet tall, can rule the greatest nation in the world.
Despite her age, however, the young queen is no puppet. She has very definite ideas about the kind of queen she wants to be, and the first thing is to choose her name.
"I do not like the name Alexandrina," she proclaims. "From now on I wish to be known only by my second name, Victoria."
Next, people say she must choose a husband. Everyone keeps telling her she's destined to marry her first cousin, Prince Albert, but Victoria found him dull and priggish when they met three years ago. She is quite happy being queen with the help of her prime minister, Lord Melbourne, who may be old enough to be her father but is the first person to take her seriously.
On June 19, 1837, she was a teenager. On June 20, 1837, she was a queen. Daisy Goodwin's impeccably researched and vividly imagined new book brings readers Queen Victoria as they have never seen her before.
Built on the backs of those who fell before it, Julius Caesar's imperial dynasty is only as strong as the next person who seeks to control it. In the Roman Empire no one is safe from the sting of betrayal: man, woman — or child.
As a boy, Nero's royal heritage becomes a threat to his very life, first when the mad emperor Caligula tries to drown him, then when his great aunt attempts to secure her own son's inheritance. Faced with shocking acts of treachery, young Nero is dealt a harsh lesson: It is better to be cruel than dead.
While Nero idealizes the artistic and athletic principles of Greece, his very survival rests on his ability to navigate the sea of vipers that is Rome. The most lethal of all is his own mother, a cold-blooded woman whose singular goal is to control the empire. With cunning and poison, the obstacles fall one by one. But as Agrippina's machinations earn her son a title he is both tempted and terrified to assume, Nero's determination to escape her thrall will shape him into the man he was fated to become — an Emperor who became legendary.
With impeccable research and captivating prose, The Confessions of Young Nero is the story of a boy's ruthless ascension to the throne. Detailing his journey from innocent youth to infamous ruler, it is an epic tale of the lengths to which man will go in the ultimate quest for power and survival.
Ancient Egypt, 51 BC. Sisters Arsinoe and Cleopatra face a devastating choice: to allow Rome's army to siphon power from their ailing father, or to take matters — and the dynasty — into their own hands
It's the dawn of a new era for Egypt as Cleopatra and her brother, Ptolemy, are welcomed to the throne after their father's death. But joint rule breeds its own conflicts: Can the Nile be shared? Long overlooked by his father in favor of the beguiling Cleopatra, Ptolemy is determined to prove his ability as both man and king — but, at 11, he is no match for his elder sister, who's quick to assert her primacy throughout the land.
Their sister Arsinoe is torn between her siblings in one of history's greatest power struggles. As the palace echoes with rumors, scandals, and betrayal, Arsinoe's love for her childhood friend Alexander deepens into a forbidden passion that could endanger both their lives. When Cleopatra is forced to flee a rebel uprising, Arsinoe decides she has no choice but to follow her sister into exile.
Yet while Cleopatra gathers an army to retake the crown, Arsinoe begins to doubt whether her sister is the champion Egypt needs. Faced with the choice of betraying her family or her country, Arsinoe will determine a kingdom's fate and the course of history.
In the final installment of Sally Christie's "tantalizing" (New York Daily News) Mistresses of Versailles trilogy, Jeanne Becu, a woman of astounding beauty but humble birth, works her way from the grimy back streets of Paris to the palace of Versailles, where the aging King Louis XV has become a jaded and bitter old philanderer. Jeanne bursts into his life and, as the Comtesse du Barry, quickly becomes his official mistress.
"That beastly bourgeois Pompadour was one thing; a common prostitute is quite another kettle of fish."
After decades of suffering the King's endless stream of Royal Favorites, the princesses of the Court have reached a breaking point. Horrified that he would bring the lowborn Comtesse du Barry into the hallowed halls of Versailles, Louis XV's daughters, led by the indomitable Madame Adelaide, vow eternal enmity and enlist the young dauphiness Marie Antoinette in their fight against the new mistress. But as tensions rise and the French Revolution draws closer, a prostitute in the palace soon becomes the least of the nobility's concerns.
Told in Christie's witty and engaging style, the final book in The Mistresses of Versailles trilogy will delight and entrance fans as it once again brings to life the sumptuous and cruel world of 18th century Versailles, and France as it approaches irrevocable change.
Bestselling novelist Sarah Dunant has long been drawn to the high drama of Renaissance Italy: power, passion, beauty, brutality, and the ties of blood. With In the Name of the Family, she offers a thrilling exploration of the House of Borgia's final years, in the company of a young diplomat named Niccolò Machiavelli.
It is 1502 and Rodrigo Borgia, a self-confessed womanizer and master of political corruption, is now on the papal throne as Alexander VI. His daughter Lucrezia, aged 22 — already three times married and a pawn in her father's plans — is discovering her own power. And then there is his son Cesare Borgia, brilliant, ruthless, and increasingly unstable; it is his relationship with Machiavelli that gives the Florentine diplomat a master class in the dark arts of power and politics. What Machiavelli learns will go on to inform his great work of modern politics, The Prince. But while the pope rails against old age and his son's increasingly erratic behavior, it is Lucrezia who must navigate the treacherous court of Urbino, her new home, and another challenging marriage to create her own place in history.
Sarah Dunant again employs her remarkable gifts as a storyteller to bring to life the passionate men and women of the Borgia family, as well as the ever-compelling figure of Machiavelli, through whom the reader will experience one of the most fascinating — and doomed — dynasties of all time.
The Son She Loved. The Betrayal She Faced. The Legend She Became.
The stunning conclusion to the Eleanor of Aquitaine trilogy.
Imprisoned by her husband. Separated from her children. If King Henry II thought these things would push his queen into submission, he was wrong. Eleanor of Aquitaine refused to give into his tyranny. Freed by his death, she became dowager Queen of England. But the competition for land and power that Henry bred among his sons had grown into a dangerous rivalry that Eleanor must skillfully control. Eleanor would need every ounce of courage and fortitude as she crossed the Alps in winter to bring her son Richard his bride, ransom him from imprisonment, and deal with his brother John's treachery. Her indomitable spirit would be tested to its limits as she attempted to keep the peace between her warring sons, fend off enemies, and negotiate a magnificent future for a chosen granddaughter.
A romantic, heart-wrenching tale of love against the odds from the #1 Sunday Times bestselling author.
1930, Rajputana, India. Since her husband's death, 28-year-old photojournalist Eliza's only companion has been her camera. When the British government send her to an Indian princely state to photograph the royal family, she's determined to make a name for herself.
But when Eliza arrives at the palace she meets Jay, the Prince's handsome, brooding brother. While Eliza awakens Jay to the poverty of his people, he awakens her to the injustices of British rule. Soon Jay and Eliza find they have more in common than they think. But their families — and society — think otherwise. Eventually they will have to make a choice between doing what's expected, or following their heart…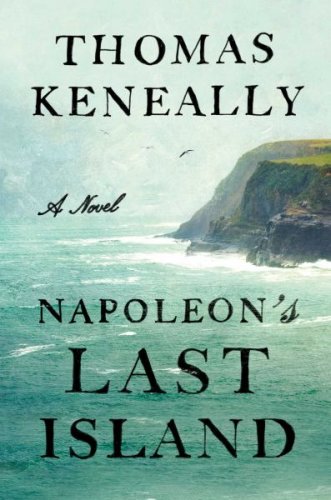 From the bestselling author of Schindler's List and The Daughters of Mars, a new historical novel set on the remote island of Saint Helena about the remarkable friendship between a young woman and one of history's most intriguing figures, Napoleon Bonaparte, during the final years of his life in exile.
In October 1815, after losing the Battle of Waterloo, Napoleon Bonaparte was banished to the island of Saint Helena. There, in one of the most remote places on earth, he lived out the final six years of his life. On this lonely island with no chance of escape, he found an unexpected ally: a spirited British girl named Betsy Balcombe who lived on the island with her family. While Napoleon waited for his own accommodations to be built, the Balcombe family played host to the infamous exile, a decision that would have devastating consequences for them all.
In Napoleon's Last Island, "master of character development and period detail" (Kirkus Reviews) Thomas Keneally recreates Betsy's powerful and complex friendship with the man dubbed The Great Ogre, her enmities and alliances with his remaining courtiers, and her dramatic coming-of-age. Bringing a shadowy period of history to life with a brilliant attention to detail, Keneally tells the untold story of one of Europe's most enigmatic, charismatic, and important figures, and the ordinary British family who dared to forge a connection with him.
Pharaoh by Wilbur Smith
Worldwide #1 bestselling author Wilbur Smith returns to Ancient Egypt in a captivating new novel that will transport you to extraordinary times.
Egypt is under attack.
Pharaoh Tamose lies mortally wounded. The ancient city of Luxor is surrounded. All seems lost.
Taita, advisor to the Pharaoh, prepares for the enemy's final, fatal push. The ex-slave, now general of Tamose's armies, is never more ingenious than when all hope is dashed. And this is Egypt's most desperate hour.
With the timely arrival of an old ally, the tide is turned and the Egyptian army feasts upon its retreating foe. But upon his victorious return to Luxor, Taita is seized and branded a traitor. Tamose is dead and a poisonous new era has begun. The new Pharaoh has risen — and he must be stopped…
From the glittering temples of Luxor to the Citadel of Sparta, Pharoah is an intense and powerful novel magnificently transporting you to a time of threat, blood, and glory. Master storyteller, Wilbur Smith, is at the very peak of his powers.
In this second novel of Alison Weir's epic Six Tudor Queens series, the acclaimed author and historian weaves exciting new research into the story of Anne Boleyn, Henry VIII's most infamous wife, a woman ahead of her time whose very life — and death — forever changed a nation.
Born into a noble English family, Anne is barely a teenager when she is sent from her family's Hever Castle to serve at the royal court of the Netherlands. Yet what seems a strategic move on the part of her opportunistic father is actually a chance for the girl to grow and discover herself. There, and later in France, Anne thrives, preferring to absorb the works of progressive writers rather than participate in courtly flirtations. She also begins to understand the inequalities and indignities suffered by her gender.
Anne isn't completely inured to the longings of the heart, but her powerful family has ambitious plans for her future that override any wishes of her own. When the King of England himself, Henry VIII, asks Anne to be his mistress, she spurns his advances — reminding him that he is a married man who has already conducted an affair with her sister, Mary. Anne's rejection only intensifies Henry's pursuit, but in the absence of a male heir — and given an aging Queen Katherine — the opportunity to elevate and protect the Boleyn family, and to exact vengeance on her envious detractors, is too tempting for Anne to resist, even as it proves to be her undoing.
While history tells of how Anne Boleyn died, this compelling new novel shows just how she lived.
Release date: May 16
Which of these books are on your list? Tell us in the comments!
Want access to free & bargain ebooks? Sign up for BookBub here.
Comments