Cinco de Mayo commemorates Mexico's victory over the French at the Battle of Puebla in 1862, and the day is now an annual celebration of Mexican culture, both in Mexico and around the world. What better way to do that than with a great book? We've rounded up a list of great books by Mexican-American authors. Publishers' descriptions included below.
The bestselling coming-of-age classic, acclaimed by critics, beloved by readers of all ages, taught in schools and universities alike, and translated around the world.
The House on Mango Street is the remarkable story of Esperanza Cordero, a young Latina girl growing up in Chicago, inventing for herself who and what she will become. Told in a series of vignettes — sometimes heartbreaking, sometimes deeply joyous — Sandra Cisneros' masterpiece is a classic story of childhood and self-discovery. Few other books in our time have touched so many readers.
This Printz Honor Book is a "tender, honest exploration of identity" (Publishers Weekly) that distills lyrical truths about family and friendship.
Aristotle is an angry teen with a brother in prison. Dante is a know-it-all who has an unusual way of looking at the world. When the two meet at the swimming pool, they seem to have nothing in common. But as the loners start spending time together, they discover that they share a special friendship — the kind that changes lives and lasts a lifetime. And it is through this friendship that Ari and Dante will learn the most important truths about themselves and the kind of people they want to be.
The prize-winning writer Luis Alberto Urrea's long-awaited novel is an epic mystical drama of a young woman's sudden sainthood in late 19th-century Mexico.
It is 1889, and civil war is brewing in Mexico. A 16-year-old girl, Teresita, illegitimate but beloved daughter of the wealthy and powerful rancher Don Tomas Urrea, wakes from the strangest dream — a dream that she has died. Only it was not a dream. This passionate and rebellious young woman has arisen from death with a power to heal — but it will take all her faith to endure the trials that await her and her family now that she has become the Saint of Cabora.
The Hummingbird's Daughter is a vast, hugely satisfying novel of love and loss, joy and pain. Two decades in the writing, this is the masterpiece that Luis Alberto Urrea has been building up to.
Esperanza thought she'd always live with her family on their ranch in Mexico — she'd always have fancy dresses, a beautiful home, and servants. But a sudden tragedy forces Esperanza and Mama to flee to California during the Great Depression, and to settle in a camp for Mexican farm workers. Esperanza isn't ready for the hard labor, financial struggles, or lack of acceptance she now faces. When their new life is threatened, Esperanza must find a way to rise above her difficult circumstances — Mama's life, and her own, depend on it.
A lyrical and authentic book that recounts the story of a border-town family in Brownsville, Texas in the 1980's, as each member of the family desperately tries to assimilate and escape life on the border to become "real" Americans, even at the expense of their shared family history. This is really un-mined territory in the memoir genre that gives in-depth insight into a previously unexplored corner of America.
When John Rechy's explosive first novel appeared in 1963, it marked a radical departure in fiction, and gave voice to a subculture that had never before been revealed with such acuity. It earned comparisons to Genet and Kerouac, even as Rechy was personally attacked by scandalized reviewers. Nevertheless, the book became an international bestseller, and 50 years later, it has become a classic. Bold and inventive in style, Rechy is unflinching in his portrayal of one hustling "youngman" and his search for self-knowledge within the neon-lit world of hustlers, drag queens, and the denizens of their world, as he moves from El Paso to Times Square, from Pershing Square to the French Quarter. Now including never-seen original marked galley pages and an interview with the author, Rechy's portrait of the edges of America has lost none of its power to move and exhilarate.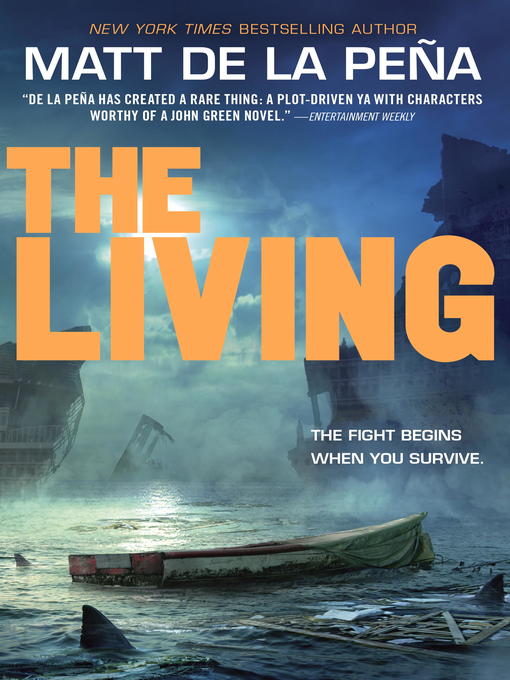 Shy takes the summer job to make some money. A few months on a luxury cruise liner — how bad can it be? Bikinis, free food, maybe even a girl or two… every cruise has a fresh crop of passengers, after all. He'll rake in the tips and be able to help his mom and sister out with the bills.
But then, an earthquake more massive than any ever recorded hits California and Shy's life is changed forever.
The earthquake is only the beginning. Twenty-four hours and a catastrophic chain of events later, Shy is lost at sea, fighting to survive — and stuck with her.
She's blond and she's rich, and never in her life would she have dreamed she'd be adrift in the Pacific Ocean, surrounded by death and completely dependent on a guy like Shy.
And Shy hasn't even faced the worst yet.
Stories filled with wonder and the haunting beauty of his culture have helped make Rudolfo Anaya the father of Chicano literature in English, and his tales fairly shimmer with the lyric richness of his prose. Acclaimed in both Spanish and English, Anaya is perhaps best loved for his classic bestseller… Antonio Marez is six years old when Ultima comes to stay with his family in New Mexico. She is a curandera, one who cures with herbs and magic. Under her wise wing, Tony will test the bonds that tie him to his people, and discover himself in the pagan past, in his father's wisdom, and in his mother's Catholicism. And at each life turn there is Ultima, who delivered Tony into the world-and will nurture the birth of his soul.
In the first book of the acclaimed Henry Rios series, a lawyer doggedly pursues a murder investigation into the lions' den of San Francisco's moneyed elite.
A burnt-out public defender battling alcoholism, Henry Rios has reached a crossroads in his life. While interviewing his former lover Hugh Paris in jail, Rios goes through the motions, but notices that Paris is far more polished and well off than the usual suspects arrested for drug possession. Paris is mysteriously bailed out — but a few weeks later, he turns up on Rios's doorstep. Skittish and paranoid, he admits to using heroin and says he's afraid that his wealthy grandfather wants to murder him.
Rios tries to help Paris get clean, but when Paris is found dead of an apparent heroin overdose, Rios is the only one who considers foul play. Determined to find Paris's killer, Rios knocks on San Francisco's most gilded doors, where he discovers a family tainted by jealousy, greed, and hate. They've been warped by a fortune someone's willing to kill — and kill again — to possess.
At once an atmospheric noir mystery and a scathing indictment of a legal system caught in the maws of escalating corruption, The Little Death chronicles one man's struggle to achieve true justice for all.
Gabi Hernandez chronicles her last year in high school in her diary: college applications, Cindy's pregnancy, Sebastian's coming out, the cute boys, her father's meth habit, and the food she craves. And best of all, the poetry that helps forge her identity.
July 24
My mother named me Gabriella, after my grandmother who, coincidentally, didn't want to meet me when I was born because my mother was unmarried, and therefore living in sin. My mom has told me the story many, many, MANY, times of how, when she confessed to my grandmother that she was pregnant with me, her mother beat her. BEAT HER! She was 25. That story is the basis of my sexual education and has reiterated why it's important to wait until you're married to give it up. So now, every time I go out with a guy, my mom says, "Ojos abiertos, piernas cerradas." Eyes open, legs closed. That's as far as the birds and the bees talk has gone. And I don't mind it. I don't necessarily agree with that whole wait until you're married crap, though. I mean, this is America and the 21st century; not Mexico 100 years ago. But, of course, I can't tell my mom that because she will think I'm bad. Or worse: trying to be White.
Rain of Gold is a true-life saga of love, family and destiny that pulses with bold vitality, sweeping from the war-ravaged Mexican mountains of Pancho Villa's revolution to the days of Prohibition in California.
It all began when Villaseñor's maternal grandmother sat him down in their little home in the barrio of Carlsbad, California, gave him sweet bread and told him the story of their past. Of his mother Lupe, the most beautiful girl in the whole village who was only a child when Villa's men came shooting into their canyon. And of his father Juan and his family, reduced to rags and starvation as they sought refuge across the border, where they believed that endless opportunity awaited.
Lupe and Juan met and fell in love in California, but they found that the doors to the Promised Land were often closed to those from south of the border. His father was forced to take the law into his own hands, in spite of his wife's objections. With love and humor, Villaseñor shares this passionate love story that celebrates the triumph of the human spirit.
An all-American story of struggle and success, Rain of Gold focuses on three generations of Villaseñor's kin, their spiritual and cultural roots back in Mexico, their immigration to California and overcoming poverty, prejudice and economic exploitation. It is the warm-hearted and spirited account of the wily, wary and persevering forebears of Victor Villaseñor.
Sofia and her fated daughters, Fe, Esperanza, Caridad, and la Loca, endure hardship and enjoy love in the sleepy New Mexico hamlet of Tome, a town teeming with marvels where the comic and the horrific, the real and the supernatural, reside.
Mago pointed to a spot on the dirt floor and reminded me that my umbilical cord was buried there. "That way," Mami told the midwife, "no matter where life takes her, she won't ever forget where she came from."
Then Mago touched my belly button… She said that my umbilical cord was like a ribbon that connected me to Mami. She said, "It doesn't matter that there's a distance between us now. That cord is there forever."
When Reyna Grande's father leaves his wife and three children behind in a village in Mexico to make the dangerous trek across the border to the United States, he promises he will soon return from "El Otro Lado" (The Other Side) with enough money to build them a dream house where they can all live together. His promises become harder to believe as months turn into years. When he summons his wife to join him, Reyna and her siblings are deposited in the already overburdened household of their stern, unsmiling grandmother.
The three siblings are forced to look out for themselves; in childish games they find a way to forget the pain of abandonment and learn to solve very adult problems. When their mother at last returns, the reunion sets the stage for a dramatic new chapter in Reyna's young life: her own journey to "El Otro Lado" to live with the man who has haunted her imagination for years, her long-absent father.
In this extraordinary memoir, award-winning writer Reyna Grande vividly brings to life her tumultuous early years, capturing all the confusion and contradictions of childhood, especially one spent torn between two parents and two countries. Elated when she feels the glow of her father's love and approval, Reyna knows that at any moment he might turn angry or violent. Only in books and music and her rich imaginary life does she find solace, a momentary refuge from a world in which every place feels like "El Otro Lado."
The Distance Between Us captures one girl's passage from childhood to adolescence and beyond. A funny, heartbreaking, lyrical story, it reminds us that the joys and sorrows of childhood are always with us, invisible to the eye but imprinted on the heart, forever calling out to us of those places we first called home.
Luis J. Rodríguez's stunning memoir — a brave, unflinching account of life in a Los Angeles street gang.
Luis J. Rodríguez joined his first gang at age 11. As a teenager, he witnessed the rise of some of the most notorious cliques and sets in Southern California and knew only a life of violence — one that revolved around drugs, gang wars, and police brutality. But unlike most of those around him, Rodríguez found a way out when art, writing, and political activism rescued him from the brink of self-destruction.
Always Running spares no detail in its vivid, brutally honest portrayal of street life and violence, and it stands as a powerful and unforgettable testimonial of gang life, by one of the most acclaimed Chicano writers of his generation.
Lotería by Mario Alberto Zambrano
In Lotería, the spellbinding literary debut by Mario Alberto Zambrano, a young girl tells the story of her family's tragic demise using a deck of cards of the eponymous Latin American game of chance.
With her older sister Estrella in the ICU and her father in jail, 11-year-old Luz Castillo has been taken into the custody of the state. Alone in her room, she retreats behind a wall of silence, writing in her journal and shuffling through a deck of lotería cards. Each of the cards' colorful images — mermaids, bottles, spiders, death, and stars — sparks a random memory.
Pieced together, these snapshots bring into focus the joy and pain of the young girl's life, and the events that led to her present situation. But just as the story becomes clear, a breathtaking twist changes everything.
Beautiful full-color images of lotería cards are featured throughout this intricate and haunting novel.
With the same audacity with which John Steinbeck wrote about migrant worker conditions in The Grapes of Wrath and T.C. Boyle in The Tortilla Curtain, Viramontes (The Moths and Other Stories) presents a moving and powerful vision of the lives of the men, women, and children who endure a second-class existence and labor under dangerous conditions in California's fields. This first novel tells the story a young girl, Estrella, and her Latino family as they struggle with arduous farm labor during the summer months, and still manage to latch onto the hope of a liberating future. Viramontes graces the page with poetic touch, artfully describing poverty conditions and bringing to the reader a panoramic view of social consciousness and unforgettable characters.
Have you read any of these books? Tell us in the comments!
Want access to free & bargain ebooks? Sign up for BookBub here.
Comments