From The Notebook to The Longest Ride, Nicholas Sparks is the master of penning heartbreaking, romantic novels. As an avid reader himself, Sparks has excellent taste in fiction. From thrillers to emotional novels, check out this list of Nicholas Sparks recommended books to add to your summer reading list. Publishers' descriptions included below.
Follow Nicholas Sparks on BookBub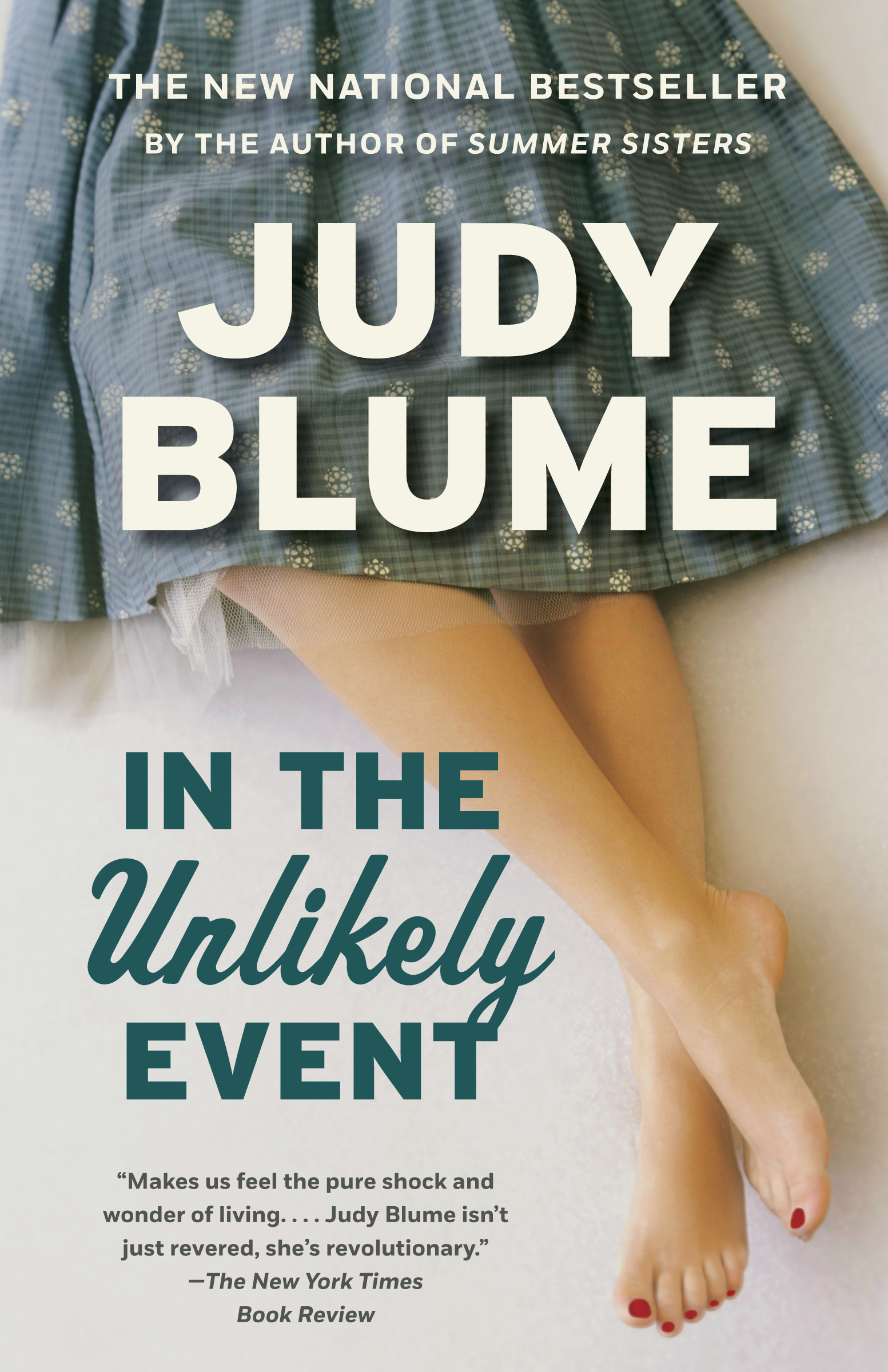 In 1987, Miri Ammerman returns to her hometown of Elizabeth, New Jersey, to attend a commemoration of the worst year of her life. Thirty-five years earlier, when Miri was 15, and in love for the first time, a succession of airplanes fell from the sky, leaving a community reeling. Against this backdrop of actual events that Blume experienced in the early 1950s, when airline travel was new and exciting and everyone dreamed of going somewhere, she paints a vivid portrait of a particular time and place — Nat King Cole singing "Unforgettable," Elizabeth Taylor haircuts, young (and not-so-young) love, explosive friendships, A-bomb hysteria, rumors of Communist threat. And a young journalist who makes his name reporting tragedy. Through it all, one generation reminds another that life goes on.
Sparks says: Blume's novel "follows three generations of families whose lives are forever changed by unexpected events. Tragedy brings the characters together, and love binds them for life."
For Dr. David Beck, the loss was shattering. And every day for the past eight years, he has relived the horror of what happened. The gleaming lake. The pale moonlight. The piercing screams. The night his wife was taken. The last night he saw her alive.
Everyone tells him it's time to move on, to forget the past once and for all. But for David Beck, there can be no closure. A message has appeared on his computer, a phrase only he and his dead wife know. Suddenly Beck is taunted with the impossible — that somewhere, somehow, Elizabeth is alive.
Beck has been warned to tell no one. And he doesn't. Instead, he runs from the people he trusts the most, plunging headlong into a search for the shadowy figure whose messages hold out a desperate hope.
But already Beck is being hunted down. He's headed straight into the heart of a dark and deadly secret — and someone intends to stop him before he gets there.
Sparks says: "One of the all-time great thrillers."
Enzo knows he is different from other dogs: a philosopher with a nearly human soul (and an obsession with opposable thumbs), he has educated himself by watching television extensively, and by listening very closely to the words of his master, Denny Swift, an up-and-coming race car driver.
Through Denny, Enzo has gained tremendous insight into the human condition, and he sees that life, like racing, isn't simply about going fast. Using the techniques needed on the race track, one can successfully navigate all of life's ordeals.
On the eve of his death, Enzo takes stock of his life, recalling all that he and his family have been through: the sacrifices Denny has made to succeed professionally; the unexpected loss of Eve, Denny's wife; the three-year battle over their daughter, Zoë, whose maternal grandparents pulled every string to gain custody. In the end, despite what he sees as his own limitations, Enzo comes through heroically to preserve the Swift family, holding in his heart the dream that Denny will become a racing champion with Zoë at his side. Having learned what it takes to be a compassionate and successful person, the wise canine can barely wait until his next lifetime, when he is sure he will return as a man.
A heart-wrenching but deeply funny and ultimately uplifting story of family, love, loyalty, and hope, The Art of Racing in the Rain is a beautifully crafted and captivating look at the wonders and absurdities of human life… as only a dog could tell it.
Sparks says: "Original and enchanting… It is an inspiring story of family and love, written from the perspective of everyone's favorite family member."
On a foggy summer night, 11 people — 10 privileged, one down-on-his-luck painter — depart Martha's Vineyard on a private jet headed for New York. Sixteen minutes later, the unthinkable happens: the plane plunges into the ocean. The only survivors are Scott Burroughs — the painter — and a four-year-old boy, who is now the last remaining member of an immensely wealthy and powerful media mogul's family.
With chapters weaving between the aftermath of the crash and the backstories of the passengers and crew members — including a Wall Street titan and his wife, a Texan-born party boy just in from London, a young woman questioning her path in life, and a career pilot — the mystery surrounding the tragedy heightens. As the passengers' intrigues unravel, odd coincidences point to a conspiracy. Was it merely by dumb chance that so many influential people perished? Or was something far more sinister at work? Events soon threaten to spiral out of control in an escalating storm of media outrage and accusations. And while Scott struggles to cope with fame that borders on notoriety, the authorities scramble to salvage the truth from the wreckage.
Amid pulse-quickening suspense, the fragile relationship between Scott and the young boy glows at the heart of this stunning novel, raising questions of fate, human nature, and the inextricable ties that bind us together.
Sparks says: "The pages kept endlessly turning!"
On a warm summer morning in North Carthage, Missouri, it is Nick and Amy Dunne's fifth wedding anniversary. Presents are being wrapped and reservations are being made when Nick's clever and beautiful wife disappears. Husband-of-the-Year Nick isn't doing himself any favors with cringe-worthy daydreams about the slope and shape of his wife's head, but passages from Amy's diary reveal the alpha-girl perfectionist could have put anyone dangerously on edge. Under mounting pressure from the police and the media — as well as Amy's fiercely doting parents — the town golden boy parades an endless series of lies, deceits, and inappropriate behavior. Nick is oddly evasive, and he's definitely bitter — but is he really a killer?
Sparks says: "She's among the best of all commercial novelists. She's a staggeringly good writer."
An epic and gripping tale of catastrophe and survival, The Passage is the story of Amy — abandoned by her mother at the age of six, pursued and then imprisoned by the shadowy figures behind a government experiment of apocalyptic proportions. But Special Agent Brad Wolgast, the lawman sent to track her down, is disarmed by the curiously quiet girl and risks everything to save her. As the experiment goes nightmarishly wrong, Wolgast secures her escape — but he can't stop society's collapse. And as Amy walks alone, across miles and decades, into a future dark with violence and despair, she is filled with the mysterious and terrifying knowledge that only she has the power to save the ruined world.
Sparks says: "Justin Cronin is a great writer who I think has a long career ahead of him… He's new enough that a lot of readers haven't yet read his series, starting with The Passage. They should — it's excellent."
This collection, originally published in 1982, includes four stories that prove Stephen King is so much more than a master of horror.
Two of the novellas, "Rita Hayworth & the Shawshank Redemption" and "The Body," were turned into star-studded hit movies known as The Shawshank Redemption and Stand By Me. One follows a wrongly convicted man to prison, while the other is a coming-of-age tale about four friends in search of the body for a missing teenager.
The third and fourth stories, "Apt Pupil" and "The Breathing Method," are perhaps a little darker. "Apt Pupil" also got the Hollywood treatment, though the film is not considered as iconic as some of the other adaptations of King's work. Both the story and film are about a young student who becomes obsessed with the crimes of former Nazi. On the other hand, "The Breathing Method" likely stands as the most unrecognized story in this collection. A story within a story, a sort of "gentlemen's club" meets to exchange tales. One day they tell the story of a woman desperate to give birth to her illegitimate child against all odds. The price she pays is as dear as it is shocking.
Of course, all four pieces contain traces of King's horror-fueled career. Their power as stand-alone stories across different genres makes them worth the read. Some might even surprise you.
Sparks says: "His books, like The Shining, Different Seasons, and Lisey's Story, taught me so much about storytelling, how to keep the pages turning, and creating characters that you felt invested in."
Sam Peek's beloved wife of 57 years, Cora, has died. His children are anxious. No one knows how Sam will survive. How can this elderly man live alone? How can he run a farm? How can he keep driving his dilapidated truck down to the fields where he cares for a few rows of pecan trees? When Sam begins telling his children about a dog that is white as a fresh-fallen snow but who is invisible to everyone else, well, his children are sure that grief and old age have finally overcome their father.
But whether the dog is real or not, Sam Peek, "one of the smartest men in the South when it comes to trees," outsmarts everyone. Sam and the White Dog dance from the pages of this bittersweet novel and straight into the reader's heart as the two share the mystery of life and begin together a warm and moving final rite of passage as life draws to a close.
Sparks says
:
"It's a great Southern novel with everything a novel should hav e —wonderful characters, fantastic writing, a story that draws the reader in, and an ending that leaves you breathless."
Wonder by R.J. Palacio
I won't describe what I look like. Whatever you're thinking, it's probably worse.
August Pullman is just like any other 10-year-old boy. Except for his face. Born with Treacher Collins Syndrome, a rare medical condition that causes facial deformity, August has lived his life being stared at, laughed at, and ridiculed. To shield him from the outside world, his parents have home-schooled him his entire life, but for his fifth grade year, they have decided to send him to a private school. Auggie befriends several of his classmates despite his fears, and at the graduation ceremony at the end of the year is awarded the Henry Ward Beecher Medal. Auggie's time at the school is a formative experience for many others as well, including his peers, the faculty, and his family. Palacio provides the perspectives of all of these characters and more to show the myriad ways Auggie's appearance at the school has affected him — and those around him. This New York Times bestselling novel has been called one of the best children's books of 2013 and won several awards upon its publication.
Sparks says: "A wonderful read for all ages."
What would you do if you could literally rewrite your fate — on Facebook? This heartwarming and hilarious new novel from the authors of Your Perfect Life follows a woman who discovers she can change her life through online status updates.
Kate is a 35-year-old woman who is obsessed with social media. So when her fiancé, Max, breaks things off at their rehearsal dinner — to be with Kate's close friend and coworker, no less — she goes straight to Facebook to share it with the world. But something's changed. Suddenly, Kate's real life starts to mirror whatever she writes in her Facebook status. With all the power at her fingertips, and heartbroken and confused over why Max left her, Kate goes back in time to rewrite their history.
Kate's two best friends, Jules and Liam, are the only ones who know the truth. In order to convince them she's really time traveled, Kate offers to use her Facebook status to help improve their lives. But her attempts to help them don't go exactly as planned, and every effort to get Max back seems to only backfire, causing Kate to wonder if it's really possible to change her fate.
In The Status of All Things, Liz Fenton and Lisa Steinke combine the humor and heart of Sarah Pekkanen and Jennifer Weiner while exploring the pitfalls of posting your entire life on the Internet. They raise the questions: What if you could create your picture-perfect life? Would you be happy? Would you still be you? For anyone who's ever attempted — or failed — to be their perfect self online, this is a story of wisdom and wit that will leave you with new appreciation for the true status of your life.
Sparks says: The Status of All Things is included on Walmart's list of Sparks's recommended reads.
In this irresistible debut novel, a freak accident allows a wife and mother to explore the alluring road not taken.
Meet Abbey Lahey…
Overworked mom. Underappreciated publicist. Frazzled wife of an out-of-work landscaper. A woman desperately in need of a vacation from life — and who is about to get one, thanks to an unexpected tumble down a Nordstrom escalator.
Meet Abbey van Holt…
The woman whose life Abbey suddenly finds herself inhabiting when she wakes up. Married to handsome congressional candidate Alex van Holt. Living in a lavish penthouse. Wearing ball gowns and being feted by the crème of Philadelphia society. Luxuriating in the kind of 14-karat lifestyle she's only read about in the pages of Town & Country.
The woman Abbey might have been… if she had said yes to a date with Alex van Holt all those years ago.
In the tradition of the romantic comedy Sliding Doors and Lionel Shriver's The Post-Birthday World, Leigh Himes's irresistible debut novel tells the funny and touching story of an ordinary woman offered an extraordinary opportunity to reboot her life, explore the road not taken, and ultimately, find her true self — whoever that may be.
Sparks says: The One That Got Away is included on Walmart's list of Sparks's favorite reads.
 
Which of these books do you plan to read this summer? Tell us in the comments!
Comments