Fredrik Backman's debut novel A Man Called Ove tells the heartwarming journey of a curmudgeonly old man whose steely exterior is broken by an unexpected relationship. Just like how Ove finds a new lease on life through an unlikely friendship, this list of books will take you on uplifting and surprising adventures. Check out our list of books like A Man Called Ove below, complete with publishers' descriptions below.
Follow Fredrik Backman on BookBub
You are about to travel to Edgecombe St. Mary, a small village in the English countryside filled with rolling hills, thatched cottages, and a cast of characters both hilariously original and as familiar as the members of your own family. Among them is Major Ernest Pettigrew (retired), the unlikely hero of Helen Simonson's wondrous debut. Wry, courtly, opinionated, and completely endearing, Major Pettigrew is one of the most indelible characters in contemporary fiction, and from the very first page of this remarkable novel he will steal your heart.
The Major leads a quiet life valuing the proper things that Englishmen have lived by for generations: honor, duty, decorum, and a properly brewed cup of tea. But then his brother's death sparks an unexpected friendship with Mrs. Jasmina Ali, the Pakistani shopkeeper from the village. Drawn together by their shared love of literature and the loss of their respective spouses, the Major and Mrs. Ali soon find their friendship blossoming into something more. But village society insists on embracing him as the quintessential local and her as the permanent foreigner. Can their relationship survive the risks one takes when pursuing happiness in the face of culture and tradition?
A charming, warmhearted novel from the author of the New York Times bestseller A Man Called Ove.
Elsa is seven years old and different. Her grandmother is 77 years old and crazy — as in standing-on-the-balcony-firing-paintball-guns-at-strangers crazy. She is also Elsa's best, and only, friend. At night Elsa takes refuge in her grandmother's stories, in the Land-of-Almost-Awake and the Kingdom of Miamas, where everybody is different and nobody needs to be normal.
When Elsa's grandmother dies and leaves behind a series of letters apologizing to people she has wronged, Elsa's greatest adventure begins. Her grandmother's instructions lead her to an apartment building full of drunks, monsters, attack dogs, and old crones but also to the truth about fairy tales and kingdoms and a grandmother like no other.
My Grandmother Asked Me to Tell You She's Sorry is told with the same comic accuracy and beating heart as Fredrik Backman's bestselling debut novel, A Man Called Ove. It is a story about life and death and one of the most important human rights: the right to be different.
Meet Harold Fry, recently retired. He lives in a small English village with his wife, Maureen, who seems irritated by almost everything he does, even down to how he butters his toast. Little differentiates one day from the next. Then one morning the mail arrives, and within the stack of quotidian minutiae is a letter addressed to Harold in a shaky scrawl from a woman he hasn't seen or heard from in 20 years. Queenie Hennessy is in hospice and is writing to say goodbye.
Harold pens a quick reply and, leaving Maureen to her chores, heads to the corner mailbox. But then, as happens in the very best works of fiction, Harold has a chance encounter, one that convinces him that he absolutely must deliver his message to Queenie in person. And thus begins the unlikely pilgrimage at the heart of Rachel Joyce's remarkable debut. Harold Fry is determined to walk 600 miles from Kingsbridge to the hospice in Berwick-upon-Tweed because, he believes, as long as he walks, Queenie Hennessey will live.
Still in his yachting shoes and light coat, Harold embarks on his urgent quest across the countryside. Along the way he meets one fascinating character after another, each of whom unlocks his long-dormant spirit and sense of promise. Memories of his first dance with Maureen, his wedding day, his joy in fatherhood, come rushing back to him — allowing him to also reconcile the losses and the regrets. As for Maureen, she finds herself missing Harold for the first time in years.
And then there is the unfinished business with Queenie Hennessy.
A novel of unsentimental charm, humor, and profound insight into the thoughts and feelings we all bury deep within our hearts, The Unlikely Pilgrimage of Harold Fry introduces Rachel Joyce as a wise — and utterly irresistible — storyteller.
A reluctant centenarian much like Forrest Gump (if Gump were an explosives expert with a fondness for vodka) decides it's not too late to start over…
After a long and eventful life, Allan Karlsson ends up in a nursing home, believing it to be his last stop. The only problem is that he's still in good health, and in one day, he turns 100. A big celebration is in the works, but Allan really isn't interested (and he'd like a bit more control over his vodka consumption). So he decides to escape. He climbs out the window in his slippers and embarks on a hilarious and entirely unexpected journey, involving, among other surprises, a suitcase stuffed with cash, some unpleasant criminals, a friendly hot-dog stand operator, and an elephant (not to mention a death by elephant).
It would be the adventure of a lifetime for anyone else, but Allan has a larger-than-life backstory: Not only has he witnessed some of the most important events of the twentieth century, but he has actually played a key role in them. Starting out in munitions as a boy, he somehow finds himself involved in many of the key explosions of the twentieth century and travels the world, sharing meals and more with everyone from Stalin, Churchill, and Truman to Mao, Franco, and de Gaulle. Quirky and utterly unique, The 100-Year-Old Man Who Climbed Out the Window and Disappeared has charmed readers across the world.
Enticed by advertisements for a newly restored palatial hotel and filled with visions of a life of leisure, good weather, and mango juice in their gin, a group of very different people leave England to begin a new life in India. On arrival they are dismayed to find the palace is a shell of its former self, the staff more than a little eccentric, and the days of the Raj long gone. But, as they soon discover, life and love can begin again, even in the most unexpected circumstances.
A. J. Fikry's life is not at all what he expected it to be. He lives alone, his bookstore is experiencing the worst sales in its history, and now his prized possession, a rare collection of Poe poems, has been stolen. But when a mysterious package appears at the bookstore, its unexpected arrival gives Fikry the chance to make his life over — and see everything anew.
Nina Redmond is a librarian with a gift for finding the perfect book for her readers. But can she write her own happy-ever-after? In this valentine to readers, librarians, and book-lovers the world over, the New York Times-bestselling author of Little Beach Street Bakery returns with a funny, moving new novel for fans of Nina George's The Little Paris Bookshop.
Nina is a literary matchmaker. Pairing a reader with that perfect book is her passion… and also her job. Or at least it was. Until yesterday, she was a librarian in the hectic city. But now the job she loved is no more.
Determined to make a new life for herself, Nina moves to a sleepy village many miles away. There she buys a van and transforms it into a bookmobile — a mobile bookshop that she drives from neighborhood to neighborhood, changing one life after another with the power of storytelling.
From helping her grumpy landlord deliver a lamb, to sharing picnics with a charming train conductor who serenades her with poetry, Nina discovers there's plenty of adventure, magic, and soul in a place that's beginning to feel like home… a place where she just might be able to write her own happy ending.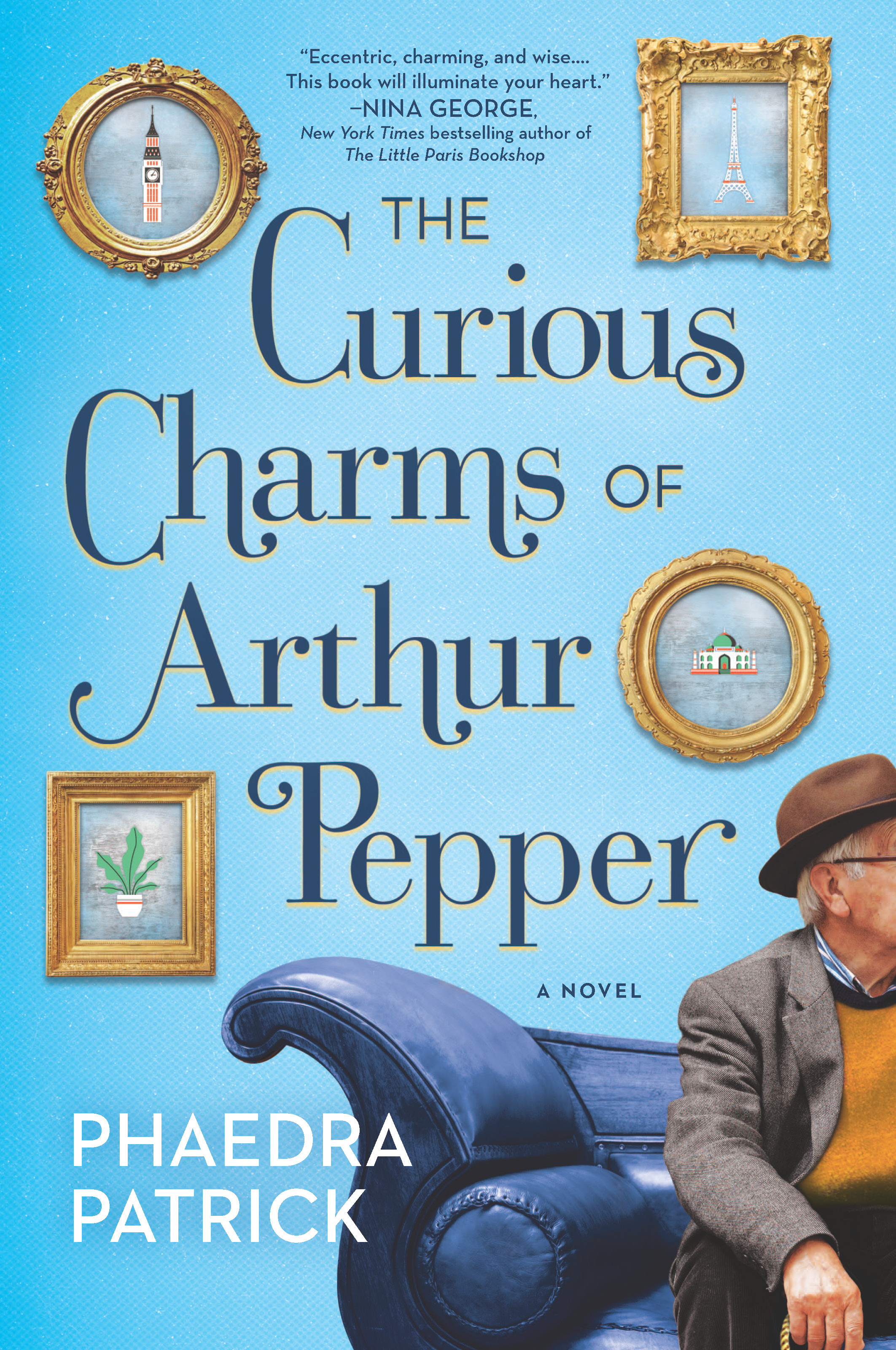 Don't miss this curiously charming debut! In this hauntingly beautiful story of love, loneliness and self-discovery, an endearing widower embarks on a life-changing adventure.
Sixty-nine-year-old Arthur Pepper lives a simple life. He gets out of bed at precisely 7:30 a.m., just as he did when his wife, Miriam, was alive. He dresses in the same gray slacks and mustard sweater vest, waters his fern, Frederica, and heads out to his garden.
But on the one-year anniversary of Miriam's death, something changes. Sorting through Miriam's possessions, Arthur finds an exquisite gold charm bracelet he's never seen before. What follows is a surprising and unforgettable odyssey that takes Arthur from London to Paris and as far as India in an epic quest to find out the truth about his wife's secret life before they met — a journey that leads him to find hope, healing and self-discovery in the most unexpected places.
Featuring an unforgettable cast of characters with big hearts and irresistible flaws, The Curious Charms of Arthur Pepper is a joyous celebration of life's infinite possibilities.
The Best Exotic Marigold Hotel meets The Italian Job in internationally-bestselling author Catharina Ingelman-Sundberg's witty and insightful comedy of errors about a group of delinquent seniors whose desire for a better quality of life leads them to rob and ransom priceless artwork.
Martha Andersson may be 79-years-old and live in a retirement home, but that doesn't mean she's ready to stop enjoying life. So when the new management of Diamond House starts cutting corners to save money, Martha and her four closest friends — The Genius, The Rake, Christina and Anna-Gretta (a.k.a. The League of Pensioners) — won't stand for it. Fed up with early bedtimes and overcooked veggies, this group of feisty seniors sets about to regain their independence, improve their lot, and stand up for seniors everywhere.
Their solution? White collar crime. What begins as a relatively straightforward robbery of a nearby luxury hotel quickly escalates into an unsolvable heist at the National Museum. With police baffled and the Mafia hot on their trail, the League of Pensioners has to stay one walker's length ahead if it's going to succeed….
Told with all the insight and humor of A Man Called Ove or Where'd You Go Bernadette?, The Little Old Lady Who Broke All the Rules is a delightful and heartwarming novel that goes to prove the adage that it's not the years in your life that count, it's the life in your years.
This "poetic, poignant" (US Weekly) debut features last great adventures, unlikely heroes, and a "sweet, disarming story of lasting love" (The New York Times Book Review).
Eighty-three-year-old Etta has never seen the ocean. So early one morning she takes a rifle, some chocolate, and her best boots and begins walking the 3,232 kilometers from rural Saskatchewan, Canada eastward to the sea. As Etta walks further toward the crashing waves, the lines among memory, illusion, and reality blur.
Otto wakes to a note left on the kitchen table. "I will try to remember to come back," Etta writes to her husband. Otto has seen the ocean, having crossed the Atlantic years ago to fight in a far-away war. He understands. But with Etta gone, the memories come crowding in and Otto struggles to keep them at bay. Meanwhile, their neighbor Russell has spent his whole life trying to keep up with Otto and loving Etta from afar. Russell insists on finding Etta, wherever she's gone. Leaving his own farm will be the first act of defiance in his life.
In this tender and funny novel, award-winning author Hilma Wolitzer mines the unpredictable fallout of suddenly becoming single later in life, and the chaos and joys of falling in love the second time around. When Edward Schuyler, a modest and bookish 62-year-old science teacher, is widowed, he finds himself ambushed by female attention. There are plenty of unattached women around, but a healthy, handsome, available man is a rare and desirable creature. Edward receives phone calls from widows seeking love, or at least lunch, while well-meaning friends try to set him up at dinner parties. Even an attractive married neighbor offers herself to him.
The problem is that Edward doesn't feel available. He's still mourning his beloved wife, Bee, and prefers solitude and the familiar routine of work, gardening, and bird-watching. But then his stepchildren surprise him by placing a personal ad in The New York Review of Books on his behalf. Soon the letters flood in, and Edward is torn between his loyalty to Bee's memory and his growing longing for connection. Gradually, reluctantly, he begins dating ("dating after death," as one correspondent puts it), and his encounters are variously startling, comical, and sad. Just when Edward thinks he has the game figured out, a chance meeting proves that love always arrives when it's least expected.
With wit, warmth, and a keen understanding of the heart, An Available Man explores aspects of loneliness and togetherness, and the difference in the options open to men and women of a certain age. Most of all, the novel celebrates the endurance of love, and its thrilling capacity to bloom anew.
A brilliant new work that returns Richard Ford to the hallowed territory that sealed his reputation as an American master: the world of Frank Bascombe, and the landscape of his celebrated novels The Sportswriter, the Pulitzer Prize and PEN/Faulkner winning Independence Day, and The Lay of the Land.
In his trio of world-acclaimed novels portraying the life of an entire American generation, Richard Ford has imagined one of the most indelible and widely discussed characters in modern literature, Frank Bascombe. Through Bascombe — protean, funny, profane, wise, often inappropriate — we've witnessed the aspirations, sorrows, longings, achievements and failings of an American life in the twilight of the 20th century.
Now, in Let Me Be Frank with You, Ford reinvents Bascombe in the aftermath of Hurricane Sandy. In four richly luminous narratives, Bascombe (and Ford) attempts to reconcile, interpret and console a world undone by calamity. It is a moving and wondrous and extremely funny odyssey through the America we live in at this moment. Ford is here again working with the maturity and brilliance of a writer at the absolute height of his powers.
She took 1930s New York by storm, working her way up writing copy for R.H. Macy's to become the highest paid advertising woman in the country. It was a job that, she says, "in some ways saved my life, and in other ways ruined it."
Now it's the last night of 1984 and Lillian, 85 years old but just as sharp and savvy as ever, is on her way to a party. It's chilly enough out for her mink coat and Manhattan is grittier now — her son keeps warning her about a subway vigilante on the prowl — but the quick-tongued poetess has never been one to scare easily. On a walk that takes her over 10 miles around the city, she meets bartenders, bodega clerks, security guards, criminals, children, parents, and parents-to-be, while reviewing a life of excitement and adversity, passion and heartbreak, illuminating all the ways New York has changed — and has not.
A love letter to city life in all its guts and grandeur, Lillian Boxfish Takes a Walk by Kathleen Rooney paints a portrait of a remarkable woman across the canvas of a changing America: from the Jazz Age to the onset of the AIDS epidemic; the Great Depression to the birth of hip-hop.
Lillian figures she might as well take her time. For now, after all, the night is still young.
Meet Don Tillman, a brilliant yet socially challenged professor of genetics, who's decided it's time he found a wife. And so, in the orderly, evidence-based manner with which Don approaches all things, he designs the Wife Project to find his perfect partner: a 16-page, scientifically valid survey to filter out the drinkers, the smokers, the late arrivers.
Rosie Jarman is all these things. She also is strangely beguiling, fiery, and intelligent. And while Don quickly disqualifies her as a candidate for the Wife Project, as a DNA expert Don is particularly suited to help Rosie on her own quest: identifying her biological father. When an unlikely relationship develops as they collaborate on the Father Project, Don is forced to confront the spontaneous whirlwind that is Rosie — and the realization that, despite your best scientific efforts, you don't find love, it finds you.
Arrestingly endearing and entirely unconventional, Graeme Simsion's distinctive debut will resonate with anyone who has ever tenaciously gone after life or love in the face of great challenges. The Rosie Project is a rare find: a book that restores our optimism in the power of human connection.
An irresistible debut novel about the wisdom of the very young, the mischief of the very old, and the magic that happens when no one else is looking.
Millie Bird, seven years old and ever hopeful, always wears red gumboots to match her curly hair. Her struggling mother, grieving the death of Millie's father, leaves her in the big ladies' underwear department of a local store and never returns.
Agatha Pantha, 82, has not left her house — or spoken to another human being — since she was widowed seven years ago. She fills the silence by yelling at passersby, watching loud static on TV, and maintaining a strict daily schedule.
Karl the Touch Typist, eighty-seven, once used his fingers to type out love notes on his wife's skin. Now that she's gone, he types his words out into the air as he speaks. Karl's been committed to a nursing home, but in a moment of clarity and joy, he escapes. Now he's on the lam.
Brought together at a fateful moment, the three embark upon a road trip across Western Australia to find Millie's mother. Along the way, Karl wants to find out how to be a man again; Agatha just wants everything to go back to how it was.
Together they will discover that old age is not the same as death, that the young can be wise, and that letting yourself feel sad once in a while just might be the key to a happy life.
A Confederacy of Dunces is an American comic masterpiece. John Kennedy Toole's hero, one Ignatius J. Reilly, is "huge, obese, fractious, fastidious, a latter-day Gargantua, a Don Quixote of the French Quarter. His story bursts with wholly original characters, denizens of New Orleans' lower depths, incredibly true-to-life dialogue, and the zaniest series of high and low comic adventures" (Henry Kisor, Chicago Sun-Times).
Have you read any of these books? Which is your favorite? Tell us in the comments!
Comments