Summer has finally arrived, and so have these riotous reads! Hit the beach — or stay inside where it's less sandy — with comedic memoirs, hilarious advice books, and side-splitting fiction, all hot off the presses. Check out our list of funny books arriving summer 2017 below, complete with publishers' descriptions.
An astonishingly frank, funny, poignant book for any woman who wishes they had someone who would say to them, "This happened to me, learn from my mistakes and my successes. Because you don't get smarter as you get older, you get braver."
Sheila Nevins is the best friend you never knew you had. She is your discreet confidante you can tell any secret to, your sage mentor at work who helps you navigate the often uneven playing field, your wise sister who has "been there, done that," your hysterical girlfriend whose stories about men will make laugh until you cry. Sheila Nevins is the one person who always tells it like it is.
In You Don't Look Your Age, the famed documentary producer (as President of HBO Documentary Films for over 30 years, Nevins has rightfully been credited with creating the documentary rebirth) finally steps out from behind the camera and takes her place front and center.
In these pages you will read about the real life challenges of being a woman in a man's world, what it means to be a working mother, what it's like to be an older woman in a youth-obsessed culture, the sometimes changing, often sweet truth about marriages, what being a feminist really means, and that you are in good company if your adult children don't return your phone calls.
So come, sit down, make yourself comfortable, (and for some of you, don't forget the damn reading glasses). You're in for a treat.
Release date: Out now
David Sedaris tells all in a book that is, literally, a lifetime in the making.
For 40 years, David Sedaris has kept a diary in which he records everything that captures his attention — overheard comments, salacious gossip, soap opera plot twists, secrets confided by total strangers. These observations are the source code for his finest work, and through them he has honed his cunning, surprising sentences.
Now, Sedaris shares his private writings with the world. Theft by Finding, the first of two volumes, is the story of how a drug-abusing dropout with a weakness for the International House of Pancakes and a chronic inability to hold down a real job became one of the funniest people on the planet.
Written with a sharp eye and ear for the bizarre, the beautiful, and the uncomfortable, and with a generosity of spirit that even a misanthropic sense of humor can't fully disguise, Theft by Finding proves that Sedaris is one of our great modern observers. It's a potent reminder that when you're as perceptive and curious as Sedaris, there's no such thing as a boring day.
Release date: Out now
Kevin Kwan, bestselling author of Crazy Rich Asians (soon to be a major motion picture starring Constance Wu, Henry Golding, Michelle Yeoh, and Gemma Chan) and China Rich Girlfriend, is back with an uproarious new novel of a family riven by fortune, an ex-wife driven psychotic with jealousy, a battle royal fought through couture gown sabotage, and the heir to one of Asia's greatest fortunes locked out of his inheritance.
When Nicholas Young hears that his grandmother, Su Yi, is on her deathbed, he rushes to be by her bedside — but he's not alone. The entire Shang-Young clan has convened from all corners of the globe to stake claim on their matriarch's massive fortune. With each family member vying to inherit Tyersall Park — a trophy estate on 64 prime acres in the heart of Singapore — Nicholas's childhood home turns into a hotbed of speculation and sabotage. As her relatives fight over heirlooms, Astrid Leong is at the center of her own storm, desperately in love with her old sweetheart Charlie Wu, but tormented by her ex-husband — a man hell bent on destroying Astrid's reputation and relationship. Meanwhile Kitty Pong, married to China's second richest man, billionaire Jack Bing, still feels second best next to her new step-daughter, famous fashionista Colette Bing. A sweeping novel that takes us from the elegantly appointed mansions of Manila to the secluded private islands in the Sulu Sea, from a kidnapping at Hong Kong's most elite private school to a surprise marriage proposal at an Indian palace, caught on camera by the telephoto lenses of paparazzi, Kevin Kwan's hilarious, gloriously wicked new novel reveals the long-buried secrets of Asia's most privileged families and their rich people problems.
Release date: Out now
The life-survival guide you didn't know you needed. But you do.
As any current or former twentysomething knows, adulthood can be kind of awkward because no one tells you what to expect. Most people spend a decade or more figuring out the unwritten rules of life, the hard way.
Does Andy Boyle have everything figured out? No. But the honest and good-natured advice in this genuinely helpful book will help any newly minted adult get through the hard parts faster, guaranteed. (Note: not literally guaranteed.)
Topics include:
* The A*hole Test
* "Friend Zone," "Adulting," and Other Things to Stop Saying
* Should I Get Back with My Ex? (Spoiler: No)
* Networking Like a Not Gross Person
* Failing Isn't Failure, and Other Mostly Good Rules to Live By
* Don't Be Creepy
Perfect for anyone who's ready to graduate into adulthood, or at least out of their mom's basement.
Release date: Out now
A funny and intimate look at fatherhood from the actor and writer/director of The Boss and Tammy that combines stories about his own larger-than-life dad and how his experiences raising two daughters with his wife, Melissa McCarthy, who also penned the Foreword, are shaped by his own childhood.
Though he's best known for his appearances in the movie Enough Said, as well as his hilarious role as Air Marshall Jon in Bridesmaids, Ben Falcone isn't a big shot movie star director at home. There, he's just dad. In this winning collection of stories, Ben shares his funny and poignant adventures as the husband of Melissa McCarthy, and the father of their two young daughters. He also shares tales from his own childhood in Southern Illinois, and life with his father — an outspoken, brilliant, but unconventional man with a big heart and a somewhat casual approach to employment named Steve Falcone.
Ben is just an ordinary dad who has his share of fights with other parents blocking his view with their expensive electronic devices at school performances. Navigating the complicated role of being the only male in a house full of women, he finds himself growing more and more concerned as he sounds more and more like his dad. While Steve Falcone may not have been the briefcase and gray flannel suit type, he taught Ben priceless lessons about what matters most in life. A supportive, creative, and downright funny dad, Steve made sure his sons' lives were never dull — a sense of adventure that carries through this warm, sometimes hilarious, and poignant memoir.
Release date: Out now
Sometimes you just have to laugh, even when life is a dumpster fire.
With We Are Never Meeting in Real Life., "bitches gotta eat" blogger and comedian Samantha Irby turns the serio-comic essay into an art form. Whether talking about how her difficult childhood has led to a problem in making "adult" budgets, explaining why she should be the new Bachelorette — she's "35-ish, but could easily pass for 60-something" — detailing a disastrous pilgrimage-slash-romantic-vacation to Nashville to scatter her estranged father's ashes, sharing awkward sexual encounters, or dispensing advice on how to navigate friendships with former drinking buddies who are now suburban moms — hang in there for the Costco loot — she's as deft at poking fun at the ghosts of her past self as she is at capturing powerful emotional truths.
Release date: Out now
Superstar comedian and Hollywood box office star Kevin Hart turns his immense talent to the written word by writing some words. Some of those words include: the, a, for, above, and even even. Put them together and you have the funniest, most heartfelt, and most inspirational memoir on survival, success, and the importance of believing in yourself since Old Yeller.
The question you're probably asking yourself right now is: What does Kevin Hart have that a book also has?
According to the three people who have seen Kevin Hart and a book in the same room, the answer is clear:
A book is compact. Kevin Hart is compact.
A book has a spine that holds it together. Kevin Hart has a spine that holds him together.
A book has a beginning. Kevin Hart's life uniquely qualifies him to write this book by also having a beginning.
It begins in North Philadelphia. He was born an accident, unwanted by his parents. His father was a drug addict who was in and out of jail. His brother was a crack dealer and petty thief. And his mother was overwhelmingly strict, beating him with belts, frying pans, and his own toys.
The odds, in short, were stacked against our young hero, just like the odds that are stacked against the release of a new book in this era of social media (where Hart has a following of over 100 million, by the way).
But Kevin Hart, like Ernest Hemingway, J.K. Rowling, and Chocolate Droppa before him, was able to defy the odds and turn it around. In his literary debut, he takes the reader on a journey through what his life was, what it is today, and how he's overcome each challenge to become the man he is today.
And that man happens to be the biggest comedian in the world, with tours that sell out football stadiums and films that have collectively grossed over $3.5 billion.
He achieved this not just through hard work, determination, and talent: It was through his unique way of looking at the world. Because just like a book has chapters, Hart sees life as a collection of chapters that each person gets to write for himself or herself.
"Not only do you get to choose how you interpret each chapter, but your interpretation writes the next chapter," he says. "So why not choose the interpretation that serves your life the best?"
Release date: Out now
"One of the funniest writers in America."
That's what The New Yorker's Andy Borowitz calls Jenny Allen — and with good reason. In her debut essay collection, the longtime humorist and performer declares no subject too sacred, no boundary impassable.
With her eagle eye for the absurd and hilarious, Allen reports from the potholes midway through life's journey. One moment she's flirting shamelessly — and unsuccessfully — with a younger man at a wedding; the next she's stumbling upon X-rated images on her daughter's computer. She ponders the connection between her ex-husband's questions about the location of their silverware, and the divorce that came a year later. While undergoing chemotherapy, she experiments with being a "wig person." And she considers those perplexing questions that we never pause to ask: Why do people say "It is what it is"? What's the point of fat-free half-and-half? And haven't we heard enough about memes?
Jenny Allen's musings range fluidly from the personal to the philosophical. She writes with the familiarity of someone telling a dinner party anecdote, forgoing decorum for candor and comedy. To read Would Everybody Please Stop? is to experience life with imaginative and incisive humor.
Release date: Out now
Critically acclaimed, award-winning British comedian and actor Eddie Izzard details his childhood, his first performances on the streets of London, his ascent to worldwide success on stage and screen, and his comedy shows which have won over audiences around the world.
Over the course of a 30-year career, Eddie Izzard has proved himself to be a creative chameleon, inhabiting the stage and film and television screen with an unbelievable fervor. Born in Yemen and raised in Northern Ireland, Wales, and England, he lost his mother at the age of six — a devastating event that affected the rest of his life. In his teens, he dropped out of university and took to the streets of London as part of a comedy double act. When his partner went on vacation, Izzard kept busy by inventing a one-man escape act, and thus a solo career was ignited. As a stand-up comedian, Izzard has captivated audiences with his surreal, stream-of-consciousness comedy — lines such as "Cake or Death?" "Death Star Canteen," and "Do You Have a Flag?" have the status of great rock lyrics. As a self-proclaimed "action transvestite," Izzard broke a mold performing in makeup and heels, and has become as famous for his "total clothing" rights as he has for his art. In Believe Me, he recounts the dizzying rise he made from the streets of London to West End theaters, to Wembley Arena, Madison Square Garden, and the Hollywood Bowl.
Izzard is arguably one of today's top comedians. At the time of publication, he is still performing his Force Majeure show — so far in more than forty countries worldwide and in four languages: English, French, German, and Spanish. With his brand of keenly intelligent humor that ranges from world history to historical politics, sexual politics, mad ancient kings, and chickens with guns, he has built an extraordinary fan base that transcends age, gender, and race. Writing with the same candor and insight evident in his comedy, he reflects on a childhood marked by the loss of his mother, boarding school, and alternative sexuality, as well as a life in comedy, film, politics, running, and philanthropy. Honest and generous, Izzard's Believe Me is an inspired account of a very singular life thus far.
Release date: June 13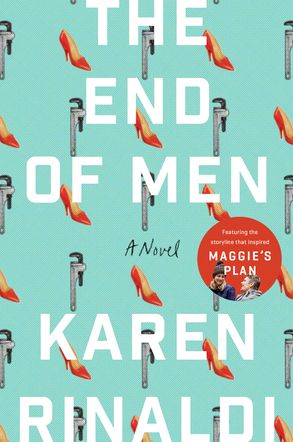 Isabel, Anna, Beth, and Maggie are women who aren't afraid to take it all. Whether spearheading a pregnancy lingerie company, conspiring to return a husband to his ex-wife, lusting after an old lover while in a satisfying marriage, or trying to balance motherhood and work — they are sexy, determined, and not looking for a simple happily ever after. Through punchy, hilarious, and insightful storytelling, The End of Men shatters the confines of society, and more importantly, those we impose upon ourselves.
Release date: June 20
The irrepressibly charming duo of Emerson Knight and Riley Moon returns in another gripping mystery by #1 New York Times bestselling author Janet Evanovich.
Buddhist monk Wayan Bagus lost his island of solitude and wants to get it back. The island was about two hundred miles northeast of Samoa. It had a mountain, beaches, a rain forest, and a volcano. And now it's gone. Poof! Vanished without a trace.
Brilliant and boyishly charming Emerson Knight likes nothing better than solving an unsolvable, improbable mystery. And finding a missing island is better than Christmas morning in the Knight household. When clues lead to a dark and sinister secret that is being guarded by the National Park Service, Emerson will need to assemble a crack team for help. Since a crack team isn't available, he enlists Riley Moon and his cousin Vernon. Riley Moon has a Harvard business degree and can shoot the eyes out of a grasshopper at fifty feet, but she can't figure out how to escape the vortex of Emerson Knight's odd life. Vernon has been Emerson's loyal and enthusiastic partner in crime since childhood. He now lives in an RV behind Emerson's house.
Together, this ragtag, mismatched trio will embark on a worldwide investigation that will expose a conspiracy one hundred years in the making.
Release date: June 20
A fresh, fun, and unpretentious guide to wine from Marissa A. Ross, official wine columnist for Bon Appétit.
Does the thought of having to buy wine for a dinner party stress you out? Is your go-to strategy to pick the bottle with the coolest label? Are you tired of choosing pairings based on your wallet, rather than your palate? Fear not! Bon Appétit wine columnist and Wine. All The Time. blogger Marissa A. Ross is here to help.
In this utterly accessible yet comprehensive guide to wine, Ross will help readers to understand the ins and outs of wine culture, from how to describe what they're drinking, to finding the best bottle for their budget, to picking the perfect red for a boyfriend's discerning parents. Told in her signature comedic voice, with personal anecdotes woven in among its lessons, Wine. All the Time. will teach readers to sip confidently, and make them laugh as they're doing it.
Release date: June 27
The bestselling and "perennially hilarious" mother-daughter team is back with a new collection of stories from their real lives, guaranteed to make you laugh out loud. Join Lisa and Francesca as they regret drunk-shopping online, try smell-dating, and explore the freedom of a hiatus from men — a Guyatus. They offer a fresh and funny take on the triumphs and facepalm moments of modern life, showing that when it comes to navigating the crazy world we live in, you're always your own best lifeguard.
Release date: July 11
Freshly disengaged from her fiancé and feeling that life has not turned out quite the way she planned, 30-year-old Ruth quits her job, leaves town, and arrives at her parents' home to find that situation more complicated than she'd realized. Her father, a prominent history professor, is losing his memory and is only erratically lucid. Ruth's mother, meanwhile, is lucidly erratic. But as Ruth's father's condition intensifies, the comedy in her situation takes hold, gently transforming all her grief.
Told in captivating glimpses and drawn from a deep well of insight, humor, and unexpected tenderness, Goodbye, Vitamin pilots through the loss, love, and absurdity of finding one's footing in this life.
Release date: July 11
As the story opens, nine comedians of various acclaim are summoned to the island retreat of legendary Hollywood funnyman Dustin Walker. The group includes a former late-night TV host, a washed-up improv instructor, a ridiculously wealthy "blue collar" comic, and a past-her-prime Vegas icon. All nine arrive via boat to find that every building on the island is completely deserted. Marooned without cell phone service or wifi signals, they soon find themselves being murdered one by one. But who is doing the killing, and why?
A darkly clever take on Agatha Christie's And Then There Were None and other classics of the genre, Ten Dead Comedians is a marvel of literary ventriloquism, with hilarious comic monologues in the voice of every suspect. It's also an ingeniously plotted puzzler with a twist you'll never see coming!
Release date: July 11
Less by Andrew Sean Greer
A breakout romantic comedy by the bestselling author of five critically acclaimed novels.

Who says you can't run away from your problems?
You are a failed novelist about to turn 50. A wedding invitation arrives in the mail: Your boyfriend of the past nine years is engaged to someone else. You can't say yes — it would be too awkward — and you can't say no — it would look like defeat. On your desk are a series of invitations to half-baked literary events around the world.
QUESTION: How do you arrange to skip town?
ANSWER: You accept them all.
What would possibly go wrong? Arthur Less will almost fall in love in Paris, almost fall to his death in Berlin, barely escape to a Moroccan ski chalet from a Saharan sandstorm, accidentally book himself as the (only) writer-in-residence at a Christian Retreat Center in Southern India, and encounter, on a desert island in the Arabian Sea, the last person on Earth he wants to face. Somewhere in there: he will turn fifty. Through it all, there is his first love. And there is his last.
Because, despite all these mishaps, missteps, misunderstandings and mistakes, Less is, above all, a love story.
A scintillating satire of the American abroad, a rumination on time and the human heart, a bittersweet romance of chances lost, by an author The New York Times has hailed as "inspired, lyrical," "elegiac," "ingenious," as well as "too sappy by half," Less shows a writer at the peak of his talents raising the curtain on our shared human comedy.
Release date: July 18
From the senior writer at Funny or Die and former artistic director at the Upright Citizens Brigade Theater, a collection of absurdist, hilarious stories and essays on relationships, technology, and contemporary society.
This collection of essays and stories spans a wide variety of topics. There's the open letter to Charles Manson, the report of a brave archeologist's journey into a suburban man cave, and a long overdue missive from Leif Erikson to Christopher Columbus. Walt Whitman even teaches a spin class.
Nate Dern's razor-sharp eye examines modern society and technology, man buns, dating apps, and juicing crazes. Anyone who's ever scrunched their eyes at WiFi Terms & Conditions, listened to the reasons that led a vegetarian to give up meat, or looked on in horror at the evolving audacity of reality TV will appreciate Dern's wicked and funny take on modern life.
Release date: August 8
In this a charming, satirical "children's" book, BuzzFeed's lead animal editor and an acclaimed art director/illustrator poke fun at our contemporary, hyper-connected, and often mundane millennial age and the absurdities of the #blessed time and place in which we all now live.
Welcome to "Digi Valley," the epitome of 21st-century urban life! The animal-people who call it home do cool things: life coach, cat landlord, baby DJ teacher, app developer, iPhone photographer, new media consultant, beauty blogger, and, of course, freelancer. On the street, in the coffee shop, at the farmer's market, or the local vegan café, you'll meet new friends like Frances and Sadie, Freelance Frank, Realtor Rick, and Bethany the Beauty Blogger as they bike, drive, bus, hoverboard, and Uber their way around town — or just sit and enjoy a latte while doing important things on their devices.
Everybody in Digi Valley is very, very busy — texting, tweeting, video chatting, sending selfies, swiping for dates, and binging on their favorite shows. Whether you're looking for a job at the latest media startup or want to publish your own web series, this urban mecca has something for everyone. And with the emotionally sensitive, tech-friendly Digi Valley Elementary School, it's a great place to raise kids too!
In What Are We Even Doing With Our Lives? Chelsea Marshall and Mary Dauterman have created an authentic fictional world that illuminates the funny, silly, earnest experience of millennial life. But watch out when the unthinkable happens — the internet goes down! Filled with dozens of illustrated spreads, What Are We Even Doing With Our Lives? is the most honest children's book for all ages ever written… like seriously.
Release date: August 8
New York Times bestselling author Jen Hatmaker, with playful hilarity, shameless honesty, and refreshing insight, assures readers they have all the pluck they need for vibrant, courageous, grace-filled lives.
Jen Hatmaker believes backbone is the birthright of every woman. Women have been demonstrating resiliency and resolve since forever. They have incredibly strong shoulders to bear loss, hope, grief, and vision. She laughs at the days to come is how the ancient wisdom writings put it.
But somehow women have gotten the message that pain and failure mean they must be doing things wrong, that they messed up the rules or tricks for a seamless life. As it turns out, every last woman faces confusion and loss, missteps and catastrophic malfunctions, no matter how much she is doing "right." Struggle doesn't mean they're weak; it means they're alive.
Jen Hatmaker, beloved author, Big Sister Emeritus, and Chief BFF, offers another round of hilarious tales, frank honesty, and hope for the woman who has forgotten her moxie. Whether discussing the grapple with change ("Everyone, be into this thing I'm into! Except when I'm not. Then everyone be cool.") or the time she drove to the wrong city for a fourth-grade field trip ("Why are we in San Antonio?"), Jen parlays her own triumphs and tragedies into a sigh of relief for all normal, fierce women everywhere who, like her, sometimes hide in the car eating crackers but also want to get back up and get back out, to live undaunted "in the moment" no matter what the moments hold.
Release date: August 8
If only.
Amy's husband Hugh says he isn't leaving her.
He still loves her, he's just taking a break — from their marriage, their children and, most of all, from their life together. Six months to lose himself in south-east Asia. And there is nothing Amy can say or do about it.
Yes, it's a mid-life crisis, but let's be clear: a break isn't a break up — yet…
However, for Amy it's enough to send her — along with her extended family of gossips, misfits and troublemakers — teetering over the edge.
For a lot can happen in six-months. When Hugh returns, if he returns, will he be the same man she married? And will Amy be the same woman?
Because if Hugh is on a break from their marriage, then isn't she?
The Break isn't a story about falling in love but about staying in love. It is Marian Keyes at her funniest, wisest, and brilliant best.
Release date: September 7
What books are you looking forward to reading this summer? Tell us in the comments!
Comments