Searching for something to add to your summer reading pile? We've rounded up this year's biggest debut novels, which have also become some of the most popular books of 2017 (so far). These books span spine-tingling thrillers, stunning historical fiction, and everything in between. Publishers' descriptions included below.
An extraordinary, propulsive novel based on the true story of a family of Polish Jews who are separated at the start of the Second World War, determined to survive — and to reunite. 
It is the spring of 1939 and three generations of the Kurc family are doing their best to live normal lives, even as the shadow of war grows closer. The talk around the family Seder table is of new babies and budding romance, not of the increasing hardships threatening Jews in their hometown of Radom, Poland. But soon the horrors overtaking Europe will become inescapable and the Kurcs will be flung to the far corners of the world, each desperately trying to navigate his or her own path to safety.
As one sibling is forced into exile, another attempts to flee the continent, while others struggle to escape certain death, either by working grueling hours on empty stomachs in the factories of the ghetto or by hiding as gentiles in plain sight. Driven by an unwavering will to survive and by the fear that they may never see one another again, the Kurcs must rely on hope, ingenuity, and inner strength to persevere.
A novel of breathtaking sweep and scope that spans five continents and six years and transports readers from the jazz clubs of Paris to Kraków's most brutal prison to the ports of Northern Africa and the farthest reaches of the Siberian gulag, We Were the Lucky Ones demonstrates how in the face of the twentieth century's darkest moment, the human spirit can find a way to survive, and even triumph.
The Dry by Jane Harper
A small town hides big secrets in The Dry, an atmospheric, page-turning debut mystery by award-winning author Jane Harper.
After getting a note demanding his presence, Federal Agent Aaron Falk arrives in his hometown for the first time in decades to attend the funeral of his best friend, Luke. Twenty years ago when Falk was accused of murder, Luke was his alibi. Falk and his father fled under a cloud of suspicion, saved from prosecution only because of Luke's steadfast claim that the boys had been together at the time of the crime. But now more than one person knows they didn't tell the truth back then, and Luke is dead.
Amid the worst drought in a century, Falk and the local detective question what really happened to Luke. As Falk reluctantly investigates to see if there's more to Luke's death than there seems to be, long-buried mysteries resurface, as do the lies that have haunted them. And Falk will find that small towns have always hidden big secrets.
A magical debut novel for readers of Naomi Novik's Uprooted, Erin Morgenstern's The Night Circus, and Neil Gaiman's myth-rich fantasies, The Bear and the Nightingale spins an irresistible spell as it announces the arrival of a singular talent with a gorgeous voice.
At the edge of the Russian wilderness, winter lasts most of the year and the snowdrifts grow taller than houses. But Vasilisa doesn't mind — she spends the winter nights huddled around the embers of a fire with her beloved siblings, listening to her nurse's fairy tales. Above all, she loves the chilling story of Frost, the blue-eyed winter demon, who appears in the frigid night to claim unwary souls. Wise Russians fear him, her nurse says, and honor the spirits of house and yard and forest that protect their homes from evil.
After Vasilisa's mother dies, her father goes to Moscow and brings home a new wife. Fiercely devout, city-bred, Vasilisa's new stepmother forbids her family from honoring the household spirits. The family acquiesces, but Vasilisa is frightened, sensing that more hinges upon their rituals than anyone knows.
And indeed, crops begin to fail, evil creatures of the forest creep nearer, and misfortune stalks the village. All the while, Vasilisa's stepmother grows ever harsher in her determination to groom her rebellious stepdaughter for either marriage or confinement in a convent.
As danger circles, Vasilisa must defy even the people she loves and call on dangerous gifts she has long concealed — this, in order to protect her family from a threat that seems to have stepped from her nurse's most frightening tales.
She was the first person to see me as I had always wanted to be seen. It was enough to indebt me to her forever.
In the male-dominated field of animation, Mel Vaught and Sharon Kisses are a dynamic duo, the friction of their differences driving them: Sharon, quietly ambitious but self-doubting; Mel, brash and unapologetic, always the life of the party. Best friends and artistic partners since the first week of college, where they bonded over their working-class roots and obvious talent, they spent their 20s ensconced in a gritty Brooklyn studio. Working, drinking, laughing. Drawing: Mel, to understand her tumultuous past, and Sharon, to lose herself altogether.
Now, after a decade of striving, the two are finally celebrating the release of their first full-length feature, which transforms Mel's difficult childhood into a provocative and visually daring work of art. The toast of the indie film scene, they stand at the cusp of making it big. But with their success come doubt and destruction, cracks in their relationship threatening the delicate balance of their partnership. Sharon begins to feel expendable, suspecting that the ever-more raucous Mel is the real artist. During a trip to Sharon's home state of Kentucky, the only other partner she has ever truly known — her troubled, charismatic childhood best friend, Teddy — reenters her life, and long-buried resentments rise to the surface, hastening a reckoning no one sees coming.
A funny, heartbreaking novel of friendship, art, and trauma, The Animators is about the secrets we keep and the burdens we shed on the road to adulthood.
Caraval by Stephanie Garber
Whatever you've heard about Caraval, it doesn't compare to the reality. It's more than just a game or a performance. It's the closest you'll ever find to magic in this world… 
Welcome, welcome to Caraval — Stephanie Garber's sweeping tale of two sisters who escape their ruthless father when they enter the dangerous intrigue of a legendary game.
Scarlett has never left the tiny island where she and her beloved sister, Tella, live with their powerful, and cruel, father. Now Scarlett's father has arranged a marriage for her, and Scarlett thinks her dreams of seeing Caraval, the far-away, once-a-year performance where the audience participates in the show, are over.
But this year, Scarlett's long-dreamt of invitation finally arrives. With the help of a mysterious sailor, Tella whisks Scarlett away to the show. Only, as soon as they arrive, Tella is kidnapped by Caraval's mastermind organizer, Legend. It turns out that this season's Caraval revolves around Tella, and whoever finds her first is the winner.
Scarlett has been told that everything that happens during Caraval is only an elaborate performance. But she nevertheless becomes enmeshed in a game of love, heartbreak, and magic with the other players in the game. And whether Caraval is real or not, she must find Tella before the five nights of the game are over, a dangerous domino effect of consequences is set off, and her sister disappears forever.
For readers of Lilac Girls and The Nightingale, The Chilbury Ladies' Choir unfolds the struggles, affairs, deceptions, and triumphs of a village choir during World War II.
As England becomes enmeshed in the early days of World War II and the men are away fighting, the women of Chilbury village forge an uncommon bond. They defy the Vicar's stuffy edict to close the choir and instead "carry on singing," resurrecting themselves as the Chilbury Ladies' Choir. We come to know the home-front struggles of five unforgettable choir members: a timid widow devastated when her only son goes to fight; the older daughter of a local scion drawn to a mysterious artist; her younger sister pining over an impossible crush; a Jewish refugee from Czechoslovakia hiding a family secret; and a conniving midwife plotting to outrun her seedy past.
An enchanting ensemble story that shuttles from village intrigue to romance to the heartbreaking matters of life and death, Jennifer Ryan's debut novel thrillingly illuminates the true strength of the women on the home front in a village of indomitable spirit.
Idaho by Emily Ruskovich
A stunning debut novel about love and forgiveness, about the violence of memory and the equal violence of its loss — from O. Henry Prize-winning author Emily Ruskovich.
Ann and Wade have carved out a life for themselves from a rugged landscape in northern Idaho, where they are bound together by more than love. With her husband's memory fading, Ann attempts to piece together the truth of what happened to Wade's first wife, Jenny, and to their daughters. In a story written in exquisite prose and told from multiple perspectives — including Ann, Wade, and Jenny, now in prison — we gradually learn of the mysterious and shocking act that fractured Wade and Jenny's lives, of the love and compassion that brought Ann and Wade together, and of the memories that reverberate through the lives of every character in Idaho.
In a wild emotional and physical landscape, Wade's past becomes the center of Ann's imagination, as Ann becomes determined to understand the family she never knew — and to take responsibility for them, reassembling their lives, and her own.
The long-awaited first novel from the author of Tenth of December: a moving and original father-son story featuring none other than Abraham Lincoln, as well as an unforgettable cast of supporting characters, living and dead, historical and invented.
February 1862. The Civil War is less than one year old. The fighting has begun in earnest, and the nation has begun to realize it is in for a long, bloody struggle. Meanwhile, President Lincoln's beloved 11-year-old son, Willie, lies upstairs in the White House, gravely ill. In a matter of days, despite predictions of a recovery, Willie dies and is laid to rest in a Georgetown cemetery. "My poor boy, he was too good for this earth," the president says at the time. "God has called him home." Newspapers report that a grief-stricken Lincoln returns, alone, to the crypt several times to hold his boy's body.
From that seed of historical truth, George Saunders spins an unforgettable story of familial love and loss that breaks free of its realistic, historical framework into a supernatural realm both hilarious and terrifying. Willie Lincoln finds himself in a strange purgatory where ghosts mingle, gripe, commiserate, quarrel, and enact bizarre acts of penance. Within this transitional state — called, in the Tibetan tradition, the bardo — a monumental struggle erupts over young Willie's soul.

Lincoln in the Bardo is an astonishing feat of imagination and a bold step forward from one of the most important and influential writers of his generation. Formally daring, generous in spirit, deeply concerned with matters of the heart, it is a testament to fiction's ability to speak honestly and powerfully to the things that really matter to us. Saunders has invented a thrilling new form that deploys a kaleidoscopic, theatrical panorama of voices to ask a timeless, profound question: How do we live and love when we know that everything we love must end?
Fourteen-year-old Linda lives with her parents in the beautiful, austere woods of northern Minnesota, where their nearly abandoned commune stands as a last vestige of a lost counter-culture world. Isolated at home and an outlander at school, Linda is drawn to the enigmatic, attractive Lily and new history teacher Mr. Grierson. When Mr. Grierson is charged with possessing child pornography, the implications of his arrest deeply affect Linda as she wrestles with her own fledgling desires and craving to belong.
And then the young Gardner family moves in across the lake and Linda finds herself welcomed into their home as a babysitter for their little boy, Paul. It seems that her life finally has purpose but with this new sense of belonging she is also drawn into secrets she doesn't understand. Over the course of a few days, Linda makes a set of choices that reverberate throughout her life. As she struggles to find a way out of the sequestered world into which she was born, Linda confronts the life-and-death consequences of the things people do — and fail to do — for the people they love.
Winner of the McGinnis-Ritchie award for its first chapter, Emily Fridlund's propulsive and gorgeously written History of Wolves introduces a new writer of enormous range and talent.
Violet and Finn were "meant to be," said everyone, always. They ended up together by the hands of fate aligning things just so. Three years into their marriage, they have a wonderful little boy, and as the three of them embark on their first vacation as a family, Violet can't help thinking that she can't believe her luck. Life is good.
So no one is more surprised than she when Finn leaves her at the beach — just packs up the hotel room and disappears. And takes their son with him. Violet is suddenly in her own worst nightmare, and faced with the knowledge that the man she's shared her life with, she never really knew at all.
Caitlin and Finn have been best friends since way back when, but when Finn shows up on Caitlin's doorstep with the son he's wanted for kidnapping, demands that she hide them from the authorities, and threatens to reveal a secret that could destroy her own family if she doesn't, Caitlin faces an impossible choice.
Told through alternating viewpoints of Violet, Finn and Caitlin, Jessica Strawser's Almost Missed You is a powerful story of a mother's love, a husband's betrayal, connections that maybe should have been missed, secrets that perhaps shouldn't have been kept, and spaces between what's meant to be and what might have been.
Ragdoll by Daniel Cole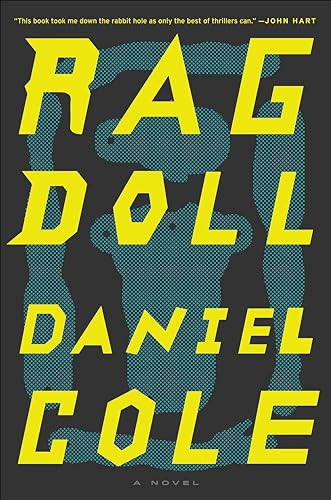 William Fawkes, a controversial detective known as The Wolf, has just been reinstated to his post after he was suspended for assaulting a vindicated suspect. Still under psychological evaluation, Fawkes returns to the force eager for a big case. When his former partner and friend, Detective Emily Baxter, calls him to a crime scene, he's sure this is it: the body is made of the dismembered parts of six victims, sewn together like a puppet — a corpse that becomes known as "The Ragdoll."
Fawkes is tasked with identifying the six victims, but that gets dicey when his reporter ex-wife anonymously receives photographs from the crime scene, along with a list of six names, and the dates on which the Ragdoll Killer plans to murder them.
The final name on the list is Fawkes.
Baxter and her trainee partner, Alex Edmunds, hone in on figuring out what links the victims together before the killer strikes again. But for Fawkes, seeing his name on the list sparks a dark memory, and he fears that the catalyst for these killings has more to do with him — and his past — than anyone realizes.
With a breakneck pace, a twisty plot, and a wicked sense of humor, Ragdoll announces the arrival of the hottest new brand in crime fiction.
An audacious and powerful debut novel: a second American Civil War, a devastating plague, and one family caught deep in the middle — a story that asks what might happen if America were to turn its most devastating policies and deadly weapons upon itself.
Sarat Chestnut, born in Louisiana, is only six when the Second American Civil War breaks out in 2074. But even she knows that oil is outlawed, that Louisiana is half underwater, and that unmanned drones fill the sky. When her father is killed and her family is forced into Camp Patience for displaced persons, she begins to grow up shaped by her particular time and place. But not everyone at Camp Patience is who they claim to be. Eventually Sarat is befriended by a mysterious functionary, under whose influence she is turned into a deadly instrument of war. The decisions that she makes will have tremendous consequences not just for Sarat but for her family and her country, rippling through generations of strangers and kin alike.
In this moving and enormously entertaining debut novel, longtime romantic partners Kathryn and Chris experiment with an open relationship and reconsider everything they thought they knew about love.
After nine years together, Kathryn and Chris have the sort of relationship most would envy. They speak in the shorthand they have invented, complete one another's sentences, and help each other through every daily and existential dilemma. But, as content as they are together, an enduring loneliness continues to haunt the dark corners of their relationship. When Chris tells Kathryn about his feelings for Emily, a vivacious young woman he sees often at the Laundromat, Kathryn encourages her boyfriend to pursue this other woman — certain that her bond with Chris is strong enough to weather a little side dalliance.
Next Year, For Sure tracks the tumultuous, revelatory, and often very funny year that follows. When Chris's romance with Emily evolves beyond what anyone anticipated, both Chris and Kathryn are invited into Emily's communal home, where Kathryn will discover new possibilities of her own. In the confusions, passions, and upheavals of their new lives, both Kathryn and Chris are forced to reconsider their past and what they thought they knew about love.
Offering a luminous portrait of a relationship from two perspectives, Zoey Leigh Paterson has written an empathic, beautiful, and tremendously honest novel about a great love pushed to the edge. Deeply poignant and hugely entertaining, Next Year, For Sure shows us what lies at the mysterious heart of relationships, and what true openness and transformation require.
The year is 1995, and email is new. Selin, the daughter of Turkish immigrants, arrives for her freshman year at Harvard. She signs up for classes in subjects she has never heard of, befriends her charismatic and worldly Serbian classmate, Svetlana, and, almost by accident, begins corresponding with Ivan, an older mathematics student from Hungary. Selin may have barely spoken to Ivan, but with each email they exchange, the act of writing seems to take on new and increasingly mysterious meanings.
At the end of the school year, Ivan goes to Budapest for the summer, and Selin heads to the Hungarian countryside, to teach English in a program run by one of Ivan's friends. On the way, she spends two weeks visiting Paris with Svetlana. Selin's summer in Europe does not resonate with anything she has previously heard about the typical experiences of American college students, or indeed of any other kinds of people. For Selin, this is a journey further inside herself: a coming to grips with the ineffable and exhilarating confusion of first love, and with the growing consciousness that she is doomed to become a writer.
With superlative emotional and intellectual sensitivity, mordant wit, and pitch-perfect style, Batuman dramatizes the uncertainty of life on the cusp of adulthood. Her prose is a rare and inimitable combination of tenderness and wisdom; its logic as natural and inscrutable as that of memory itself. The Idiot is a heroic yet self-effacing reckoning with the terror and joy of becoming a person in a world that is as intoxicating as it is disquieting. Batuman's fiction is unguarded against both life's affronts and its beauty — and has at its command the complete range of thinking and feeling which they entail.
Marlena by Julie Buntin
An electric debut novel about love, addiction, and loss; the story of two girls and the feral year that will cost one her life, and define the other's for decades.
Everything about 15-year-old Cat's new town in rural Michigan is lonely and off-kilter, until she meets her neighbor, the manic, beautiful, pill-popping Marlena. Cat, inexperienced and desperate for connection, is quickly lured into Marlena's orbit by little more than an arched eyebrow and a shake of white-blond hair. As the two girls turn the untamed landscape of their desolate small town into a kind of playground, Cat catalogues a litany of firsts — first drink, first cigarette, first kiss — while Marlena's habits harden and calcify. Within the year, Marlena is dead, drowned in six inches of icy water in the woods nearby. Now, decades later, when a ghost from that pivotal year surfaces unexpectedly, Cat must try to forgive herself and move on, even as the memory of Marlena keeps her tangled in the past.
Alive with an urgent, unshakable tenderness, Julie Buntin's Marlena is an unforgettable look at the people who shape us beyond reason and the ways it might be possible to pull oneself back from the brink.
In this dazzling debut novel about love and betrayal, a young couple moves to New York City in search of success-only to learn that the lives they dream of may come with dangerous strings attached.
Julia and Evan fall in love as undergraduates at Yale. For Evan, a scholarship student from a rural Canadian town, Yale is a whole new world, and Julia — blond, beautiful, and rich – fits perfectly into the future he's envisioned for himself. After graduation, and on the eve of the great financial meltdown of 2008, they move together to New York City, where Evan lands a job at a hedge fund. But Julia, whose privileged upbringing grants her an easy but wholly unsatisfying job with a nonprofit, feels increasingly shut out of Evan's secretive world.
With the market crashing and banks failing, Evan becomes involved in a high-stakes deal at work — a deal that, despite the assurances of his Machiavellian boss, begins to seem more than slightly suspicious. Meanwhile, Julia reconnects with someone from her past who offers a glimpse of a different kind of live. As the economy craters, and as Evan and Julia spin into their separate orbits, they each find that they are capable of much more — good and bad — than they'd ever imagined.
Rich in suspense and insight, Anna Pitoniak's gripping debut reveals the fragile yet enduring nature of our connections: to one another and to ourselves. The Futures is a glittering story of a couple coming of age, and a searing portrait of what it's like to be young and full of hope in New York City, a place that so often seems determined to break us down — but ultimately may be the very thing that saves us.
Ava Antipova has her reasons for running away: a failing family vineyard, a romantic betrayal, a mercurial sister, an absent father, a mother slipping into dementia. In Paris, Ava renounces her terribly practical undergraduate degree, acquires a French boyfriend and a taste for much better wine, and erases her past. Two years later, she must return to upstate New York. Her twin sister, Zelda, is dead.
Even in a family of alcoholics, Zelda Antipova was the wild one, notorious for her mind games and destructive behavior. Stuck tending the vineyard and the girls' increasingly unstable mother, Zelda was allegedly burned alive when she passed out in the barn with a lit cigarette. But Ava finds the official explanation a little too neat. A little too Zelda. Then she receives a cryptic message — from her sister.
Just as Ava suspected, Zelda's playing one of her games. In fact, she's outdone herself, leaving a series of clues about her disappearance. With the police stuck on a red herring, Ava follows the trail laid just for her, thinking like her sister, keeping her secrets, immersing herself in Zelda's drama and her outlandish circle of friends and lovers. Along the way, Zelda forces her twin to confront their twisted history and the boy who broke Ava's heart. But why? Is Zelda trying to punish Ava for leaving, or to teach her a lesson? Or is she simply trying to write her own ending?
Featuring a colorful, raucous cast of characters, Caite Dolan-Leach's debut thriller takes readers on a literary scavenger hunt for clues concealed throughout the seemingly idyllic wine country, hidden in plain sight on social media, and buried at the heart of one tremendously dysfunctional, utterly unforgettable family.
Neurosurgeon Eitan Green has the perfect life — married to a beautiful police officer and father of two young boys. Then, speeding along a deserted moonlit road after an exhausting hospital shift, he hits someone. Seeing that the man, an African migrant, is beyond help, he flees the scene.
When the victim's widow knocks at Eitan's door the next day, holding his wallet and divulging that she knows what happened, Eitan discovers that her price for silence is not money. It is something else entirely, something that will shatter Eitan's safe existence and take him into a world of secrets and lies he could never have anticipated.
Waking Lions is a gripping, suspenseful, and morally devastating drama of guilt and survival, shame and desire from a remarkable young author on the rise.
Maddy is a devoted stay-at-home wife and mother, host of excellent parties, giver of thoughtful gifts, and bestower of a searingly perceptive piece of advice or two. She is the cornerstone of her family, a true matriarch… until she commits suicide, leaving her husband Brady and teenage daughter Eve heartbroken and reeling, wondering what happened. How could the exuberant, exacting woman they loved disappear so abruptly, seemingly without reason, from their lives? How they can possibly continue without her? As they sift through details of her last days, trying to understand the woman they thought they knew, Brady and Eve are forced to come to terms with unsettling truths.
Maddy, however, isn't ready to leave her family forever. Watching from beyond, she tries to find the perfect replacement for herself. Along comes Rory: pretty, caring, and spontaneous, with just the right bit of edge… but who also harbors a tragedy of her own. Will the mystery of Maddy ever come to rest? And can her family make peace with their history and begin to heal?
A young woman finds the most powerful love of her life when she gives birth at an institution for unwed mothers in 1883 Philadelphia. She is told she must give up her daughter to avoid lifelong poverty and shame. But she chooses to keep her.
Pregnant, left behind by her lover, and banished from her Quaker home and teaching position, Lilli de Jong enters a home for wronged women to deliver her child. She is stunned at how much her infant needs her and at how quickly their bond overtakes her heart. Mothers in her position face disabling prejudice, which is why most give up their newborns. But Lilli can't accept such an outcome. Instead, she braves moral condemnation and financial ruin in a quest to keep herself and her baby alive.
Confiding their story to her diary as it unfolds, Lilli takes readers from an impoverished charity to a wealthy family's home to the streets of a burgeoning American city. Drawing on rich history, Lilli de Jong is both an intimate portrait of love and loss and a testament to the work of mothers. "So little is permissible for a woman," writes Lilli, "yet on her back every human climbs to adulthood."
One morning, Deming Guo's mother, an undocumented Chinese immigrant named Polly, goes to her job at the nail salon and never comes home. No one can find any trace of her.
With his mother gone, 11-year-old Deming is left with no one to care for him. He is eventually adopted by two white college professors who move him from the Bronx to a small town upstate. They rename him Daniel Wilkinson in their efforts to make him over into their version of an "all-American boy." But far away from all he's ever known, Daniel struggles to reconcile his new life with his mother's disappearance and the memories of the family and community he left behind.
Set in New York and China, The Leavers is a vivid and moving examination of borders and belonging. It's the story of how one boy comes into his own when everything he's loved has been taken away — and how a mother learns to live with the mistakes of her past.
Inspired by the Black Lives Matter movement, Angie Thomas's searing debut about an ordinary girl in extraordinary circumstances addresses issues of racism and police violence with intelligence, heart, and unflinching honesty. Soon to be a major motion picture from Fox 2000/Temple Hill Productions.
Sixteen-year-old Starr Carter moves between two worlds: the poor neighborhood where she lives and the fancy suburban prep school she attends. The uneasy balance between these worlds is shattered when Starr witnesses the fatal shooting of her childhood best friend Khalil at the hands of a police officer. Khalil was unarmed.
Soon afterward, his death is a national headline. Some are calling him a thug, maybe even a drug dealer and a gangbanger. Protesters are taking to the streets in Khalil's name. Some cops and the local drug lord try to intimidate Starr and her family. What everyone wants to know is: what really went down that night? And the only person alive who can answer that is Starr.
But what Starr does — or does not — say could upend her community. It could also endanger her life.
Elan Mastai's acclaimed debut novel is a story of friendship and family, of unexpected journeys and alternate paths, and of love in its multitude of forms.
It's 2016, and in Tom Barren's world, technology has solved all of humanity's problems—there's no war, no poverty, no under-ripe avocadoes. Unfortunately, Tom isn't happy. He's lost the girl of his dreams. And what do you do when you're heartbroken and have a time machine? Something stupid.
Finding himself stranded in a terrible alternate reality — which we immediately recognize as our 2016 — Tom is desperate to fix his mistake and go home. Right up until the moment he discovers wonderfully unexpected versions of his family, his career, and the woman who may just be the love of his life.
Now Tom faces an impossible choice. Go back to his perfect but loveless life. Or stay in our messy reality with a soulmate by his side. His search for the answer takes him across continents and timelines in a quest to figure out, finally, who he really is and what his future — our future — is supposed to be.
Filled with humor and heart and packed with insight, intelligence, and mind-bending invention, All Our Wrong Todays is a powerful and moving story of life, loss, and love.
A luminous coming-of-age novel about a young female scientist who must recalibrate her life when her academic career goes off track; perfect for readers of Lab Girl and Celeste Ng's Everything I Never Told You.
Three years into her graduate studies at a demanding Boston university, the unnamed narrator of this nimbly wry, concise debut finds her one-time love for chemistry is more hypothesis than reality. She's tormented by her failed research — and reminded of her delays by her peers, her advisor, and most of all by her Chinese parents, who have always expected nothing short of excellence from her throughout her life. But there's another, nonscientific question looming: the marriage proposal from her devoted boyfriend, a fellow scientist, whose path through academia has been relatively free of obstacles, and with whom she can't make a life before finding success on her own. Eventually, the pressure mounts so high that she must leave everything she thought she knew about her future, and herself, behind. And for the first time, she's confronted with a question she won't find the answer to in a textbook: What do I really want? Over the next two years, this winningly flawed, disarmingly insightful heroine learns the formulas and equations for a different kind of chemistry — one in which the reactions can't be quantified, measured, and analyzed; one that can be studied only in the mysterious language of the heart. Taking us deep inside her scattered, searching mind, here is a brilliant new literary voice that astutely juxtaposes the elegance of science, the anxieties of finding a place in the world, and the sacrifices made for love and family.
Have you read any of these books? Tell us in the comments!
Want access to free & bargain ebooks? Sign up for BookBub here.
Comments