Finding a great book club book is not an easy task. It requires a story versatile enough to appeal to multiple tastes, but complex enough to spark endless discussion. To help with the search, we've rounded up some of the best book club books of recent years. Featuring thought-provoking fiction, these reads are sure to please the whole group! Publishers' descriptions included below.
Jacob Janowski's luck had run out — orphaned and penniless, he had no direction until he landed on a rickety train that was home to the Benzini Brothers Most Spectacular Show on Earth. A veterinary student just shy of a degree, he was put in charge of caring for the circus menagerie. It was the Great Depression and for Jacob the circus was both his salvation and a living hell. There he met Marlena, the beautiful equestrian star married to August, the charismatic but brutal animal trainer. And he met Rosie, an untrainable elephant who was the great hope for this third-rate traveling show. The bond that grew among this group of misfits was one of love and trust, and ultimately, it was their only hope for survival.
In a crumbling, isolated house at the foot of Mount Kanchenjunga in the Himalayas lives an embittered judge who wants only to retire in peace, when his orphaned granddaughter, Sai, arrives on his doorstep. The judge's cook watches over her distractedly, for his thoughts are often on his son, Biju, who is hopscotching from one gritty New York restaurant to another. Kiran Desai's brilliant novel, published to huge acclaim, is a story of joy and despair. Her characters face numerous choices that majestically illuminate the consequences of colonialism as it collides with the modern world.
Elizabeth Gilbert's Eat Pray Love touched the world and changed countless lives, inspiring and empowering millions of readers to search for their own best selves.
In her early 30s, Elizabeth Gilbert had everything a modern American woman was supposed to want — husband, country home, successful career — but instead of feeling happy and fulfilled, she was consumed by panic and confusion. This wise and rapturous book is the story of how she left behind all these outward marks of success, and set out to explore three different aspects of her nature, against the backdrop of three different cultures: pleasure in Italy, devotion in India, and on the Indonesian island of Bali, a balance between worldly enjoyment and divine transcendence.
The extraordinary #1 New York Times bestseller that is now a major motion picture, Markus Zusak's unforgettable story is about the ability of books to feed the soul.
It is 1939. Nazi Germany. The country is holding its breath. Death has never been busier, and will become busier still.
Liesel Meminger is a foster girl living outside of Munich, who scratches out a meager existence for herself by stealing when she encounters something she can't resist — books. With the help of her accordion-playing foster father, she learns to read and shares her stolen books with her neighbors during bombing raids as well as with the Jewish man hidden in her basement.
In superbly crafted writing that burns with intensity, award-winning author Markus Zusak, author of I Am the Messenger, has given us one of the most enduring stories of our time.
In 19 minutes, you can mow the front lawn, color your hair, watch a third of a hockey game. In 19 minutes, you can bake scones or get a tooth filled by a dentist; you can fold laundry for a family of five… In 19 minutes, you can stop the world, or you can just jump off it. In 19 minutes, you can get revenge.
Sterling is a small, ordinary New Hampshire town where nothing ever happens — until the day its complacency is shattered by a shocking act of violence. In the aftermath, the town's residents must not only seek justice in order to begin healing but also come to terms with the role they played in the tragedy. For them, the lines between truth and fiction, right and wrong, insider and outsider have been obscured forever. Josie Cormier, the teenage daughter of the judge sitting on the case, could be the state's best witness, but she can't remember what happened in front of her own eyes. And as the trial progresses, fault lines between the high school and the adult community begin to show, destroying the closest of friendships and families.
Nineteen Minutes is New York Times bestselling author Jodi Picoult's most raw, honest, and important novel yet. Told with the straightforward style for which she has become known, it asks simple questions that have no easy answers: Can your own child become a mystery to you? What does it mean to be different in our society? Is it ever okay for a victim to strike back? And who — if anyone — has the right to judge someone else?
Mackenzie Allen Phillips's youngest daughter, Missy, has been abducted during a family vacation, and evidence that she may have been brutally murdered is found in an abandoned shack deep in the Oregon wilderness. Four years later, in this midst of his great sadness, Mack receives a suspicious note, apparently from God, inviting him back to that shack for a weekend. Against his better judgment he arrives at the shack on wintry afternoon and walks back into his darkest nightmare. What he finds there will change his life forever.
Oscar is a sweet but disastrously overweight ghetto nerd who — from the New Jersey home he shares with his old world mother and rebellious sister — dreams of becoming the Dominican J.R.R. Tolkien and, most of all, finding love. But Oscar may never get what he wants. Blame the fukú — a curse that has haunted Oscar's family for generations, following them on their epic journey from Santo Domingo to the USA. Encapsulating Dominican-American history, The Brief Wondrous Life of Oscar Wao opens our eyes to an astonishing vision of the contemporary American experience and explores the endless human capacity to persevere — and risk it all — in the name of love.
After 103 weeks on the New York Times bestseller list and with 4 million copies of The Kite Runner shipped, Khaled Hosseini returns with a beautiful, riveting, and haunting novel that confirms his place as one of the most important literary writers today.
Born a generation apart and with very different ideas about love and family, Mariam and Laila are two women brought jarringly together by war, by loss and by fate. As they endure the ever escalating dangers around them — in their home as well as in the streets of Kabul — they come to form a bond that makes them both sisters and mother-daughter to each other, and that will ultimately alter the course not just of their own lives but of the next generation. With heart-wrenching power and suspense, Hosseini shows how a woman's love for her family can move her to shocking and heroic acts of self-sacrifice, and that in the end it is love, or even the memory of love, that is often the key to survival.
A stunning accomplishment, A Thousand Splendid Suns is a haunting, heartbreaking, compelling story of an unforgiving time, an unlikely friendship, and an indestructible love.
From New York Times bestselling author and neuroscientist Lisa Genova comes the definitive — and illuminating — novel about Alzheimer's disease.
Alice Howland is proud of the life she worked so hard to build. At 50 years old, she's a cognitive psychology professor at Harvard and a world-renowned expert in linguistics with a successful husband and three grown children. When she becomes increasingly disoriented and forgetful, a tragic diagnosis changes her life — and her relationship with her family and the world — forever. As she struggles to cope with Alzheimer's, she learns that her worth is comprised of far more than her ability to remember.
At once beautiful and terrifying, Still Alice is a moving and vivid depiction of life with early-onset Alzheimer's disease that is as compelling as A Beautiful Mind and as unforgettable as Ordinary People.
"I wonder how the book got to Guernsey? Perhaps there is some sort of secret homing instinct in books that brings them to their perfect readers."
January 1946: London is emerging from the shadow of the Second World War, and writer Juliet Ashton is looking for her next book subject. Who could imagine that she would find it in a letter from a man she's never met, a native of the island of Guernsey, who has come across her name written inside a book by Charles Lamb…
As Juliet and her new correspondent exchange letters, Juliet is drawn into the world of this man and his friends — and what a wonderfully eccentric world it is. The Guernsey Literary and Potato Peel Pie Society — born as a spur-of-the-moment alibi when its members were discovered breaking curfew by the Germans occupying their island — boasts a charming, funny, deeply human cast of characters, from pig farmers to phrenologists, literature lovers all.
Juliet begins a remarkable correspondence with the society's members, learning about their island, their taste in books, and the impact the recent German occupation has had on their lives. Captivated by their stories, she sets sail for Guernsey, and what she finds will change her forever.
Written with warmth and humor as a series of letters, this novel is a celebration of the written word in all its guises, and of finding connection in the most surprising ways.
On what might become one of the most significant days in her husband's presidency, Alice Blackwell considers the strange and unlikely path that has led her to the White House — and the repercussions of a life lived, as she puts it, "almost in opposition to itself."
A kind, bookish only child born in the 1940s, Alice learned the virtues of politeness early on from her stolid parents and small Wisconsin hometown. But a tragic accident when she was 17 shattered her identity and made her understand the fragility of life and the tenuousness of luck. So more than a decade later, when she met boisterous, charismatic Charlie Blackwell, she hardly gave him a second look: She was serious and thoughtful, and he would rather crack a joke than offer a real insight; he was the wealthy son of a bastion family of the Republican party, and she was a school librarian and registered Democrat. Comfortable in her quiet and unassuming life, she felt inured to his charms. And then, much to her surprise, Alice fell for Charlie.
As Alice learns to make her way amid the clannish energy and smug confidence of the Blackwell family, navigating the strange rituals of their country club and summer estate, she remains uneasy with her newfound good fortune. And when Charlie eventually becomes President, Alice is thrust into a position she did not seek — one of power and influence, privilege and responsibility. As Charlie's tumultuous and controversial second term in the White House wears on, Alice must face contradictions years in the making: How can she both love and fundamentally disagree with her husband? How complicit has she been in the trajectory of her own life? What should she do when her private beliefs run against her public persona?
In Alice Blackwell, New York Times bestselling author Curtis Sittenfeld has created her most dynamic and complex heroine yet. American Wife is a gorgeously written novel that weaves class, wealth, race, and the exigencies of fate into a brilliant tapestry — a novel in which the unexpected becomes inevitable, and the pleasures and pain of intimacy and love are laid bare.
The book no one can stop talking about…
In the ruins of a place once known as North America lies the nation of Panem, a shining Capitol surrounded by 12 outlying districts. The Capitol is harsh and cruel and keeps the districts in line by forcing them all to send one boy and one girl between the ages of 12 and 18 to participate in the annual Hunger Games, a fight to the death on live TV. Sixteen-year-old Katniss Everdeen, who lives alone with her mother and younger sister, regards it as a death sentence when she is forced to represent her district in the Games. But Katniss has been close to dead, and survival, for her, is second nature. Without really meaning to, she becomes a contender. But if she is to win, she will have to start making choices that weigh survival against humanity and life against love.
New York Times bestselling author Suzanne Collins delivers equal parts suspense and philosophy, adventure and romance, in this searing novel set in a future with unsettling parallels to our present.
The Help by Kathryn Stockett
Aibileen is a black maid in 1962 Jackson, Mississippi, who's always taken orders quietly, but lately she's unable to hold her bitterness back. Her friend Minny has never held her tongue but now must somehow keep secrets about her employer that leave her speechless. White socialite Skeeter just graduated college. She's full of ambition, but without a husband, she's considered a failure. Together, these seemingly different women join together to write a tell-all book about work as a black maid in the South, that could forever alter their destinies and the life of a small town…
Elizabeth Woodville is a woman of extraordinary beauty and ambition. Her mother is Jacquetta, also known as the mystical lady of the rivers, and she is even more determined to bring power and wealth to the family line. While riding in the woods one day, Elizabeth captures the attentions of the newly crowned King Edward IV and, despite her common upbringing, marries him in secret.
When she is raised up to be his queen, the English court is outraged, but Elizabeth rises to the demands of her exalted position and fights for her family's dominance. Yet despite her best efforts, and even with the help of her mother's powers, her two sons become pawns in a famous unsolved mystery that has confounded historians for centuries: the lost princes in the Tower of London.
In this dazzling account of the deadly Wars of the Roses, brother turns on brother to win the ultimate prize: the throne of England.
The lives of a 16-year-old Nigerian orphan and a well-off British woman collide in this page-turning #1 New York Times bestseller and book club favorite from Chris Cleave.
We don't want to tell you too much about this book. It is a truly special story, and we don't want to spoil it. Nevertheless, you need to know something, so we will just say this: It is extremely funny, but the African beach scene is horrific. The story starts there, but the book doesn't. And it's what happens afterward that is most important. Once you have read it, you'll want to tell everyone about it. When you do, please don't tell them what happens either. The magic is in how it unfolds.
Marion and Shiva Stone are twin brothers born of a secret union between a beautiful Indian nun and a brash British surgeon. Orphaned by their mother's death and their father's disappearance, bound together by a preternatural connection and a shared fascination with medicine, the twins come of age as Ethiopia hovers on the brink of revolution.
Moving from Addis Ababa to New York City and back again, Cutting for Stone is an unforgettable story of love and betrayal, medicine and ordinary miracles — and two brothers whose fates are forever intertwined.
Unbroken by Laura Hillenbrand
In boyhood, Louis Zamperini was an incorrigible delinquent. As a teenager, he channeled his defiance into running, discovering a prodigious talent that had carried him to the Berlin Olympics. But when World War II began, the athlete became an airman, embarking on a journey that led to a doomed flight on a May afternoon in 1943. When his Army Air Forces bomber crashed into the Pacific Ocean, against all odds, Zamperini survived, adrift on a foundering life raft. Ahead of Zamperini lay thousands of miles of open ocean, leaping sharks, thirst and starvation, enemy aircraft, and, beyond, a trial even greater. Driven to the limits of endurance, Zamperini would answer desperation with ingenuity; suffering with hope, resolve, and humor; brutality with rebellion. His fate, whether triumph or tragedy, would be suspended on the fraying wire of his will.
Unbroken is an unforgettable testament to the resilience of the human mind, body, and spirit, brought vividly to life by Seabiscuit author Laura Hillenbrand.
Her name was Henrietta Lacks, but scientists know her as HeLa. She was a poor black tobacco farmer whose cells — taken without her knowledge in 1951 — became one of the most important tools in medicine, vital for developing the polio vaccine, cloning, gene mapping, and more. Henrietta's cells have been bought and sold by the billions, yet she remains virtually unknown, and her family can't afford health insurance. This phenomenal New York Times bestseller tells a riveting story of the collision between ethics, race, and medicine; of scientific discovery and faith healing; and of a daughter consumed with questions about the mother she never knew.
Room by Emma Donoghue
To five-year-old Jack, Room is the world… It's where he was born, it's where he and his Ma eat and sleep and play and learn. At night, his Ma shuts him safely in the wardrobe, where he is meant to be asleep when Old Nick visits.
Room is home to Jack, but to Ma it's the prison where she has been held for seven years. Through her fierce love for her son, she has created a life for him in this 11-by-11-foot space. But with Jack's curiosity building alongside her own desperation, she knows that Room cannot contain either much longer.
Room is a tale at once shocking, riveting, exhilarating — a story of unconquerable love in harrowing circumstances, and of the diamond-hard bond between a mother and her child.
With his bestselling spiritual guide The Power of Now, Eckhart Tolle inspired millions of readers to discover the freedom and joy of a life lived "in the now." In A New Earth, Tolle expands on these powerful ideas to show how transcending our ego-based state of consciousness is not only essential to personal happiness, but also the key to ending conflict and suffering throughout the world. Tolle describes how our attachment to the ego creates the dysfunction that leads to anger, jealousy, and unhappiness, and shows readers how to awaken to a new state of consciousness and follow the path to a truly fulfilling existence.
A New Earth was an Oprah Book Club pick and reads as a traditional narrative, offering anecdotes and philosophies in a way that is accessible to all. Illuminating, enlightening, and uplifting, A New Earth is a profoundly spiritual manifesto for a better way of life — and for building a better world.
Chicago, 1920: Hadley Richardson is a quiet 28-year-old who has all but given up on love and happiness — until she meets Ernest Hemingway. Following a whirlwind courtship and wedding, the pair set sail for Paris, where they become the golden couple in a lively and volatile group — the fabled "Lost Generation" — that includes Gertrude Stein, Ezra Pound, and F. Scott Fitzgerald.
Though deeply in love, the Hemingways are ill prepared for the hard-drinking, fast-living, and free-loving life of Jazz Age Paris. As Ernest struggles to find the voice that will earn him a place in history and pours himself into the novel that will become The Sun Also Rises, Hadley strives to hold on to her sense of self as her roles as wife, friend, and muse become more challenging. Eventually they find themselves facing the ultimate crisis of their marriage — a deception that will lead to the unraveling of everything they've fought so hard for.
A heartbreaking portrayal of love and torn loyalty, The Paris Wife is all the more poignant because we know that, in the end, Hemingway wrote that he would rather have died than fallen in love with anyone but Hadley.
Six days ago, astronaut Mark Watney became one of the first people to walk on Mars.
Now, he's sure he'll be the first person to die there.
After a dust storm nearly kills him and forces his crew to evacuate while thinking him dead, Mark finds himself stranded and completely alone with no way to even signal Earth that he's alive — and even if he could get word out, his supplies would be gone long before a rescue could arrive.
Chances are, though, he won't have time to starve to death. The damaged machinery, unforgiving environment, or plain-old "human error" are much more likely to kill him first.
But Mark isn't ready to give up yet. Drawing on his ingenuity, his engineering skills — and a relentless, dogged refusal to quit — he steadfastly confronts one seemingly insurmountable obstacle after the next. Will his resourcefulness be enough to overcome the impossible odds against him?
Award-winning, New York Times bestselling author Ann Patchett returns with a provocative and assured novel of morality and miracles, science and sacrifice set in the Amazon rainforest. Infusing the narrative with the same ingenuity and emotional urgency that pervaded her acclaimed previous novels Bel Canto, Taft, Run, The Magician's Assistant, and The Patron Saint of Liars, Patchett delivers an enthrallingly innovative tale of aspiration, exploration, and attachment in State of Wonder — a gripping adventure story and a profound look at the difficult choices we make in the name of discovery and love.
The spellbinding epic set in twelfth-century England, The Pillars of the Earth tells the story of the lives entwined in the building of the greatest Gothic cathedral the world has ever known — and a struggle between good and evil that will turn church against state, and brother against brother.
In a time of civil war, famine and religious strife, there rises a magnificent Cathedral in Kingsbridge. Against this backdrop, lives entwine: Tom, the master builder, Aliena, the noblewoman, Philip, the prior of Kingsbridge, Jack, the artist in stone and Ellen, the woman from the forest who casts a curse. At once, this is a sensuous and enduring love story and an epic that shines with the fierce spirit of a passionate age.
Bernadette Fox is notorious. To her Microsoft-guru husband, she's a fearlessly opinionated partner; to fellow private-school mothers in Seattle, she's a disgrace; to design mavens, she's a revolutionary architect; and to 15-year-old Bee, she is a best friend and, simply, Mom. Then Bernadette disappears. It began when Bee aced her report card and claimed her promised reward: a family trip to Antarctica. But Bernadette's intensifying allergy to Seattle — and people in general — has made her so agoraphobic that a virtual assistant in India now runs her most basic errands. A trip to the end of the earth is problematic. To find her mother, Bee compiles email messages, official documents, secret correspondence — creating a compulsively readable and touching novel about misplaced genius and a mother and daughter's role in an absurd world.
On a warm summer morning in North Carthage, Missouri, it is Nick and Amy Dunne's fifth wedding anniversary. Presents are being wrapped and reservations are being made when Nick's clever and beautiful wife disappears. Husband-of-the-Year Nick isn't doing himself any favors with cringe-worthy daydreams about the slope and shape of his wife's head, but passages from Amy's diary reveal the alpha-girl perfectionist could have put anyone dangerously on edge. Under mounting pressure from the police and the media — as well as Amy's fiercely doting parents — the town golden boy parades an endless series of lies, deceits, and inappropriate behavior. Nick is oddly evasive, and he's definitely bitter — but is he really a killer?
After four harrowing years on the Western Front, Tom Sherbourne returns to Australia and takes a job as the lighthouse keeper on Janus Rock, nearly half a day's journey from the coast. To this isolated island, where the supply boat comes once a season, Tom brings a young, bold, and loving wife, Isabel. Years later, after two miscarriages and one stillbirth, the grieving Isabel hears a baby's cries on the wind. A boat has washed up onshore carrying a dead man and a living baby.
Tom, who keeps meticulous records and whose moral principles have withstood a horrific war, wants to report the man and infant immediately. But Isabel insists the baby is a "gift from God," and against Tom's judgment, they claim her as their own and name her Lucy. When she is two, Tom and Isabel return to the mainland and are reminded that there are other people in the world. Their choice has devastated one of them.
They had nothing in common until love gave them everything to lose…
Louisa Clark is an ordinary girl living an exceedingly ordinary life — steady boyfriend, close family — who has barely been farther afield than their tiny village. She takes a badly needed job working for ex–Master of the Universe Will Traynor, who is wheelchair bound after an accident. Will has always lived a huge life — big deals, extreme sports, worldwide travel — and now he's pretty sure he cannot live the way he is.
Will is acerbic, moody, bossy — but Lou refuses to treat him with kid gloves, and soon his happiness means more to her than she expected. When she learns that Will has shocking plans of his own, she sets out to show him that life is still worth living.
A Love Story for this generation and perfect for fans of John Green's The Fault in Our Stars, Me Before You brings to life two people who couldn't have less in common — a heartbreakingly romantic novel that asks, What do you do when making the person you love happy also means breaking your own heart?
Theo Decker, a 13-year-old New Yorker, miraculously survives an accident that kills his mother. Abandoned by his father, Theo is taken in by the family of a wealthy friend. Bewildered by his strange new home on Park Avenue, disturbed by schoolmates who don't know how to talk to him, and tormented above all by his longing for his mother, he clings to the one thing that reminds him of her: a small, mysteriously captivating painting that ultimately draws Theo into the underworld of art.
As an adult, Theo moves silkily between the drawing rooms of the rich and the dusty labyrinth of an antiques store where he works. He is alienated and in love — and at the center of a narrowing, ever more dangerous circle.
The Goldfinch is a mesmerizing, stay-up-all-night and tell-all-your-friends triumph, an old-fashioned story of loss and obsession, survival and self-invention, and the ruthless machinations of fate.
Orphan Train by Christina Baker Kline
Christina Baker Kline's #1 New York Times bestselling novel — the captivating story of a 91-year-old woman with a hidden past as an orphan-train rider and the teenage girl whose own troubled adolescence leads her to seek answers to long-buried questions… now with an extended scene that addresses the number one question readers ask, and an excerpt from Kline's novel A Piece of the World.
Between 1854 and 1929, so-called orphan trains ran regularly from the cities of the East Coast to the farmlands of the Midwest, carrying thousands of abandoned children whose fates would be determined by pure luck. Would they be adopted by a kind and loving family, or would they face a childhood and adolescence of hard labor and servitude?
As a young Irish immigrant, Vivian Daly was one such child, sent by rail from New York City to an uncertain future a world away. Returning east later in life, Vivian leads a quiet, peaceful existence on the coast of Maine, the memories of her upbringing rendered a hazy blur. But in her attic, hidden in trunks, are vestiges of a turbulent past.
Seventeen-year-old Molly Ayer knows that a community service position helping an elderly woman clean out her home is the only thing keeping her out of juvenile hall. But as Molly helps Vivian sort through her keepsakes and possessions, she discovers that she and Vivian aren't as different as they appear. A Penobscot Indian who has spent her youth in and out of foster homes, Molly is also an outsider being raised by strangers, and she, too, has unanswered questions about the past.
Moving between contemporary Maine and Depression-era Minnesota, Orphan Train is a powerful novel of upheaval and resilience, of second chances, and unexpected friendship.
Meet Ove. He's a curmudgeon — the kind of man who points at people he dislikes as if they were burglars caught outside his bedroom window. He has staunch principles, strict routines, and a short fuse. People call him "the bitter neighbor from hell." But must Ove be bitter just because he doesn't walk around with a smile plastered to his face all the time?
Behind the cranky exterior there is a story and a sadness. So when one November morning a chatty young couple with two chatty young daughters move in next door and accidentally flatten Ove's mailbox, it is the lead-in to a comical and heartwarming tale of unkempt cats, unexpected friendship, and the ancient art of backing up a U-Haul. All of which will change one cranky old man and a local residents' association to their very foundations.
A feel-good story in the spirit of The Unlikely Pilgrimage of Harold Fry and Major Pettigrew's Last Stand, Fredrik Backman's novel about the angry old man next door is a thoughtful exploration of the profound impact one life has on countless others.
My darling Cecilia, if you're reading this, then I've died… 
Imagine that your husband wrote you a letter, to be opened after his death. Imagine, too, that the letter contains his deepest, darkest secret — something with the potential to destroy not just the life you built together, but the lives of others as well. Imagine, then, that you stumble across that letter while your husband is still very much alive…
Cecilia Fitzpatrick has achieved it all — she's an incredibly successful businesswoman, a pillar of her small community, and a devoted wife and mother. Her life is as orderly and spotless as her home. But that letter is about to change everything, and not just for her: Rachel and Tess barely know Cecilia — or each other — but they too are about to feel the earth-shattering repercussions of her husband's secret.
An audacious, darkly glittering novel set in the eerie days of civilization's collapse, Station Eleven tells the spellbinding story of a Hollywood star, his would-be savior, and a nomadic group of actors roaming the scattered outposts of the Great Lakes region, risking everything for art and humanity.
One snowy night Arthur Leander, a famous actor, has a heart attack onstage during a production of King Lear. Jeevan Chaudhary, a paparazzo-turned-EMT, is in the audience and leaps to his aid. A child actress named Kirsten Raymonde watches in horror as Jeevan performs CPR, pumping Arthur's chest as the curtain drops, but Arthur is dead. That same night, as Jeevan walks home from the theater, a terrible flu begins to spread. Hospitals are flooded, and Jeevan and his brother barricade themselves inside an apartment, watching out the window as cars clog the highways, gunshots ring out, and life disintegrates around them.
Fifteen years later, Kirsten is an actress with the Traveling Symphony. Together, this small troupe moves between the settlements of an altered world, performing Shakespeare and music for scattered communities of survivors. Written on their caravan, and tattooed on Kirsten's arm is a line from Star Trek: "Because survival is insufficient." But when they arrive in St. Deborah by the Water, they encounter a violent prophet who digs graves for anyone who dares to leave.
Spanning decades, moving back and forth in time, and vividly depicting life before and after the pandemic, this suspenseful, elegiac novel is rife with beauty. As Arthur falls in and out of love, as Jeevan watches the newscasters say their final good-byes, and as Kirsten finds herself caught in the crosshairs of the prophet, we see the strange twists of fate that connect them all. A novel of art, memory, and ambition, Station Eleven tells a story about the relationships that sustain us, the ephemeral nature of fame, and the beauty of the world as we know it.
Marie-Laure lives with her father in Paris near the Museum of Natural History, where he works as the master of its thousands of locks. When she is six, Marie-Laure goes blind and her father builds a perfect miniature of their neighborhood so she can memorize it by touch and navigate her way home. When she is 12, the Nazis occupy Paris and father and daughter flee to the walled citadel of Saint-Malo, where Marie-Laure's reclusive great-uncle lives in a tall house by the sea. With them they carry what might be the museum's most valuable and dangerous jewel.
In a mining town in Germany, the orphan Werner grows up with his younger sister, enchanted by a crude radio they find. Werner becomes an expert at building and fixing these crucial new instruments, a talent that wins him a place at a brutal academy for Hitler Youth, then a special assignment to track the resistance. More and more aware of the human cost of his intelligence, Werner travels through the heart of the war and, finally, into Saint-Malo, where his story and Marie-Laure's converge.
Doerr's "stunning sense of physical detail and gorgeous metaphors" (San Francisco Chronicle) are dazzling. Deftly interweaving the lives of Marie-Laure and Werner, he illuminates the ways, against all odds, people try to be good to one another.
Once you let a book into your life, the most unexpected things can happen…
Broken Wheel, Iowa, has never seen anyone like Sara, who traveled all the way from Sweden just to meet her book-loving pen pal, Amy. When she arrives, however, she finds Amy's funeral guests just leaving. The residents of Broken Wheel are happy to look after their bewildered visitor — there's not much else to do in a dying small town that's almost beyond repair.
You certainly wouldn't open a bookstore. And definitely not with the tourist in charge. You'd need a vacant storefront (Main Street is full of them), books (Amy's house is full of them), and… customers.
The bookstore might be a little quirky. Then again, so is Sara. But Broken Wheel's own story might be more eccentric and surprising than she thought.
A heartwarming reminder of why we are book lovers, this is a sweet, smart story about how books find us, change us, and connect us.
The Nest by Cynthia D'Aprix Sweeney
A warm, funny and acutely perceptive debut novel about four adult siblings and the fate of the shared inheritance that has shaped their choices and their lives.
Every family has its problems. But even among the most troubled, the Plumb family stands out as spectacularly dysfunctional. Years of simmering tensions finally reach a breaking point on an unseasonably cold afternoon in New York City as Melody, Beatrice, and Jack Plumb gather to confront their charismatic and reckless older brother, Leo, freshly released from rehab. Months earlier, an inebriated Leo got behind the wheel of a car with a 19-year-old waitress as his passenger. The ensuing accident has endangered the Plumbs' joint trust fund, "The Nest," which they are months away from finally receiving. Meant by their deceased father to be a modest mid-life supplement, the Plumb siblings have watched The Nest's value soar along with the stock market and have been counting on the money to solve a number of self-inflicted problems.
Melody, a wife and mother in an upscale suburb, has an unwieldy mortgage and looming college tuition for her twin teenage daughters. Jack, an antiques dealer, has secretly borrowed against the beach cottage he shares with his husband, Walker, to keep his store open. And Bea, a once-promising short-story writer, just can't seem to finish her overdue novel. Can Leo rescue his siblings and, by extension, the people they love? Or will everyone need to reimagine the futures they've envisioned? Brought together as never before, Leo, Melody, Jack, and Beatrice must grapple with old resentments, present-day truths, and the significant emotional and financial toll of the accident, as well as finally acknowledge the choices they have made in their own lives.
This is a story about the power of family, the possibilities of friendship, the ways we depend upon one another and the ways we let one another down. In this tender, entertaining, and deftly written debut, Cynthia D'Aprix Sweeney brings a remarkable cast of characters to life to illuminate what money does to relationships, what happens to our ambitions over the course of time, and the fraught yet unbreakable ties we share with those we love.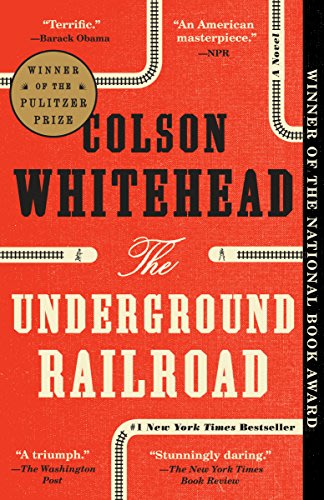 The National Book Award Winner and #1 New York Times bestseller from Colson Whitehead, a magnificent tour de force chronicling a young slave's adventures as she makes a desperate bid for freedom in the antebellum South.
Cora is a slave on a cotton plantation in Georgia. Life is hell for all the slaves, but especially bad for Cora; an outcast even among her fellow Africans, she is coming into womanhood — where even greater pain awaits. When Caesar, a recent arrival from Virginia, tells her about the Underground Railroad, they decide to take a terrifying risk and escape. Matters do not go as planned — Cora kills a young white boy who tries to capture her. Though they manage to find a station and head north, they are being hunted.
In Whitehead's ingenious conception, the Underground Railroad is no mere metaphor — engineers and conductors operate a secret network of tracks and tunnels beneath the Southern soil. Cora and Caesar's first stop is South Carolina, in a city that initially seems like a haven. But the city's placid surface masks an insidious scheme designed for its black denizens. And even worse: Ridgeway, the relentless slave catcher, is close on their heels. Forced to flee again, Cora embarks on a harrowing flight, state by state, seeking true freedom.
Like the protagonist of Gulliver's Travels, Cora encounters different worlds at each stage of her journey — hers is an odyssey through time as well as space. As Whitehead brilliantly re-creates the unique terrors for black people in the pre–Civil War era, his narrative seamlessly weaves the saga of America from the brutal importation of Africans to the unfulfilled promises of the present day. The Underground Railroad is at once a kinetic adventure tale of one woman's ferocious will to escape the horrors of bondage and a shattering, powerful meditation on the history we all share.
The acclaimed, bestselling author and winner of the PEN/Faulkner Award and the Orange Prize tells the enthralling story of how an unexpected romantic encounter irrevocably changes two families lives.
One Sunday afternoon in Southern California, Bert Cousins shows up at Franny Keating's christening party uninvited. Before evening falls, he has kissed Franny's mother, Beverly — thus setting in motion the dissolution of their marriages and the joining of two families.
Spanning five decades, Commonwealth explores how this chance encounter reverberates through the lives of the four parents and six children involved. Spending summers together in Virginia, the Keating and Cousins children forge a lasting bond that is based on a shared disillusionment with their parents and the strange and genuine affection that grows up between them.
When, in her twenties, Franny begins an affair with the legendary author Leon Posen and tells him about her family, the story of her siblings is no longer hers to control. Their childhood becomes the basis for his wildly successful book, ultimately forcing them to come to terms with their losses, their guilt, and the deeply loyal connection they feel for one another.
Told with equal measures of humor and heartbreak, Commonwealth is a meditation on inspiration, interpretation, and the ownership of stories. It is a brilliant and tender tale of the far-reaching ties of love and responsibility that bind us together.
In the latest masterpiece by Emma Donoghue, bestselling author of Room, an English nurse brought to a small Irish village to observe what appears to be a miracle — a girl said to have survived without food for months — soon finds herself fighting to save the child's life.
Tourists flock to the cabin of 11-year-old Anna O'Donnell, who believes herself to be living off manna from heaven, and a journalist is sent to cover the sensation. Lib Wright, a veteran of Florence Nightingale's Crimean campaign, is hired to keep watch over the girl.
Written with all the propulsive tension that made Room a huge bestseller, The Wonder works beautifully on many levels — a tale of two strangers who transform each other's lives, a powerful psychological thriller, and a story of love pitted against evil.
Lucy Barton is recovering slowly from what should have been a simple operation. Her mother, to whom she hasn't spoken for many years, comes to see her. Gentle gossip about people from Lucy's childhood in Amgash, Illinois, seems to reconnect them, but just below the surface lie the tension and longing that have informed every aspect of Lucy's life: her escape from her troubled family, her desire to become a writer, her marriage, her love for her two daughters. Knitting this powerful narrative together is the brilliant storytelling voice of Lucy herself: Keenly observant, deeply human, and truly unforgettable.
The acclaimed, award-winning author of the national bestseller The Financial Lives of the Poets returns with his funniest, most romantic, and most purely enjoyable novel yet. Hailed by critics and loved by readers of literary and historical fiction, Beautiful Ruins is the story of an almost-love affair that begins on the Italian coast in 1962… and is rekindled in Hollywood 50 years later.
He can't leave his hotel. You won't want to.
From the New York Times bestselling author of Rules of Civility — a transporting novel about a man who is ordered to spend the rest of his life inside a luxury hotel.
In 1922, Count Alexander Rostov is deemed an unrepentant aristocrat by a Bolshevik tribunal, and is sentenced to house arrest in the Metropol, a grand hotel across the street from the Kremlin. Rostov, an indomitable man of erudition and wit, has never worked a day in his life, and must now live in an attic room while some of the most tumultuous decades in Russian history are unfolding outside the hotel's doors. Unexpectedly, his reduced circumstances provide him entry into a much larger world of emotional discovery.
Brimming with humor, a glittering cast of characters, and one beautifully rendered scene after another, this singular novel casts a spell as it relates the count's endeavor to gain a deeper understanding of what it means to be a man of purpose.
The acclaimed New York Times bestselling and National Book Award–winning author of Brown Girl Dreaming delivers her first adult novel in 20 years.
Running into a long-ago friend sets memory from the 1970s in motion for August, transporting her to a time and a place where friendship was everything — until it wasn't. For August and her girls, sharing confidences as they ambled through neighborhood streets, Brooklyn was a place where they believed that they were beautiful, talented, brilliant — a part of a future that belonged to them.
But beneath the hopeful veneer, there was another Brooklyn, a dangerous place where grown men reached for innocent girls in dark hallways, where ghosts haunted the night, where mothers disappeared. A world where madness was just a sunset away and fathers found hope in religion.
Like Louise Meriwether's Daddy Was a Number Runner and Dorothy Allison's Bastard Out of Carolina, Jacqueline Woodson's Another Brooklyn heartbreakingly illuminates the formative time when childhood gives way to adulthood — the promise and peril of growing up — and exquisitely renders a powerful, indelible, and fleeting friendship that united four young lives.
In bestselling Tana French's newest "tour de force," being on the Murder squad is nothing like Detective Antoinette Conway dreamed it would be. Her partner, Stephen Moran, is the only person who seems glad she's there. The rest of her working life is a stream of thankless cases, vicious pranks, and harassment. Antoinette is savagely tough, but she's getting close to the breaking point.
Their new case looks like yet another by-the-numbers lovers' quarrel gone bad. Aislinn Murray is blond, pretty, groomed to a shine, and dead in her catalogue-perfect living room, next to a table set for a romantic dinner. There's nothing unusual about her — except that Antoinette's seen her somewhere before.
And that her death won't stay in its neat by-numbers box. Other detectives are trying to push Antoinette and Steve into arresting Aislinn's boyfriend, fast. There's a shadowy figure at the end of Antoinette's road. Aislinn's friend is hinting that she knew Aislinn was in danger. And everything they find out about Aislinn takes her further from the glossy, passive doll she seemed to be.
Antoinette knows the harassment has turned her paranoid, but she can't tell just how far gone she is. Is this case another step in the campaign to force her off the squad, or are there darker currents flowing beneath its polished surface?
Fragments of a Great Secret have been found in the oral traditions, in literature, in religions and philosophies throughout the centuries. For the first time, all the pieces of The Secret come together in an incredible revelation that will be life-transforming for all who experience it.
In this book, you'll learn how to use The Secret in every aspect of your life — money, health, relationships, happiness, and in every interaction you have in the world. You'll begin to understand the hidden, untapped power that's within you, and this revelation can bring joy to every aspect of your life.
The Secret contains wisdom from modern-day teachers — men and women who have used it to achieve health, wealth, and happiness. By applying the knowledge of The Secret, they bring to light compelling stories of eradicating disease, acquiring massive wealth, overcoming obstacles, and achieving what many would regard as impossible.
The unforgettable New York Times best seller begins with the story of two half-sisters, separated by forces beyond their control: one sold into slavery, the other married to a British slaver. Written with tremendous sweep and power, Homegoing traces the generations of family who follow, as their destinies lead them through two continents and 300 years of history, each life indelibly drawn, as the legacy of slavery is fully revealed in light of the present day.
Effia and Esi are born into different villages in 18th-century Ghana. Effia is married off to an Englishman and lives in comfort in the palatial rooms of Cape Coast Castle. Unbeknownst to Effia, her sister, Esi, is imprisoned beneath her in the castle's dungeons, sold with thousands of others into the Gold Coast's booming slave trade, and shipped off to America, where her children and grandchildren will be raised in slavery. One thread of Homegoing follows Effia's descendants through centuries of warfare in Ghana, as the Fante and Asante nations wrestle with the slave trade and British colonization. The other thread follows Esi and her children into America. From the plantations of the South to the Civil War and the Great Migration, from the coal mines of Pratt City, Alabama, to the jazz clubs and dope houses of 20th-century Harlem, right up through the present day, Homegoing makes history visceral, and captures, with singular and stunning immediacy, how the memory of captivity came to be inscribed in the soul of a nation.
Girls — their vulnerability, strength, and passion to belong — are at the heart of this stunning first novel for readers of Jeffrey Eugenides's The Virgin Suicides and Jennifer Egan's A Visit from the Goon Squad.
Northern California, during the violent end of the 1960s. At the start of summer, a lonely and thoughtful teenager, Evie Boyd, sees a group of girls in the park, and is immediately caught by their freedom, their careless dress, their dangerous aura of abandon. Soon, Evie is in thrall to Suzanne, a mesmerizing older girl, and is drawn into the circle of a soon-to-be infamous cult and the man who is its charismatic leader. Hidden in the hills, their sprawling ranch is eerie and run down, but to Evie, it is exotic, thrilling, charged — a place where she feels desperate to be accepted. As she spends more time away from her mother and the rhythms of her daily life, and as her obsession with Suzanne intensifies, Evie does not realize she is coming closer and closer to unthinkable violence.
Emma Cline's remarkable debut novel is gorgeously written and spellbinding, with razor-sharp precision and startling psychological insight. The Girls is a brilliant work of fiction.
The bestselling author of A Man Called Ove and My Grandmother Asked Me to Tell You She's Sorry returns with an irresistible novel about finding love and second chances in the most unlikely of places.
Britt-Marie can't stand mess. A disorganized cutlery drawer ranks high on her list of unforgivable sins. She begins her day at 6 a.m., because only lunatics wake up later than that. And she is not passive-aggressive. Not in the least. It's just that sometimes people interpret her helpful suggestions as criticisms, which is certainly not her intention. She is not one to judge others — no matter how ill-mannered, unkempt, or morally suspect they might be.
But hidden inside the socially awkward, fussy busybody is a woman who has more imagination, bigger dreams, and a warmer heart that anyone around her realizes.
When Britt-Marie walks out on her cheating husband and has to fend for herself in the miserable backwater town of Borg — of which the kindest thing one can say is that it has a road going through it — she is more than a little unprepared. Employed as the caretaker of a soon-to-be demolished recreation center, the fastidious Britt-Marie has to cope with muddy floors, unruly children, and a (literal) rat for a roommate. She finds herself being drawn into the daily doings of her fellow citizens, an odd assortment of miscreants, drunkards, layabouts — and a handsome local policeman whose romantic attentions to Britt-Marie are as unmistakable as they are unwanted. Most alarming of all, she's given the impossible task of leading the supremely untalented children's soccer team to victory. In this small town of big-hearted misfits, can Britt-Marie find a place where she truly belongs?
Funny and moving, observant and humane, Britt-Marie Was Here celebrates the unexpected friendships that change us forever, and the power of even the gentlest of spirits to make the world a better place.
Pearl is in charge of: the sad, the good, the past.
Stasha must care for: the funny, the future, the bad.
It's 1944 when the twin sisters arrive at Auschwitz with their mother and grandfather. In their benighted new world, Pearl and Stasha Zagorski take refuge in their identical natures, comforting themselves with the private language and shared games of their childhood.
As part of the experimental population of twins known as Mengele's Zoo, the girls experience privileges and horrors unknown to others, and they find themselves changed, stripped of the personalities they once shared, their identities altered by the burdens of guilt and pain.
That winter, at a concert orchestrated by Mengele, Pearl disappears. Stasha grieves for her twin, but clings to the possibility that Pearl remains alive. When the camp is liberated by the Red Army, she and her companion Feliks — a boy bent on vengeance for his own lost twin — travel through Poland's devastation. Undeterred by injury, starvation, or the chaos around them, motivated by equal parts danger and hope, they encounter hostile villagers, Jewish resistance fighters, and fellow refugees, their quest enabled by the notion that Mengele may be captured and brought to justice within the ruins of the Warsaw Zoo. As the young survivors discover what has become of the world, they must try to imagine a future within it.
A superbly crafted story, told in a voice as exquisite as it is boundlessly original, Mischling defies every expectation, traversing one of the darkest moments in human history to show us the way toward ethereal beauty, moral reckoning, and soaring hope.
A dazzling debut novel from an exciting new voice, The Mothers is a surprising story about young love, a big secret in a small community — and the things that ultimately haunt us most.
Set within a contemporary black community in Southern California, Brit Bennett's mesmerizing first novel is an emotionally perceptive story about community, love, and ambition. It begins with a secret.
"All good secrets have a taste before you tell them, and if we'd taken a moment to swish this one around our mouths, we might have noticed the sourness of an unripe secret, plucked too soon, stolen and passed around before its season."
It is the last season of high school life for Nadia Turner, a rebellious, grief-stricken, 17-year-old beauty. Mourning her own mother's recent suicide, she takes up with the local pastor's son. Luke Sheppard is 21, a former football star whose injury has reduced him to waiting tables at a diner. They are young; it's not serious. But the pregnancy that results from this teen romance — and the subsequent cover-up — will have an impact that goes far beyond their youth. As Nadia hides her secret from everyone, including Aubrey, her God-fearing best friend, the years move quickly. Soon, Nadia, Luke, and Aubrey are full-fledged adults and still living in debt to the choices they made that one seaside summer, caught in a love triangle they must carefully maneuver, and dogged by the constant, nagging question: What if they had chosen differently? The possibilities of the road not taken are a relentless haunt.
In entrancing, lyrical prose, The Mothers asks whether a "what if" can be more powerful than an experience itself. If, as time passes, we must always live in servitude to the decisions of our younger selves, to the communities that have parented us, and to the decisions we make that shape our lives forever.
An ambitious, exuberant new novel moving from northwest London to West Africa, from the multi-award-winning author of White Teeth and On Beauty.
Two brown girls dream of being dancers — but only one, Tracey, has talent. The other has ideas: about rhythm and time, about black bodies and black music, about what constitutes a tribe, or makes a person truly free. It's a close but complicated childhood friendship that ends abruptly in their early twenties, never to be revisited, but never quite forgotten, either.
Dazzlingly energetic and deeply human, Swing Time is a story about friendship and music and stubborn roots, about how we are shaped by these things and how we can survive them. Moving from northwest London to West Africa, it is an exuberant dance to the music of time.
The Road by Cormac McCarthy
A father and his son walk alone through burned America. Nothing moves in the ravaged landscape save the ash on the wind. It is cold enough to crack stones, and when the snow falls it is gray. The sky is dark. Their destination is the coast, although they don't know what, if anything, awaits them there. They have nothing; just a pistol to defend themselves against the lawless bands that stalk the road, the clothes they are wearing, a cart of scavenged food — and each other.
The Road is the profoundly moving story of a journey. It boldly imagines a future in which no hope remains, but in which the father and his son, "each the other's world entire," are sustained by love. Awesome in the totality of its vision, it is an unflinching meditation on the worst and the best that we are capable of: ultimate destructiveness, desperate tenacity, and the tenderness that keeps two people alive in the face of total devastation.
Middlesex by Jeffrey Eugenides
In the spring of 1974, Calliope Stephanides, a student at a girls' school in Grosse Pointe, finds herself drawn to a chain-smoking, strawberry blond classmate with a gift for acting. The passion that furtively develops between them — along with Callie's failure to develop — leads Callie to suspect that she is not like other girls. In fact, she is not really a girl at all.
The explanation for this shocking state of affairs takes us out of suburbia — back before the Detroit race riots of 1967, before the rise of the Motor City and Prohibition, to 1922, when the Turks sacked Smyrna and Callie's grandparents fled for their lives. Back to a tiny village in Asia Minor where two lovers, and one rare genetic mutation, set in motion the metamorphosis that will turn Callie into a being both mythical and perfectly real: a hermaphrodite.
Spanning eight decades — and one unusually awkward adolescence — Jeffrey Eugenides's long-awaited second novel is a grand, utterly original fable of crossed bloodlines, the intricacies of gender, and the deep, untidy promptings of desire. It marks the fulfillment of a huge talent, named one of America's best young novelists by both Granta and The New Yorker.
In their youth, Florentino Ariza and Fermina Daza fall passionately in love. When Fermina eventually chooses to marry a wealthy, well-born doctor, Florentino is devastated, but he is a romantic. As he rises in his business career he whiles away the years in 622 affairs — yet he reserves his heart for Fermina. Her husband dies at last, and Florentino purposefully attends the funeral. Fifty years, nine months, and four days after he first declared his love for Fermina, he will do so again.
Born mute, speaking only in sign, Edgar Sawtelle leads an idyllic life with his parents on their farm in remote northern Wisconsin. For generations, the Sawtelles have raised and trained a fictional breed of dog whose thoughtful companionship is epitomized by Almondine, Edgar's lifelong friend and ally. But with the unexpected return of Claude, Edgar's paternal uncle, turmoil consumes the Sawtelle's once peaceful home. When Edgar's father dies suddenly, Claude insinuates himself into the life of the farm — and into Edgar's mother's affections.
Grief-stricken and bewildered, Edgar tries to prove Claude played a role in his father's death, but his plan backfires — spectacularly. Forced to flee into the vast wilderness lying beyond the farm, Edgar comes of age in the wild, fighting for his survival and that of the three yearling dogs who follow him. But his need to face his father's murderer and his devotion to the Sawtelle dogs turn Edgar ever homeward.
David Wroblewski is a master storyteller, and his breathtaking scenes — the elemental north woods, the sweep of seasons, an iconic American barn, a fateful vision rendered in the falling rain — create a riveting family saga, a brilliant exploration of the limits of language, and a compulsively readable modern classic.
Freedom by Jonathan Franzen
Patty and Walter Berglund were the new pioneers of old St. Paul — the gentrifiers, the hands-on parents, the avant-garde of the Whole Foods generation. Patty was the ideal sort of neighbor, who could tell you where to recycle your batteries and how to get the local cops to actually do their job. She was an enviably perfect mother and the wife of Walter's dreams. Together with Walter — environmental lawyer, commuter cyclist, total family man — she was doing her small part to build a better world.
But now, in the new millennium, the Berglunds have become a mystery. Why has their teenage son moved in with the aggressively Republican family next door? Why has Walter taken a job working with Big Coal? What exactly is Richard Katz — outré rocker and Walter's college best friend and rival — still doing in the picture? Most of all, what has happened to Patty? Why has the bright star of Barrier Street become "a very different kind of neighbor," an implacable Fury coming unhinged before the street's attentive eyes?
In his first novel since The Corrections, Jonathan Franzen has given us an epic of contemporary love and marriage. Freedom comically and tragically captures the temptations and burdens of liberty: the thrills of teenage lust, the shaken compromises of middle age, the wages of suburban sprawl, the heavy weight of empire. In charting the mistakes and joys of Freedom's characters as they struggle to learn how to live in an ever more confusing world, Franzen has produced an indelible and deeply moving portrait of our time.
Wild by Cheryl Strayed
At 22, Cheryl Strayed thought she had lost everything. In the wake of her mother's death, her family scattered and her own marriage was soon destroyed. Four years later, with nothing more to lose, she made the most impulsive decision of her life. With no experience or training, driven only by blind will, she would hike more than a thousand miles of the Pacific Crest Trail from the Mojave Desert through California and Oregon to Washington State — and she would do it alone. Told with suspense and style, sparkling with warmth and humor, Wild powerfully captures the terrors and pleasures of one young woman forging ahead against all odds on a journey that maddened, strengthened, and ultimately healed her.
A debut of extraordinary distinction: Ayana Mathis tells the story of the children of the Great Migration through the trials of one unforgettable family.
In 1923, 15-year-old Hattie Shepherd flees Georgia and settles in Philadelphia, hoping for a chance at a better life. Instead, she marries a man who will bring her nothing but disappointment and watches helplessly as her firstborn twins succumb to an illness a few pennies could have prevented. Hattie gives birth to nine more children whom she raises with grit and mettle and not an ounce of the tenderness they crave. She vows to prepare them for the calamitous difficulty they are sure to face in their later lives, to meet a world that will not love them, a world that will not be kind. Captured here in 12 luminous narrative threads, their lives tell the story of a mother's monumental courage and the journey of a nation.
Beautiful and devastating, Ayana Mathis's The Twelve Tribes of Hattie is wondrous from first to last — glorious, harrowing, unexpectedly uplifting, and blazing with life. An emotionally transfixing page-turner, a searing portrait of striving in the face of insurmountable adversity, an indelible encounter with the resilience of the human spirit and the driving force of the American dream.
Hetty "Handful" Grimke, an urban slave in early 19th century Charleston, yearns for life beyond the suffocating walls that enclose her within the wealthy Grimke household. The Grimke's daughter, Sarah, has known from an early age she is meant to do something large in the world, but she is hemmed in by the limits imposed on women.
Kidd's sweeping novel is set in motion on Sarah's 11th birthday, when she is given ownership of 10-year-old Handful, who is to be her handmaid. We follow their remarkable journeys over the next 35 years, as both strive for a life of their own, dramatically shaping each other's destinies and forming a complex relationship marked by guilt, defiance, estrangement, and the uneasy ways of love. As the stories build to a riveting climax, Handful will endure loss and sorrow, finding courage and a sense of self in the process. Sarah will experience crushed hopes, betrayal, unrequited love, and ostracism before leaving Charleston to find her place alongside her fearless younger sister, Angelina, as one of the early pioneers in the abolition and women's rights movements.
Inspired by the historical figure of Sarah Grimke, Kidd goes beyond the record to flesh out the rich interior lives of all of her characters, both real and invented, including Handful's cunning mother, Charlotte, who courts danger in her search for something better.
This exquisitely written novel is a triumph of storytelling that looks with unswerving eyes at a devastating wound in American history, through women whose struggles for liberation, empowerment, and expression will leave no reader unmoved.
A new tour de force from the bestselling author of Free Food for Millionaires, for readers of A Fine Balance and Cutting for Stone.
Profoundly moving and gracefully told, Pachinko follows one Korean family through the generations, beginning in early 1900s Korea with Sunja, the prized daughter of a poor yet proud family, whose unplanned pregnancy threatens to shame them. Betrayed by her wealthy lover, Sunja finds unexpected salvation when a young tubercular minister offers to marry her and bring her to Japan to start a new life.
So begins a sweeping saga of exceptional people in exile from a homeland they never knew and caught in the indifferent arc of history. In Japan, Sunja's family members endure harsh discrimination, catastrophes, and poverty, yet they also encounter great joy as they pursue their passions and rise to meet the challenges this new home presents. Through desperate struggles and hard-won triumphs, they are bound together by deep roots as their family faces enduring questions of faith, family, and identity.
A powerful novel of friendship set in a traveling circus during World War II, The Orphan's Tale introduces two extraordinary women and their harrowing stories of sacrifice and survival.
Sixteen-year-old Noa has been cast out in disgrace after becoming pregnant by a Nazi soldier and being forced to give up her baby. She lives above a small rail station, which she cleans in order to earn her keep… When Noa discovers a boxcar containing dozens of Jewish infants bound for a concentration camp, she is reminded of the child that was taken from her. And in a moment that will change the course of her life, she snatches one of the babies and flees into the snowy night.
Noa finds refuge with a German circus, but she must learn the flying trapeze act so she can blend in undetected, spurning the resentment of the lead aerialist, Astrid. At first rivals, Noa and Astrid soon forge a powerful bond. But as the facade that protects them proves increasingly tenuous, Noa and Astrid must decide whether their friendship is enough to save one another — or if the secrets that burn between them will destroy everything.
An emotionally stirring novel that shows how obstacles can be overcome, differences can be strengths, and sometimes a choice can seem wrong even though it's absolutely right.
If not for her loving but controlling parents, Beth Prudhomme might never have taken charge of her life and moved from her native Chicago to Portland, Oregon, where she's reconnected with her spirited Aunt Sunshine and found a job as a high school music teacher. If not for her friend Nichole, Beth would never have met Sam Carney, although first impressions have left Beth with serious doubts. Sam is everything Beth is not — and her parents' worst nightmare: a tattooed auto mechanic who's rough around the edges. Reserved and smart as a whip, Beth isn't exactly Sam's usual beer-drinking, pool-playing type of woman, either.
But if not for an awkward setup one evening, Beth might never have left early and been involved in a car crash. And if not for Sam — who witnessed the terrifying ordeal, rushed to her aid, and stayed with her until help arrived — Beth might have been all alone, or worse. Yet as events play out, Sam feels compelled to check on Beth almost daily at the hospital — even bringing his guitar to play songs to lift her spirits. Soon their unlikely friendship evolves into an intense attraction that surprises them both.
Before long, Beth's strong-willed mother, Ellie, blows into town spouting harsh opinions, especially about Sam, and reopening old wounds with Sunshine. When shocking secrets from Sam's past are revealed, Beth struggles to reconcile her feelings. But when Beth goes a step too far, she risks losing the man and the life she's come to love.
A thrilling new novel from #1 New York Times bestselling author Lisa See explores the lives of a Chinese mother and her daughter who has been adopted by an American couple.
Li-yan and her family align their lives around the seasons and the farming of tea. There is ritual and routine, and it has been ever thus for generations. Then one day a jeep appears at the village gate — the first automobile any of them have seen — and a stranger arrives.
In this remote Yunnan village, the stranger finds the rare tea he has been seeking and a reticent Akha people. In her biggest seller, Snow Flower and the Secret Fan, See introduced the Yao people to her readers. Here she shares the customs of another Chinese ethnic minority, the Akha, whose world will soon change. Li-yan, one of the few educated girls on her mountain, translates for the stranger and is among the first to reject the rules that have shaped her existence. When she has a baby outside of wedlock, rather than stand by tradition, she wraps her daughter in a blanket, with a tea cake hidden in her swaddling, and abandons her in the nearest city.
After mother and daughter have gone their separate ways, Li-yan slowly emerges from the security and insularity of her village to encounter modern life while Haley grows up a privileged and well-loved California girl. Despite Haley's happy home life, she wonders about her origins; and Li-yan longs for her lost daughter. They both search for and find answers in the tea that has shaped their family's destiny for generations.
A powerful story about a family, separated by circumstances, culture, and distance, Tea Girl of Hummingbird Lane paints an unforgettable portrait of a little known region and its people and celebrates the bond that connects mothers and daughters.
From the bestselling author of The Bourbon Thief comes a sweeping tale of loss and courage, where one woman discovers that her destiny is written in sand, not carved in stone.
Faye Barlow is drowning. After the death of her beloved husband, Will, she cannot escape her grief and most days can barely get out of bed. But when she's offered a job photographing South Carolina's storied coast, she accepts. Photography, after all, is the only passion she has left.
In the quaint beach town, Faye falls in love again when she sees the crumbling yet beautiful Bride Island lighthouse and becomes obsessed with the legend surrounding The Lady of the Light — the keeper's daughter who died in a mysterious drowning in 1921. Like a moth to a flame, Faye is drawn to the lighthouse for reasons she can't explain. While visiting it one night, she is struck by a rogue wave, and a force impossible to resist drags Faye into the past — and into a love story that is not her own.
Fate is changeable. Broken hearts can mend. But can she love two men separated by a lifetime?
The basis for the blockbuster motion picture directed by Martin Scorsese and starring Leonardo DiCaprio, Shutter Island by New York Times bestselling author Dennis Lehane is a gripping and atmospheric psychological thriller where nothing is quite what it seems. The New York Times calls Shutter Island "Startlingly original." The Washington Post raves, "Brilliantly conceived and executed."
A masterwork of suspense and surprise from the author of Mystic River and Gone, Baby, Gone, Shutter Island carries the reader into a nightmare world of madness, mind control, and CIA Cold War paranoia and is unlike anything you've ever read before.
The New York Times bestselling author of The Girl Who Came Home turns the clock back 100 years to a time when two young girls from Cottingley, Yorkshire, convinced the world that they had done the impossible and photographed fairies in their garden. Now, in her newest novel, international bestseller Hazel Gaynor reimagines their story.
1917… It was inexplicable, impossible, but it had to be true — didn't it? When two young cousins, Frances Griffiths and Elsie Wright from Cottingley, England, claim to have photographed fairies at the bottom of the garden, their parents are astonished. But when one of the great novelists of the time, Sir Arthur Conan Doyle, becomes convinced of the photographs' authenticity, the girls become a national sensation, their discovery offering hope to those longing for something to believe in amid a world ravaged by war. Frances and Elsie will hide their secret for many decades. But Frances longs for the truth to be told.
One hundred years later… When Olivia Kavanagh finds an old manuscript in her late grandfather's bookshop she becomes fascinated by the story it tells of two young girls who mystified the world. But it is the discovery of an old photograph that leads her to realize how the fairy girls' lives intertwine with hers, connecting past to present, and blurring her understanding of what is real and what is imagined. As she begins to understand why a nation once believed in fairies, can Olivia find a way to believe in herself?
Rachel takes the same commuter train every morning and night. Every day she rattles down the track, flashes past a stretch of cozy suburban homes, and stops at the signal that allows her to daily watch the same couple breakfasting on their deck. She's even started to feel like she knows them. Jess and Jason, she calls them. Their life — as she sees it — is perfect. Not unlike the life she recently lost.
And then she sees something shocking. It's only a minute until the train moves on, but it's enough. Now everything's changed. Unable to keep it to herself, Rachel goes to the police. But is she really as unreliable as they say? Soon she is deeply entangled not only in the investigation but in the lives of everyone involved. Has she done more harm than good?
In love we find out who we want to be.
In war we find out who we are.
France, 1939
In the quiet village of Carriveau, Vianne Mauriac says goodbye to her husband, Antoine, as he heads for the Front. She doesn't believe that the Nazis will invade France… but invade they do, in droves of marching soldiers, in caravans of trucks and tanks, in planes that fill the skies and drop bombs upon the innocent. When a German captain requisitions Vianne's home, she and her daughter must live with the enemy or lose everything. Without food or money or hope, as danger escalates all around them, she is forced to make one impossible choice after another to keep her family alive.
Vianne's sister, Isabelle, is a rebellious 18-year-old girl, searching for purpose with all the reckless passion of youth. While thousands of Parisians march into the unknown terrors of war, she meets Gäetan, a partisan who believes the French can fight the Nazis from within France, and she falls in love as only the young can… completely. But when he betrays her, Isabelle joins the Resistance and never looks back, risking her life time and again to save others.
With courage, grace and powerful insight, bestselling author Kristin Hannah captures the epic panorama of WWII and illuminates an intimate part of history seldom seen: the women's war. The Nightingale tells the stories of two sisters, separated by years and experience, by ideals, passion and circumstance, each embarking on her own dangerous path toward survival, love, and freedom in German-occupied, war-torn France — a heartbreakingly beautiful novel that celebrates the resilience of the human spirit and the durability of women. It is a novel for everyone, a novel for a lifetime.
Originally written in the mid-1950s, Go Set a Watchman was the novel Harper Lee first submitted to her publishers before To Kill a Mockingbird. Assumed to have been lost, the manuscript was discovered in late 2014.
Go Set a Watchman features many of the characters from To Kill a Mockingbird some 20 years later. Returning home to Maycomb to visit her father, Jean Louise Finch — Scout — struggles with issues both personal and political, involving Atticus, society, and the small Alabama town that shaped her.
Exploring how the characters from To Kill a Mockingbird are adjusting to the turbulent events transforming mid-1950s America, Go Set a Watchman casts a fascinating new light on Harper Lee's enduring classic. Moving, funny, and compelling, it stands as a magnificent novel in its own right.
"It was a beautiful, breezy, yellow-and-green afternoon… " This is how Abby Whitshank always describes the day she fell in love with Red in July 1959. The Whitshanks are one of those families that radiate an indefinable kind of specialness, but like all families, their stories reveal only part of the picture: Abby and Red and their four grown children have accumulated not only tender moments, laughter, and celebrations, but also jealousies, disappointments, and carefully guarded secrets. From Red's parents, newly arrived in Baltimore in the 1920s, to the grandchildren carrying the Whitshank legacy boisterously into the 21st century, here are four generations of lives unfolding in and around the sprawling, lovingly worn house that has always been their anchor.
At the age of 36, on the verge of completing a decade's worth of training as a neurosurgeon, Paul Kalanithi was diagnosed with stage IV lung cancer. One day he was a doctor treating the dying, and the next he was a patient struggling to live. And just like that, the future he and his wife had imagined evaporated. When Breath Becomes Air chronicles Kalanithi's transformation from a naïve medical student "possessed," as he wrote, "by the question of what, given that all organisms die, makes a virtuous and meaningful life" into a neurosurgeon at Stanford working in the brain, the most critical place for human identity, and finally into a patient and new father confronting his own mortality.
What makes life worth living in the face of death? What do you do when the future, no longer a ladder toward your goals in life, flattens out into a perpetual present? What does it mean to have a child, to nurture a new life as another fades away? These are some of the questions Kalanithi wrestles with in this profoundly moving, exquisitely observed memoir.
Paul Kalanithi died in March 2015, while working on this book, yet his words live on as a guide and a gift to us all. "I began to realize that coming face to face with my own mortality, in a sense, had changed nothing and everything," he wrote. "Seven words from Samuel Beckett began to repeat in my head: 'I can't go on. I'll go on.'" When Breath Becomes Air is an unforgettable, life-affirming reflection on the challenge of facing death and on the relationship between doctor and patient, from a brilliant writer who became both.
Fates and Furies is a literary masterpiece that defies expectation. A dazzling examination of a marriage, it is also a portrait of creative partnership written by one of the best writers of her generation.
Every story has two sides. Every relationship has two perspectives. And sometimes, it turns out, the key to a great marriage is not its truths but its secrets. At the core of this rich, expansive, layered novel, Lauren Groff presents the story of one such marriage over the course of 24 years.
At age 22, Lotto and Mathilde are tall, glamorous, madly in love, and destined for greatness. A decade later, their marriage is still the envy of their friends, but with an electric thrill we understand that things are even more complicated and remarkable than they have seemed. With stunning revelations and multiple threads, and in prose that is vibrantly alive and original, Groff delivers a deeply satisfying novel about love, art, creativity, and power that is unlike anything that has come before it. Profound, surprising, propulsive, and emotionally riveting, it stirs both the mind and the heart.
When four classmates from a small Massachusetts college move to New York to make their way, they're broke, adrift, and buoyed only by their friendship and ambition. There is kind, handsome Willem, an aspiring actor; JB, a quick-witted, sometimes cruel Brooklyn-born painter seeking entry to the art world; Malcolm, a frustrated architect at a prominent firm; and withdrawn, brilliant, enigmatic Jude, who serves as their center of gravity. Over the decades, their relationships deepen and darken, tinged by addiction, success, and pride. Yet their greatest challenge, each comes to realize, is Jude himself, by midlife a terrifyingly talented litigator yet an increasingly broken man, his mind and body scarred by an unspeakable childhood, and haunted by what he fears is a degree of trauma that he'll not only be unable to overcome — but that will define his life forever.
In rich and resplendent prose, Yanagihara has fashioned a tragic and transcendent hymn to brotherly love, a masterful depiction of heartbreak, and a dark examination of the tyranny of memory and the limits of human endurance.
In a profound work that pivots from the biggest questions about American history and ideals to the most intimate concerns of a father for his son, Ta-Nehisi Coates offers a powerful new framework for understanding our nation's history and current crisis. Americans have built an empire on the idea of "race," a falsehood that damages us all but falls most heavily on the bodies of black women and men — bodies exploited through slavery and segregation, and, today, threatened, locked up, and murdered out of all proportion. What is it like to inhabit a black body and find a way to live within it? And how can we all honestly reckon with this fraught history and free ourselves from its burden?
Between the World and Me is Ta-Nehisi Coates's attempt to answer these questions in a letter to his adolescent son. Coates shares with his son — and readers — the story of his awakening to the truth about his place in the world through a series of revelatory experiences, from Howard University to Civil War battlefields, from the South Side of Chicago to Paris, from his childhood home to the living rooms of mothers whose children's lives were taken as American plunder. Beautifully woven from personal narrative, reimagined history, and fresh, emotionally charged reportage, Between the World and Me clearly illuminates the past, bracingly confronts our present, and offers a transcendent vision for a way forward.
Beginning in the 1950s in a poor but vibrant neighborhood on the outskirts of Naples, Ferrante's four-volume story spans almost 60 years, as its protagonists, the fiery and unforgettable Lila, and the bookish narrator, Elena, become women, wives, mothers, and leaders, all the while maintaining a complex and at times conflictual friendship. Book one in the series follows Lila and Elena from their first fateful meeting as 10-year-olds through their school years and adolescence.
Through the lives of these two women, Ferrante tells the story of a neighborhood, a city, and a country as it is transformed in ways that, in turn, also transform the relationship between her protagonists.
"An intoxicatingly furious portrait of enmeshed friends," writes Entertainment Weekly. "Spectacular," says Maureen Corrigan on NPR's Fresh Air. "A large, captivating, amiably peopled bildungsroman," writes James Wood in The New Yorker
Ferrante is one of the world's great storytellers. With My Brilliant Friend she has given her readers an abundant, generous, and masterfully plotted page-turner that is also a stylish work of literary fiction destined to delight readers for many generations to come.
The one and only Fannie Flagg, beloved author of Fried Green Tomatoes at the Whistle Stop Cafe, Can't Wait to Get to Heaven, and I Still Dream About You, is at her hilarious and superb best in this new comic mystery novel about two women who are forced to reimagine who they are.
Mrs. Sookie Poole of Point Clear, Alabama, has just married off the last of her daughters and is looking forward to relaxing and perhaps traveling with her husband, Earle. The only thing left to contend with is her mother, the formidable Lenore Simmons Krackenberry. Lenore may be a lot of fun for other people, but is, for the most part, an overbearing presence for her daughter. Then one day, quite by accident, Sookie discovers a secret about her mother's past that knocks her for a loop and suddenly calls into question everything she ever thought she knew about herself, her family, and her future.
Sookie begins a search for answers that takes her to California, the Midwest, and back in time, to the 1940s, when an irrepressible woman named Fritzi takes on the job of running her family's filling station. Soon truck drivers are changing their routes to fill up at the All-Girl Filling Station. Then, Fritzi sees an opportunity for an even more groundbreaking adventure. As Sookie learns about the adventures of the girls at the All-Girl Filling Station, she finds herself with new inspiration for her own life.
Fabulous, fun-filled, spanning decades and generations, and centered on a little-known aspect of America's 20th-century story, The All-Girl Filling Station's Last Reunion is another irresistible novel by the remarkable Fannie Flagg.
The Handmaid's Tale is a novel of such power that the reader will be unable to forget its images and its forecast. Set in the near future, it describes life in what was once the United States and is now called the Republic of Gilead, a monotheocracy that has reacted to social unrest and a sharply declining birthrate by reverting to, and going beyond, the repressive intolerance of the original Puritans. The regime takes the Book of Genesis absolutely at its word, with bizarre consequences for the women and men in its population.
The story is told through the eyes of Offred, one of the unfortunate Handmaids under the new social order. In condensed but eloquent prose, by turns cool-eyed, tender, despairing, passionate, and wry, she reveals to us the dark corners behind the establishment's calm facade, as certain tendencies now in existence are carried to their logical conclusions. The Handmaid's Tale is funny, unexpected, horrifying, and altogether convincing. It is at once scathing satire, dire warning, and a tour de force. It is Margaret Atwood at her best.
Kitchens of the Great Midwest is about a young woman with a once-in-a-generation palate who becomes the iconic chef behind the country's most coveted dinner reservation.
When Lars Thorvald's wife, Cynthia, falls in love with wine — and a dashing sommelier — he's left to raise their baby, Eva, on his own. He's determined to pass on his love of food to his daughter — starting with puréed pork shoulder. As Eva grows, she finds her solace and salvation in the flavors of her native Minnesota. From Scandinavian lutefisk to hydroponic chocolate habaneros, each ingredient represents one part of Eva's journey as she becomes the star chef behind a legendary and secretive pop-up supper club, culminating in an opulent and emotional feast that's a testament to her spirit and resilience.
Each chapter in J. Ryan Stradal's startlingly original debut tells the story of a single dish and character, at once capturing the zeitgeist of the Midwest, the rise of foodie culture, and delving into the ways food creates community and a sense of identity. By turns quirky, hilarious, and vividly sensory, Kitchens of the Great Midwest is an unexpected mother-daughter story about the bittersweet nature of life — its missed opportunities and its joyful surprises. It marks the entry of a brilliant new talent.
For readers of The Nightingale and Sarah's Key, inspired by the life of a real World War II heroine, this remarkable debut novel reveals the power of unsung women to change history in their quest for love, freedom, and second chances.
New York socialite Caroline Ferriday has her hands full with her post at the French consulate and a new love on the horizon. But Caroline's world is forever changed when Hitler's army invades Poland in September 1939 — and then sets its sights on France.
An ocean away from Caroline, Kasia Kuzmerick, a Polish teenager, senses her carefree youth disappearing as she is drawn deeper into her role as courier for the underground resistance movement. In a tense atmosphere of watchful eyes and suspecting neighbors, one false move can have dire consequences.
For the ambitious young German doctor, Herta Oberheuser, an ad for a government medical position seems her ticket out of a desolate life. Once hired, though, she finds herself trapped in a male-dominated realm of Nazi secrets and power.
The lives of these three women are set on a collision course when the unthinkable happens and Kasia is sent to Ravensbrück, the notorious Nazi concentration camp for women. Their stories cross continents — from New York to Paris, Germany, and Poland — as Caroline and Kasia strive to bring justice to those whom history has forgotten.
Belgravia by Julian Fellowes
Julian Fellowes's Belgravia is the story of a secret. A secret that unravels behind the porticoed doors of London's grandest postcode. Set in the 1840s when the upper echelons of society began to rub shoulders with the emerging industrial nouveau riche, Belgravia is filled with a rich cast of characters. But the story begins on the eve of the Battle of Waterloo in 1815. At the Duchess of Richmond's now legendary ball, one family's life will change forever.
What book club books would you add to the lists? Share in the comments!
Comments