Whether you're looking for a little inspiration or just a good laugh, you've come to the right place. We've rounded up some of the best nonfiction books to read in a lifetime, from tear-jerkers like When Breath Becomes Air to heartwarming advice from Cheryl Strayed to laugh-out-loud celebrity memoirs. Publishers' descriptions included below.
Inspirational & Thought-Provoking Books
Life can be hard: your lover cheats on you; you lose a family member; you can't pay the bills — and it can be great: you've had the hottest sex of your life; you get that plum job; you muster the courage to write your novel. Sugar — the once-anonymous online columnist at The Rumpus, now revealed as Cheryl Strayed, author of the bestselling memoir Wild — is the person thousands turn to for advice.
Tiny Beautiful Things brings the best of Dear Sugar in one place and includes never-before-published columns and a new introduction by Steve Almond.  Rich with humor, insight, compassion — and absolute honesty — this book is a balm for everything life throws our way.
A lot of professors give talks titled "The Last Lecture." Professors are asked to consider their demise and to ruminate on what matters most to them. And while they speak, audiences can't help but mull the same question: What wisdom would we impart to the world if we knew it was our last chance? If we had to vanish tomorrow, what would we want as our legacy?
When Randy Pausch, a computer science professor at Carnegie Mellon, was asked to give such a lecture, he didn't have to imagine it as his last, since he had recently been diagnosed with terminal cancer. But the lecture he gave — "Really Achieving Your Childhood Dreams" — wasn't about dying. It was about the importance of overcoming obstacles, of enabling the dreams of others, of seizing every moment (because "time is all you have… and you may find one day that you have less than you think"). It was a summation of everything Randy had come to believe. It was about living.
In this book, Randy Pausch has combined the humor, inspiration and intelligence that made his lecture such a phenomenon and given it an indelible form. It is a book that will be shared for generations to come.
Maybe it was a grandparent, or a teacher, or a colleague. Someone older, patient and wise, who understood you when you were young and searching, helped you see the world as a more profound place, gave you sound advice to help you make your way through it.
For Mitch Albom, that person was Morrie Schwartz, his college professor from nearly 20 years ago.
Maybe, like Mitch, you lost track of this mentor as you made your way, and the insights faded, and the world seemed colder. Wouldn't you like to see that person again, ask the bigger questions that still haunt you, receive wisdom for your busy life today the way you once did when you were younger?
Mitch Albom had that second chance. He rediscovered Morrie in the last months of the older man's life. Knowing he was dying, Morrie visited with Mitch in his study every Tuesday, just as they used to back in college. Their rekindled relationship turned into one final "class": lessons in how to live.
Tuesdays with Morrie is a magical chronicle of their time together, through which Mitch shares Morrie's lasting gift with the world.
In Being Mortal, bestselling author Atul Gawande tackles the hardest challenge of his profession: how medicine can not only improve life but also the process of its ending Medicine has triumphed in modern times, transforming birth, injury, and infectious disease from harrowing to manageable. But in the inevitable condition of aging and death, the goals of medicine seem too frequently to run counter to the interest of the human spirit. Nursing homes, preoccupied with safety, pin patients into railed beds and wheelchairs. Hospitals isolate the dying, checking for vital signs long after the goals of cure have become moot. Doctors, committed to extending life, continue to carry out devastating procedures that in the end extend suffering.
Gawande, a practicing surgeon, addresses his profession's ultimate limitation, arguing that quality of life is the desired goal for patients and families. Gawande offers examples of freer, more socially fulfilling models for assisting the infirm and dependent elderly, and he explores the varieties of hospice care to demonstrate that a person's last weeks or months may be rich and dignified. Full of eye-opening research and riveting storytelling, Being Mortal asserts that medicine can comfort and enhance our experience even to the end, providing not only a good life but also a good end.
From one of America's iconic writers, a stunning book of electric honesty and passion. Joan Didion explores an intensely personal yet universal experience: a portrait of a marriage — and a life, in good times and bad — that will speak to anyone who has ever loved a husband or wife or child.
Several days before Christmas 2003, John Gregory Dunne and Joan Didion saw their only daughter, Quintana, fall ill with what seemed at first flu, then pneumonia, then complete septic shock. She was put into an induced coma and placed on life support. Days later — the night before New Year's Eve — the Dunnes were just sitting down to dinner after visiting the hospital when John Gregory Dunne suffered a massive and fatal coronary. In a second, this close, symbiotic partnership of 40 years was over. Four weeks later, their daughter pulled through. Two months after that, arriving at LAX, she collapsed and underwent six hours of brain surgery at UCLA Medical Center to relieve a massive hematoma.
This powerful book is Didion' s attempt to make sense of the "weeks and then months that cut loose any fixed idea I ever had about death, about illness… about marriage and children and memory… about the shallowness of sanity, about life itself."
"What are you reading?"
That's the question Will Schwalbe asks his mother, Mary Anne, as they sit in the waiting room of the Memorial Sloan-Kettering Cancer Center. In 2007, Mary Anne returned from a humanitarian trip to Pakistan and Afghanistan suffering from what her doctors believed was a rare type of hepatitis. Months later she was diagnosed with a form of advanced pancreatic cancer, which is almost always fatal, often in six months or less.
This is the inspiring true story of a son and his mother, who start a "book club" that brings them together as her life comes to a close. Over the next two years, Will and Mary Anne carry on conversations that are both wide-ranging and deeply personal, prompted by an eclectic array of books and a shared passion for reading. Their list jumps from classic to popular, from poetry to mysteries, from fantastic to spiritual. The issues they discuss include questions of faith and courage as well as everyday topics such as expressing gratitude and learning to listen. Throughout, they are constantly reminded of the power of books to comfort us, astonish us, teach us, and tell us what we need to do with our lives and in the world. Reading isn't the opposite of doing; it's the opposite of dying.
Will and Mary Anne share their hopes and concerns with each other — and rediscover their lives — through their favorite books. When they read, they aren't a sick person and a well person, but a mother and a son taking a journey together. The result is a profoundly moving tale of loss that is also a joyful, and often humorous, celebration of life: Will's love letter to his mother, and theirs to the printed page.
At the age of 36, on the verge of completing a decade's worth of training as a neurosurgeon, Paul Kalanithi was diagnosed with stage IV lung cancer. One day he was a doctor treating the dying, and the next he was a patient struggling to live. And just like that, the future he and his wife had imagined evaporated. When Breath Becomes Air chronicles Kalanithi's transformation from a naïve medical student "possessed," as he wrote, "by the question of what, given that all organisms die, makes a virtuous and meaningful life" into a neurosurgeon at Stanford working in the brain, the most critical place for human identity, and finally into a patient and new father confronting his own mortality.
What makes life worth living in the face of death? What do you do when the future, no longer a ladder toward your goals in life, flattens out into a perpetual present? What does it mean to have a child, to nurture a new life as another fades away? These are some of the questions Kalanithi wrestles with in this profoundly moving, exquisitely observed memoir.
Paul Kalanithi died in March 2015, while working on this book, yet his words live on as a guide and a gift to us all. "I began to realize that coming face to face with my own mortality, in a sense, had changed nothing and everything," he wrote. "Seven words from Samuel Beckett began to repeat in my head: 'I can't go on. I'll go on.'" When Breath Becomes Air is an unforgettable, life-affirming reflection on the challenge of facing death and on the relationship between doctor and patient, from a brilliant writer who became both.
In this poignant, hilarious and deeply intimate call to arms, Hollywood's most powerful woman, the mega-talented creator of Grey's Anatomy and Scandal and executive producer of How to Get Away with Murder, reveals how saying YES changed her life — and how it can change yours too.
With three hit shows on television and three children at home, Shonda Rhimes had lots of good reasons to say no when invitations arrived. Hollywood party? No. Speaking engagement? No. Media appearances? No.
And to an introvert like Shonda, who describes herself as 'hugging the walls' at social events and experiencing panic attacks before press interviews, there was a particular benefit to saying no: nothing new to fear.
Then came Thanksgiving 2013, when Shonda's sister Delorse muttered six little words at her: You never say yes to anything.
Profound, impassioned and laugh-out-loud funny, in Year of Yes Shonda Rhimes reveals how saying YES changed — and saved — her life. And inspires readers everywhere to change their own lives with one little word: Yes.
No writer has succeeded in capturing the medical and human drama of illness as honestly and as eloquently as Oliver Sacks.
During the last few months of his life, he wrote a set of essays in which he movingly explored his feelings about completing a life and coming to terms with his own death.
"It is the fate of every human being," Sacks writes, "to be a unique individual, to find his own path, to live his own life, to die his own death."
Together, these four essays form an ode to the uniqueness of each human being and to gratitude for the gift of life.
Bestselling author Bruce Feiler was a young father when he was diagnosed with cancer. He instantly worried what his daughters' lives would be like without him. "Would they wonder who I was? Would they wonder what I thought? Would they yearn for my approval, my love, my voice?"
Three days later he came up with a stirring idea of how he might give them that voice. He would reach out to six men from all the passages in his life, and ask them to be present in the passages in his daughters' lives. And he would call this group "The Council of Dads."
"I believe my daughters will have plenty of opportunities in their lives," he wrote to these men. "They'll have loving families. They'll have each other. But they may not have me. They may not have their dad. Will you help be their dad?"
The Council of Dads is the inspiring story of what happened next. Feiler introduces the men in his Council and captures the life lesson he wants each to convey to his daughters — how to see, how to travel, how to question, how to dream. He mixes these with an intimate, highly personal chronicle of his experience battling cancer while raising young children, along with vivid portraits of his father, his two grandfathers, and various father figures in his life that explore the changing role of fathers in America.
This is the work of a master storyteller confronting the most difficult experience of his life and emerging with wisdom and hope. The Council of Dads is a touching, funny, and ultimately deeply moving book on how to live life, how the human spirit can respond to adversity, and how to deepen and cherish the friendships that enrich our lives.
Elizabeth Gilbert's Eat Pray Love touched the world and changed countless lives, inspiring and empowering millions of readers to search for their own best selves.
In her early 30s, Elizabeth Gilbert had everything a modern American woman was supposed to want — husband, country home, successful career — but instead of feeling happy and fulfilled, she was consumed by panic and confusion. This wise and rapturous book is the story of how she left behind all these outward marks of success, and set out to explore three different aspects of her nature, against the backdrop of three different cultures: pleasure in Italy, devotion in India, and on the Indonesian island of Bali, a balance between worldly enjoyment and divine transcendence.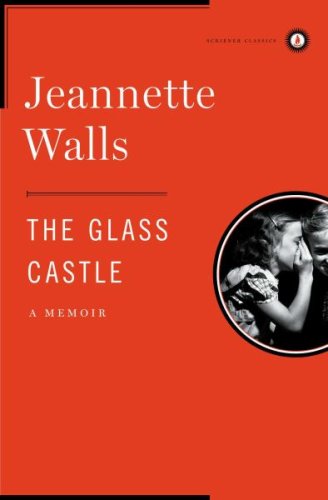 The Glass Castle is a remarkable memoir of resilience and redemption, and a revelatory look into a family at once deeply dysfunctional and uniquely vibrant. When sober, Jeannette's brilliant and charismatic father captured his children's imagination, teaching them physics, geology, and how to embrace life fearlessly. But when he drank, he was dishonest and destructive. Her mother was a free spirit who abhorred the idea of domesticity and didn't want the responsibility of raising a family.
The Walls children learned to take care of themselves. They fed, clothed, and protected one another, and eventually found their way to New York. Their parents followed them, choosing to be homeless even as their children prospered.
The Glass Castle is truly astonishing — a memoir permeated by the intense love of a peculiar but loyal family.
Gretchen Rubin had an epiphany one rainy afternoon in the unlikeliest of places: a city bus. "The days are long, but the years are short," she realized. "Time is passing, and I'm not focusing enough on the things that really matter." In that moment, she decided to dedicate a year to her happiness project.
In this lively and compelling account — now updated with new material by the author — Rubin chronicles her adventures during the twelve months she spent test-driving the wisdom of the ages, current scientific research, and lessons from popular culture about how to be happier. Among other things, she found that novelty and challenge are powerful sources of happiness; that money can help buy happiness, when spent wisely; that outer order contributes to inner calm; and that the very smallest of changes can make the biggest difference.
In a profound work that pivots from the biggest questions about American history and ideals to the most intimate concerns of a father for his son, Ta-Nehisi Coates offers a powerful new framework for understanding our nation's history and current crisis. Americans have built an empire on the idea of "race," a falsehood that damages us all but falls most heavily on the bodies of black women and men — bodies exploited through slavery and segregation, and, today, threatened, locked up, and murdered out of all proportion. What is it like to inhabit a black body and find a way to live within it? And how can we all honestly reckon with this fraught history and free ourselves from its burden?
Between the World and Me is Ta-Nehisi Coates's attempt to answer these questions in a letter to his adolescent son. Coates shares with his son — and readers — the story of his awakening to the truth about his place in the world through a series of revelatory experiences, from Howard University to Civil War battlefields, from the South Side of Chicago to Paris, from his childhood home to the living rooms of mothers whose children's lives were taken as American plunder. Beautifully woven from personal narrative, reimagined history, and fresh, emotionally charged reportage, Between the World and Me clearly illuminates the past, bracingly confronts our present, and offers a transcendent vision for a way forward.
Wild by Cheryl Strayed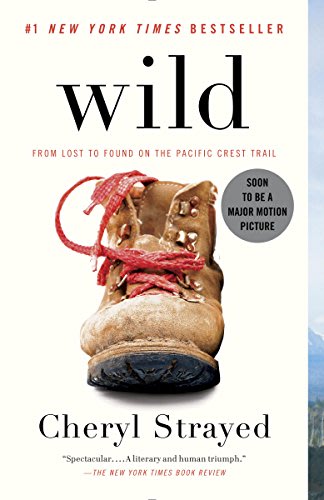 At 22, Cheryl Strayed thought she had lost everything. In the wake of her mother's death, her family scattered and her own marriage was soon destroyed. Four years later, with nothing more to lose, she made the most impulsive decision of her life. With no experience or training, driven only by blind will, she would hike more than a thousand miles of the Pacific Crest Trail from the Mojave Desert through California and Oregon to Washington State — and she would do it alone. Told with suspense and style, sparkling with warmth and humor, Wild powerfully captures the terrors and pleasures of one young woman forging ahead against all odds on a journey that maddened, strengthened, and ultimately healed her.
An instant New York Times bestseller, named a best book of the year by The New York Times Book Review, Amazon, and Entertainment Weekly, among others, this celebrated account of a young African-American man who escaped Newark, NJ, to attend Yale, but still faced the dangers of the streets when he returned is, "nuanced and shattering" (People) and "mesmeric" (The New York Times Book Review).
When author Jeff Hobbs arrived at Yale University, he became fast friends with the man who would be his college roommate for four years, Robert Peace. Robert's life was rough from the beginning in the crime-ridden streets of Newark in the 1980s, with his father in jail and his mother earning less than $15,000 a year. But Robert was a brilliant student, and it was supposed to get easier when he was accepted to Yale, where he studied molecular biochemistry and biophysics. But it didn't get easier. Robert carried with him the difficult dual nature of his existence, trying to fit in at Yale, and at home on breaks.
A compelling and honest portrait of Robert's relationships — with his struggling mother, with his incarcerated father, with his teachers and friends — The Short and Tragic Life of Robert Peace encompasses the most enduring conflicts in America: race, class, drugs, community, imprisonment, education, family, friendship, and love. It's about the collision of two fiercely insular worlds — the ivy-covered campus of Yale University and the slums of Newark, New Jersey, and the difficulty of going from one to the other and then back again. It's about trying to live a decent life in America. But most all this "fresh, compelling" (The Washington Post) story is about the tragic life of one singular brilliant young man. His end, a violent one, is heartbreaking and powerful and "a haunting American tragedy for our times" (Entertainment Weekly).
Here is a book as joyous and painful, as mysterious and memorable, as childhood itself. I Know Why the Caged Bird Sings captures the longing of lonely children, the brute insult of bigotry, and the wonder of words that can make the world right. Maya Angelou's debut memoir is a modern American classic beloved worldwide.
Sent by their mother to live with their devout, self-sufficient grandmother in a small Southern town, Maya and her brother, Bailey, endure the ache of abandonment and the prejudice of the local "powhitetrash." At eight years old and back at her mother's side in St. Louis, Maya is attacked by a man many times her age—and has to live with the consequences for a lifetime. Years later, in San Francisco, Maya learns that love for herself, the kindness of others, her own strong spirit, and the ideas of great authors ("I met and fell in love with William Shakespeare") will allow her to be free instead of imprisoned.
Poetic and powerful, I Know Why the Caged Bird Sings will touch hearts and change minds for as long as people read.
From a former marine and Yale Law School graduate, a powerful account of growing up in a poor Rust Belt town that offers a broader, probing look at the struggles of America's white working class.
Hillbilly Elegy is a passionate and personal analysis of a culture in crisis — that of white working-class Americans. The decline of this group, a demographic of our country that has been slowly disintegrating over 40 years, has been reported on with growing frequency and alarm, but has never before been written about as searingly from the inside. J. D. Vance tells the true story of what a social, regional, and class decline feels like when you were born with it hung around your neck.
The Vance family story begins hopefully in postwar America. J. D.'s grandparents were "dirt poor and in love," and moved north from Kentucky's Appalachia region to Ohio in the hopes of escaping the dreadful poverty around them. They raised a middle-class family, and eventually their grandchild (the author) would graduate from Yale Law School, a conventional marker of their success in achieving generational upward mobility.
But as the family saga of Hillbilly Elegy plays out, we learn that this is only the short, superficial version. Vance's grandparents, aunt, uncle, sister, and, most of all, his mother, struggled profoundly with the demands of their new middle-class life, and were never able to fully escape the legacy of abuse, alcoholism, poverty, and trauma so characteristic of their part of America. Vance piercingly shows how he himself still carries around the demons of their chaotic family history.
A deeply moving memoir with its share of humor and vividly colorful figures, Hillbilly Elegy is the story of how upward mobility really feels. And it is an urgent and troubling meditation on the loss of the American dream for a large segment of this country.
In 2008, J.K. Rowling delivered a deeply affecting commencement speech at Harvard University. Now published for the first time in book form, Very Good Lives presents J.K. Rowling's words of wisdom for anyone at a turning point in life. How can we embrace failure? And how can we use our imagination to better both ourselves and others?
Drawing from stories of her own post-graduate years, the world famous author addresses some of life's most important questions with acuity and emotional force.
Sales of Very Good Lives will benefit both Lumos, a non-profit international organization founded by J.K. Rowling, which works to end the institutionalization of children around the world, and university-wide financial aid at Harvard University.
In April 1992 a young man from a well-to-do family hitchhiked to Alaska and walked alone into the wilderness north of Mt. McKinley. His name was Christopher Johnson McCandless. He had given $25,000 in savings to charity, abandoned his car and most of his possessions, burned all the cash in his wallet, and invented a new life for himself. Four months later, his decomposed body was found by a moose hunter.  How McCandless came to die is the unforgettable story of Into the Wild.
Immediately after graduating from college in 1991, McCandless had roamed through the West and Southwest on a vision quest like those made by his heroes Jack London and John Muir. In the Mojave Desert he abandoned his car, stripped it of its license plates, and burned all of his  cash. He would give himself a new name, Alexander Supertramp, and, unencumbered by money and belongings, he would be free to wallow in the raw, unfiltered experiences that nature presented. Craving a blank spot on the map, McCandless simply threw the maps away. Leaving behind his desperate parents and sister, he vanished into the wild.
Jon Krakauer constructs a clarifying prism through which he reassembles the disquieting facts of McCandless's short life. Admitting an interest that borders on obsession, he searches for the clues to the dries and desires that propelled McCandless. Digging deeply, he takes an inherently compelling mystery and unravels the larger riddles it holds: the profound pull of the American wilderness on our imagination; the allure of high-risk activities to young men of a certain cast of mind; the complex, charged bond between fathers and sons.
When McCandless's innocent mistakes turn out to be irreversible and fatal, he becomes the stuff of tabloid headlines and is dismissed for his naiveté, pretensions, and hubris. He is said to have had a death wish, but wanting to die is a very different thing from being compelled to look over the edge. Krakauer brings McCandless's uncompromising pilgrimage out of the shadows, and the peril, adversity, and renunciation sought by this enigmatic young man are illuminated with a rare understanding — and not an ounce of sentimentality. Mesmerizing, heartbreaking, Into the Wild is a tour de force. The power and luminosity of Jon Krakauer's stoytelling blaze through every page.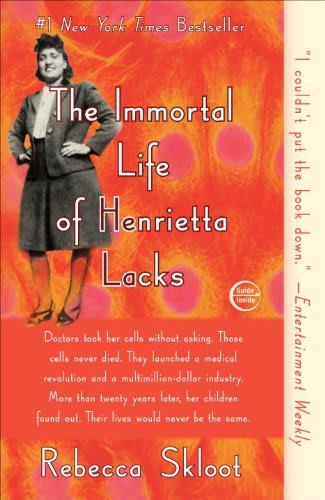 Her name was Henrietta Lacks, but scientists know her as HeLa. She was a poor black tobacco farmer whose cells — taken without her knowledge in 1951 — became one of the most important tools in medicine, vital for developing the polio vaccine, cloning, gene mapping, and more. Henrietta's cells have been bought and sold by the billions, yet she remains virtually unknown, and her family can't afford health insurance. This phenomenal New York Times bestseller tells a riveting story of the collision between ethics, race, and medicine; of scientific discovery and faith healing; and of a daughter consumed with questions about the mother she never knew.
The Emperor of All Maladies is a magnificent, profoundly humane "biography" of cancer — from its first documented appearances thousands of years ago through the epic battles in the 20th century to cure, control, and conquer it to a radical new understanding of its essence.
Physician, researcher, and award-winning science writer, Siddhartha Mukherjee examines cancer with a cellular biologist's precision, a historian's perspective, and a biographer's passion. The result is an astonishingly lucid and eloquent chronicle of a disease humans have lived with — and perished from — for more than 5,000 years.
The story of cancer is a story of human ingenuity, resilience, and perseverance, but also of hubris, paternalism, and misperception. Mukherjee recounts centuries of discoveries, setbacks, victories, and deaths, told through the eyes of his predecessors and peers, training their wits against an infinitely resourceful adversary that, just three decades ago, was thought to be easily vanquished in an all-out "war against cancer."
The book reads like a literary thriller with cancer as the protagonist. From the Persian Queen Atossa, whose Greek slave cut off her malignant breast, to the 19th-century recipients of primitive radiation and chemotherapy to Mukherjee's own leukemia patient, Carla, The Emperor of All Maladies is about the people who have soldiered through fiercely demanding regimens in order to survive — and to increase our understanding of this iconic disease.
Riveting, urgent, and surprising, The Emperor of All Maladies provides a fascinating glimpse into the future of cancer treatments. It is an illuminating book that provides hope and clarity to those seeking to demystify cancer.
On New Year's Eve, journalist and former Parade editor-in-chief Janice Kaplan makes a promise to be grateful and look on the bright side of whatever happens. She realizes that how she feels over the next months will have less to do with the events that occur than her own attitude and perspective. Getting advice at every turn from psychologists, academics, doctors, and philosophers she brings readers on a smart and witty journey to discover the value of appreciating what you have.
Relying on both amusing personal experiences and extensive research, Kaplan explores how gratitude can transform every aspect of life including marriage and friendship, money and ambition, and health and fitness. She learns how appreciating your spouse changes the neurons of your brain and why saying thanks helps CEOs succeed. Through extensive interviews with experts and lively conversations with real people including celebrities like Matt Damon, Daniel Craig, and Jerry Seinfeld, Kaplan discovers the role of gratitude in everything from our sense of fulfillment to our children's happiness.
With warmth, humor, and appealing insight, Janice's journey will empower readers to think positively and start living their own best year ever.
Option B by Sheryl Sandberg and Adam Grant
From Facebook's COO and Wharton's top-rated professor, the #1 New York Times best-selling authors of Lean In and Originals: a powerful, inspiring, and practical book about building resilience and moving forward after life's inevitable setbacks.
After the sudden death of her husband, Sheryl Sandberg felt certain that she and her children would never feel pure joy again. "I was in 'the void,'" she writes, "a vast emptiness that fills your heart and lungs and restricts your ability to think or even breathe." Her friend Adam Grant, a psychologist at Wharton, told her there are concrete steps people can take to recover and rebound from life-shattering experiences. We are not born with a fixed amount of resilience. It is a muscle that everyone can build.
Option B combines Sheryl's personal insights with Adam's eye-opening research on finding strength in the face of adversity. Beginning with the gut-wrenching moment when she finds her husband, Dave Goldberg, collapsed on a gym floor, Sheryl opens up her heart — and her journal — to describe the acute grief and isolation she felt in the wake of his death. But Option B goes beyond Sheryl's loss to explore how a broad range of people have overcome hardships including illness, job loss, sexual assault, natural disasters, and the violence of war. Their stories reveal the capacity of the human spirit to persevere… and to rediscover joy.
Resilience comes from deep within us and from support outside us. Even after the most devastating events, it is possible to grow by finding deeper meaning and gaining greater appreciation in our lives. Option B illuminates how to help others in crisis, develop compassion for ourselves, raise strong children, and create resilient families, communities, and workplaces. Many of these lessons can be applied to everyday struggles, allowing us to brave whatever lies ahead. Two weeks after losing her husband, Sheryl was preparing for a father-child activity. "I want Dave," she cried. Her friend replied, "Option A is not available," and then promised to help her make the most of Option B.
We all live some form of Option B. This book will help us all make the most of it.
Historical Nonfiction Books
For readers of Unbroken, out of the depths of the Depression comes an irresistible story about beating the odds and finding hope in the most desperate of times — the improbable, intimate account of how nine working-class boys from the American West showed the world at the 1936 Olympics in Berlin what true grit really meant. It was an unlikely quest from the start. With a team composed of the sons of loggers, shipyard workers, and farmers, the University of Washington's eight-oar crew team was never expected to defeat the elite teams of the East Coast and Great Britain, yet they did, going on to shock the world by defeating the German team rowing for Adolf Hitler. The emotional heart of the tale lies with Joe Rantz, a teenager without family or prospects, who rows not only to regain his shattered self-regard but also to find a real place for himself in the world. Drawing on the boys' own journals and vivid memories of a once-in-a-lifetime shared dream, Brown has created an unforgettable portrait of an era, a celebration of a remarkable achievement, and a chronicle of one extraordinary young man's personal quest.
Unbroken by Laura Hillenbrand
In boyhood, Louis Zamperini was an incorrigible delinquent. As a teenager, he channeled his defiance into running, discovering a prodigious talent that had carried him to the Berlin Olympics. But when World War II began, the athlete became an airman, embarking on a journey that led to a doomed flight on a May afternoon in 1943. When his Army Air Forces bomber crashed into the Pacific Ocean, against all odds, Zamperini survived, adrift on a foundering life raft. Ahead of Zamperini lay thousands of miles of open ocean, leaping sharks, thirst and starvation, enemy aircraft, and, beyond, a trial even greater. Driven to the limits of endurance, Zamperini would answer desperation with ingenuity; suffering with hope, resolve, and humor; brutality with rebellion. His fate, whether triumph or tragedy, would be suspended on the fraying wire of his will.
Unbroken is an unforgettable testament to the resilience of the human mind, body, and spirit, brought vividly to life by Seabiscuit author Laura Hillenbrand.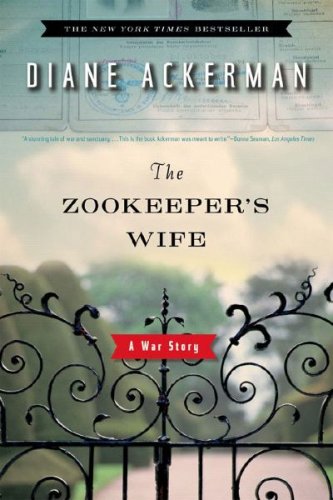 After their zoo was bombed, Polish zookeepers Jan and Antonina Żabiński managed to save over 300 people from the Nazis by hiding refugees in the empty animal cages. With animal names for these "guests," and human names for the animals, it's no wonder that the zoo's code name became "The House Under a Crazy Star." Bestselling naturalist and acclaimed storyteller Diane Ackerman combines extensive research and an exuberant writing style to recreate this fascinating, true-life story — sharing Antonina's life as "the zookeeper's wife," while examining the disturbing obsessions at the core of Nazism.
On May 1, 1915, with WWI entering its 10th month, a luxury ocean liner as richly appointed as an English country house sailed out of New York, bound for Liverpool, carrying a record number of children and infants. The passengers were surprisingly at ease, even though Germany had declared the seas around Britain to be a war zone. For months, German U-boats had brought terror to the North Atlantic. But the Lusitania was one of the era's great transatlantic "Greyhounds" — the fastest liner then in service — and her captain, William Thomas Turner, placed tremendous faith in the gentlemanly strictures of warfare that for a century had kept civilian ships safe from attack.
Germany, however, was determined to change the rules of the game, and Walther Schwieger, the captain of Unterseeboot-20, was happy to oblige. Meanwhile, an ultra-secret British intelligence unit tracked Schwieger's U-boat, but told no one. As U-20 and the Lusitania made their way toward Liverpool, an array of forces both grand and achingly small — hubris, a chance fog, a closely guarded secret, and more — all converged to produce one of the great disasters of history.
It is a story that many of us think we know but don't, and Erik Larson tells it thrillingly, switching between hunter and hunted while painting a larger portrait of America at the height of the Progressive Era. Full of glamour and suspense, Dead Wake brings to life a cast of evocative characters, from famed Boston bookseller Charles Lauriat to pioneering female architect Theodate Pope to President Woodrow Wilson, a man lost to grief, dreading the widening war but also captivated by the prospect of new love.
Gripping and important, Dead Wake captures the sheer drama and emotional power of a disaster whose intimate details and true meaning have long been obscured by history.
Edith Hahn was an outspoken young woman in Vienna when the Gestapo forced her into a ghetto and then into a labor camp. When she returned home months later, she knew she would become a hunted woman and went underground. With the help of a Christian friend, she emerged in Munich as Grete Denner. There she met Werner Vetter, a Nazi Party member who fell in love with her. Despite Edith's protests and even her eventual confession that she was Jewish, he married her and kept her identity a secret.
In wrenching detail, Edith recalls a life of constant, almost paralyzing fear. She tells of German officials who casually questioned the lineage of her parents; of how, when giving birth to her daughter, she refused all painkillers, afraid that in an altered state of mind she might reveal something of her past; and of how, after her husband was captured by the Soviet army, she was bombed out of her house and had to hide while drunken Russian soldiers raped women on the street.
Yet despite the risk it posed to her life, Edith created a remarkable record of survival. She saved every document and set of papers issued to her, as well as photographs she managed to take inside labor camps. Now part of the permanent collection at the Holocaust Memorial Museum in Washington, D.C., these hundreds of documents, several of which are included in this volume, form the fabric of a gripping new chapter in the history of the Holocaust — complex, troubling, and ultimately triumphant.
The phenomenal true story of the black female mathematicians at NASA whose calculations helped fuel some of America's greatest achievements in space.
Before John Glenn orbited the earth, or Neil Armstrong walked on the moon, a group of dedicated female mathematicians known as human computers used pencils, slide rules and adding machines to calculate the numbers that would launch rockets, and astronauts, into space. Among these problem-solvers were a group of exceptionally talented African American women, some of the brightest minds of their generation. Originally relegated to teaching math in the Souths segregated public schools, they were called into service during the labor shortages of World War II, when America's aeronautics industry was in dire need of anyone who had the right stuff. Suddenly, these overlooked math whizzes had a shot at jobs worthy of their skills, and they answered Uncle Sam's call, moving to Hampton, Virginia and the fascinating, high-energy world of the Langley Memorial Aeronautical Laboratory. Even as Virginias Jim Crow laws required them to be segregated from their white counterparts, the women of Langley's all-black West Computing group helped America achieve one of the things it desired most: a decisive victory over the Soviet Union in the Cold War, and complete domination of the heavens. Starting in World War II and moving through to the Cold War, the Civil Rights Movement, and the Space Race, Hidden Figures follows the interwoven accounts of Dorothy Vaughan, Mary Jackson, Katherine Johnson and Christine Darden, four African American women who participated in some of NASAs greatest successes. It chronicles their careers over nearly three decades they faced challenges, forged alliances and used their intellect to change their own lives, and their country's future.
From the New York Times bestselling author of The Widow Clicquot comes an extraordinary and gripping account of Irena Sendler — the "female Oskar Schindler" — who took staggering risks to save 2,500 children from death and deportation in Nazi-occupied Poland during World War II.
In 1942, one young social worker, Irena Sendler, was granted access to the Warsaw ghetto as a public health specialist. While there, she reached out to the trapped Jewish families, going from door to door and asking the parents to trust her with their young children. She started smuggling them out of the walled district, convincing her friends and neighbors to hide them. Driven to extreme measures and with the help of a network of local tradesmen, ghetto residents, and her star-crossed lover in the Jewish resistance, Irena ultimately smuggled thousands of children past the Nazis. She made dangerous trips through the city's sewers, hid children in coffins, snuck them under overcoats at checkpoints, and slipped them through secret passages in abandoned buildings.
But Irena did something even more astonishing at immense personal risk: she kept secret lists buried in bottles under an old apple tree in a friend's back garden. On them were the names and true identities of those Jewish children, recorded with the hope that their relatives could find them after the war. She could not have known that more than ninety percent of their families would perish.
In Irena's Children, Tilar Mazzeo tells the incredible story of this courageous and brave woman who risked her life to save innocent children from the Holocaust — a truly heroic tale of survival, resilience, and redemption.
The diary as Anne Frank wrote it. At last, in a new translation, this definitive edition contains entries about Anne's burgeoning sexuality and confrontations with her mother that were cut from previous editions. Anne Frank's Diary of a Young Girl is among the most enduring documents of the 20th century. Since its publication in 1947, it has been a beloved and deeply admired monument to the indestructible nature of the human spirit, read by millions of people and translated into more than fifty-five languages. Doubleday, which published the first English translation of the diary in 1952, now offers a new translation that captures Anne's youthful spirit and restores the original material omitted by Anne's father, Otto — approximately thirty percent of the diary.  The elder Frank excised details about Anne's emerging sexuality, and about the often-stormy relations between Anne and her mother.
Anne Frank and her family, fleeing the horrors of Nazi occupation forces, hid in the back of an Amsterdam office building for two years. This is Anne's record of that time. She was thirteen when the family went into the "Secret Annex," and in these pages, she grows to be a young woman and proves to be an insightful observer of human nature as well. A timeless story discovered by each new generation, The Diary of a Young Girl stands without peer.  For young readers and adults, it continues to bring to life this young woman, who for a time survived the worst horrors the modern world had seen — and who remained triumphantly and heartbreakingly human throughout her ordeal.
Night by Elie Wiesel
In 1986, when Wiesel received the Nobel Peace Prize, the Norwegian Nobel Committee wrote, "Elie Wiesel was rescued from the ashes of Auschwitz after storm and fire had ravaged his life. In time he realized that his life could have purpose: that he was to be a witness, the one who would pass on the account of what had happened so that the dead would not have died in vain and so the living could learn." Night, which has sold millions of copies around the world, is the very embodiment of that conviction. It is written in simple, understated language, yet it is emotionally devastating, never to be forgotten.
Born in the town of Sighet, Transylvania, Wiesel was a teenager when he and his family were deported to Auschwitz and then Buchenwald. Night is the shattering record of his memories of the death of his mother, father, and little sister, Tsipora; the death of his own innocence; and his despair as a deeply observant Jew confronting the absolute evil of man. "Never shall I forget that night, the first night in camp, that turned my life into one long night," writes Wiesel. "Never shall I forget . . . even were I condemned to live as long as God Himself." These words are etched into the wall of the Holocaust Memorial Museum in Washington. Far more than a chronicle of the sadistic realm of the camps, Night also addresses many of the philosophical and personal questions implicit in any serious consideration of the Holocaust.
The memorial edition of Night includes the unpublished text of a speech that Wiesel delivered before the United Nations General Assembly on the sixtieth anniversary of the liberation of Auschwitz entitled "Will the World Ever Know." These remarks powerfully resonate with Night and with subsequent acts of genocide.
The riveting true story of the women who launched America into space.
In the 1940s and 50s, when the newly minted Jet Propulsion Laboratory needed quick-thinking mathematicians to calculate velocities and plot trajectories, they didn't turn to male graduates. Rather, they recruited an elite group of young women who, with only pencil, paper, and mathematical prowess, transformed rocket design, helped bring about the first American satellites, and made the exploration of the solar system possible.
For the first time, Rise of the Rocket Girls tells the stories of these women — known as "human computers" — who broke the boundaries of both gender and science. Based on extensive research and interviews with all the living members of the team, Rise of the Rocket Girls offers a unique perspective on the role of women in science: both where we've been, and the far reaches of space to which we're heading.
On September 23, 1939, Wladyslaw Szpilman played Chopin's Nocturne in C-sharp minor live on the radio as shells exploded outside — so loudly that he couldn't hear his piano. It was the last live music broadcast from Warsaw: That day, a German bomb hit the station, and Polish Radio went off the air.
Though he lost his entire family, Szpilman survived in hiding. In the end, his life was saved by a German officer who heard him play the same Chopin Nocturne on a piano found among the rubble. Written immediately after the war and suppressed for decades, The Pianist is a stunning testament to human endurance and the redemptive power of fellow feeling.
The Tennessee town of Oak Ridge was created from scratch in 1942. One of the Manhattan Project's secret cities, it didn't appear on any maps until 1949, and yet at the height of World War II it was using more electricity than New York City and was home to more than 75,000 people, many of them young women recruited from small towns across the South. Their jobs were shrouded in mystery, but they were buoyed by a sense of shared purpose, close friendships — and a surplus of handsome scientists and Army men!
But against this vibrant wartime backdrop, a darker story was unfolding. The penalty for talking about their work — even the most innocuous details — was job loss and eviction. One woman was recruited to spy on her coworkers. They all knew something big was happening at Oak Ridge, but few could piece together the true nature of their work until the bomb "Little Boy" was dropped over Hiroshima, Japan, and the secret was out. The shocking revelation: the residents of Oak Ridge were enriching uranium for the atomic bomb.
Though the young women originally believed they would leave Oak Ridge after the war, many met husbands there, made lifelong friends, and still call the 70-year-old town home. The reverberations from their work there — work they didn't fully understand at the time — are still being felt today. In The Girls of Atomic City, Denise Kiernan traces the astonishing story of these unsung WWII workers through interviews with dozens of surviving women and other Oak Ridge residents. Like The Immortal Life of Henrietta Lacks, this is history and science made fresh and vibrant — a beautifully told, deeply researched story that unfolds in a suspenseful and exciting way.
Funny Books
Do you want to get to know the woman we first came to love on Comedy Central's Upright Citizens Brigade? Do you want to spend some time with the lady who made you howl with laughter on Saturday Night Live, and in movies like Baby Mama, Blades of Glory, and They Came Together? Do you find yourself daydreaming about hanging out with the actor behind the brilliant Leslie Knope on Parks and Recreation? Did you wish you were in the audience at the last two Golden Globes ceremonies, so you could bask in the hilarity of Amy's one-liners?
If your answer to these questions is "Yes Please!" then you are in luck. In her first book, one of our most beloved funny folk delivers a smart, pointed, and ultimately inspirational read. Full of the comedic skill that makes us all love Amy, Yes Please is a rich and varied collection of stories, lists, poetry (Plastic Surgery Haiku, to be specific), photographs, mantras and advice. With chapters like "Treat Your Career Like a Bad Boyfriend," "Plain Girl Versus the Demon" and "The Robots Will Kill Us All" Yes Please will make you think as much as it will make you laugh. Honest, personal, real, and righteous, Yes Please is full of words to live by.
Jennifer Weiner is many things: a bestselling author, a Twitter phenomenon, and an "unlikely feminist enforcer" (The New Yorker). She's also a mom, a daughter, and a sister; a former rower and current clumsy yogini; a wife, a friend, and a reality-TV devotee. In her first essay collection, she takes the raw stuff of her life and spins it into a collection of tales of modern-day womanhood as uproariously funny and moving as the best of Nora Ephron and Tina Fey. Born in Louisiana, raised in Connecticut, educated at Princeton, Jennifer spent years feeling like an outsider ("a Lane Bryant outtake in an Abercrombie & Fitch world") before finding her people in newsrooms, and her voice as a novelist, activist, and New York Times columnist.
No subject is off-limits in these intimate and honest stories: sex, weight, envy, money, her mother's coming out of the closet, her estranged father's death. From lonely adolescence to modern childbirth to hearing her six-year-old daughter say the f-word — fat — for the first time, Jen dives deep into the heart of female experience, with the wit and candor that have endeared her to readers all over the world.
Hilarious and moving, Hungry Heart is about yearning and fulfillment, loss and love, and a woman who searched for her place in the world, and found it as a storyteller.
In Furiously Happy, #1 New York Times bestselling author Jenny Lawson explores her lifelong battle with mental illness. A hysterical, ridiculous book about crippling depression and anxiety? That sounds like a terrible idea.
But terrible ideas are what Jenny does best.
As Jenny says:
"Some people might think that being 'furiously happy' is just an excuse to be stupid and irresponsible and invite a herd of kangaroos over to your house without telling your husband first because you suspect he would say no since he's never particularly liked kangaroos. And that would be ridiculous because no one would invite a herd of kangaroos into their house. Two is the limit. I speak from personal experience. My husband says that none is the new limit. I say he should have been clearer about that before I rented all those kangaroos."
Lawson is beloved around the world for her inimitable humor and honesty, and in Furiously Happy, she is at her snort-inducing funniest. This is a book about embracing everything that makes us who we are — the beautiful and the flawed — and then using it to find joy in fantastic and outrageous ways. Because as Jenny's mom says, "Maybe 'crazy' isn't so bad after all." Sometimes crazy is just right.
The Emmy Award-winning comedian, actress, writer, and star of Inside Amy Schumer and the acclaimed film Trainwreck has taken the entertainment world by storm with her winning blend of smart, satirical humor. Now, Amy Schumer has written a refreshingly candid and uproariously funny collection of (extremely) personal and observational essays.
In The Girl with the Lower Back Tattoo, Amy mines her past for stories about her teenage years, her family, relationships, and sex and shares the experiences that have shaped who she is — a woman with the courage to bare her soul to stand up for what she believes in, all while making us laugh.
Ranging from the raucous to the romantic, the heartfelt to the harrowing, this highly entertaining and universally appealing collection is the literary equivalent of a night out with your best friend — an unforgettable and fun adventure that you wish could last forever. Whether she's experiencing lust-at-first-sight while in the airport security line, sharing her own views on love and marriage, admitting to being an introvert, or discovering her cross-fit instructor's secret bad habit, Amy Schumer proves to be a bighearted, brave, and thoughtful storyteller that will leave you nodding your head in recognition, laughing out loud, and sobbing uncontrollably — but only because it's over.
A collection of humorous autobiographical essays by the Academy Award-nominated actress and star of Up in the Air and Pitch Perfect.
"I'm excited to publish my first book, and because I get uncomfortable when people have high expectations, I'd like to use this opportunity to showcase my ineptitude, pettiness, and the frequency with which I embarrass myself. And while many of my female inspirations who have become authors are incredibly well-educated and accomplished comedy writers, I'm very, very funny on Twitter, according to Buzzfeed and my mom, so I feel like this is a great idea. Quick question: Are run-on sentences still frowned upon? Wait, is ending a sentence with a preposition still frowned upon? I mean, upon frowned? Dammit!" – Anna Kendrick
Anna Kendrick's autobiographical collection of essays amusingly recounts memorable moments throughout her life, from her middle class upbringing in New England to the blockbuster movies that have made her one of Hollywood's most popular actresses today. Expanding upon the witty and ironic dispatches for which she is known, Anna Kendrick's essays offer her one-of-a-kind commentary on the absurdities she's experienced on her way to and from the heart of pop culture.
Back in America after 20 years in Britain, Bill Bryson decided to reacquaint himself with his native country by walking the 2,100-mile Appalachian Trail, which stretches from Georgia to Maine. The AT offers an astonishing landscape of silent forests and sparkling lakes — and to a writer with the comic genius of Bill Bryson, it also provides endless opportunities to witness the majestic silliness of his fellow human beings.
For a start there's the gloriously out-of-shape Stephen Katz, a buddy from Iowa along for the walk. Despite Katz's overwhelming desire to find cozy restaurants, he and Bryson eventually settle into their stride, and while on the trail they meet a bizarre assortment of hilarious characters. But A Walk in the Woods is more than just a laugh-out-loud hike. Bryson's acute eye is a wise witness to this beautiful but fragile trail, and as he tells its fascinating history, he makes a moving plea for the conservation of America's last great wilderness. An adventure, a comedy, and a celebration, A Walk in the Woodshas become a modern classic of travel literature.
By the New York Times bestselling author, an outrageous collection of personal stories about motherhood, responsibility, and other potential disasters
Jenny Mollen is a writer and actress living in New York. Until two years ago, her life was exciting, sexy, a little eccentric, and 100 percent impulsive. She had a husband who embraced her crazy — who understood her need to occasionally stalk around the house in his ex-girlfriend's old beach caftans and to invite their drug dealer to Passover seder (so he wouldn't feel like they were using him only for drugs).
Then they had their son, Sid, and overnight, Jenny was forced to grow up: To be responsible, to brush her hair, to listen to her voicemail.
Live Fast Die Hot is a collection of stories about what happens when you realize that some things are more important than crafting the perfect tweet. It follows Jenny to Morocco, where she embarks on a quest to prove to herself that she can travel alone without reenacting a plotline from Taken. It shows her confronting demons — most of them from childhood, a few from the spirit realm. And it culminates in Peru, where Jenny decides that maybe the cure for her anxiety as a mom lies at the bottom of a cup of ayahuasca.
Hilarious, outlandish, and surprisingly affecting, Live Fast Die Hot reminds you that even if you aren't cut out for parenting, at least you can be better at it than your mother.
The bestselling and "perennially hilarious" mother-daughter team is back with a new collection of stories from their real lives, guaranteed to make you laugh out loud. Join Lisa and Francesca as they regret drunk-shopping online, try smell-dating, and explore the freedom of a hiatus from men — a Guyatus. They offer a fresh and funny take on the triumphs and facepalm moments of modern life, showing that when it comes to navigating the crazy world we live in, you're always your own best lifeguard.
Twenty-seven-year-old Nora McInerny Purmort bounced from boyfriend to dopey "boyfriend" until she met Aaron — a charismatic art director and comic-book nerd who once made Nora laugh so hard she pulled a muscle. When Aaron was diagnosed with a rare form of brain cancer, they refused to let it limit their love. They got engaged on Aaron's hospital bed and had a baby boy while he was on chemo. In the period that followed, Nora and Aaron packed 50 years of marriage into the three they got, spending their time on what really matters: Buffy the Vampire Slayer, each other, and Beyoncé. A few months later, Aaron died in Nora's arms. The obituary they wrote during Aaron's hospice care revealing his true identity as Spider-Man touched the nation. With It's Okay to Laugh, Nora puts a young, fresh twist on the subjects of mortality and resilience. What does it actually mean to live your "one wild and precious life" to the fullest? How can a joyful marriage contain more sickness than health? How do you keep going when life kicks you in the junk? In this deeply felt and deeply funny memoir, Nora gives her readers a true gift — permission to struggle, permission to laugh, permission to tell the truth and know that everything will be okay. It's Okay to Laugh is a love letter to life, in all its messy glory; it reads like a conversation with a close friend, and leaves a trail of glitter in its wake.
This book is for people who have been through some shit.
This is for people who aren't sure if they're saying or doing the right thing (you're not, but nobody is). This is for people who had their life turned upside down and just learned to live that way. For people who have laughed at a funeral or cried in a grocery store. This is for everyone who wondered what exactly they're supposed to be doing with their one wild and precious life. I don't actually have the answer, but if you find out, will you text me?
Driving Miss Norma by Tim Bauerschmidt and Ramie Liddle
When Miss Norma was diagnosed with uterine cancer, she was advised to undergo surgery, radiation, and chemotherapy. But instead of confining herself to a hospital bed for what could be her last stay, Miss Norma — newly widowed after nearly seven decades of marriage — rose to her full height of five feet and told the doctor, "I'm 90 years old. I'm hitting the road."
And so Miss Norma took off on an unforgettable around-the-country journey in a 36-foot motor home with her retired son Tim, his wife Ramie, and their dog Ringo.
As this once timid woman says "yes" to living in the face of death, she tries regional foods for the first time, reaches for the clouds in a hot air balloon, and mounts up for a horseback ride. With each passing mile (and one educational visit to a cannabis dispensary), Miss Norma's health improves and conversations that had once been taboo begin to unfold. Norma, Tim, and Ramie bond in ways they had never done before, and their definitions of home, family, and friendship expand. Stop by stop, state by state, they meet countless people from all walks of life — strangers who become fast friends and welcome them with kindness and open hearts.
Infused with this irrepressible nonagenarian's wisdom, courage, and generous spirit, Driving Miss Norma is the charming, infectiously joyous chronicle of their experiences on the road. It portrays a transformative journey of living life on your own terms that shows us it is never too late to begin an adventure, inspire hope, or become a trailblazer.
The Oscar-nominated Precious star and Empire actress delivers a much-awaited memoir — wise, complex, smart, funny — a version of the American experience different from anything we've read.
Gabourey Sidibe — "Gabby" to her legion of fans — skyrocketed to international fame in 2009 when she played the leading role in Lee Daniels's acclaimed movie Precious. In This Is Just My Face, she shares a one-of-a-kind life story in a voice as fresh and challenging as many of the unique characters she's played onscreen. With full-throttle honesty, Sidibe paints her Bed-Stuy/Harlem family life with a polygamous father and a gifted mother who supports her two children by singing in the subway. Sidibe tells the engrossing, inspiring story of her first job as a phone sex "talker." And she shares her unconventional (of course!) rise to fame as a movie star, alongside "a superstar cast of rich people who lived in mansions and had their own private islands and amazing careers while I lived in my mom's apartment."
Sidibe's memoir hits hard with self-knowing dispatches on friendship, depression, celebrity, haters, fashion, race, and weight ("If I could just get the world to see me the way I see myself," she writes, "would my body still be a thing you walked away thinking about?"). Irreverent, hilarious, and untraditional, This Is Just My Face will resonate with anyone who has ever felt different, and with anyone who has ever felt inspired to make a dream come true.
Superstar comedian and Hollywood box office star Kevin Hart turns his immense talent to the written word by writing some words. Some of those words include: the, a, for, above, and even even. Put them together and you have the funniest, most heartfelt, and most inspirational memoir on survival, success, and the importance of believing in yourself since Old Yeller.
The question you're probably asking yourself right now is: What does Kevin Hart have that a book also has?
According to the three people who have seen Kevin Hart and a book in the same room, the answer is clear:
A book is compact. Kevin Hart is compact.
A book has a spine that holds it together. Kevin Hart has a spine that holds him together.
A book has a beginning. Kevin Hart's life uniquely qualifies him to write this book by also having a beginning.
It begins in North Philadelphia. He was born an accident, unwanted by his parents. His father was a drug addict who was in and out of jail. His brother was a crack dealer and petty thief. And his mother was overwhelmingly strict, beating him with belts, frying pans, and his own toys.
The odds, in short, were stacked against our young hero, just like the odds that are stacked against the release of a new book in this era of social media (where Hart has a following of over 100 million, by the way).
But Kevin Hart, like Ernest Hemingway, JK Rowling, and Chocolate Droppa before him, was able to defy the odds and turn it around. In his literary debut, he takes the reader on a journey through what his life was, what it is today, and how he's overcome each challenge to become the man he is today.
And that man happens to be the biggest comedian in the world, with tours that sell out football stadiums and films that have collectively grossed over $3.5 billion.
He achieved this not just through hard work, determination, and talent: It was through his unique way of looking at the world. Because just like a book has chapters, Hart sees life as a collection of chapters that each person gets to write for himself or herself.
"Not only do you get to choose how you interpret each chapter, but your interpretation writes the next chapter," he says. "So why not choose the interpretation that serves your life the best?"
Self-Improvement Books
Rewire by Richard O'Connor
We humans tend to get in our own way time and time again — whether it comes to not speaking up for ourselves, going back to bad romantic partners, dieting for the umpteenth try, or acting on any of a range of bad habits we just can't seem to shake. In Rewire, renowned psychotherapist Richard O'Connor, PhD, reveals exactly why our bad habits die so hard. We have two brains — one a thoughtful, conscious, deliberative self, and the other an automatic self that makes most of our decisions without our attention. Using new research and knowledge about how the brain works, the book clears a path to lasting, effective change for behaviors that include:
Procrastination
Overeating
Chronic disorganization
Staying in bad situations
Excessive worrying
Risk taking
Passive aggression
Self-medication
Bringing together many different fields in psychology and brain science, Dr. O'Connor gives you a road map to overcoming whatever self-destructive habits are plaguing you, with exercises throughout the book. We can rewire our brains to develop healthier circuitry, training the automatic self to make wiser decisions without having to think about it; ignore distractions; withstand temptations; see ourselves and the world more clearly; and interrupt our reflexive responses before they get us in trouble. Meanwhile, our conscious minds will be freed to view ourselves with compassion at the same time as we practice self-discipline. By learning valuable skills and habits — including mindfulness, self-control, confronting fear, and freeing yourself from mindless guilt — we can open ourselves to vastly more successful, productive, and happy lives. The book even demystifies how to overcome what Dr. O'Connor calls the "undertow" (the mysterious force that sabotages our best efforts when we're just on the edge of victory) for long-lasting change. Offering a valuable science-based new paradigm for rewiring our brains, Rewire is a refreshing guide to becoming a healthier, happier self.
In The Power of Habit, award-winning New York Times business reporter Charles Duhigg takes us to the thrilling edge of scientific discoveries that explain why habits exist and how they can be changed. With penetrating intelligence and an ability to distill vast amounts of information into engrossing narratives, Duhigg brings to life a whole new understanding of human nature and its potential for transformation.
Along the way we learn why some people and companies struggle to change, despite years of trying, while others seem to remake themselves overnight. We visit laboratories where neuroscientists explore how habits work and where, exactly, they reside in our brains. We discover how the right habits were crucial to the success of Olympic swimmer Michael Phelps, Starbucks CEO Howard Schultz, and civil-rights hero Martin Luther King, Jr. We go inside Procter & Gamble, Target superstores, Rick Warren's Saddleback Church, NFL locker rooms, and the nation's largest hospitals and see how implementing so-called keystone habits can earn billions and mean the difference between failure and success, life and death.
At its core, The Power of Habit contains an exhilarating argument: The key to exercising regularly, losing weight, raising exceptional children, becoming more productive, building revolutionary companies and social movements, and achieving success is understanding how habits work.
Habits aren't destiny. As Charles Duhigg shows, by harnessing this new science, we can transform our businesses, our communities, and our lives.
From an early age, it is drilled into our heads: Restlessness, distraction, and ignorance are the enemies of success. We're told that learning is all self-discipline, that we must confine ourselves to designated study areas, turn off the music, and maintain a strict ritual if we want to ace that test, memorize that presentation, or nail that piano recital.
But what if almost everything we were told about learning is wrong? And what if there was a way to achieve more with less effort?
In How We Learn, award-winning science reporter Benedict Carey sifts through decades of education research and landmark studies to uncover the truth about how our brains absorb and retain information. What he discovers is that, from the moment we are born, we are all learning quickly, efficiently, and automatically; but in our zeal to systematize the process we have ignored valuable, naturally enjoyable learning tools like forgetting, sleeping, and daydreaming. Is a dedicated desk in a quiet room really the best way to study? Can altering your routine improve your recall? Are there times when distraction is good? Is repetition necessary? Carey's search for answers to these questions yields a wealth of strategies that make learning more a part of our everyday lives — and less of a chore.
By road testing many of the counterintuitive techniques described in this book, Carey shows how we can flex the neural muscles that make deep learning possible. Along the way he reveals why teachers should give final exams on the first day of class, why it's wise to interleave subjects and concepts when learning any new skill, and when it's smarter to stay up late prepping for that presentation than to rise early for one last cram session. And if this requires some suspension of disbelief, that's because the research defies what we've been told, throughout our lives, about how best to learn.
The brain is not like a muscle, at least not in any straightforward sense. It is something else altogether, sensitive to mood, to timing, to circadian rhythms, as well as to location and environment. It doesn't take orders well, to put it mildly. If the brain is a learning machine, then it is an eccentric one. In How We Learn, Benedict Carey shows us how to exploit its quirks to our advantage.
To most of us, learning something "the hard way" implies wasted time and effort. Good teaching, we believe, should be creatively tailored to the different learning styles of students and should use strategies that make learning easier. Make It Stick turns fashionable ideas like these on their head. Drawing on recent discoveries in cognitive psychology and other disciplines, the authors offer concrete techniques for becoming more productive learners.
Memory plays a central role in our ability to carry out complex cognitive tasks, such as applying knowledge to problems never before encountered and drawing inferences from facts already known. New insights into how memory is encoded, consolidated, and later retrieved have led to a better understanding of how we learn. Grappling with the impediments that make learning challenging leads both to more complex mastery and better retention of what was learned.
Many common study habits and practice routines turn out to be counterproductive. Underlining and highlighting, rereading, cramming, and single-minded repetition of new skills create the illusion of mastery, but gains fade quickly. More complex and durable learning come from self-testing, introducing certain difficulties in practice, waiting to re-study new material until a little forgetting has set in, and interleaving the practice of one skill or topic with another. Speaking most urgently to students, teachers, trainers, and athletes, Make It Stick will appeal to all those interested in the challenge of lifelong learning and self-improvement.
This New York Times bestselling guide to decluttering your home from Japanese cleaning consultant Marie Kondo takes readers step-by-step through her revolutionary KonMari Method for simplifying, organizing, and storing. Despite constant efforts to declutter your home, do papers still accumulate like snowdrifts and clothes pile up like a tangled mess of noodles? Japanese cleaning consultant Marie Kondo takes tidying to a whole new level, promising that if you properly simplify and organize your home once, you'll never have to do it again. Most methods advocate a room-by-room or little-by-little approach, which doom you to pick away at your piles of stuff forever. The KonMari Method, with its revolutionary category-by-category system, leads to lasting results. In fact, none of Kondo's clients have lapsed (and she still has a three-month waiting list). With detailed guidance for determining which items in your house "spark joy" (and which don't), this international bestseller featuring Tokyo's newest lifestyle phenomenon will help you clear your clutter and enjoy the unique magic of a tidy home — and the calm, motivated mindset it can inspire.
The author of the hit column "Ask a Clean Person" offers a hilarious and practical guide to cleaning up life's little emergencies
Life is filled with spills, odors, and those oh-so embarrassing stains you just can't tell your parents about. And let's be honest: no one is going to ask Martha Stewart what to do when your boyfriend barfs in your handbag.
Thankfully, Jolie Kerr has both staggering cleaning knowledge and a sense of humor. With signature sass and straight talk, Jolie takes on questions ranging from the basic — how do I use a mop? — to the esoteric — what should I do when bottles of homebrewed ginger beer explode in my kitchen? My Boyfriend Barfed in My Handbag proves that even the most nightmarish cleaning conundrums can be solved with a smile, the right supplies, and a little music.
A year after getting divorced, Helen Carpenter, 32, lets her annoying, 10 years younger brother talk her into signing up for a wilderness survival course. It's supposed to be a chance for her to pull herself together again, but when she discovers that her brother's even-more-annoying best friend is also coming on the trip, she can't imagine how it will be anything other than a disaster. Thus begins the strangest adventure of Helen's well-behaved life: Three weeks in the remotest wilderness of a mountain range in Wyoming where she will survive mosquito infestations, a surprise summer blizzard, and a group of sorority girls.
Yet, despite everything, the vast wilderness has a way of making Helen's own little life seem bigger, too. And, somehow the people who annoy her the most start teaching her the very things she needs to learn. Like how to stand up for herself. And how being scared can make you brave. And how sometimes you just have to get really, really lost before you can even have a hope of being found.
Which of these books would you recommend? Share in the comments!
Want access to free & bargain ebooks? Sign up for BookBub here.
Comments