If you find books about serial killers to be intriguing, we have gathered a list of the most compelling murder stories in fiction and nonfiction. These books feature the most notorious real-life serial killers, as well as their fictional counterparts, from some of the best suspense authors of the past few decades. Check out our list of books about serial killers below, complete with their publishers' descriptions.
Books About Serial Killers: Nonfiction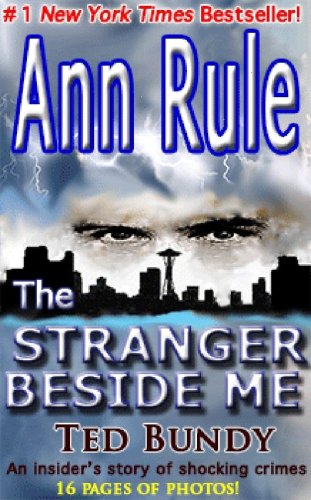 Utterly unique in its astonishing intimacy, as jarringly frightening as when it first appeared, Ann Rule's The Stranger Beside Me defies our expectation that we would surely know if a monster lived among us, worked alongside of us, appeared as one of us. With a slow chill that intensifies with each heart-pounding page, Rule describes her dawning awareness that Ted Bundy, her sensitive coworker on a crisis hotline, was one of the most prolific serial killers in America. He would confess to killing at least 36 young women from coast to coast, and was eventually executed for three of those cases. Drawing from their correspondence that endured until shortly before Bundy's death, and striking a seamless balance between her deeply personal perspective and her role as a crime reporter on the hunt for a savage serial killer — the brilliant and charismatic Bundy, the man she thought she knew — Rule changed the course of true-crime literature with this unforgettable chronicle.
Erik Larson — author of #1 bestseller In the Garden of Beasts — intertwines the true tale of the 1893 World's Fair and the cunning serial killer who used the fair to lure his victims to their death. Combining meticulous research with nail-biting storytelling, Erik Larson has crafted a narrative with all the wonder of newly discovered history and the thrills of the best fiction.
Mind Hunter by John Douglas and Mark Olshaker
Discover the classic, behind-the-scenes chronicle of John E. Douglas' twenty-five-year career in the FBI Investigative Support Unit, where he used psychological profiling to delve into the minds of the country's most notorious serial killers and criminals.
In chilling detail, the legendary Mindhunter takes us behind the scenes of some of his most gruesome, fascinating, and challenging cases–and into the darkest recesses of our worst nightmares.
During his twenty-five year career with the Investigative Support Unit, Special Agent John Douglas became a legendary figure in law enforcement, pursuing some of the most notorious and sadistic serial killers of our time: the man who hunted prostitutes for sport in the woods of Alaska, the Atlanta child murderer, and Seattle's Green River killer, the case that nearly cost Douglas his life.
As the model for Jack Crawford in The Silence of the Lambs, Douglas has confronted, interviewed, and studied scores of serial killers and assassins, including Charles Manson, Ted Bundy, and Ed Gein, who dressed himself in his victims' peeled skin. Using his uncanny ability to become both predator and prey, Douglas examines each crime scene, reliving both the killer's and the victim's actions in his mind, creating their profiles, describing their habits, and predicting their next moves.
Zodiac by Robert Graysmith
A sexual sadist, he took pleasure in torture and murder. His first victims were a teenage couple, stalked and shot dead in a lovers' lane. After another slaying, he sent his first mocking note to authorities, promising he would kill more. The official tally of his victims was six. He claimed thirty-seven dead. The real toll may have reached fifty.
Robert Graysmith was on staff at the San Francisco Chronicle in 1969 when Zodiac first struck, triggering in the resolute reporter an unrelenting obsession with seeing the hooded killer brought to justice. In this gripping account of Zodiac's eleven-month reign of terror, Graysmith reveals hundreds of facts previously unreleased, including the complete text of the killer's letters.
He was a model citizen. A hospital volunteer. And one of the most sadistic serial killers of all time. But few people could see the cruel monster beneath the colorful clown makeup that John Gacy wore to entertain children in his Chicago suburb. Few could imagine what lay buried beneath his house of horrors–until a teenaged boy disappeared before Christmas in 1978, leading prosecutor Terry Sullivan on the greatest manhunt of his career.
Reconstructing the investigation–from records of violence in Gacy's past, to the gruesome discovery of 29 corpses of abused boys in Gacy's crawlspace and four others found in the nearby river–Sullivan's shocking eyewitness account takes you where few true crime books ever go: inside the heart of a serial murder investigation and trial.
This updated edition features new revelations that have emerged using DNA evidence to confirm the identities of additional victims–and 16 pages of dramatic photos.
In the nonfiction tradition of John Berendt (Midnight in the Garden of Good and Evil) and Erik Larson (The Devil in the White City), New York Times bestselling author Douglas Preston presents a gripping account of crime and punishment in the lush hills surrounding Florence,Italy.
In 2000, Douglas Preston fulfilled a dream to move his family to Italy. Then he discovered that the olive grove in front of their 14thcentury farmhouse had been the scene of the most infamous double-murders in Italian history, committed by a serial killer known as the Monster of Florence.Preston, intrigued, meets Italian investigative journalist Mario Spezi to learn more. This is the true story of their search for–and identification of–the man they believe committed the crimes, and their chilling interview with him. And then, in a strange twist of fate, Prestonand Spezi themselves become targets of the police investigation. Preston has his phone tapped, is interrogated, and told to leave the country. Spezi fares worse: he is thrown into Italy's grim Capanne prison, accused of being the Monster of Florence himself. Like one of Preston's thrillers, The Monster Of Florence, tells a remarkable and harrowing story involving murder, mutilation, and suicide-and at the center of it, Preston and Spezi, caught in a bizarre prosecutorial vendetta.
She drove a school bus in Schenectady, New York. She even worked as a nurse's aide in a pediatric ward. But this seemingly normal woman killed her ninth child by smothering it and is suspected of doing the same to her other eight children–while escaping suspicion for more than a decade.
"We've all got the power in our hands to kill, but most people are afraid to use it. The ones who aren't afraid control life itself."–Richard Ramirez
Ten years after the murder spree that left thirteen people dead and paralyzed the city of Los Angeles with fear, his name is synonymous with Satanism, torture and sadistic murder. Yet despite the sensational nature of his crimes, no one has ever been able to tell the complex story of the killer whose seductive, brooding looks still draw women like moths to a flame–a man millions call the devil himself.
Until Now…
Painstakingly researched over three years, based on nearly one hundred hours of exclusive interviews with Richard Ramirez on California's Death Row, The Night Stalker is the definitive account of America's most feared serial murderer. From Ramirez's earliest brushes with the law to his deadliest stalking expeditions to the unprecedented police and civilian manhunt that resulted in one of the most sensational trails in California history, The Night Stalker is an eerie and spellbinding descent into the very heart of human evil. It is more than epic nonfiction at its brutally real-it is a true crime masterpiece.
Blind Eye by James B. Stewart
A medical thriller from Pulitzer Prize-winning author James B. Stewart about serial killer doctor Michael Swango and the medical community that chose to turn a blind eye on his criminal activities.
No one could believe that the handsome young doctor might be a serial killer. Wherever he was hired–in Ohio, Illinois, New York, South Dakota–Michael Swango at first seemed the model physician. Then his patients began dying under suspicious circumstances.
At once a gripping read and a hard-hitting look at the inner workings of the American medical system, Blind Eye describes a professional hierarchy where doctors repeatedly accept the word of fellow physicians over that of nurses, hospital employees, and patients–even as horrible truths begin to emerge. With the prodigious investigative reporting that has defined his Pulitzer Prize-winning career, James B. Stewart has tracked down survivors, relatives of victims, and shaken coworkers to unearth the evidence that may finally lead to Swango's conviction.
Combining meticulous research with spellbinding prose, Stewart has written a shocking chronicle of a psychopathic doctor and of the medical establishment that chose to turn a blind eye on his criminal activities.
In this superb work of literary true crime — a spellbinding combination of memoir and psychological suspense — a female journalist chronicles her unusual connection with a convicted serial killer and her search to understand the darkness inside us.
"Well, well, Claudia. Can I call you Claudia? I'll have to give it to you, when confronted at least you're honest, as honest as any reporter… You want to go into the depths of my mind and into my past. I want a peek into yours. It is only fair, isn't it?" — Kendall Francois
In September 1998, young reporter Claudia Rowe was working as a stringer for the New York Times in Poughkeepsie, New York, when local police discovered the bodies of eight women stashed in the attic and basement of the small colonial home that Kendall Francois, a painfully polite 27-year-old community college student, shared with his parents and sister.
Growing up amid the safe, bourgeois affluence of New York City, Rowe had always been secretly fascinated by the darkness, and soon became obsessed with the story and with Francois. She was consumed with the desire to understand just how a man could abduct and strangle eight women — and how a family could live for two years, seemingly unaware, in a house with the victims' rotting corpses. She also hoped to uncover what humanity, if any, a murderer could maintain in the wake of such monstrous evil.
Reaching out after Francois was arrested, Rowe and the serial killer began a dizzying four-year conversation about cruelty, compassion, and control; an unusual and provocative relationship that would eventually lead her to the abyss, forcing her to clearly see herself and her own past — and why she was drawn to danger.
Books About Serial Killers: Fiction
A neo-noir crime novel from the legendary crime novelist James Ellroy. Los Angeles, January, 15 1947: A beautiful young woman walked into the night and met her horrific destiny.
Five days later, her tortured body was found drained of blood and cut in half. The newspapers called her 'The Black Dahlia'. Two cops are caught up in the investigation and embark on a hellish journey that takes them to the core of the dead girl's twisted life…
The electrifying new thriller from New York Times bestseller Stephen Hunter takes you deep inside the mind of the most notorious serial killer of all time: Jack the Ripper.
The future is not as loud as war, but it is relentless. It has a terrible fury all its own.
Harper Curtis is a killer who stepped out of the past. Kirby Mazrachi is the girl who was never meant to have a future.
Kirby is the last shining girl, one of the bright young women, burning with potential, whose lives Harper is destined to snuff out after he stumbles on a House in Depression-era Chicago that opens on to other times.
At the urging of the House, Harper inserts himself into the lives of the shining girls, waiting for the perfect moment to strike. He's the ultimate hunter, vanishing into another time after each murder, untraceable-until one of his victims survives.
Determined to bring her would-be killer to justice, Kirby joins the Chicago Sun-Times to work with the ex-homicide reporter, Dan Velasquez, who covered her case. Soon Kirby finds herself closing in on the impossible truth…
The Shining Girls is a masterful twist on the serial killer tale: a violent quantum leap featuring a memorable and appealing heroine in pursuit of a deadly criminal.
Zombie by Joyce Carol Oates
Meet Quentin P.
He is a problem for his professor father and his loving mother, though of course they do not believe the charge (sexual molestation of a minor) that got him in that bit of trouble.
He is a challenge for his court-appointed psychiatrist, who nonetheless is encouraged by the increasingly affirmative quality of his dreams and his openness in discussing them.
He is a thoroughly sweet young man for his wealthy grandmother, who gives him more and more, and can deny him less and less.
He is the most believable and thoroughly terrifying sexual psychopath and killer ever to be brought to life in fiction, as Joyce Carol Oates achieves her boldest and most brilliant triumph yet—a dazzling work of art that extends the borders of the novel into the darkest heart of truth.
A serial murderer known only by a grotesquely apt nickname–Buffalo Bill–is stalking women. He has a purpose, but no one can fathom it, for the bodies are discovered in different states. Clarice Starling, a young trainee at the FBI Academy, is surprised to be summoned by Jack Crawford, chief of the Bureau's Behavioral Science section. Her assignment: to interview Dr. Hannibal Lecter–Hannibal the Cannibal–who is kept under close watch in the Baltimore State Hospital for the Criminally Insane.
Dr. Lecter is a former psychiatrist with a grisly history, unusual tastes, and an intense curiosity about the darker corners of the mind. His intimate understanding of the killer and of Clarice herself form the core of Thomas Harris' The Silence of the Lambs–and ingenious, masterfully written book and an unforgettable classic of suspense fiction.
When The Alienist was first published in 1994, it was a major phenomenon, spending six months on the New York Times bestseller list, receiving critical acclaim, and selling millions of copies. This modern classic continues to be a touchstone of historical suspense fiction for readers everywhere.
The year is 1896. The city is New York. Newspaper reporter John Schuyler Moore is summoned by his friend Dr. Laszlo Kreizler—a psychologist, or "alienist"—to view the horribly mutilated body of an adolescent boy abandoned on the unfinished Williamsburg Bridge. From there the two embark on a revolutionary effort in criminology: creating a psychological profile of the perpetrator based on the details of his crimes. Their dangerous quest takes them into the tortured past and twisted mind of a murderer who will kill again before their hunt is over.
Fast-paced and riveting, infused with historical detail, The Alienist conjures up Gilded Age New York, with its tenements and mansions, corrupt cops and flamboyant gangsters, shining opera houses and seamy gin mills. It is an age in which questioning society's belief that all killers are born, not made, could have unexpected and fatal consequences.
An international publishing sensation, Stieg Larsson's The Girl with the Dragon Tattoo combines murder mystery, family saga, love story, and financial intrigue into one satisfyingly complex and entertainingly atmospheric novel. Harriet Vanger, a scion of one of Sweden's wealthiest families disappeared over forty years ago. All these years later, her aged uncle continues to seek the truth. He hires Mikael Blomkvist, a crusading journalist recently trapped by a libel conviction, to investigate. He is aided by the pierced and tattooed punk prodigy Lisbeth Salander. Together they tap into a vein of unfathomable iniquity and astonishing corruption.
The next thrilling installment in the Harry Hole series.
The night the first snow falls a young boy wakes to find his mother gone. He walks through the silent house, but finds only wet footprints on the stairs. In the garden looms a solitary figure: a snowman bathed in cold moonlight, its black eyes glaring up at the bedroom windows. Round its neck is his mother's pink scarf. Inspector Harry Hole is convinced there is a link between the disappearance and a menacing letter he received some months earlier. As Harry and his team delve into unsolved case files, they discover that an alarming number of wives and mothers have gone missing over the years. When a second woman disappears Harry's suspicions are confirmed: he is a pawn in a deadly game. For the first time in his career Harry finds himself confronted with a serial killer operating on his turf, a killer who will drive him to the brink of insanity. A brilliant thriller with a pace that never lets up, The Snowman confirms Jo Nesbø's position as an international star of crime fiction.
Psycho by Robert Bloch
The story was all too real-indeed this classic was inspired by the real-life story of Ed Gein, a psychotic murderer who led a dual life. Alfred Hitchcock too was captivated, and turned the book into one of the most-loved classic films of all time the year after it was released. Norman Bates loves his Mother. She has been dead for the past twenty years, or so people think. Norman knows better though. He has lived with Mother ever since leaving the hospital in the old house up on the hill above the Bates motel. One night Norman spies on a beautiful woman that checks into the hotel as she undresses. Norman can't help but spy on her. Mother is there though. She is there to protect Norman from his filthy thoughts. She is there to protect him with her butcher knife.
Damaged Portland detective Archie Sheridan spent ten years tracking Gretchen Lowell, a beautiful serial killer, but in the end she was the one who caught him. Two years ago, Gretchen kidnapped Archie and tortured him for ten days, but instead of killing him, she mysteriously decided to let him go. She turned herself in, and now Gretchen has been locked away for the rest of her life, while Archie is in a prison of another kind—addicted to pain pills, unable to return to his old life, powerless to get those ten horrific days off his mind. Archie's a different person, his estranged wife says, and he knows she's right. He continues to visit Gretchen in prison once a week, saying that only he can get her to confess as to the whereabouts of more of her victims, but even he knows the truth—he can't stay away.
When another killer begins snatching teenage girls off the streets of Portland, Archie has to pull himself together enough to lead the new task force investigating the murders. A hungry young newspaper reporter, Susan Ward, begins profiling Archie and the investigation, which sparks a deadly game between Archie, Susan, the new killer, and even Gretchen. They need to catch a killer, and maybe somehow then Archie can free himself from Gretchen, once and for all. Either way, Heartsick makes for one of the most extraordinary suspense debuts in recent memory.
Near an isolated mansion lies a beautiful garden.
In this garden grow luscious flowers, shady trees…and a collection of precious "butterflies"—young women who have been kidnapped and intricately tattooed to resemble their namesakes. Overseeing it all is the Gardener, a brutal, twisted man obsessed with capturing and preserving his lovely specimens.
When the garden is discovered, a survivor is brought in for questioning. FBI agents Victor Hanoverian and Brandon Eddison are tasked with piecing together one of the most stomach-churning cases of their careers. But the girl, known only as Maya, proves to be a puzzle herself.
As her story twists and turns, slowly shedding light on life in the Butterfly Garden, Maya reveals old grudges, new saviors, and horrific tales of a man who'd go to any length to hold beauty captive. But the more she shares, the more the agents have to wonder what she's still hiding…
Postmortem by Patricia Cornwell
Under cover of night in Richmond, Virginia, a human monster strikes, leaving a gruesome trail of stranglings that has paralyzed the city. Medical examiner Kay Scarpetta suspects the worst: a deliberate campaign by a brilliant serial killer whose signature offers precious few clues. With an unerring eye, she calls on the latest advances in forensic research to unmask the madman. But this investigation will test Kay like no other, because it's being sabotaged from within and someone wants her dead.
In American Psycho, Bret Easton Ellis imaginatively explores the incomprehensible depths of madness and captures the insanity of violence in our time or any other. Patrick Bateman moves among the young and trendy in 1980s Manhattan. Young, handsome, and well educated, Bateman earns his fortune on Wall Street by day while spending his nights in ways we cannot begin to fathom. Expressing his true self through torture and murder, Bateman prefigures an apocalyptic horror that no society could bear to confront.
You by Caroline Kepnes
From debut author Caroline Kepnes comes You, a brilliant and terrifying novel for the social media age.
When a beautiful, aspiring writer strides into the East Village bookstore where Joe Goldberg works, he does what anyone would do: he Googles the name on her credit card.
There is only one Guinevere Beck in New York City. She has a public Facebook account and Tweets incessantly, telling Joe everything he needs to know: she is simply Beck to her friends, she went to Brown University, she lives on Bank Street, and she'll be at a bar in Brooklyn tonight — the perfect place for a "chance" meeting.
As Joe invisibly and obsessively takes control of Beck's life, he orchestrates a series of events to ensure Beck finds herself in his waiting arms. Moving from stalker to boyfriend, Joe transforms himself into Beck's perfect man, all while quietly removing the obstacles that stand in their way — even if it means murder.
A terrifying exploration of how vulnerable we all are to stalking and manipulation, debut author Caroline Kepnes delivers a razor-sharp novel for our hyper-connected digital age. You is a compulsively readable page-turner that's being compared to Gone Girl, American Psycho, and Stephen King's Misery.
In his most gripping thriller yet, Jeffery Deaver takes readers on a terrifying ride into two ingenious minds… that of a physically challenged detective and the scheming killer he must stop. The detective was the former head of forensics at the NYPD, but is now a quadriplegic who can only exercise his mind. The killer is a man whose obsession with old New York helps him choose his next victim. Now, with the help of a beautiful young cop, this diabolical killer must be stopped before he can kill again!
Everyone in the small town of Central City, Texas, loves Lou Ford. A deputy sheriff, Lou's known to the small-time criminals, the real-estate entrepreneurs, and all of his coworkers–the low-lifes, the big-timers, and everyone in-between–as the nicest guy around. He may not be the brightest or the most interesting man in town, but nevertheless, he's the kind of officer you're happy to have keeping your streets safe. The sort of man you might even wish your daughter would end up with someday.
But behind the platitudes and glad-handing lurks a monster the likes of which few have seen. An urge that has already claimed multiple lives, and cost Lou his brother Mike, a self-sacrificing construction worker fell to his death on the job in what was anything but an accident. A murder that Lou is determined to avenge–and if innocent people have to die in the process, well, that's perfectly all right with him.
In The Killer Inside Me, Thompson goes where few novelists have dared to go, giving us a pitch-black glimpse into the mind of the American Serial Killer years before Charles Manson, John Wayne Gacy, and Brett Easton Ellis's American Psycho, in the novel that will forever be known as the master performance of one of the greatest crime novelists of all time.
New York Times bestselling author John Sandford's "haunting, unforgettable, ice-blooded thriller"* that introduced Lucas Davenport…
The killer was mad but brilliant.
He left notes with every woman he killed. Rules of murder: Never have a motive. Never follow a discernible pattern. Never carry a weapon after it has been used… So many rules to his sick, violent games of death.
But Lucas Davenport, the cop who's out to get him, isn't playing by the rules.
He slips into homes at night and walks silently into bedrooms where women lie sleeping, about to awaken to a living nightmare. The precision of his methods suggests that he is a deranged man of medicine, prompting the Boston newspapers to dub him "The Surgeon." Led by Detectives Thomas Moore and Jane Rizzoli, the cops must consult the victim of a nearly identical crime: Two years ago, Dr. Catherine Cordell fought back and filled an attacker before he could complete his assault. Now this new killer is re-creating, with chilling accuracy, the details of Cordell's ordeal. With every new murder he seems to be taunting her, cutting ever closer, from her hospital to her home. And neither Moore nor Rizzoli can protect Cordell from a ruthless hunter who somehow understands — and savors — the secret fears of every woman he kills.
Homicide detective Frost Easton doesn't like coincidences. When a series of bizarre deaths rock San Francisco — as seemingly random women suffer violent psychotic breaks — Frost looks for a connection that leads him to psychiatrist Francesca Stein. Frankie's controversial therapy helps people erase their most terrifying memories… and all the victims were her patients.
As Frost and Frankie carry out their own investigations, the case becomes increasingly personal — and dangerous. Long-submerged secrets surface as someone called the Night Bird taunts the pair with cryptic messages pertaining to the deaths. Soon Frankie is forced to confront strange gaps in her own memory, and Frost faces a killer who knows the detective's worst fears.
As the body count rises and the Night Bird circles ever closer, a dedicated cop and a brilliant doctor race to solve the puzzle before a cunning killer claims another victim.
Which books about serial killers have you read? Share in the comments!
Comments