What do you get a Harry Potter fan who has everything? We're here to help! We scoured the internet and found the absolute best Harry Potter gifts available this season. These unique Harry Potter gift ideas are perfect for all wizards and witches. Check out the list below, and click on the links to get purchase information!
1. For the minimalist: This adorable (and inexpensive!) Hagrid quote print.
Once you download the design, you can print it at whatever size you want to fit any frame!
2. Once dropped into the tub, this Sorting Hat bath bomb reveals your Hogwarts house.
The bath bomb dissolves into a surprise color, revealing your house — plus it smells amazing! This Etsy seller also makes bath bombs that smell like Butterbeer!
3. For the lover of simple jewelry: An homage to the Boy Who Lived.


Alex and Ani launched a gorgeous Harry Potter collection earlier this year. This unique ring is available in both silver and gold.
4. These makeup brushes make a great gift for any wizard beauty guru.
They even come with a handy carrying case emblazoned with the Hogwarts crest.
5. This baseball cap, available in all four houses, is perfect for a modern game of Quidditch.
We all know someone with a little too much house pride. This lets them represent their team in style.
6. Hang jewelry in style on enchanted keys from the third-floor corridor.

Let's just hope their magic stays under wraps so they don't fly away with your friend's jewels.
7. This dress is the next best thing to an actual meal in the Great Hall.
This is such a unique take on Harry Potter merchandise. It's subtle, so the wearer can choose whether or not they want to disclose their fandom.
8. This plush pillow would make a nice gift for your witchiest friend.
This gorgeous Pottery Barn pillow has the Deathly Hallows symbol on it, but there's even more to choose from in the full collection.
9. For the younger, more mischievous fan: This kid-sized quote sweater.
It may be a good idea to keep your eye on whoever ends up with this cozy gift.
10. This Triwizard Cup is actually a lamp.
Use caution while installing (make sure it's not a Portkey).
11. You can order Harry's bright pink birthday cake as an ornament, magnet, or keychain.
Complete, of course, with green icing and Hagrid's scribbly handwriting.
12. Customize this cutting board to include your friend's name.
You can also change the quote to say, "I solemnly swear that my cooking's no good," for those friends with a sense of humor.
13. This phone case looks just like a Hogwarts acceptance letter.
Great for cheering up that friend whose Hogwarts letter got lost in the mail.
14. These house spatulas make cooking and baking even more magical.
Conjure up some enchanted treats with this adorable Williams-Sonoma kitchen collection!
15. These cozy slippers are perfect winter pals.
Just as warm as an evening in front of the fire in your common room.
16. This minimalist Harry Potter mug will hold plenty of Butterbeer.
The golden lightning bolt gives it just a bit of sparkle.
17. This Diagon Alley poster looks just like a vintage travel advertisement.
Complete with Hagrid showing Harry around!
18. This small bag is excellent for a trip on the Hogwarts Express.
Plus you can hold a bunch of Chocolate Frog trading cards in the card holder.
Plus, proceeds from the sale of each book go to J.K. Rowling's international charity, Lumos.
20. These incredibly creative potion master decals for the baker in your life.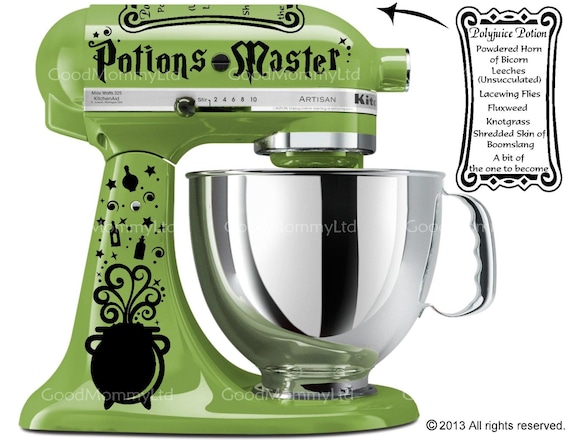 Which Harry Potter gift idea is your favorite? Let us know in the comments!
Comments