There's no better time to enjoy the magic of winter fairy tales than the chilly days of December and January. From Russian classics to an icy retelling of Beauty and the Beast, check out these magical winter fairy tales to cozy up with this winter. Publishers' descriptions included.
A magical debut novel for readers of Naomi Novik's Uprooted, Erin Morgenstern's The Night Circus, and Neil Gaiman's myth-rich fantasies, The Bear and the Nightingale spins an irresistible spell as it announces the arrival of a singular talent with a gorgeous voice.
At the edge of the Russian wilderness, winter lasts most of the year and the snowdrifts grow taller than houses. But Vasilisa doesn't mind — she spends the winter nights huddled around the embers of a fire with her beloved siblings, listening to her nurse's fairy tales. Above all, she loves the chilling story of Frost, the blue-eyed winter demon, who appears in the frigid night to claim unwary souls. Wise Russians fear him, her nurse says, and honor the spirits of house and yard and forest that protect their homes from evil.
After Vasilisa's mother dies, her father goes to Moscow and brings home a new wife. Fiercely devout, city-bred, Vasilisa's new stepmother forbids her family from honoring the household spirits. The family acquiesces, but Vasilisa is frightened, sensing that more hinges upon their rituals than anyone knows.
And indeed, crops begin to fail, evil creatures of the forest creep nearer, and misfortune stalks the village. All the while, Vasilisa's stepmother grows ever harsher in her determination to groom her rebellious stepdaughter for either marriage or confinement in a convent.
As danger circles, Vasilisa must defy even the people she loves and call on dangerous gifts she has long concealed — this, in order to protect her family from a threat that seems to have stepped from her nurse's most frightening tales.
Be careful what you wish for. A woman who was touched by tragedy as a child now lives a quiet life, keeping other people at a cool distance. She even believes she wants it that way. Then one day she utters an idle wish and, while standing in her house, is struck by lightning.
But instead of ending her life, this cataclysmic event sparks a strange and powerful new beginning.
After the lightning strike, the chill in her spirit starts to have physical manifestations. She feels frozen from the inside out, and everything red looks as colorless as snow.
Hearing of a fellow lightning-strike survivor — a man who was apparently dead for forty minutes, then simply got up and walked away — she goes in search of him. Perhaps Lazarus Jones, as he is known, can teach her to live without fear. He turns out to be her perfect opposite, a man whose breath can boil water and whose touch scorches.
As an obsessive love affair begins between them, both hide their most dangerous secrets — what happened in the past that turned one to ice and the other to fire. And everyone in her fragile network of friends and family will be drawn into the conflagration of their joining.
Ice by Sarah Beth Durst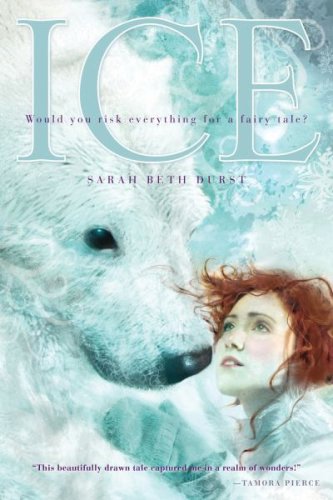 When Cassie was little she thought her mother had been taken prisoner by trolls because of a deal she'd made with the Polar Bear King. Just a fairy tale to soothe a child whose mother had died. But on her 18th birthday, the "fairy tale" comes true when the Polar Bear King comes to take Cassie for his bride. Realizing she has the power to save her mother, Cassie makes her own deal with the bear and finds herself on a journey against time, traveling across the brutal Arctic to the land east of the sun and west of the moon. It is a journey that will teach Cassie the true meaning of love and family — and what it means to become an adult.
Hunted by Meagan Spooner
New York Times bestselling author Meagan Spooner spins a thoroughly thrilling Beauty and the Beast story for the modern age, expertly woven with spellbinding romance, intrigue, and suspense that readers won't soon be able to forget.
Beauty knows the Beast's forest in her bones — and in her blood. After all, her father is the only hunter who's ever come close to discovering its secrets. So when her father loses his fortune and moves Yeva and her sisters out of their comfortable home among the aristocracy and back to the outskirts of town, Yeva is secretly relieved. Out in the wilderness, there's no pressure to make idle chatter with vapid baronessas… or to submit to marrying a wealthy gentleman. But Yeva's father's misfortune may have cost him his mind, and when he goes missing in the woods, Yeva sets her sights on one prey: the creature he'd been obsessively tracking just before his disappearance. The Beast.
Deaf to her sisters' protests, Yeva hunts this strange creature back into his own territory — a cursed valley, a ruined castle, and a world of magical creatures that Yeva's only heard about in fairy tales. A world that can bring her ruin, or salvation. Who will survive: the Beauty, or the Beast?
Hiddensee by Gregory Maguire
From the author of the beloved #1 New York Times bestseller Wicked, the magical story of a toymaker, a nutcracker, and a legend remade…
Gregory Maguire returns with an inventive novel inspired by a timeless holiday legend, intertwining the story of the famous Nutcracker with the life of the mysterious toy maker named Drosselmeier who carves him.
Hiddensee: An island of white sandy beaches, salt marshes, steep cliffs, and pine forests north of Berlin in the Baltic Sea, an island that is an enchanting bohemian retreat and home to a large artists' colony — a wellspring of inspiration for the Romantic imagination…
Having brought his legions of devoted readers to Oz in Wicked and to Wonderland in After Alice, Maguire now takes us to the realms of the Brothers Grimm and E. T. A. Hoffmann– the enchanted Black Forest of Bavaria and the salons of Munich. Hiddensee imagines the backstory of the Nutcracker, revealing how this entrancing creature came to be carved and how he guided an ailing girl named Klara through a dreamy paradise on a Christmas Eve. At the heart of Hoffmann's mysterious tale hovers Godfather Drosselmeier — the ominous, canny, one-eyed toy maker made immortal by Petipa and Tchaikovsky's fairy tale ballet– who presents the once and future Nutcracker to Klara, his goddaughter.
But Hiddensee is not just a retelling of a classic story. Maguire discovers in the flowering of German Romanticism ties to Hellenic mystery-cults — a fascination with death and the afterlife — and ponders a profound question: How can a person who is abused by life, shortchanged and challenged, nevertheless access secrets that benefit the disadvantaged and powerless? Ultimately, Hiddensee offers a message of hope. If the compromised Godfather Drosselmeier can bring an enchanted Nutcracker to a young girl in distress on a dark winter evening, perhaps everyone, however lonely or marginalized, has something precious to share.
Alaska, 1920: a brutal place to homestead, and especially tough for recent arrivals Jack and Mabel. Childless, they are drifting apart — he breaking under the weight of the work of the farm; she crumbling from loneliness and despair. In a moment of levity during the season's first snowfall, they build a child out of snow. The next morning the snow child is gone — but they glimpse a young, blonde-haired girl running through the trees.
This little girl, who calls herself Faina, seems to be a child of the woods. She hunts with a red fox at her side, skims lightly across the snow, and somehow survives alone in the Alaskan wilderness. As Jack and Mabel struggle to understand this child who could have stepped from the pages of a fairy tale, they come to love her as their own daughter. But in this beautiful, violent place things are rarely as they appear, and what they eventually learn about Faina will transform all of them.
At 16, Mina's mother is dead, her magician father is vicious, and her silent heart has never beat with love for anyone — has never beat at all, in fact, but she'd always thought that fact normal. She never guessed that her father cut out her heart and replaced it with one of glass. When she moves to Whitespring Castle and sees its king for the first time, Mina forms a plan: win the king's heart with her beauty, become queen, and finally know love. The only catch is that she'll have to become a stepmother.
Fifteen-year-old Lynet looks just like her late mother, and one day she discovers why: a magician created her out of snow in the dead queen's image, at her father's order. But despite being the dead queen made flesh, Lynet would rather be like her fierce and regal stepmother, Mina. She gets her wish when her father makes Lynet queen of the southern territories, displacing Mina. Now Mina is starting to look at Lynet with something like hatred, and Lynet must decide what to do — and who to be — to win back the only mother she's ever known… or else defeat her once and for all.
Entwining the stories of both Lynet and Mina in the past and present, Girls Made of Snow and Glass traces the relationship of two young women doomed to be rivals from the start. Only one can win all, while the other must lose everything — unless both can find a way to reshape themselves and their story.
The imperious Winter colonists have ruled the planet Tiamat for 150 years, deriving wealth from the slaughter of the sea mers. But soon the galactic stargate will close, isolating Tiamat, and the 150-year reign of the Summer primitives will begin. Their only chance at surviving the change is if Arienrhod, the ageless, corrupt Snow Queen, can destroy destiny with an act of genocide. Arienrhod is not without competition as Moon, a young Summer-tribe sibyl, and the nemesis of the Snow Queen, battles to break a conspiracy that spans space.
Interstellar politics, a millennia-long secret conspiracy, and a civilization whose hidden machineries might still control the fate of worlds all form the background to this spectacular hard science fiction novel from Joan D. Vinge.
The bestselling author of the Mithgar novels presents a new version of a fable that fires the imagination and touches the heart…
Once upon a winter's night, a poor crofter trades his daughter Camille to wed Prince Alain of the Summerwood in exchange for a lifetime of riches. Though love blossoms between Camille and the prince, he is haunted by sadness and will not allow her to see his unmasked face. Believing she can lift whatever curse has been bestowed upon him, Camille acts on her own — with devastating results, as all she loves is swept away.
Now, to regain what she has lost, she must embark on a desperate quest through the hinterlands of Faery, seeking a mysterious place lycing somewhere east of the sun and west of the moon..
Kai and Ginny grew up together — best friends since they could toddle around their building's rooftop rose garden. Now they're 17, and their relationship has developed into something sweeter, complete with stolen kisses and plans to someday run away together.
But one night, Kai disappears with a mysterious stranger named Mora — a beautiful girl with a dark past and a heart of ice. Refusing to be cast aside, Ginny goes after them and is thrust into a world she never imagined, one filled with monsters and thieves and the idea that love is not enough.
If Ginny and Kai survive the journey, will she still be the girl he loved — and moreover, will she still be the girl who loved him?
Rediscover the magic of the Tales of the Five Hundred Kingdoms, by New York Times bestselling author Mercedes Lackey.
Aleksia, Queen of the Northern Lights, is mysterious, beautiful and widely known to have a heart of ice. But when she's falsely accused of unleashing evil on nearby villages, she realizes there's an impostor out there far more heartless than she could ever be. And when a young warrior disappears, Aleksia's powers are needed as never before. Now, on a journey through a realm of perpetual winter, it will take all her skills, a mother's faith and a little magic to face down an enemy more formidable than any she has ever known.
In the midst of a blizzard, Myra and Eldon Little Shield found an abandoned baby on their doorstep and brought her inside. Five years later, no one has come back to claim the little girl now known as Mary Anne Little Shield. But now that she's old enough to start school, her foster parents fear social services will take her — a white child — away from them.
Determined to adopt Mary Anne, the Little Shields hire lawyer Clint Hopkins, who wants Vicky as co-counsel on the case. But before their meeting can take place, a black truck deliberately runs Hopkins down in the street.
Enlisting Father John to help investigate who would kill to stop the child's adoption, Vicky unravels a connection between the five-year-old girl and a missing alcoholic Arapaho wanted for robbery — only to uncover one of the darkest secrets in Wind River's history…
Blessed — or cursed — with an ability to understand animals, the Lass (as she's known to her family) has always been an oddball.
And when an isbjorn (polar bear) seeks her out, and promises that her family will become rich if only the Lass will accompany him to his castle, she doesn't hesitate.
But the bear is not what he seems, nor is his castle, which is made of ice and inhabited by a silent staff of servants.
Only a grueling journey on the backs of the four winds will reveal the truth: the bear is really a prince who's been enchanted by a troll queen, and the Lass must come up with a way to free him before he's forced to marry a troll princess.
The first in a page-turning young adult series about a world where flame and ice are mortal enemies — but together create a power that could change everything.
Seventeen-year-old Ruby is a fireblood who must hide her powers of heat and flame from the cruel frostblood ruling class that wants to destroy all that are left of her kind. So when her mother is killed for protecting her and rebel frostbloods demand her help to kill their rampaging king, she agrees. But Ruby's powers are unpredictable, and she's not sure she's willing to let the rebels and an infuriating (yet irresistible) young man called Arcus use her as their weapon. All she wants is revenge, but before they can take action, Ruby is captured and forced to fight for her life in tournaments that pit fireblood prisoners against frostblood champions. Now she has only one chance to destroy the maniacal ruler who has taken everything from her and from the icy young man she has come to love.
Stork by Wendy Delsol
Oh baby! A hip heroine discovers that she has the ability to decide who gets pregnant in this witty YA blend of romance and the supernatural.
Sixteen-year-old Katla has just moved from Los Angeles to the sticks of Minnesota. As if it weren't enough that her trendy fashion sense draws stares, she learns to her horror that she's a member of an ancient order of women who decide to whom certain babies will be born.
Add to that Wade, the arrogant football star whom Katla regrettably fooled around with, and Jack, a gorgeous farm boy who initially seems to hate her.
Soon Katla is having freaky dreams about a crying infant and learns that, as children, she and Jack shared a near-fatal, possibly mystical experience.
Can Katla survive this major life makeover and find a dress for the homecoming dance?
Rakel, a princess by birth, has spent most of her life exiled on a barren mountain, despised because of her powerful snow magic. Though she longs to be accepted, she hides in her ice-castle and lives with the fear that her brother — the King — will one day order her execution.
Her empty life changes forever when an army of magic users — led by the enigmatic Colonel Farrin Graydim — invade her home country with plans to enslave its citizens. Swallowing her fear, Rakel joins forces with her jailers and uses her magic to save the people who scorned her.
If Rakel cannot defend her homeland, the country will be lost.
Seventeen-year-old Smitha's wealth, status, and beauty make her the envy of her town — until she rejects a strange man's marriage proposal and disastrous consequences follow. Smitha becomes cursed, and frost begins to encompass everything she touches. Banished to the hills, hunted by villagers, and chilled to the very core of her soul, she finds companionship with Death, who longs to coax her into his isolated world. But Smitha's desire for life proves stronger than despair, and a newfound purpose gives her hope. Will regrets over the past and an unexpected desire for a man she cannot touch be enough to warm Smitha's heart, or will Death forever still it?
Princess Snow is missing. Her home planet is filled with violence and corruption at the hands of King Matthias and his wife as they attempt to punish her captors. The king will stop at nothing to get his beloved daughter back — but that's assuming she wants to return at all. Essie has grown used to being cold. Temperatures on the planet Thanda are always sub-zero, and she fills her days with coding and repairs for the seven loyal drones that run the local mines. When a mysterious young man named Dane crash-lands near her home, Essie agrees to help the pilot repair his ship. But soon she realizes that Dane's arrival was far from accidental, and she's pulled into the heart of a war she's risked everything to avoid. In her enthralling debut, R.C. Lewis weaves the tale of a princess on the run from painful secrets… and a poisonous queen. With the galaxy's future — and her own — in jeopardy, Essie must choose who to trust in a fiery fight for survival.
From Danielle Paige, the New York Times bestselling author of Dorothy Must Die, comes a re-imagining of "The Snow Queen" fairy tale.
Seventeen-year-old Snow has spent the majority of her life within the walls of the Whittaker Institute, a high security mental hospital in upstate New York. Deep down, she knows she's not crazy and doesn't belong there. When she meets a mysterious, handsome new orderly and dreams about a strange twisted tree she realizes she must escape and figure out who she really is.
Using her trusting friend Bale as a distraction, Snow breaks free and races into the nearby woods. Suddenly, everything isn't what it seems, the line between reality and fantasy begins to blur, and she finds herself in icy Algid — her true home — with witches, thieves, and a strangely alluring boy named Kai, none of whom she's sure she can trust. As secret after secret is revealed, Snow discovers that she is on the run from a royal lineage she's destined to inherit, a father more powerful and ruthless than she could have imagined, and choices of the heart that could change the fate of everything… including Snow's return to the world she once knew.
This breathtaking first volume begins the story of how Snow becomes a villain, a queen, and ultimately a hero.
 
Which of these winter fairy tales are you excited to read? Tell us in the comments!
Comments