If the thought of spending your Sunday watching football leaves you cold, not to worry! While the rest of the country gets ready for Super Bowl LII on February 4, you can still whip up some hot wings and nachos and indulge in your own favorite pastime. In honor of the competing teams, we've compiled a list of books with settings in Philadelphia and New England. So even if you don't care for football, you can still get into the spirit and pick a book that is as filled with as much drama, action, and emotion as any football fan could hope to experience. Take a look at our recommendations below, complete with publishers' descriptions.
Philadelphia
Madeleine Altimari is a smart-mouthed, rebellious nine-year-old who also happens to be an aspiring jazz singer. Still mourning the recent death of her mother, and caring for her grief-stricken father, she doesn't realize that on the eve of Christmas Eve she is about to have the most extraordinary day — and night — of her life. After bravely facing down mean-spirited classmates and rejection at school, Madeleine doggedly searches for Philadelphia's legendary jazz club The Cat's Pajamas, where she's determined to make her on-stage debut. On the same day, her fifth grade teacher Sarina Greene, who's just moved back to Philly after a divorce, is nervously looking forward to a dinner party that will reunite her with an old high school crush, afraid to hope that sparks might fly again. And across town at The Cat's Pajamas, club owner Lorca discovers that his beloved haunt may have to close forever, unless someone can find a way to quickly raise the $30,000 that would save it.
As these three lost souls search for love, music and hope on the snow-covered streets of Philadelphia, together they will discover life's endless possibilities over the course of one magical night. A vivacious, charming and moving debut, 2 A.M. at The Cat's Pajamas will capture your heart and have you laughing out loud.
Meet Rose Feller. She's 30 years old and a high-powered attorney with a secret passion for romance novels. She has an exercise regime she's going to start next week, and she dreams of a man who will slide off her glasses, gaze into her eyes, and tell her that she's beautiful. She also dreams of getting her fantastically screwed-up little sister to get her life together.
Meet Rose's sister, Maggie. Twenty-eight years old, drop-dead gorgeous and only occasionally employed, Maggie sings backup in a band called Whiskered Biscuit. Although her dreams of big-screen stardom haven't progressed past her left hip's appearance in a Will Smith video, Maggie dreams of fame and fortune — and of getting her dowdy big sister to stick to a skin-care regime.
These two women with nothing in common but a childhood tragedy, shared DNA, and the same size feet, are about to learn that their family is more different than they ever imagined, and that they're more alike than they'd ever believe. In Her Shoes — Jennifer Weiner's follow-up to her critically acclaimed debut, Good in Bed — observes Rose and Maggie, the brain and the beauty, as they make journeys of discovery that take them from the streets of Philadelphia to Ivy League libraries to a "retirement community for active seniors" in Boca Raton. Along the way, they'll encounter a wild cast of characters — from a stepmother who's into recreational Botox to a small, disdainful pug with no name. They'll borrow shoes and clothes and boyfriends, and make peace with their most intimate enemies — each other.
Funny and poignant, richly detailed and wrenchingly real, In Her Shoes will speak to anyone who has endured the bonds of big — or little — sisterhood, or longed for a life different from the one the world has dictated, and dreamed of trying something else on for size.
A New York Times bestseller, The Silver Linings Playbook was adapted into the Oscar-winning movie starring Bradley Cooper and Jennifer Lawrence. It tells the riotous and poignant story of how one man regains his memory and comes to terms with the magnitude of his wife's betrayal.
During the years he spends in a neural health facility, Pat Peoples formulates a theory about silver linings: he believes his life is a movie produced by God, his mission is to become physically fit and emotionally supportive, and his happy ending will be the return of his estranged wife, Nikki. When Pat goes to live with his parents, everything seems changed: no one will talk to him about Nikki; his old friends are saddled with families; the Philadelphia Eagles keep losing, making his father moody; and his new therapist seems to be recommending adultery as a form of therapy.
When Pat meets the tragically widowed and clinically depressed Tiffany, she offers to act as a liaison between him and his wife, if only he will give up watching football, agree to perform in this year's Dance Away Depression competition, and promise not to tell anyone about their "contract." All the while, Pat keeps searching for his silver lining.
In this brilliantly written debut novel, Matthew Quick takes us inside Pat's mind, deftly showing us the world from his distorted yet endearing perspective. The result is a touching and funny story that helps us look at both depression and love in a wonderfully refreshing way.
Pregnant, left behind by her lover, and banished from her Quaker home and teaching position, Lilli de Jong enters a home for wronged women to deliver her child. She is stunned at how much her infant needs her and at how quickly their bond overtakes her heart. Mothers in her position face disabling prejudice, which is why most give up their newborns. But Lilli can't accept such an outcome. Instead, she braves moral condemnation and financial ruin in a quest to keep herself and her baby alive.
Confiding their story to her diary as it unfolds, Lilli takes readers from an impoverished charity to a wealthy family's home to the streets of a burgeoning American city. Drawing on rich history, Lilli de Jong is both an intimate portrait of loves lost and found and a testament to the work of mothers. "So little is permissible for a woman," writes Lilli, "yet on her back every human climbs to adulthood."
In 1923, 15-year-old Hattie Shepherd flees Georgia and settles in Philadelphia, hoping for a chance at a better life. Instead, she marries a man who will bring her nothing but disappointment and watches helplessly as her firstborn twins succumb to an illness a few pennies could have prevented.  Hattie gives birth to nine more children whom she raises with grit and mettle and not an ounce of the tenderness they crave.  She vows to prepare them for the calamitous difficulty they are sure to face in their later lives, to meet a world that will not love them, a world that will not be kind. Captured here in twelve luminous narrative threads, their lives tell the story of a mother's monumental courage and the journey of a nation.
Beautiful and devastating, Ayana Mathis's The Twelve Tribes of Hattie is wondrous from first to last — glorious, harrowing, unexpectedly uplifting, and blazing with life. An emotionally transfixing page-turner, a searing portrait of striving in the face of insurmountable adversity, an indelible encounter with the resilience of the human spirit and the driving force of the American dream.
Everyone knows Benedict Arnold — the Revolutionary War general who betrayed America and fled to the British — as history's most notorious turncoat. Many know Arnold's co-conspirator, Major John André, who was apprehended with Arnold's documents in his boots and hanged at the orders of General George Washington. But few know of the integral third character in the plot: a charming young woman who not only contributed to the betrayal but orchestrated it.
Socialite Peggy Shippen is half Benedict Arnold's age when she seduces the war hero during his stint as military commander of Philadelphia. Blinded by his young bride's beauty and wit, Arnold does not realize that she harbors a secret: loyalty to the British. Nor does he know that she hides a past romance with the handsome British spy John André. Peggy watches as her husband, crippled from battle wounds and in debt from years of service to the colonies, grows ever more disillusioned with his hero, Washington, and the American cause. Together with her former love and her disaffected husband, Peggy hatches the plot to deliver West Point to the British and, in exchange, win fame and fortune for herself and Arnold.
Told from the perspective of Peggy's maid, whose faith in the new nation inspires her to intervene in her mistress's affairs even when it could cost her everything,The Traitor's Wife brings these infamous figures to life, illuminating the sordid details and the love triangle that nearly destroyed the American fight for freedom.
Canary by Duane Swierczynski
It's dangerous enough when an ordinary college girl turns confidential informant. Even more dangerous when she's smarter than the killer, kingpins, and cops who think they control her.
Honors student Sarie Holland is busted by the local police while doing a favor for her boyfriend. Unwilling to betray him but desperate to avoid destroying her future, Sarie has no choice but to become a "CI" — a confidential informant.
Philly narcotics cop Ben Wildey is hungry for a career-making bust. The detective thinks he's found the key in Sarie: her boyfriend scores from a mid-level dealer with alleged ties to the major drug gangs.
Sarie turns out to be the perfect CI: a quick study with a shockingly keen understanding of the criminal mind. But Wildey, desperate for results, pushes too hard and inadvertently sends the nineteen-year-old into a death trap, leaving Sarie hunted by crooked cops and killers alike with nothing to save her–except what she's learned during her harrowing weeks as an informant.
Which is bad news for the police and the underworld. Because when it comes to payback, CI #1373 turns out to be a very quick study…
When Martin Grace enters the hip Philadelphia coffee shop Cornelia Brown manages, her life changes forever. But little does she know that her newfound love is only the harbinger of greater changes to come. Meanwhile, across town, Clare Hobbs — 11 years old and abandoned by her erratic mother — goes looking for her lost father. She crosses paths with Cornelia while meeting with him at the café, and the two women form an improbable friendship that carries them through the unpredictable currents of love and life.
Accused by Lisa Scottoline
New York Times bestselling and Edgar Award-winning author Lisa Scottoline revolutionized crime fiction when she introduced her all-female law firm of Rosato & Associates, thrilling readers with her twisty, fast-paced plots and capturing their hearts with her cast of strong and relatable female characters. Now Bennie Rosato, Mary DiNunzio, Judy Carrier, and Anne Murphy are back with all cylinders firing in Accused.
Mary DiNunzio has just been promoted to partner and is about to take on her most unusual case yet, brought to the firm by a 13-year-old genius with a penchant for beekeeping. Allegra Gardner's sister Fiona was murdered six years ago, and it seemed like an open-and-shut case: the accused, Lonnie Stall, was seen fleeing the scene; his blood was on Fiona and her blood was on him; most damningly, Lonnie Stall pleaded guilty. But Allegra believes Lonnie is innocent and has been wrongly imprisoned. The Gardner family is one of the most powerful in the country and Allegra's parents don't believe in reopening the case, so taking it on is risky. But the Rosato & Associates firm can never resist an underdog. Was justice really served all those years ago? It will take a team of unstoppable female lawyers, plus one thirteen-year-old genius, to find out.
Sam, Bonzi, Lola, Mbongo, Jelani, and Makena are no ordinary apes. These bonobos, like others of their species, are capable of reason and carrying on deep relationships — but unlike most bonobos, they also know American Sign Language.
Isabel Duncan, a scientist at the Great Ape Language Lab, doesn't understand people, but animals she gets — especially the bonobos. Isabel feels more comfortable in their world than she's ever felt among humans… until she meets John Thigpen, a very married reporter who braves the ever-present animal rights protesters outside the lab to see what's really going on inside.
When an explosion rocks the lab, severely injuring Isabel and "liberating" the apes, John's human interest piece turns into the story of a lifetime, one he'll risk his career and his marriage to follow. Then a reality TV show featuring the missing apes debuts under mysterious circumstances, and it immediately becomes the biggest — and unlikeliest — phenomenon in the history of modern media. Millions of fans are glued to their screens watching the apes order greasy take-out, have generous amounts of sex, and sign for Isabel to come get them. Now, to save her family of apes from this parody of human life, Isabel must connect with her own kind, including John, a green-haired vegan, and a retired porn star with her own agenda.
Ape House delivers great entertainment, but it also opens the animal world to us in ways few novels have done, securing Sara Gruen's place as a master storyteller who allows us to see ourselves as we never have before.
On a warm August night in 1980, six college students sneak into the dilapidated ruins of Philadelphia's Eastern State Penitentiary, looking for a thrill. With a pianist, a painter and a teacher among them, the friends are full of potential. But it's not long before they realize they are locked in — and not alone. When the friends get lost and separated, the terrifying night ends in tragedy, and the unexpected, far-reaching consequences reverberate through the survivors' lives. As they go their separate ways, trying to move on, it becomes clear that their dark night in the prison has changed them all. Decades later, new evidence is found, and the dogged detective investigating the cold case charges one of them — celebrity chef Jon Casey — with murder. Only Casey's old friend Judith Carrigan can testify to his innocence.
But Judith is protecting long-held secrets of her own — secrets that, if brought to light, could destroy her career as a travel writer and tear her away from her fireman husband and teenage son. If she chooses to help Casey, she risks losing the life she has fought to build and the woman she has struggled to become. In any life that contains a "before" and an "after," how is it possible to live one life, not two?
Weaving deftly between 1980 and the present day, and told in an unforgettable voice, Long Black Veil is an intensely atmospheric thriller that explores the meaning of identity, loyalty, and love. Readers will hail this as Boylan's triumphant return to fiction.
From Adriana Trigiani, the beloved New York Times-bestselling author of The Shoemaker's Wife, comes an exhilarating epic novel of love, loyalty, and creativity — the story of an Italian-American family on the cusp of change.
It's 1949 and South Philadelphia bursts with opportunity during the post-war boom. The Palazzini Cab Company & Western Union Telegraph Office, owned and operated by Dominic Palazzini and his three sons, is flourishing: business is good, they're surrounded by sympathetic wives and daughters-in-law, with grandchildren on the way. But a decades-long feud that split Dominic and his brother Mike and their once-close families sets the stage for a re-match.
Amidst the hoopla, the arrival of an urgent telegram from Italy upends the life of Nicky Castone (Dominic and his wife's orphaned nephew) who lives and works with his Uncle Dom and his family. Nicky decides, at 30, that he wants more — more than just a job driving Car #4 and more than his longtime fiancée Peachy DePino, a bookkeeper, can offer. When he admits to his fiancée that he's been secretly moonlighting at the local Shakespeare theater company, Nicky finds himself drawn to the stage, its colorful players and to the determined Calla Borelli, who inherited the enterprise from her father, Nicky must choose between the conventional life his family expects of him or chart a new course and risk losing everything he cherishes.
From the dreamy mountaintop village of Roseto Valfortore in Italy, to the vibrant streets of South Philly, to the close-knit enclave of Roseto, Pennsylvania, to New York City during the birth of the golden age of television, Kiss Carlo is a powerful, inter-generational story that celebrates the ties that bind, while staying true to oneself when all hope seems lost.
Told against the backdrop of some of Shakespeare's greatest comedies, this novel brims with romance as long buried secrets are revealed, mistaken identities are unmasked, scores are settled, broken hearts are mended and true love reigns. Trigiani's consummate storytelling skill and her trademark wit, along with a dazzling cast of characters will enthrall readers. Once again, the author has returned to her own family garden to create an unforgettable feast. Kiss Carlo is a jubilee, resplendent with hope, love, and the abiding power of la famiglia.
Fever 1793 by Laurie Halse Anderson
It's late summer 1793, and the streets of Philadelphia are abuzz with mosquitoes and rumors of fever. Down near the docks, many have taken ill, and the fatalities are mounting. Now they include Polly, the serving girl at the Cook Coffeehouse. But fourteen-year-old Mattie Cook doesn't get a moment to mourn the passing of her childhood playmate. New customers have overrun her family's coffee shop, located far from the mosquito-infested river, and Mattie's concerns of fever are all but overshadowed by dreams of growing her family's small business into a thriving enterprise. But when the fever begins to strike closer to home, Mattie's struggle to build a new life must give way to a new fight-the fight to stay alive.
I'm still here. And I know everything. — A
The first book in the #1 New York Times bestselling series that inspired the hit ABC Family TV show Pretty Little Liars.
In ultra-trendy Rosewood, Pennsylvania, four beautiful girls are hiding very ugly secrets. High school juniors Spencer, Hanna, Aria and Emily have grown apart since their best friend Alison DiLaurentis went missing three years ago. But now someone is sending them anonymous notes, threatening to reveal their darkest secrets. There's only one person who knows that much about them, but Ali's gone… isn't she?
Full of unexpected twists and shocking revelations, this series opener that inspired the hit TV show is the perfect beginning for fans.
In one West Philadelphia neighborhood, families come together in celebration of unity and togetherness. Their block parties provide a union that serves as a backdrop for discovering the truth about themselves and the people they think they know.
Best friends Neet and Shay have depended on each other for most of their lives. However, their friendship will be tested when Neet becomes pregnant by one of the corner boys and Shay arranges an abortion that goes terribly wrong.
To Shay's horror, Neet is left unable to bear children and embraces her mother's esoteric yet sometimes impractical religious beliefs as punishment for her sins.
Meanwhile, Shay is left to struggle with her own growing maturity, the grief of losing a cherished friendship, and the disintegration of her parents' marriage. The two girls eventually choose their own separate paths. Leaving Cecil Street invokes those things that are most important — family, friendship, and love.
New England
In the summer of 1977, Victoria Leonard's world changes forever when Caitlin Somers chooses her as a friend. Dazzling, reckless Caitlin welcomes Vix into the heart of her sprawling, eccentric family, opening doors to a world of unimaginable privilege, sweeping her away to vacations on Martha's Vineyard, an enchanting place where the two friends become "summer sisters."
Now, years later, Vix is working in New York City. Caitlin is getting married on the Vineyard. And the early magic of their long, complicated friendship has faded. But Caitlin begs Vix to come to her wedding, to be her maid of honor. And Vix knows that she will go — because she wants to understand what happened during that last shattering summer. And, after all these years, she needs to know why her best friend — her summer sister — still has the power to break her heart.
First published in 1985 by William Morrow, The Cider House Rules is John Irving's sixth novel. Set in rural Maine in the first half of the 20th century, it tells the story of Dr. Wilbur Larch — saint and obstetrician, founder and director of the orphanage in the town of St. Cloud's, ether addict and abortionist. It is also the story of Dr. Larch's favorite orphan, Homer Wells, who is never adopted.
Welcome to Empire Falls, a blue-collar town full of abandoned mills whose citizens surround themselves with the comforts and feuds provided by lifelong friends and neighbors and who find humor and hope in the most unlikely places, in this Pulitzer Prize-winning novel by Richard Russo.
Miles Roby has been slinging burgers at the Empire Grill for 20 years, a job that cost him his college education and much of his self-respect. What keeps him there? It could be his bright, sensitive daughter Tick, who needs all his help surviving the local high school. Or maybe it's Janine, Miles' soon-to-be ex-wife, who's taken up with a noxiously vain health-club proprietor. Or perhaps it's the imperious Francine Whiting, who owns everything in town–and seems to believe that "everything" includes Miles himself. In Empire Falls Richard Russo delves deep into the blue-collar heart of America in a work that overflows with hilarity, heartache, and grace.
Hester Prynne is a beautiful young woman. She is also an outcast. In the eyes of her neighbours she has committed an unforgivable sin. Everyone knows that her little daughter, Pearl, is the product of an illicit affair but no one knows the identity of Pearl's father. Hester's refusal to name him brings more condemnation upon her. But she stands strong in the face of public scorn, even when she is forced to wear the sign of her shame sewn onto her clothes: the scarlet letter 'A' for 'Adulteress."
Oscar is a sweet but disastrously overweight ghetto nerd who — from the New Jersey home he shares with his old world mother and rebellious sister — dreams of becoming the Dominican J.R.R. Tolkien and, most of all, finding love. But Oscar may never get what he wants. Blame the fukú — a curse that has haunted Oscar's family for generations, following them on their epic journey from Santo Domingo to the USA. Encapsulating Dominican-American history, The Brief Wondrous Life of Oscar Wao opens our eyes to an astonishing vision of the contemporary American experience and explores the endless human capacity to persevere — and risk it all — in the name of love.
Burntown by Jennifer McMahon
On the surface, Ashford, Vermont, seems like a quaint New England college town, but to those who live among the shadowy remains of its abandoned mills and factories, and beneath its towering steel bridges, it's known as Burntown.
Eva Sandeski, who goes by the name Necco on the street, has been a part of Burntown's underworld for years, ever since the night her father, Miles, drowned in a flood that left her and her mother, Lily, homeless. A respected professor, Miles was also an inventor of fantastic machines, including one so secret that the plans were said to have been stolen from Thomas Edison's workshop. According to Lily, this machine got Miles murdered.
Necco has always written off this claim as the fevered imaginings of a woman consumed by grief. But when Lily also dies under mysterious circumstances, and Necco's boyfriend is murdered, she's convinced her mother was telling the truth. Now, on the run from a man called Snake Eyes, Necco must rely on other Burntown outsiders to survive.
As the lives of these misfits intersect, and as the killer from the Sandeski family's past draws ever closer, a story of edge-of-your-seat suspense begins to unfurl with classic Jennifer McMahon twists and turns.
For more than 200 years, the Owens women have been blamed for everything that has gone wrong in their Massachusetts town. Gillian and Sally have endured that fate as well: as children, the sisters were forever outsiders, taunted, talked about, pointed at. Their elderly aunts almost seemed to encourage the whispers of witchery, with their musty house and their exotic concoctions and their crowd of black cats. But all Gillian and Sally wanted was to escape. One will do so by marrying, the other by running away. But the bonds they share will bring them back — almost as if by magic…
Lily Dane has returned to Seaview, Rhode Island, where her family has summered for generations. It's an escape not only from New York's social scene but from a heartbreak that still haunts her. Here, among the seaside community that has embraced her since childhood, she finds comfort in the familiar rituals of summer.
But this summer is different. Budgie and Nick Greenwald — Lily's former best friend and former fiancé — have arrived, too, and Seaview's elite are abuzz. Under Budgie's glamorous influence, Lily is seduced into a complicated web of renewed friendship and dangerous longing.
As a cataclysmic hurricane churns north through the Atlantic, and uneasy secrets slowly reveal themselves, Lily and Nick must confront an emotional storm that will change their worlds forever…
Revival by Stephen King
A dark and electrifying novel about addiction, fanaticism, and what might exist on the other side of life.
In a small New England town, over half a century ago, a shadow falls over a small boy playing with his toy soldiers. Jamie Morton looks up to see a striking man, the new minister. Charles Jacobs, along with his beautiful wife, will transform the local church. The men and boys are all a bit in love with Mrs. Jacobs; the women and girls feel the same about Reverend Jacobs — including Jamie's mother and beloved sister, Claire. With Jamie, the Reverend shares a deeper bond based on a secret obsession.
When tragedy strikes the Jacobs family, this charismatic preacher curses God, mocks all religious belief, and is banished from the shocked town. Jamie has demons of his own. Wed to his guitar from the age of thirteen, he plays in bands across the country, living the nomadic lifestyle of bar-band rock and roll while fleeing from his family's horrific loss.
In his mid-30s — addicted to heroin, stranded, desperate — Jamie meets Charles Jacobs again, with profound consequences for both men. Their bond becomes a pact beyond even the Devil's devising, and Jamie discovers that revival has many meanings. This rich and disturbing novel spans five decades on its way to the most terrifying conclusion Stephen King has ever written. It's a masterpiece from King, in the great American tradition of Frank Norris, Nathaniel Hawthorne, and Edgar Allan Poe.
Donna Tartt, winner of the 2014 Pulitzer Prize for her most recent novel, The Goldfinch, established herself as a major talent with The Secret History, which has become a contemporary classic.
Under the influence of their charismatic classics professor, a group of clever, eccentric misfits at an elite New England college discover a way of thinking and living that is a world away from the humdrum existence of their contemporaries. But when they go beyond the boundaries of normal morality their lives are changed profoundly and forever, and they discover how hard it can be to truly live and how easy it is to kill.
In Lisa Genova's extraordinary New York Times bestselling novel, an accomplished professor diagnosed with Alzheimer's disease learns that her worth is comprised of more than her ability to remember.
Alice Howland is proud of the life she worked so hard to build. At 50 years old, she's a cognitive psychology professor at Harvard and a world-renowned expert in linguistics with a successful husband and three grown children. When she becomes increasingly disoriented and forgetful, a tragic diagnosis changes her life — and her relationship with her family and the world — forever. At once beautiful and terrifying, Still Alice is a moving and vivid depiction of life with early-onset Alzheimer's disease that is as compelling as A Beautiful Mind and as unforgettable as Ordinary People.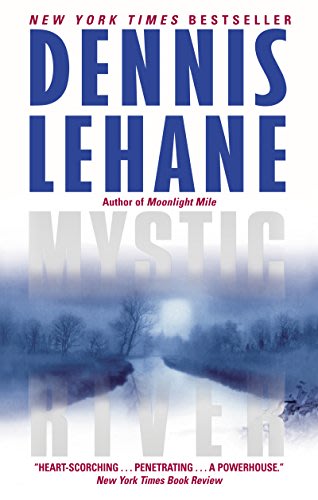 "There are threads in our lives. You pull one, and everything else gets affected."
When they were children, Sean Devine, Jimmy Marcus, and Dave Boyle were friends. But then a strange car pulled tip to their street. One boy got into the car, two did not, and something terrible happened — something that ended their friendship and changed all three boys forever.
Twenty-five years later, Sean Devine is a homicide detective. Jimmy Marcus is an ex-con who owns a corner store. And Dave Boyle is trying to hold his marriage together and keep his demons at bay — demons that urge him to do terrible things.
When Jimmy Marcus's daughter is found murdered, Sean Devine is assigned to the case. His personal life unraveling, he must go back into a world he thought he'd left behind to confront not only the violence, of the present but the nightmares of his past. His investigation brings him into conflict with Jimmy Marcus, who finds that his old criminal impulses tempt him to solve the crime with brutal justice. And then there is Dave Boyle, who came home the night Jimmy's daughter died covered with someone else's blood.
While Sean Devine attempts to use the law to return peace and order to the neighborhood, Jimmy Marcus finds his need for vengeance pushing him ever closer to a moral abyss from which lie wont be able to return, and Dave's wife, Celeste, sleeps at night with a man she fears may very well be a monster… a monster who fathered her child and hides his true nature from everyone, possibly even himself.
A tense and unnerving psychological thriller, Mystic River is also an epic novel of love and loyalty, faith, and family, in which people irrevocably marked by the past find themselves on a collision course with the darkest truths of their own hidden selves.
Having hit bestseller lists from the New York Times to the San Francisco Chronicle, this wise, hilarious novel reminds us why Zadie Smith has rocketed to literary stardom. On Beauty is the story of an interracial family living in the university town of Wellington, Massachusetts, whose misadventures in the culture wars-on both sides of the Atlantic-serve to skewer everything from family life to political correctness to the combustive collision between the personal and the political. Full of dead-on wit and relentlessly funny, this tour de force confirms Zadie Smith's reputation as a major literary talent.
"Mine is a story of craving: an unreliable account of lusts and troubles that began, somehow, in 1956 on the day our free television was delivered…"
Meet Dolores Price. She's 13, wise-mouthed but wounded, having bid her childhood good-bye. Beached like a whale in front of her bedroom TV, she spends the next few years nourishing herself with the Mallomars, potato chips, and Pepsi her anxious mother supplies. When she finally rolls into young womanhood at 257 pounds, Dolores is no stronger and life is no kinder. But this time she's determined to rise to the occasion and give herself one more chance before really going belly-up.
At once a fragile girl and a hard-edged cynic, so tough to love yet so inimitably lovable, Dolores is as poignantly real as our own imperfections. She's Come Undone includes a promise: you will never forget Dolores Price.
In October 1947, after a summer long drought, fires break out all along the Maine coast from Bar Harbor to Kittery and are soon racing out of control from town to village. Five months pregnant, Grace Holland is left alone to protect her two toddlers when her husband, Gene, joins the volunteer firefighters. Along with her best friend, Rosie, and Rosie's two young children, Grace watches helplessly as their houses burn to the ground, the flames finally forcing them all into the ocean as a last resort. The women spend the night frantically protecting their children, and in the morning find their lives forever changed: homeless, penniless, awaiting news of their husbands' fate, and left to face an uncertain future in a town that no longer exists. In the midst of this devastating loss, Grace discovers glorious new freedoms — joys and triumphs she could never have expected her narrow life with Gene could contain — and her spirit soars. And then the unthinkable happens — and Grace's bravery is tested as never before.
Which of these books would you like to read? Share in the comments!
Comments