The Jewish festival of Passover celebrates Moses leading the Israelites out of Egypt to freedom. This spring, celebrate the eight-day holiday by diving into Passover books both for children and adults. We have chosen plenty of Passover books for little ones of all ages to to enjoy as they learn about faith, the Seder, and why we celebrate eight nights of Passover. There are also excellent Passover books for adults, ranging from historical fiction about the Exodus to novels about family Seders. Check out our life of Passover books for every age, complete with publishers' descriptions below.
Children's Passover Books
Passover is a time for families and friends to celebrate their faith and shared history. Tomie dePaola's simple text and beautiful illustrations provide insight into this special holiday for young readers.
David A. Adler and Jill Weber team up again to bring you another holiday hit, a vibrant picture book of the Passover story in time for the holiday.

Little Red Hen must make matzah for Passover. She asks her friends for help planting grains. "Sorry, bub," neighs Horse. "Think again," barks Dog. Of course, the Little Red Hen does it all herself. A classic tale gets a Jewish twist in this hilarious story.
Penina Levine has a bossy best friend, a tattletale sister, crazy parents, and a big, fat zero on her school assignment. It was a stupid assignment, completely impossible, totally unfair. She's never going to do it, not ever, and it's no use telling her parents about it. They never listen to her anyway. But Penina's grandmother does. Grandma doesn't think Penina should do the assignment. It's a matter of principle. It's a matter of strength. It's a matter of five thousand years of history, four cups of wine, and a couple dozen hard-boiled eggs.
Abuelita's Secret Matzahs tells the fascinating and little-known story of the Cryptojews, while illustrating the universal importance of faith for people of all religious denominations. Jacobo loves to visit his abuelita, his grandmother, especially at Easter time. But Abuelita has a big secret. During semana santa, Holy Week, his grandmother never makes bread, only tortillas made without yeast. She never eats pork, and she lights two candles on Friday nights. But whenever Jacobo asks her questions, she answers, "Ah, mijito, my child, it is the way of our family." One day, Abuelita is finally ready to share her secret. "Sit with me on the porch. It is time to tell you the secret of our family…"
This joyous board book is perfect for any Passover celebration!
Day-Day-enu,
Day-Day-enu,
Day-Day-enu,
Dayenu Dayenu!
Combining the festive cheer of the beloved Passover song with a melodic recounting of the Jews' exodus from Egypt to Israel, this board book will be the perfect addition to any family tradition. With Miriam Latimer's charming illustrations, children and parents alike will be even more inspired to shout, "Dayenu!"
A family's Passover celebration is equal parts warmth and charm in this cozy picture book, with the traditional seder song "Dayenu" as the grateful refrain.
In this story told in spare, lyrical prose, a Jewish family prepares for their Passover seder, visiting the farmer's market for walnuts, lilacs, and honey (and adopting a kitten along the way!), then chopping apples for the charoset, and getting dressed up before walking to Nana's house. The refrain throughout is "Dayenu" — a mind-set of thankfulness, a reminder to be aware of the blessings in each moment. At Nana's, there's matzo ball soup, chicken, coconut macaroons, and of course, the hidden afikomen. After opening the door for Elijah and singing the verses of "Chad Gadya," Nana tucks the children in for a special Passover sleepover.
This warm, affectionate story embraces Passover in the spirit of dayenu, and offers a comprehensive glossary — it's a perfect read for the entire family in anticipation and celebration of the holiday.
A perfect picture book for the whole family this Passover.
Unlike other Passover picture books that focus on the contemporary celebration of the holiday, or are children's haggadahs, this gorgeous picture book in verse follows the actual story of the Exodus. Told through the eyes of a young slave girl, author Laurel Snyder and illustrator Catia Chien skillfully and gently depict the story of Pharoah, Moses, the ten plagues, and the parting of the Red Sea in a remarkably accessible way.
This dramatic adventure, set over 3,500 years ago, of a family that endures hardships and ultimately finds freedom is the perfect tool to help young children make sense of the origins of the Passover traditions.
Challah Boy, the bully, terrorizes his school right before Passover, by whirling through it like a tornado, scattering his crumbs everywhere. Matza Boy, the hero of the story, stands up to Challah Boy, telling him that he has to stop. Challah Boy won't listen. He challenges Matza Boy to a fight. Like the Maccabees who fought so Jews could observe Judaism, Matza Boy must fight Challah Boy so Jews can observe Passover. The stakes are high. If Matza Boy fails, nobody will be able to have a kosher Passover which means Passover will be ruined for all.
Matzo Frogs by Sally Rosenthal and David Sheldon
As an act of kindness, or mitzva, six Jewish frogs secretly prepare a delicious pot of matzo ball soup for Minnie Feinsilver's Shabbat dinner. Includes recipe.
Miriam's Cup by Fran Manushkin and Bob Dacey
An illustrated celebration of the role of Miriam in the Exodus story recounts how she persuaded her parents to defy the pharaoh and give birth to her brother Moses and used her miraculous well to help her people survive.
In this lively adaptation of "The Gingerbread Boy," a bold little man made of matzah jumps out of the baker's oven and leads him and everyone in the neighborhood — all of whom are preparing for Passover — on a merry chase. With colossal chutzpah, the Matzah Man taunts Cousin Tillie as she is cooking brisket, Auntie Bertha trying on her new spring shoes, and Grandpapa Solly making gefilte fish. He at last arrives on the doorstep of clever Mendel Fox, who offers him a hiding place under the Passover matzah cover — and when the seder meal begins, that's the end of the Matzah Man! As she did in Latkes, Latkes, Good to Eat, Naomi Howland has created a humorous tale, charmingly illustrated, that overflows with holiday festivity and includes a glossary.
The Passover story is enlivened in this creative rendition of the Ten Plagues. Everyone can take part as Moses implores Pharaoh to Let My People Go! This light-hearted rhyming tale can be read alone or with a cast of characters as a Reader's Theater.
The war is over, and everyone is saying the South lost. Ten-year-old Jacob would give anything to show those Yankees that not all Confederates are ready to surrender.
He gets his chance when he sees a real, live Yankee soldier walking down his street, on leave for Passover. But before Jacob can think of a way to be brave, the Yankee asks him for a piece of his matzoh.
This true story about a Jewish Yankee soldier joining a Southern family's Passover meal shows how common values can overcome even the most divisive differences. Gathered around the seder table, the group discusses what it means to be free — a subject as relevant today as it was during the War between the States and during the Exodus.
Journey with a curious little mouse as he travels from a wheat field in the country to a big city factory where harvested wheat is baked into matzah.
An eager, playful dinosaur causes havoc at the seder when he arrives at a young boy's house to join him in celebrating Passover.
Hannah dreads going to her family's Passover Seder — she's tired of hearing her relatives talk about the past. But when she opens the front door to symbolically welcome the prophet Elijah, she's transported to a Polish village in the year 1942. Why is she there, and who is this "Chaya" that everyone seems to think she is? Just as she begins to unravel the mystery, Nazi soldiers come to take everyone in the village away. And only Hannah knows the unspeakable horrors that await. A critically acclaimed novel from multi-award-winning author Jane Yolen.
The Secret Seder by Doreen Rappaport and Emily Arnold McCully
Jacques and his parents are hiding in Nazi-occupied France during World War II, pretending to be Catholics. On the first night of Passover, Jacques and his father elude Nazi soldiers to gather with other Jews and celebrate the Seder in secret. For this book, Doreen Rappaport researched the lives of resistance fighters and Jews in hiding: brave men and women who managed to survive one of the darkest times in history with their faith intact. Emily Arnold McCully's intense and respectful paintings illuminate the perils of a turbulent time and the triumphs of a resilient people.

Sammy Spider watches longingly as the Shapiro family celebrates Passover. He wants to help Josh find the afikomen (hidden matzah), but his mother reminds him, Spiders don't celebrate Passover. Spiders spin webs. and his first attempt at spinning a new web yields some surprising results.
In this special Passover story, Larnel Moore, a  young African-American boy, and Mrs. Katz, an  elderly Jewish woman, develop an unusual friendship  through their mutual concern for an abandoned cat  named Tush. Together they explore the common themes  of suffering and triumph in each of their cultures.
Adult Passover Books
Every year, poet and novelist Marge Piercy creates her own Passover seder with a group of family and friends. Babies have been born and grown up, friends have moved or divorced, but the principals continue to gather in her rustic Cape Cod home to participate in a seder that Piercy takes joy in tweaking each spring to make it more meaningful. In this journey through the ritual, Piercy coaxes us toward "a significant contemporary interpretation, rather than an emphasis on what is strictly 'correct' or traditional." She reminisces about her grandmother, who thought herself unworthy to lead a seder because of her limited Hebrew but presided "morally" at the table; she urges adding an orange to the seder plate; she even describes her heroic efforts to make her own gefilte fish (an experiment not to be repeated).
Piercy offers her distinct slant on each element of the feast and provides dozens of her own wonderful recipes, which she delivers in the same warm, commanding voice as is heard in her poems and prose: "When I told Ira that I was going to explain how to cook matzoh brei, he thought I was crazy. Everybody knows how to make matzoh brei, he said. But I am of the opinion that there is no longer anything that everybody knows how to cook."
It is in that spirit — no question too simple — that Piercy welcomes readers to her kind of seder: a homemade and personal affair, the kind we all wish we could attend. This charming and instructive book of Passover wisdom, brimming with favorite dishes and Marge Piercy's own moving Passover poems and blessings, invites us to look at an important Jewish ritual in a whole new way.
As a child, Miryam foretells the birth of a leader who will save their people from oppression — a vision so vivid that she dedicates her life to seeing it fulfilled in her brother, Moses. But after many years, she wonders in the deepest confines of her heart if her sacrifices mean anything, if her calling is real.
Tzipporah, a desert shepherdess who knows nothing of her husband's divine purpose, suffers as he is torn from her by a strange god, a foreign people, and an unforgiving sister. In her heart, she harbors terrible secrets that haunts the love she shares with Moses and threaten her tenuous peace with Miryam.
Together, Miryam and Tzipporah weave a narrative that gives voice to the women of Exodus — their lives, their community, and ultimately, their sisterhood.
In 1996, Hanna Heath, an Australian rare-book expert, is offered the job of a lifetime: analysis and conservation of the famed Sarajevo Haggadah, which has been rescued from Serb shelling during the Bosnian war. Priceless and beautiful, the book is one of the earliest Jewish volumes ever to be illuminated with images. When Hanna, a caustic loner with a passion for her work, discovers a series of tiny artifacts in its ancient binding — an insect wing fragment, wine stains, salt crystals, a white hair — she begins to unlock the book's mysteries. The reader is ushered into an exquisitely detailed and atmospheric past, tracing the book's journey from its salvation back to its creation.
In Bosnia during World War II, a Muslim risks his life to protect it from the Nazis. In the hedonistic salons of fin-de-siècle Vienna, the book becomes a pawn in the struggle against the city's rising anti-Semitism. In inquisition-era Venice, a Catholic priest saves it from burning. In Barcelona in 1492, the scribe who wrote the text sees his family destroyed by the agonies of enforced exile. And in Seville in 1480, the reason for the Haggadah's extraordinary illuminations is finally disclosed. Hanna's investigation unexpectedly plunges her into the intrigues of fine art forgers and ultra-nationalist fanatics. Her experiences will test her belief in herself and the man she has come to love.
Inspired by a true story, People of the Book is at once a novel of sweeping historical grandeur and intimate emotional intensity, an ambitious, electrifying work by an acclaimed and beloved author.
Why is tonight different from all other nights?
Tonight we kill dad.
In 2022, American Jews face an increasingly unsafe and anti-Semitic landscape at home. Against this backdrop, the Jacobson family gathers for Passover in Los Angeles. But their immediate problems are more personal than political, with the three adult children, Mo, Edith, and Jacob, in various states of crisis, the result, each claims, of a lifetime of mistreatment by their father, Julian. The siblings have begun to suspect that Julian is hastening their mother Roz's demise, and years of resentment boil over as they debate whether to go through with the real reason for their reunion: an ill-considered plot to end their father's iron rule for good. That is, if they can put their bickering, grudges, festering relationships, and distrust of one another aside long enough to act.
And God help them if their mother finds out…
Tell Me How This Ends Well presents a blistering and prescient vision of the near future, turning the exploits of one very funny, very troubled family into a rare and compelling exploration of the state of America, and what it could become.
From a remarkable new voice in fiction, Bethany Ball, comes a transporting debut; a hilarious multigenerational family saga set in Israel, New York, and Los Angeles that explores the secrets and gossip-filled lives of a kibbutz community near Jerusalem
Meet Marc Solomon, an Israeli ex-Navy commando now living in L.A., who is falsely accused of money laundering through his asset management firm. As the Solomons' Santa Monica home is raided, Marc's American wife, Carolyn — concealing her own dark past — makes hopeless attempts to hold their family of five together. But news of the scandal makes its way from America to the rest of the Solomon clan on the kibbutz in the Jordan River Valley. There we encounter various members of the family and the community — from Marc's self-absorbed movie actress sister, Shira, and her forgotten son Joseph; to his rich and powerful construction magnate father, Yakov; to his former star-crossed love, Maya; and his brother-in-law Guy Gever, a local ranger turned "artist." As the secrets and rumors of the kibbutz are revealed through various memories and tales, we witness the things that keep the Solomons together, and those that tear them apart.
Reminiscent of Nathan Englander's For the Relief of Unbearable Urges and Jennifer Egan's A Visit from the Goon Squad, and told with razor-sharp humor and elegant acuity, What to Do About the Solomons is an exhilarating first book from a bright new star in fiction.
How is tonight different from all other nights? For Jacob Rappaport, a Jewish soldier in the Union Army, it is a question his commanders have answered for him: on Passover, 1862, he is ordered to murder his own uncle, who is plotting to assassinate Abraham Lincoln. After this harrowing mission, Jacob is recruited to pursue another enemy agent — this time not to murder the spy, but to marry her. Based on real historical figures, this eagerly awaited novel from award-winning author Dara Horn delivers multilayered, page-turning storytelling at its best.
From the internationally bestselling author of Sarah comes the riveting story of the remarkable woman who walked beside Moses.
Although she is a Cushite by birth — one of the people of the lands to the south — Zipporah grew up as the beloved daughter of Jethro, high priest and sage of the Midianites. But the color of Zipporah's skin sets her apart, making her an outsider to the men of her adopted tribe, who do not want her as a wife. Then one day while drawing water from a well, she meets a handsome young stranger. Like her, he is an outsider. A Hebrew raised in the house of the Egyptian Pharaoh, Moses is a fugitive, forced to flee his homeland. Zipporah realizes that this man will be the husband and partner she never thought she would have.
Moses wants nothing more than a peaceful life with the Midianites, but Zipporah won't let Moses forget his past — or turn away from his true destiny.
She refuses to marry him until he returns to Egypt to free his people. When God reveals himself to Moses in a burning bush, his words echo Zipporah's, and Moses returns to Egypt with his passionate and generous wife by his side.
A woman ahead of her time, Zipporah leaps from the pages of this remarkable novel. Bold, independent, and a true survivor, she is a captivating heroine, and her world of deserts, temples, and ancient wonders is a fitting backdrop to an epic tale.
This Passover Seder is not just any Passover Seder. Yes, there will be a quick service and then a festive meal afterwards, but this night is different from all other nights. This will be the night the Golds of Greenwich meet the Rothschilds of New York City.
The Rothschilds are the stuff of legends. They control banks. They own vineyards in Napa, diamond mines in Africa, and even an organic farm somewhere in the Midwest that produces the most popular Romaine lettuce consumed in this country. And now, Sylvia Gold's daughter is dating one of them.
When Sylvia finds out that her youngest of three is going to bring her new boyfriend to the Seder, she's giddy. When she finds out that his parents are coming, too, she darn near faints. Making a good impression is all she thinks about. Well, almost. She still has to consider her other daughter, Sarah, who'll be coming with her less than appropriate beau and his overly dramatic Italian mother. But the drama won't stop there. Because despite the food and the wine, despite the new linen and the fresh flowers, the holidays are about family. Long forgotten memories come to the surface. Old grievances play out. And Sylvia Gold has to learn how to let her family go.
An extraordinary, propulsive novel based on the true story of a family of Polish Jews who are separated at the start of the Second World War, determined to survive — and to reunite.
It is the spring of 1939 and three generations of the Kurc family are doing their best to live normal lives, even as the shadow of war grows closer. The talk around the family Seder table is of new babies and budding romance, not of the increasing hardships threatening Jews in their hometown of Radom, Poland. But soon the horrors overtaking Europe will become inescapable and the Kurcs will be flung to the far corners of the world, each desperately trying to navigate his or her own path to safety.
As one sibling is forced into exile, another attempts to flee the continent, while others struggle to escape certain death, either by working grueling hours on empty stomachs in the factories of the ghetto or by hiding as gentiles in plain sight. Driven by an unwavering will to survive and by the fear that they may never see one another again, the Kurcs must rely on hope, ingenuity, and inner strength to persevere.
A novel of breathtaking sweep and scope that spans five continents and six years and transports readers from the jazz clubs of Paris to Kraków's most brutal prison to the ports of Northern Africa and the farthest reaches of the Siberian gulag, We Were the Lucky Ones demonstrates how in the face of the twentieth century's darkest moment, the human spirit can find a way to survive, and even triumph.
Ramses by Christian Jacq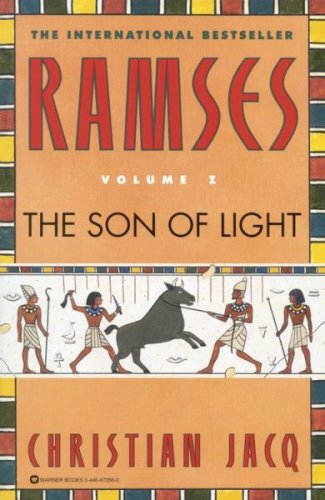 Ramses, Vol. I: The Son of Light recounts the thrilling story of Ramses, the legendary king who ruled Egypt for more than 60 years. Chosen by the pharaoh Seti, the 14-year-year-old Ramses sets into motion a tapestry of royal intrigue, treacherous plots, and romantic adventures that will keep readers spellbound and hungry for more.
Which of these Passover books have you read? Tell us in the comments!
Comments